Hello everyone! Hope you are all doing great!
It took me sometime to prepare this post. Get yourself a drink or two, and read on, it's a long one. I promise this is going to be worthwhile!
Unrelated: I changed the template a bit, hopefully it's easier to navigate around the content.
Product Summary
KOSE SUNCUT PERFECT UV GEL SPF50+ PA++++ 100 gram
UV Filters:
Octinoxate, Polysilicone-15, Uvinul A Plus, Tinosorb S.
Properties:
Contains alcohol
Fragrance free
Water Resistant
Sweat Resistant
Friction Resistant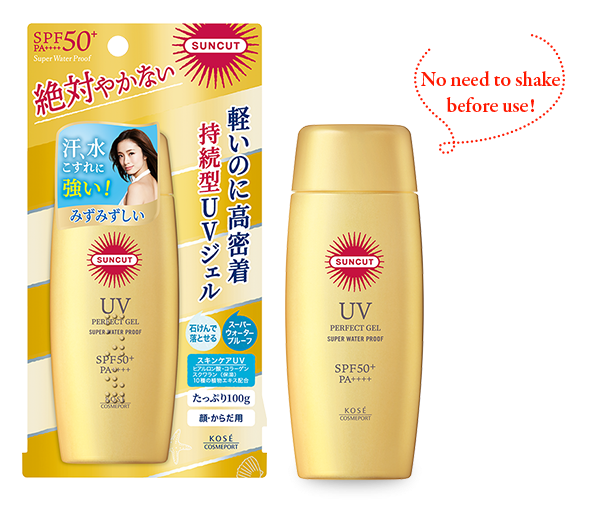 Preface
I bought this sunscreen locally. I have oily skin, living in hot humid tropical Southeast Asia. We only have sunny or rainy days over here. UV index ranging from 9 to 12 and above almost all year round, well except if it's raining. On average, the weather temperature is around 31-33°C during the day, humidity is 80% and above, it is not uncommon to reach 100% humidity, especially on rainy days.
This is how my bottle looks like.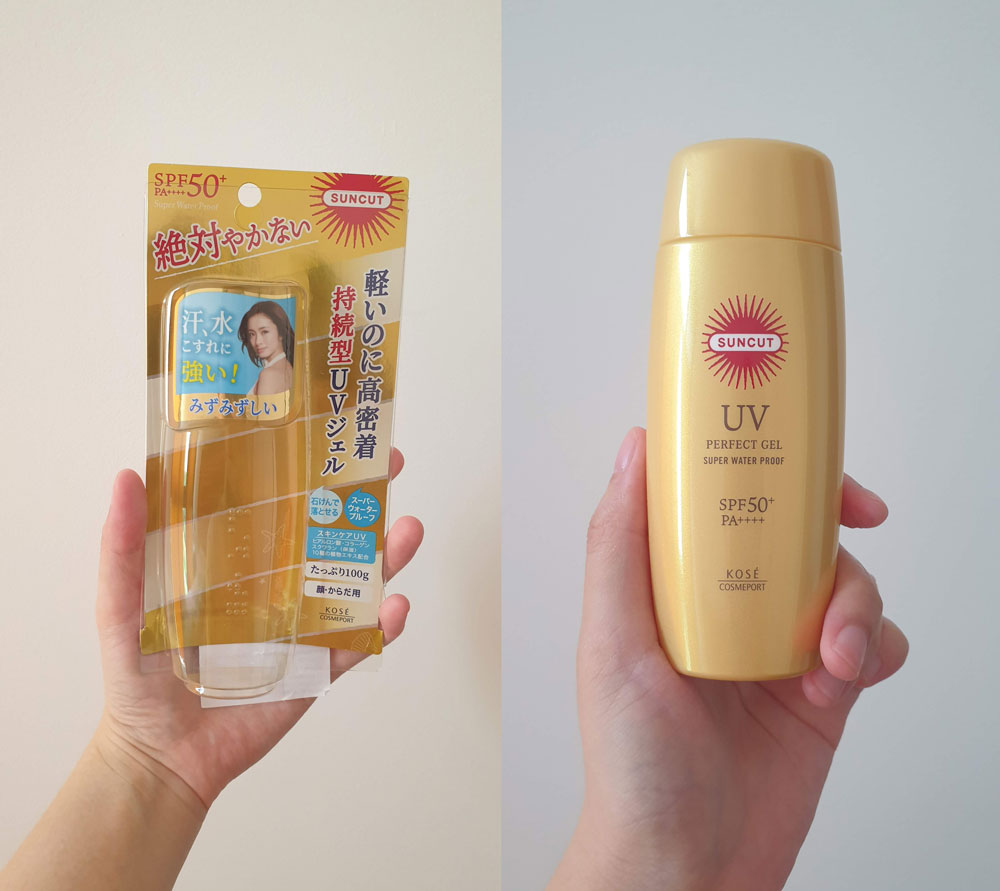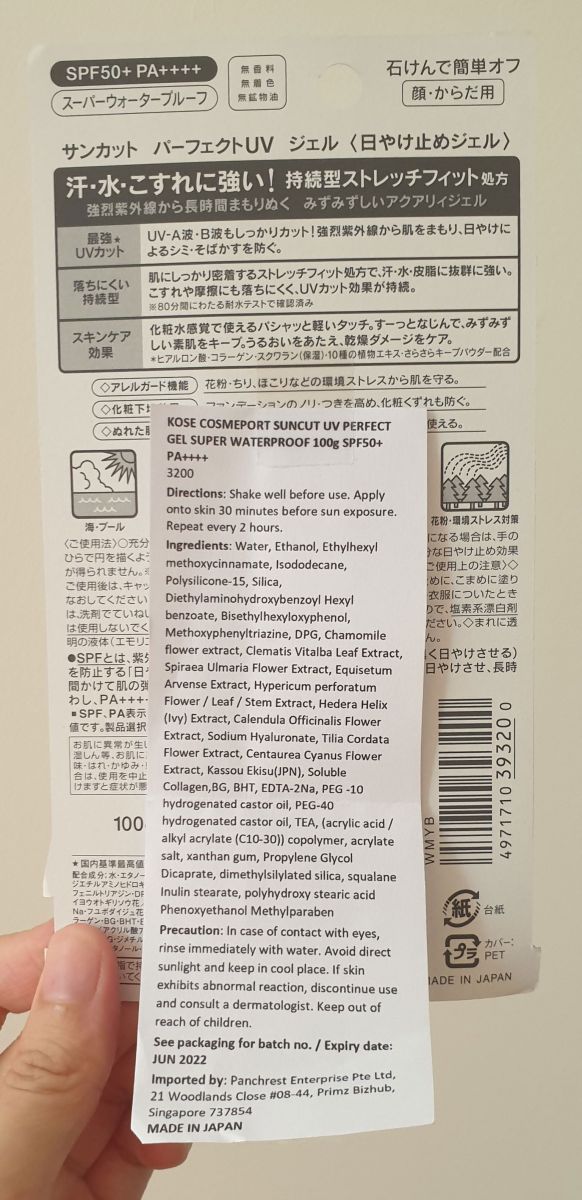 Characteristics
Texture:
It's a yellowish gel texture. Spreads easily and turn into watery gel.
Scent:
It is fragrance free, doesn't smell like anything. Probably reeks of alcohol, I suppose?
Finish:
It glides really easily, albeit too easily as I personally dislike sunscreen that can spread too far. This may prevent people from applying enough imo. I have plenty of time to massage the gel before it dries completely.
It is not matte finish despite the dry down. I'd say it's got natural finish. I have naturally glowy looking skin so this sunscreen doesn't exacerbate the glow that my skin already has.
On my body however, it completely dries down and I don't feel anything on my arms once it sets.
White Cast:
No white cast, even after reapplication.
Reapplication:
It pills. Even on first application, it can pill around skin folds (e.g. neck fold, inner elbow). I'm not so sure about the "Friction Resistant" claim due to this.
Eye Stinging:
I can use it on my eyelids without problem. However, as time goes on, it seeps to my eyes and irritates them. It doesn't happen every time I wear this. I'm unable to determine the trigger.
Adherence
OK, so I have multiple tests on this product. Let's start from the water, rubbing and removal tests first.
Unrelated, I'm not sure if "Adherence" is a correct term for this category, but feel free to feedback me on this!
Preparation:
As usual, I apply the product, massage it and wait for it to set. This sunscreen sets really quick on my body, I will indicate the time on the photos. I use Sunscreenr camera to take the photos under nail curing UV lamp.
For the rubbing test, I did let the sunscreen set for 30 mins.
Note that I apply it on my bare arm, without any lotion underneath.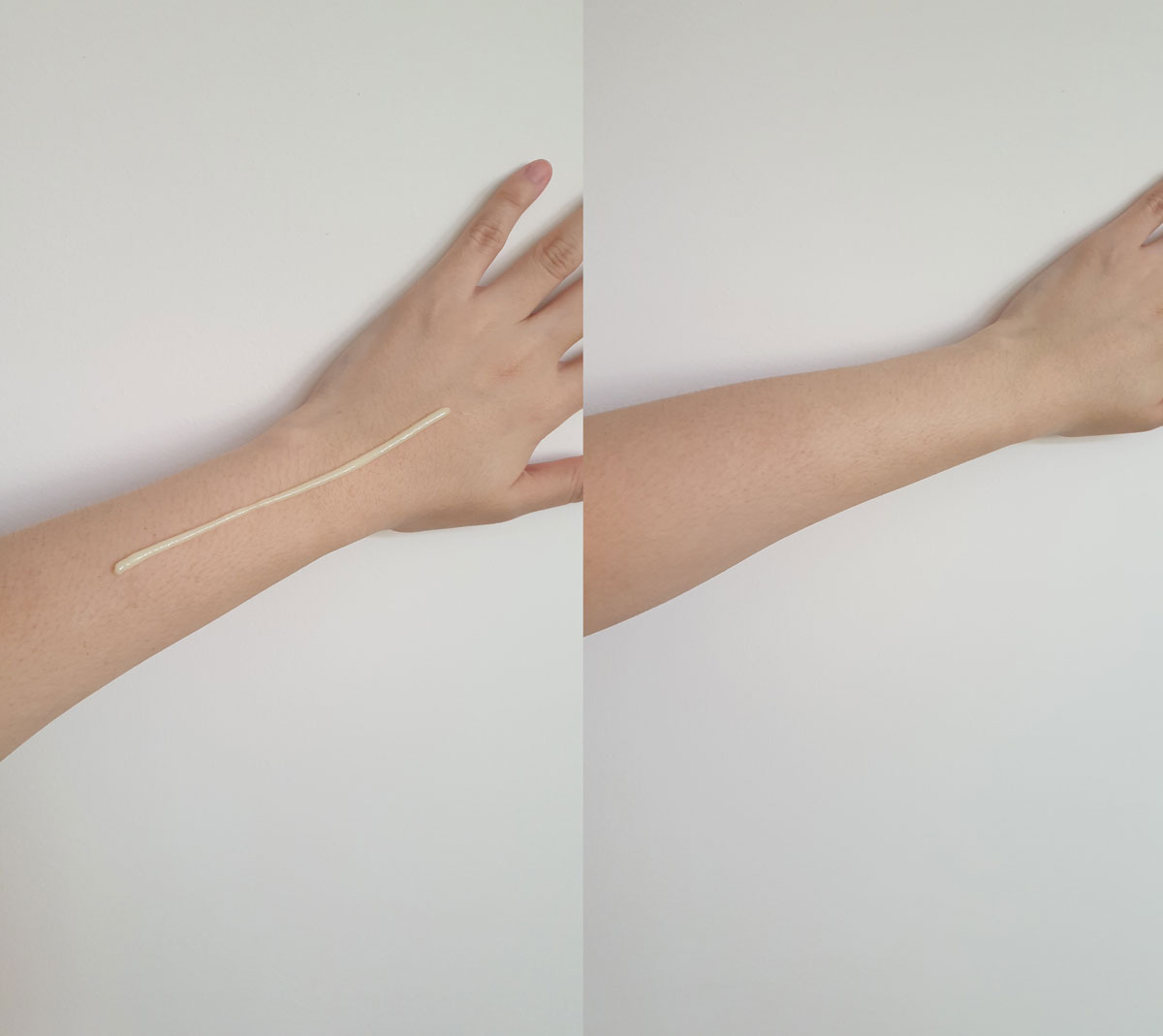 Texture:
This is how the texture looks like. It's a gel that turns to watery as soon as I rub it. It leaves no cast.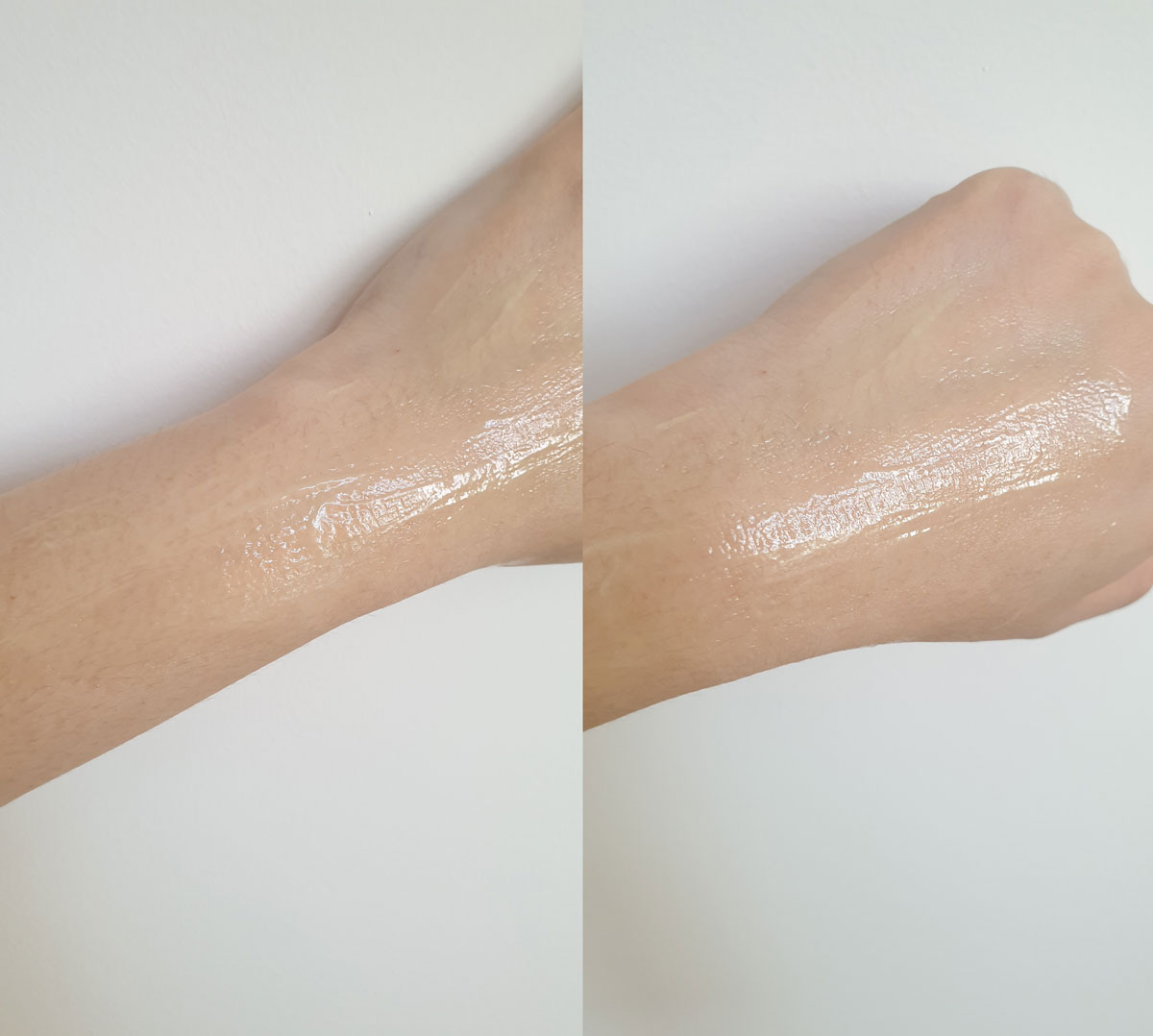 Shine Level:
I put timestamps on the photo below. It sets and dries really quick. On my body, it is completely dry to the touch, though it retains slight glow, but it's unnoticeable, really. I put marker to indicate where the sunscreen stops.
Unfortunately, on my face, it is not dry at all. We will talk about this later.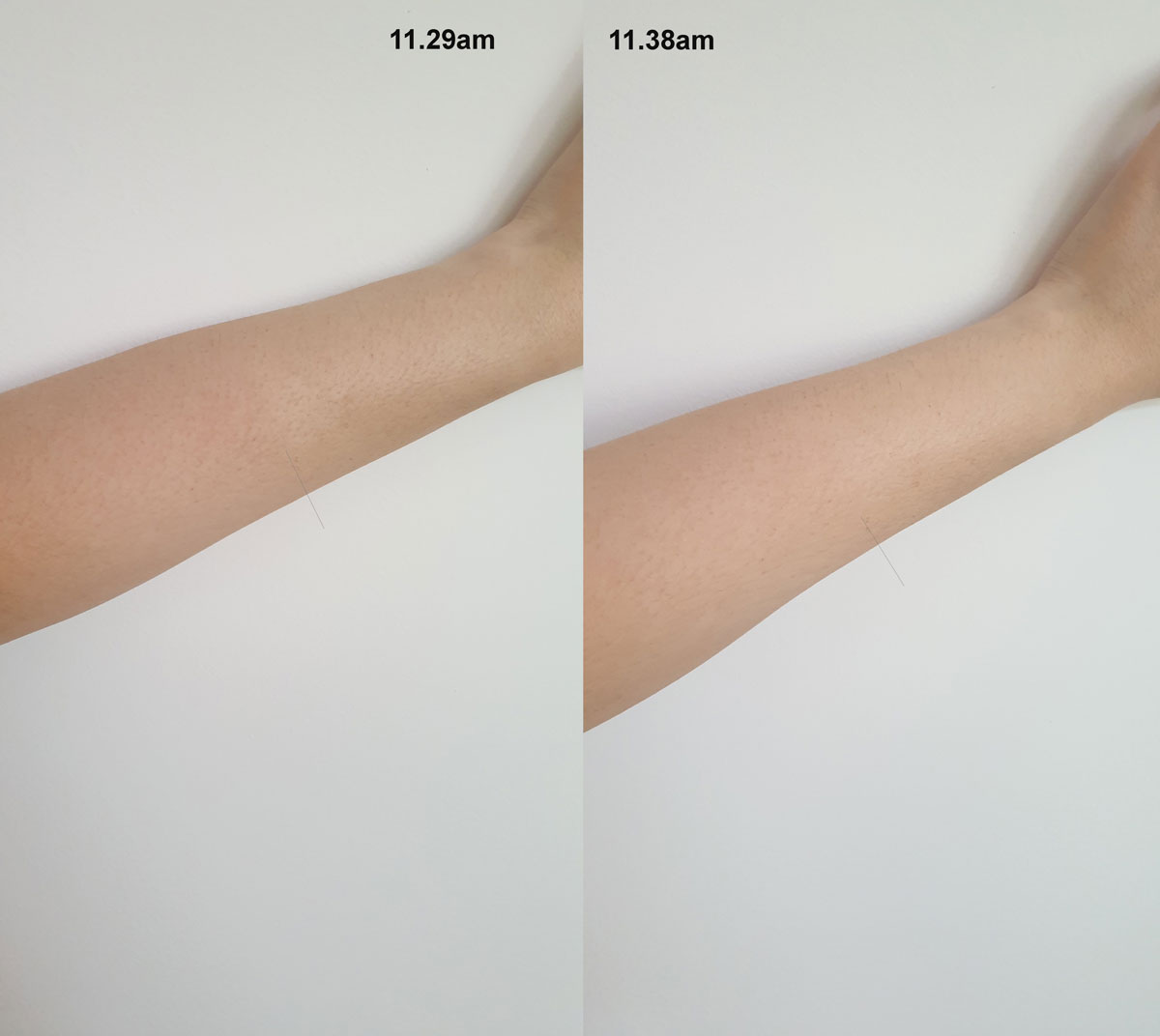 Rub Test and Removal:
I rubbed my skin really hard for 30 seconds under running water. And I'm happy to report the sunscreen actually adhered really well!
Vanicream Gentle Facial cleanser is not enough to remove it as you can see from below photo.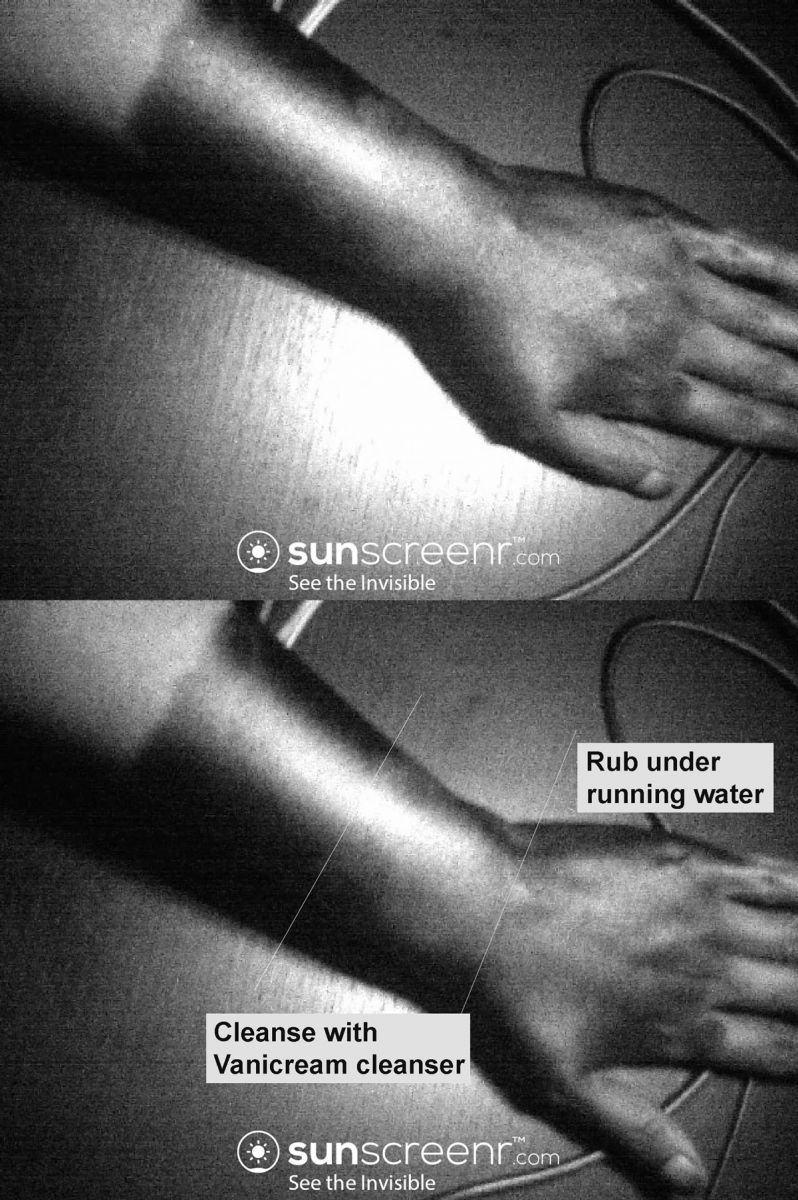 Removal with DHC Cleansing Oil:
Well of course, DHC Cleansing oil managed to remove it in breeze. I only applied the DHC from the wrist to the arm. I left my back of hand as is.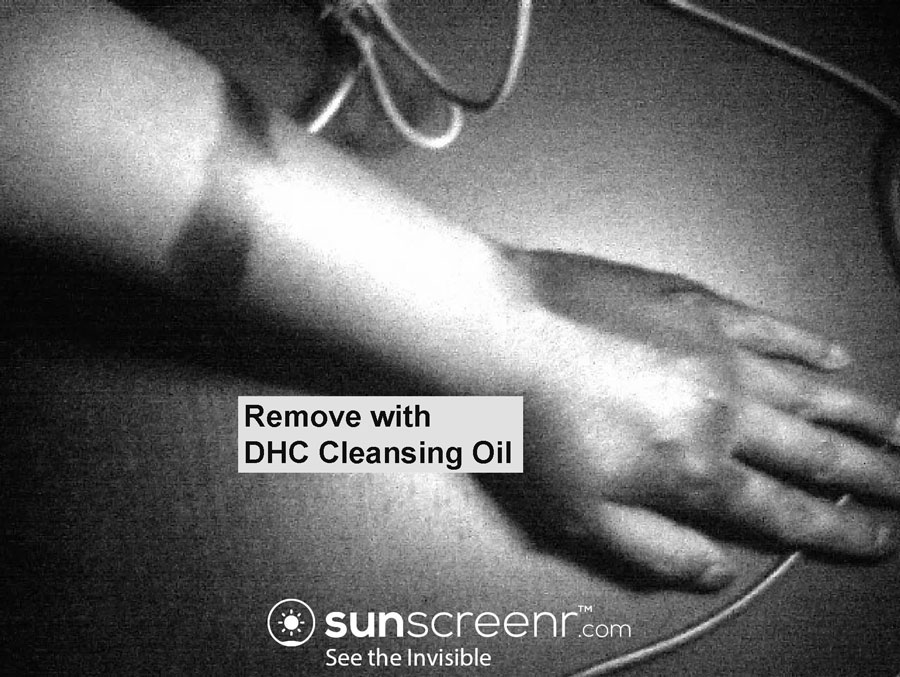 Wear Test 01 - Usual Skincare
Preparation:
On this test, I used my usual AM skincare underneath the sunscreen. This is what my usual AM routine looks like:
Vanicream Gentle Facial Cleanser
DIY - Niacinamide + Tranexamic acid serum in simple water and glycerin base
Finacea Gel
Benzac AC 5% Benzoyl Peroxide Cream
Sunscreen of the day
I don't do any wait times. As the serum is my own concoction, I always make it very watery and leaves no emollient residue. By the time I apply my sunscreen, my face is hydrated, but not damp or wet for sure.
As you can see from below photo, you can see it's still pretty glaring it is under UV camera. My face is quite glowy (see below). Though not as wet looking as when I wore OMI Verdio Moisture Essence SPF50+ PA++++.
Despite looking pretty glowy, it doesn't feel "heavy" like Garnier UV Face Fluid (LRP Shaka dupe), though I would say this Kose is less shiny than Garnier still. Probably this has closer finish with Biore UV Athlizm Essence SPF50+ PA++++, with lighter feel than Biore's. Honestly, the finish is pretty good, if only it doesn't pill on reapplication.
I didn't put anything on my eyelids, ears and neck for contrast purpose. No makeup applied on my face.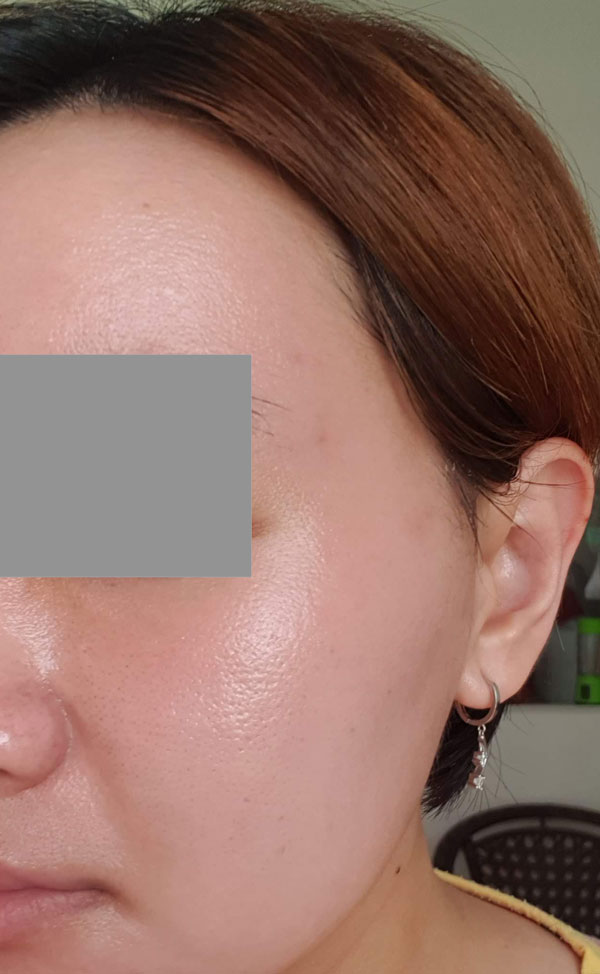 After ~2 hours:
After application, I went on about my day. I was indoor the whole day. I work from home these days. Still near big windows though. Do note I am very self conscious to NOT touch or rub my face.
I always blot my face during midday during lunch break, just a habit. I have oily skin for whole of my life. This is how my face looked like before blotting with tissue.

Pretty good, huh? It pays off being self conscious to not touch my face I guess haha! However, my face was oily slick by this time.
Blotting with Tissue:
I blot half of my face, and left the other side undisturbed (top part of the photo) for contrast. I think the tissue removed significant amount of the sunscreen. Notice my above brow bone was almost close in color with my naked eyelid?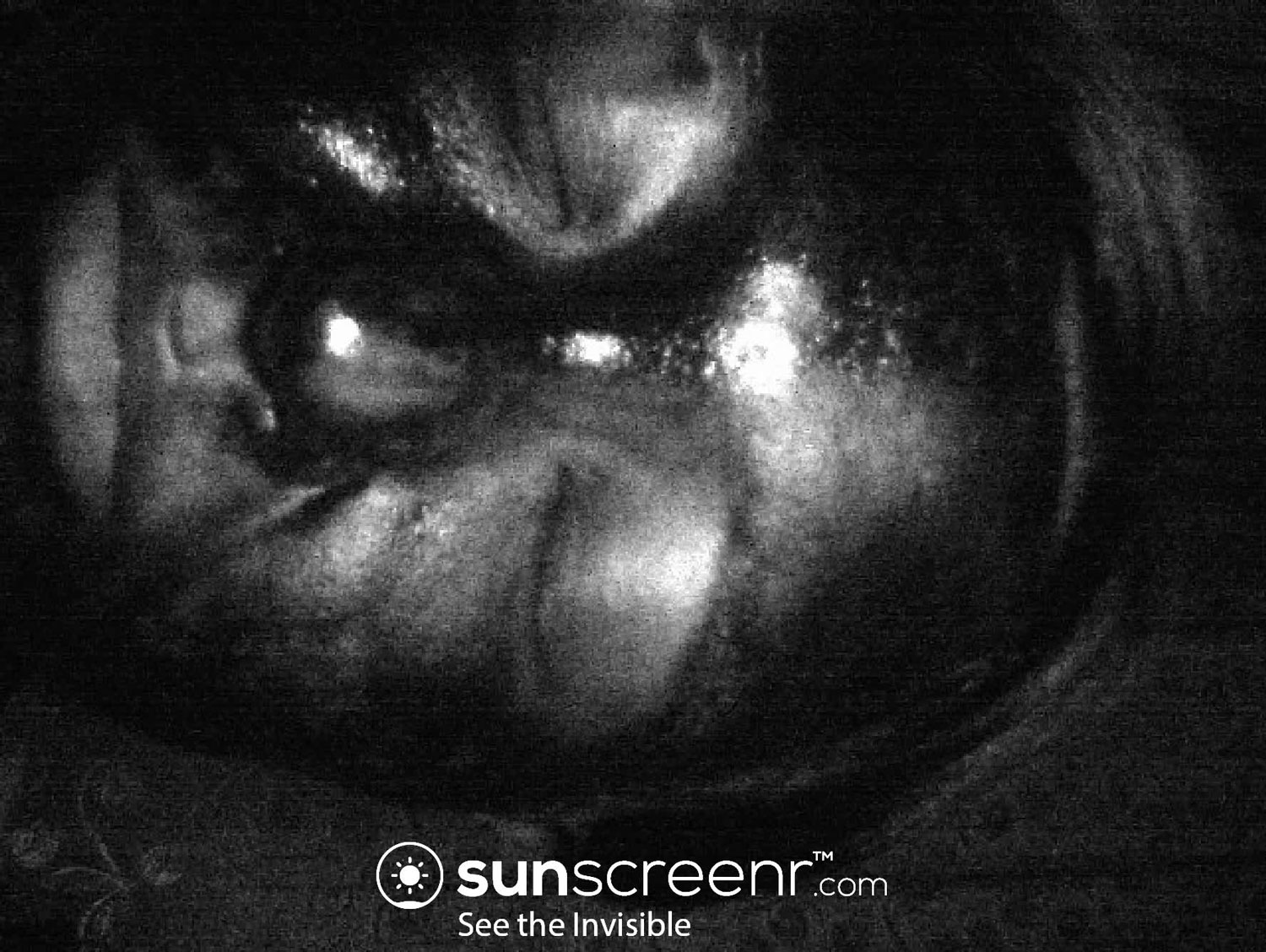 Of course, the tissue absorbed up the sunscreen, as you can see below.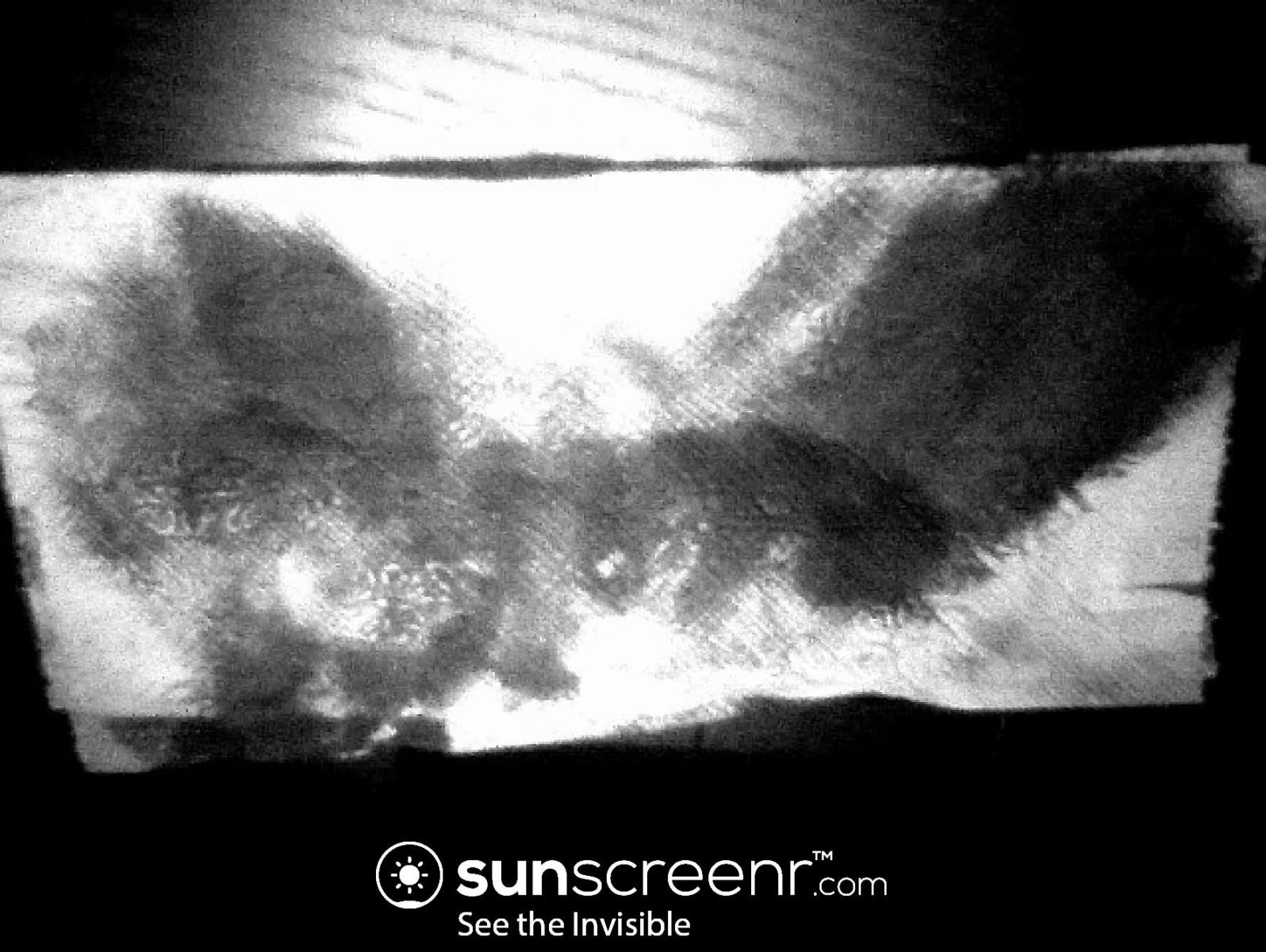 Reapplication:
I reapplied the sunscreen, obviously, seeing the sunscreen layer was patchy after blotting. It's HARD to reapply as the first layer would crumble / pill. I have low tolerance with pilling.
While the sunscreen looked good and even after reapplication under UV camera, on real life, when I touched my face, I can feel the texture is very sandy, like there was some gel balling up. Not a fan.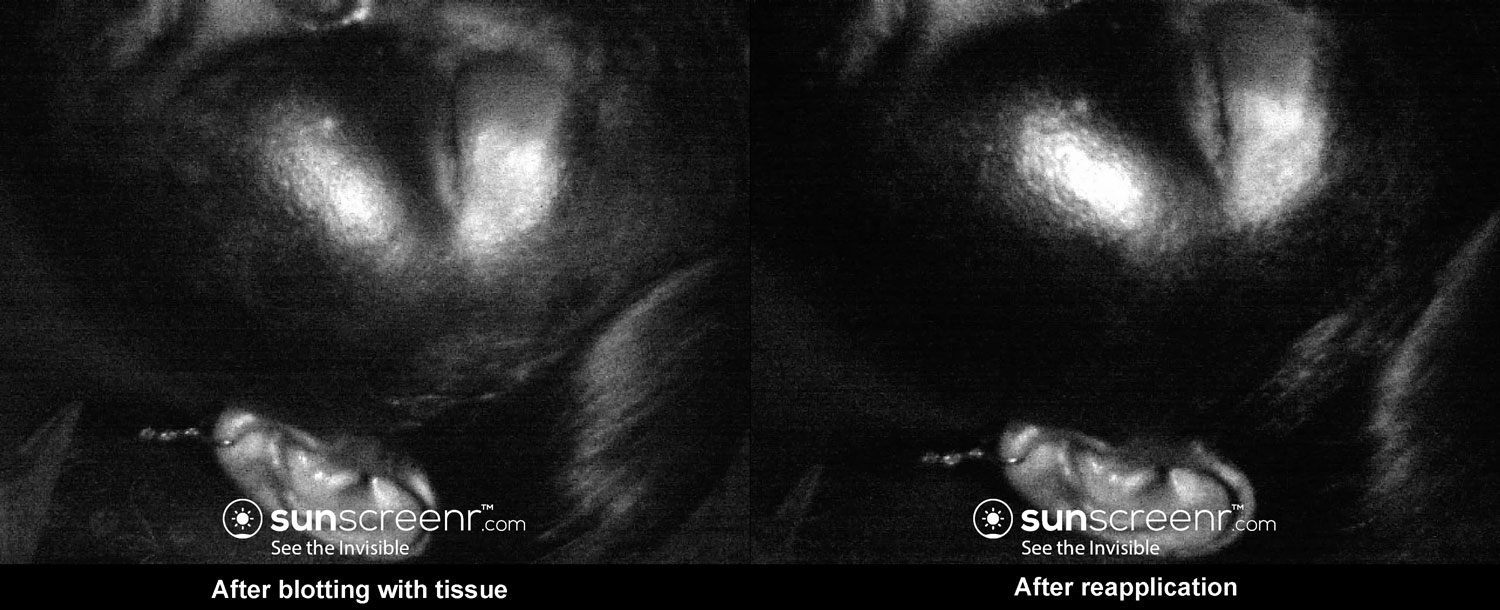 After Sweating:
I usually do some light exercise at home. I'm a sweaty person. Obviously, before the exercise, the sunscreen was even (reapplied).
The sunscreen still remained even, the sweat would just bead up on the skin, looking like sweat droplet on the face. No white cast is observed.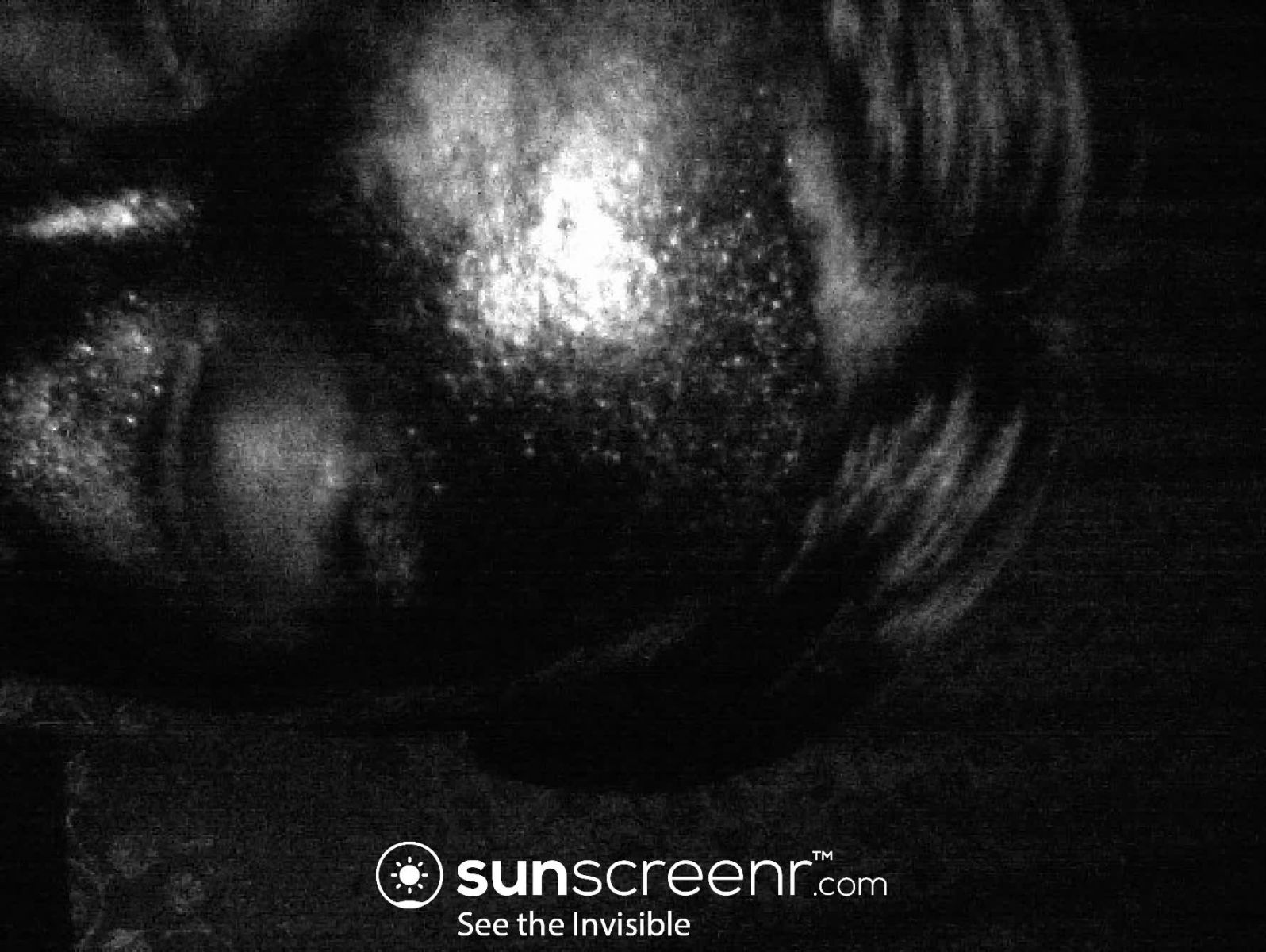 I blot the sweat and noticed the area that had the most sweat, the more sunscreen it gets removed. Notice that my forehead the sunscreen were removed. Reminder: my eyelids are bare without any sunscreen.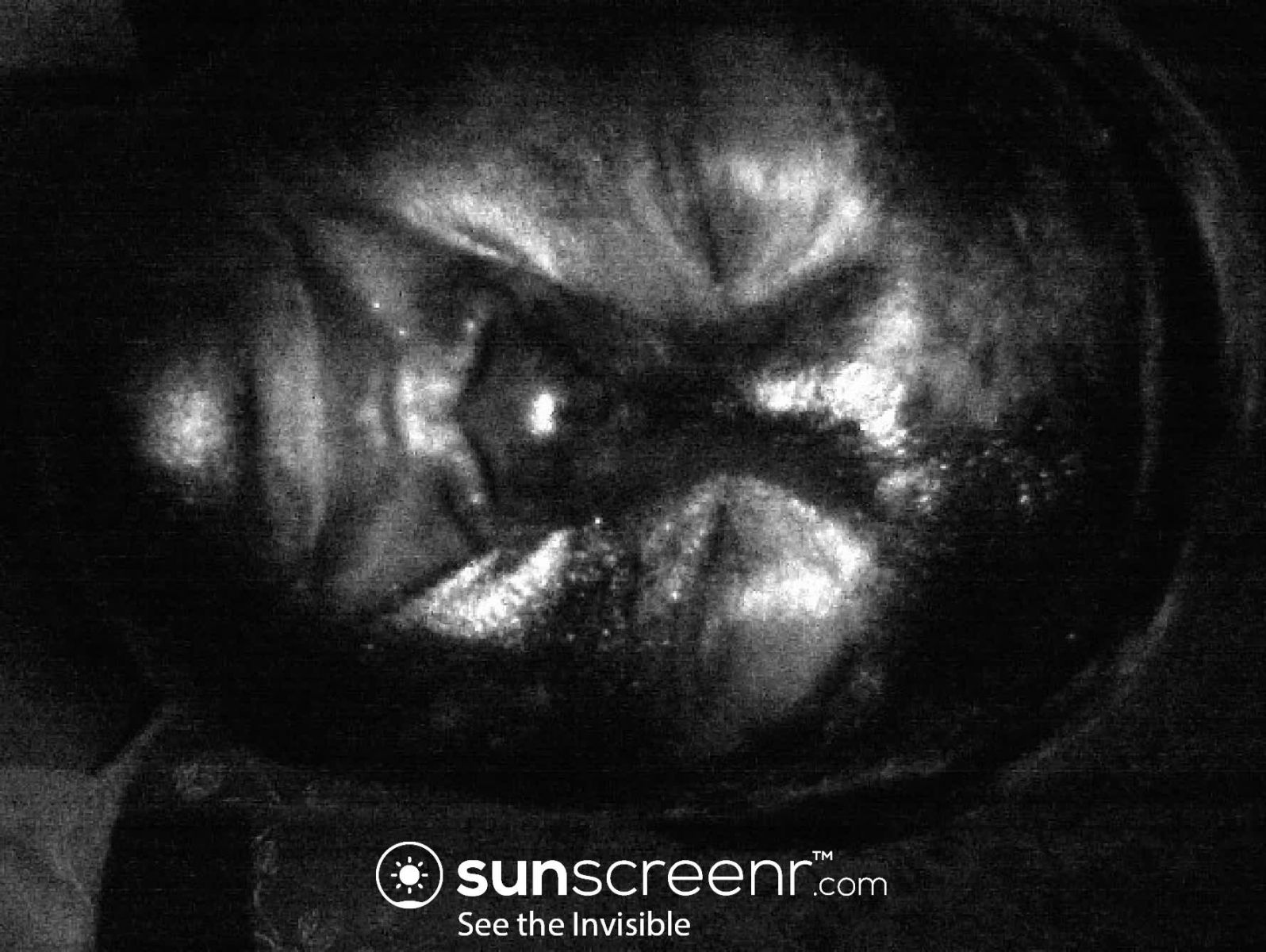 Wear Test 02 - With Thicker Skincare Underneath
Preparation
Just for the sake of curiousity, I tried making my niacinamide serum richer in glycerin (aka higher percentage of glycerin).
The skincare steps were still similar with previous test, the difference was I could 'feel' the glycerin stickiness on my skin. My skin was damp from the glycerin. And I just put the sunscreen on top, skipping my eyelids, ears and neck.
Be my next pair of eyes, but I feel like the sunscreen is patchy? What do you think?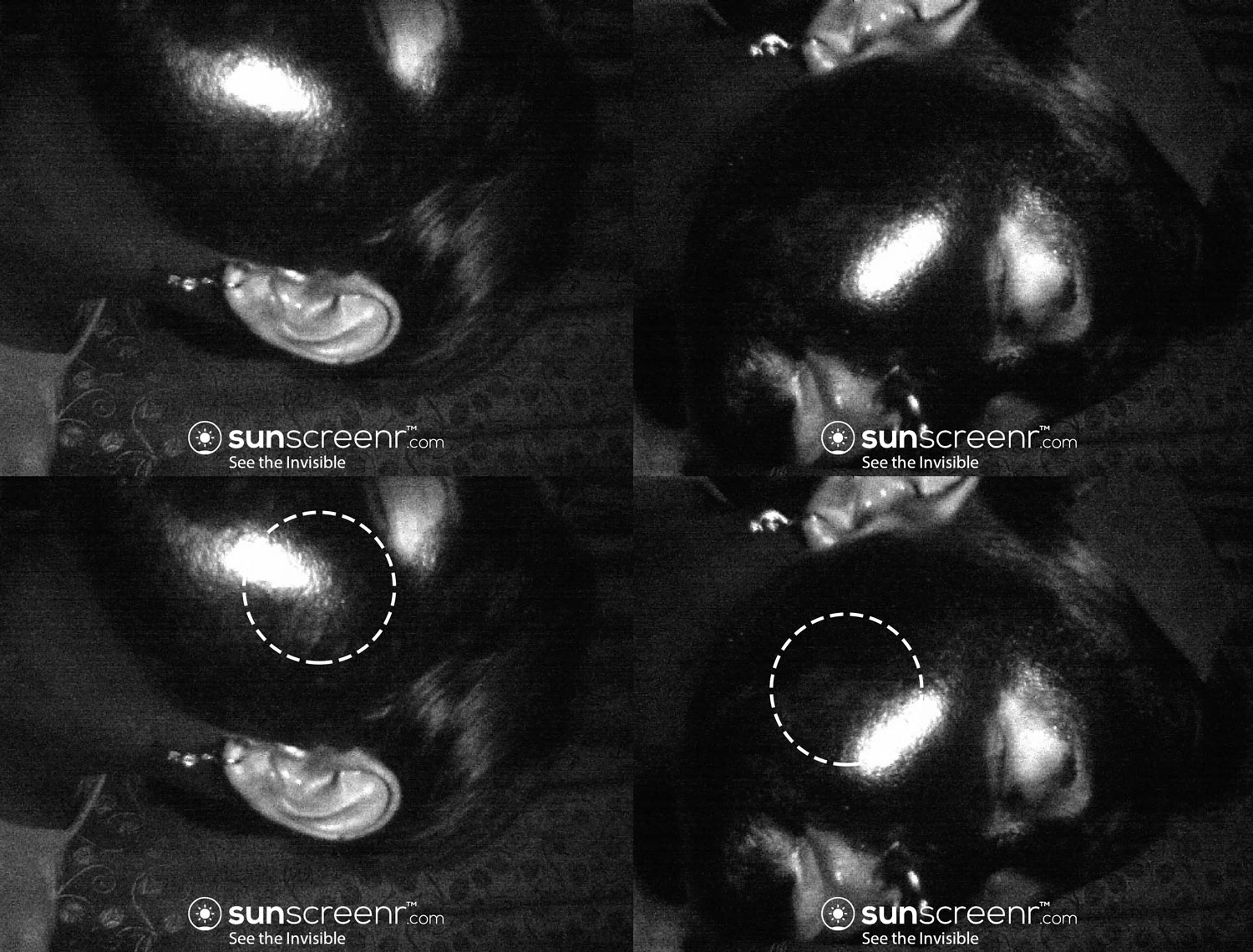 Blotting with Tissue:
After almost 4 hours, I blot half of my face, and left the other side undisturbed (bottom part of the photo) for contrast. I think the tissue removed significant amount of the sunscreen, even more so than our previous wear test above, don't you think?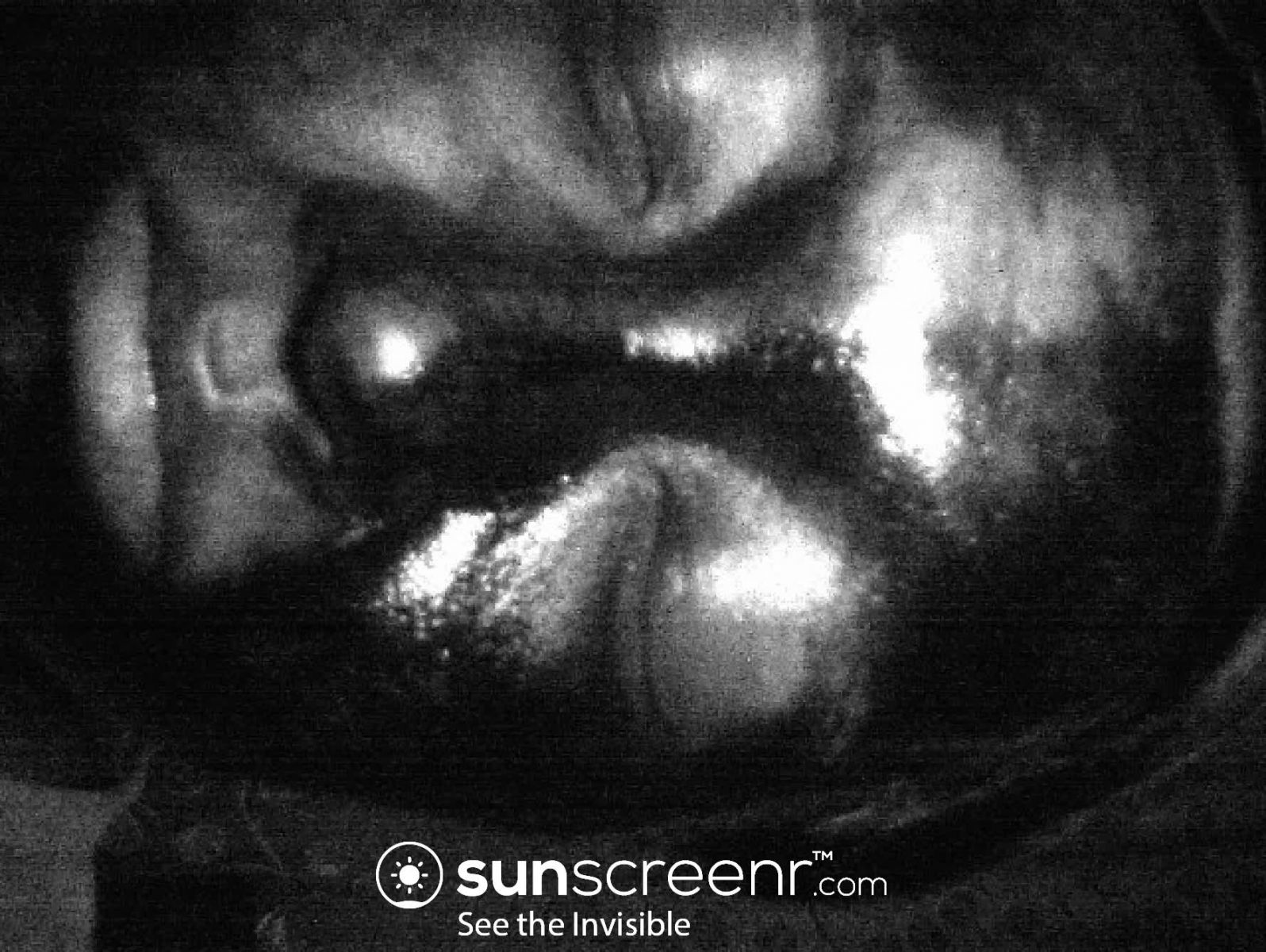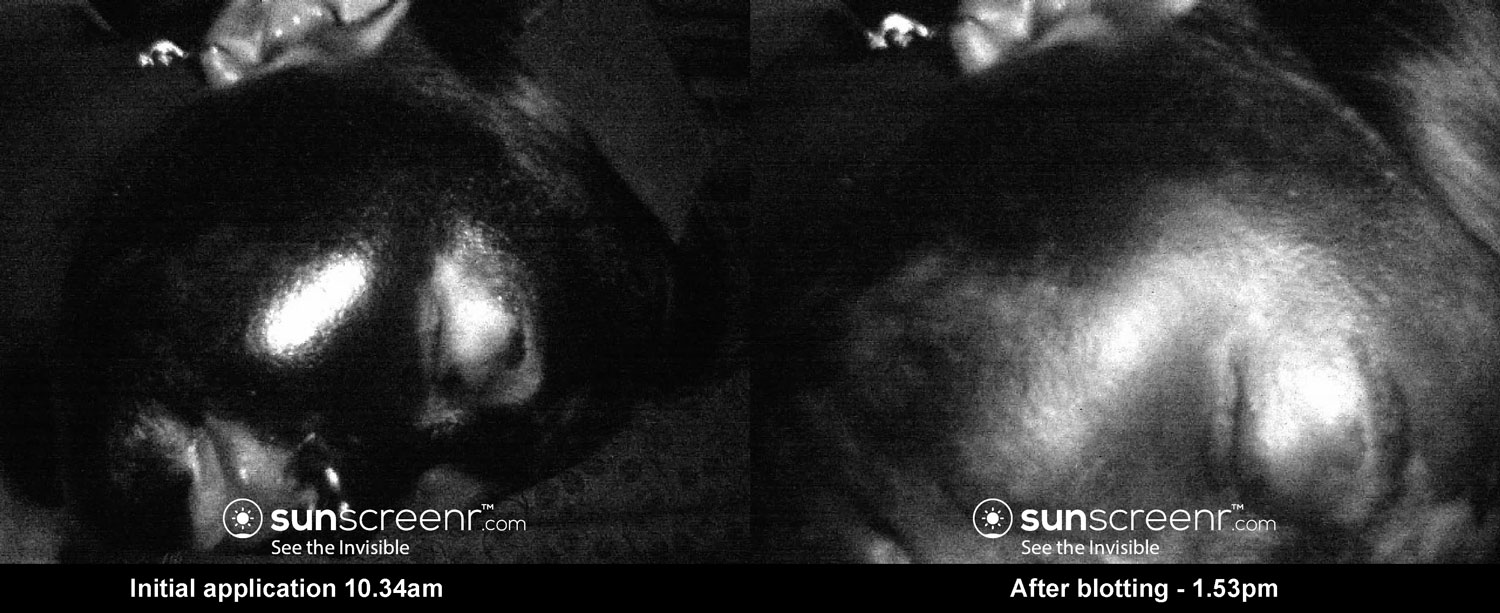 Wear Test 03 - With Multiple Serums Underneath
Preparation
Our 3rd wear test! Today I used the following skincare:
Vanicream Gentle Facial Cleanser
DIY - Niacinamide + Tranexamic acid serum in distilled water and half pump of COSRX Snail Mucin Essence as base
Finacea Gel
Benzac AC 5% Benzoyl Peroxide Cream
Purito Centella Buffet Unscented Serum
Sunscreen of the day
Similar to Wear Test 02 above, I feel like the layer is patchy, no?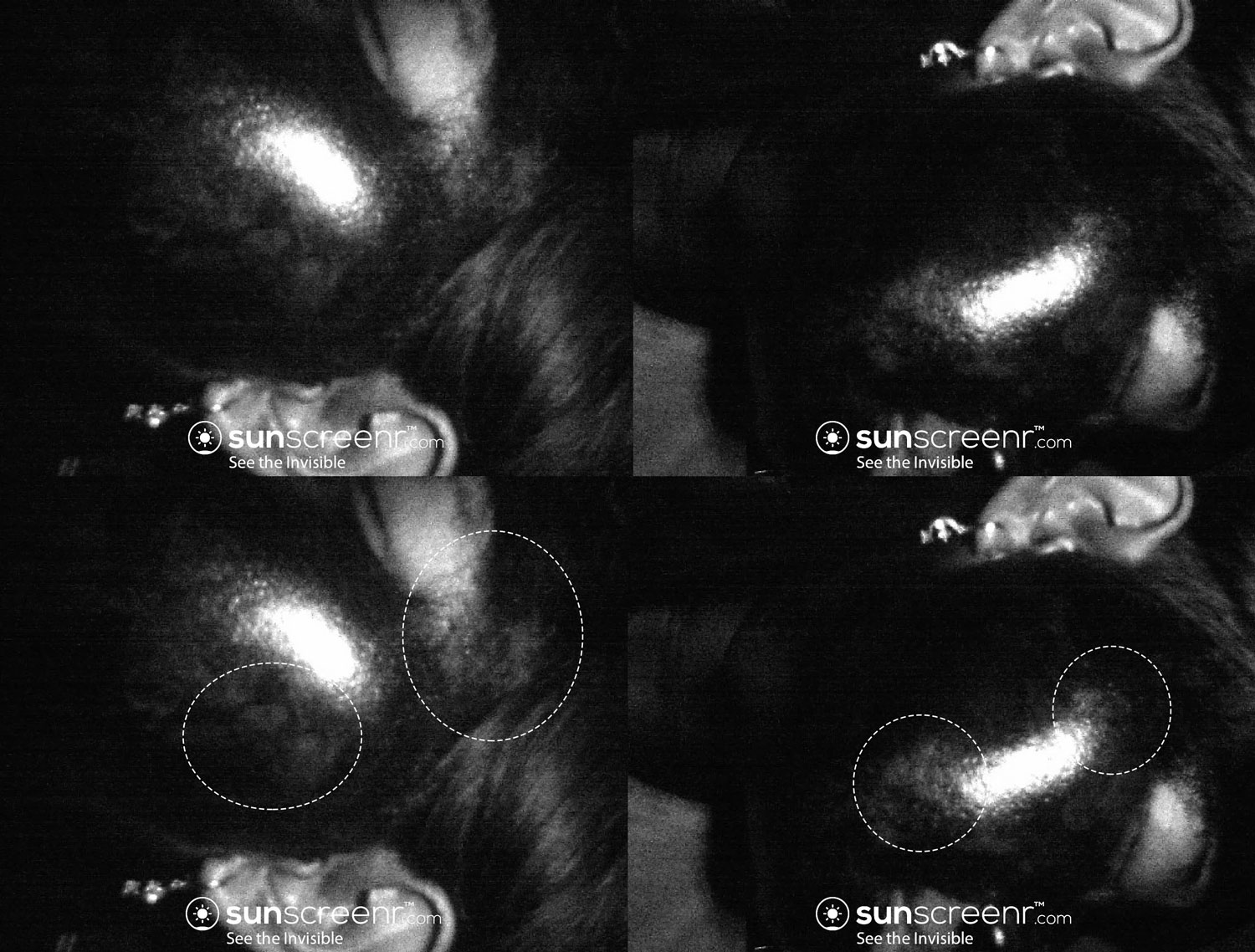 Blotting 01
I disliked today's skincare, it made my face very oily and not hydrating at all. My skin felt tight. I miss my glycerin already! Honestly though, the Snail Mucin is NOT hydrating at all, I'm baffled why many people claim so?
Anyway, I had to blot my shiny face as I had meeting to attend to, so here what it looked like. The tissue removed the sunscreen significantly more than previous tests! This is a sign for me to NOT use those questionable serums lol!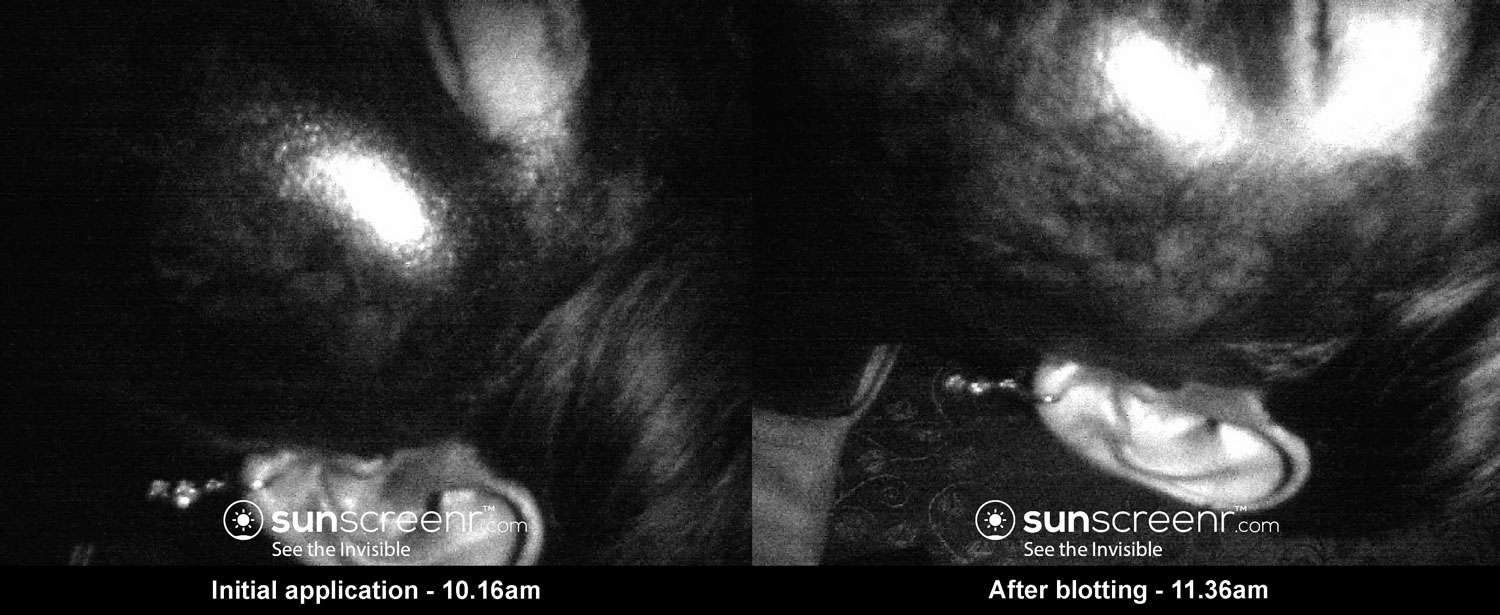 Reapplication with A-derma Xtreme Sun Stick
Well, I had limited time, and ain't got time to apply the Kose Suncut sunscreen. So, I just swiped my A-derma Xtreme Sun Stick across half of my face, and only the under eye area on the other half of my face. I want to see how the Kose Suncut wears down without reapplication.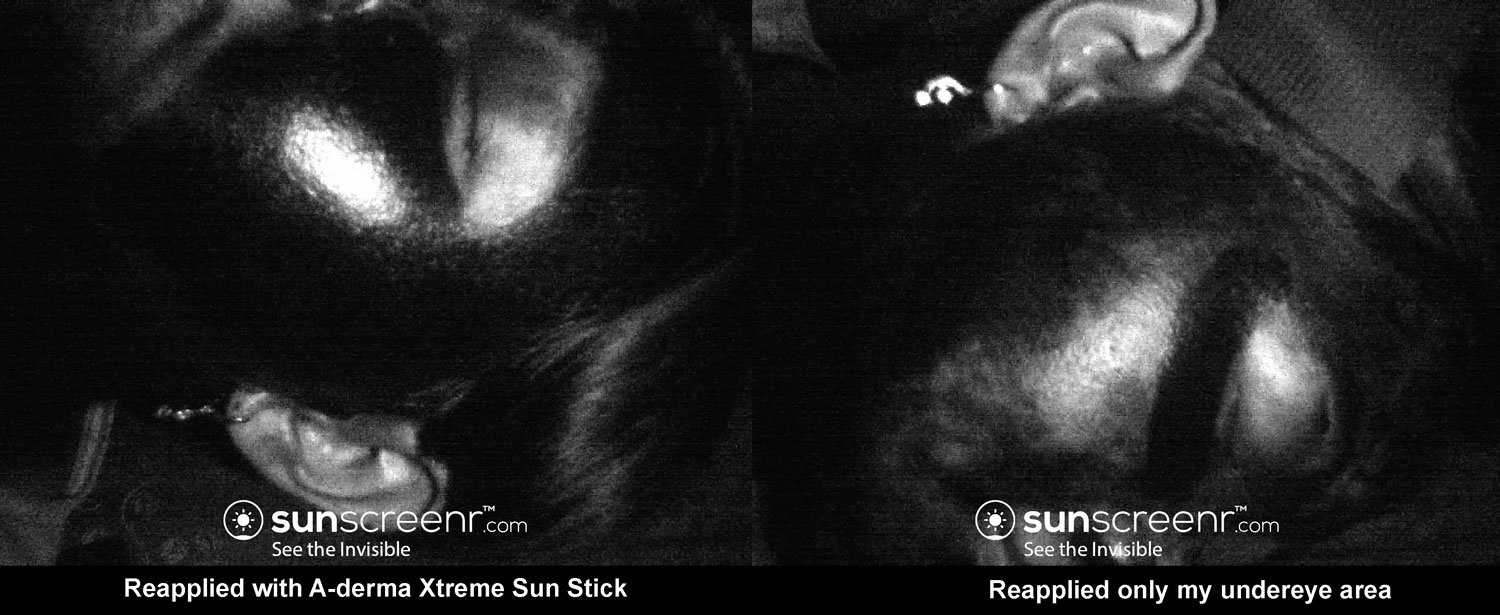 Woo~look at dat coverage, people! As expected from A-derma with its amazing filters. To be fair, anything with Avobenzone and Uvinul A Plus will look dark under UV camera. But gotta love that it's not patchy at all. Mind you, I only swiped 1 layer (no overlapped) across each section.
Blotting 02
A-derma Xtreme Stick is a balmy texture, so obviously I would look shiny and glowy but it's actually bearable.
My skin got oily again (it also felt tight), so it was time for another blot.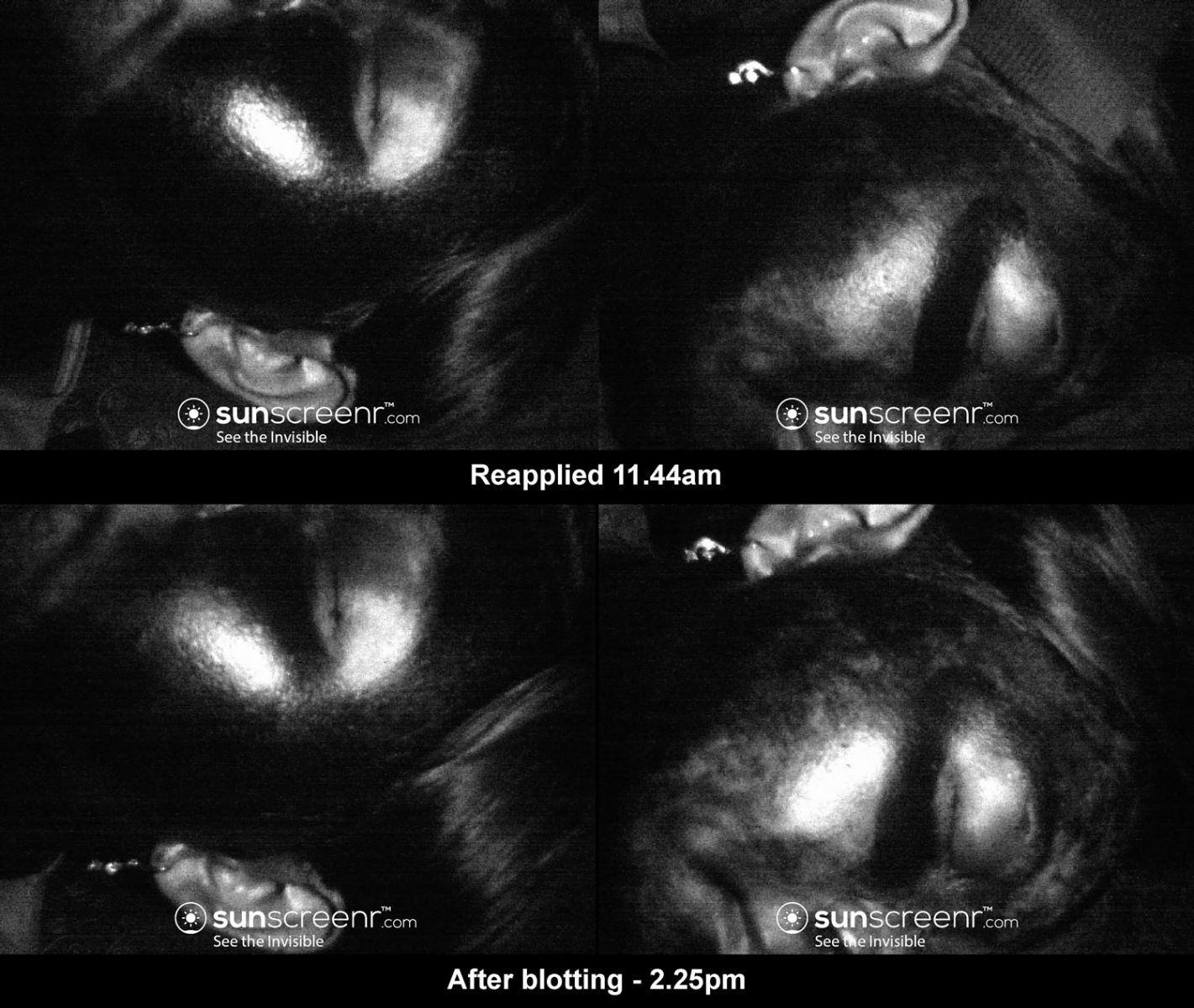 As you can see, the first sunscreen layer has faded significantly and was very patchy.
The A-derma side definitely got removed a bit, but not so much that I need to reapply. It's a balmy product afterall.
Blotting 03 - After Exercising
My last check-in for the day, see how it looked after sweaty exercise.
The A-derma wasn't bad at all. I usually use it to apply the back of my neck as it's easy to do so. I prefer (old) SVR Sun Secure Stick for my (dry) lips.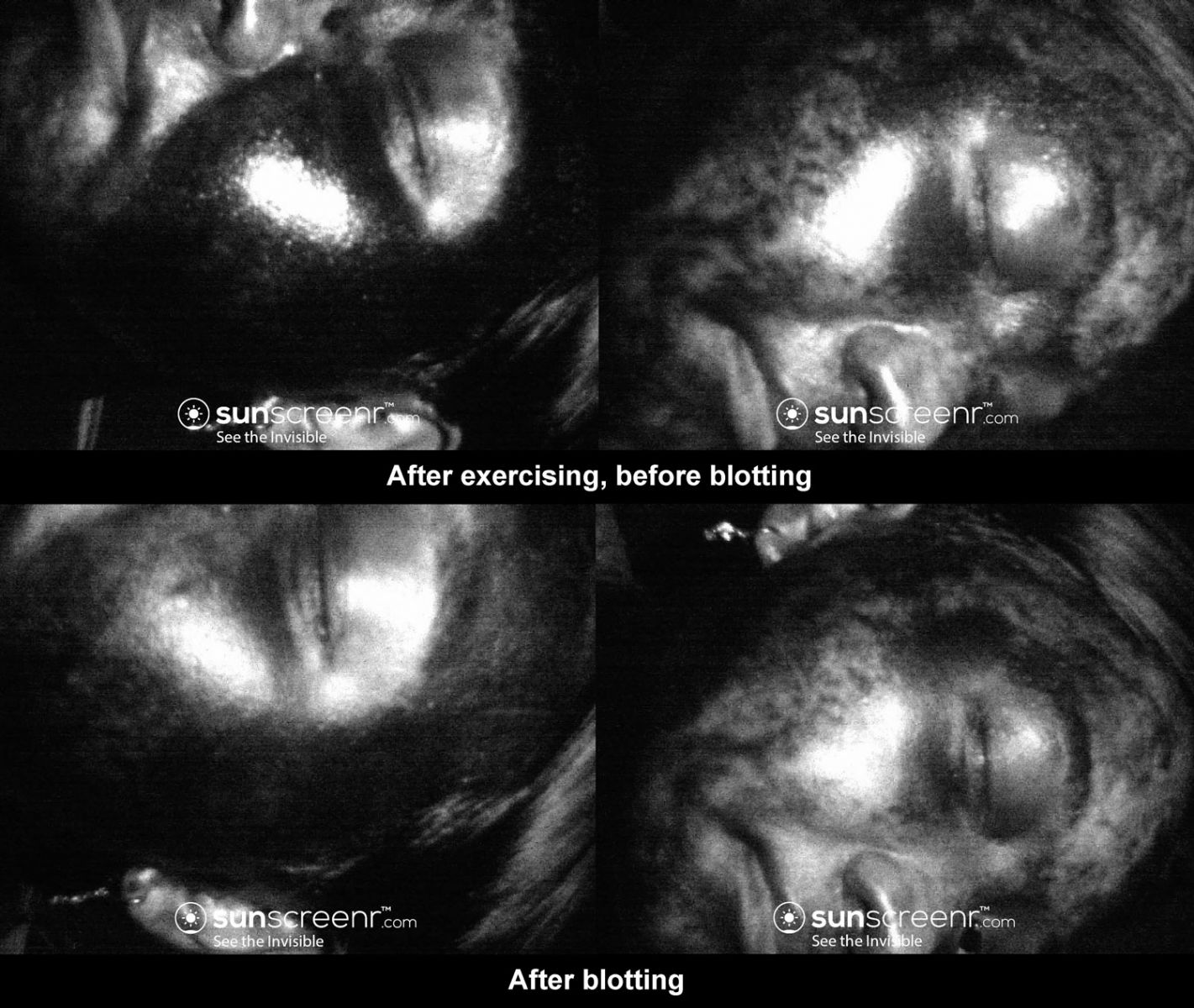 Wear Test 04 - Without Any Hydrator
Preparation
You would think I'd stop at 3rd wear test, ha! Today I applied the sunscreen without any hydrator, so only putting my acne treatments (Finacea gel and BP). It was a challenging test, as I know I need the glycerin based serum to alleviate dryness from those acne treatments.
That aside, I would say, the sunscreen finally actually sets and dries completely dry to the touch! In conclusion, the key is putting the Kose Suncut UV Perfect Waterproof Gel on bare skin for best finish.
And it also applied very much evenly compared to previous tests!
I must admit, my skin felt very dry throghout the day. I am not sure if I'm comfortable recommending this for easily dehydrated skin out there...

Blotting
The time for blotting! The blotting aftermath looked more even and less patchy with this wear test.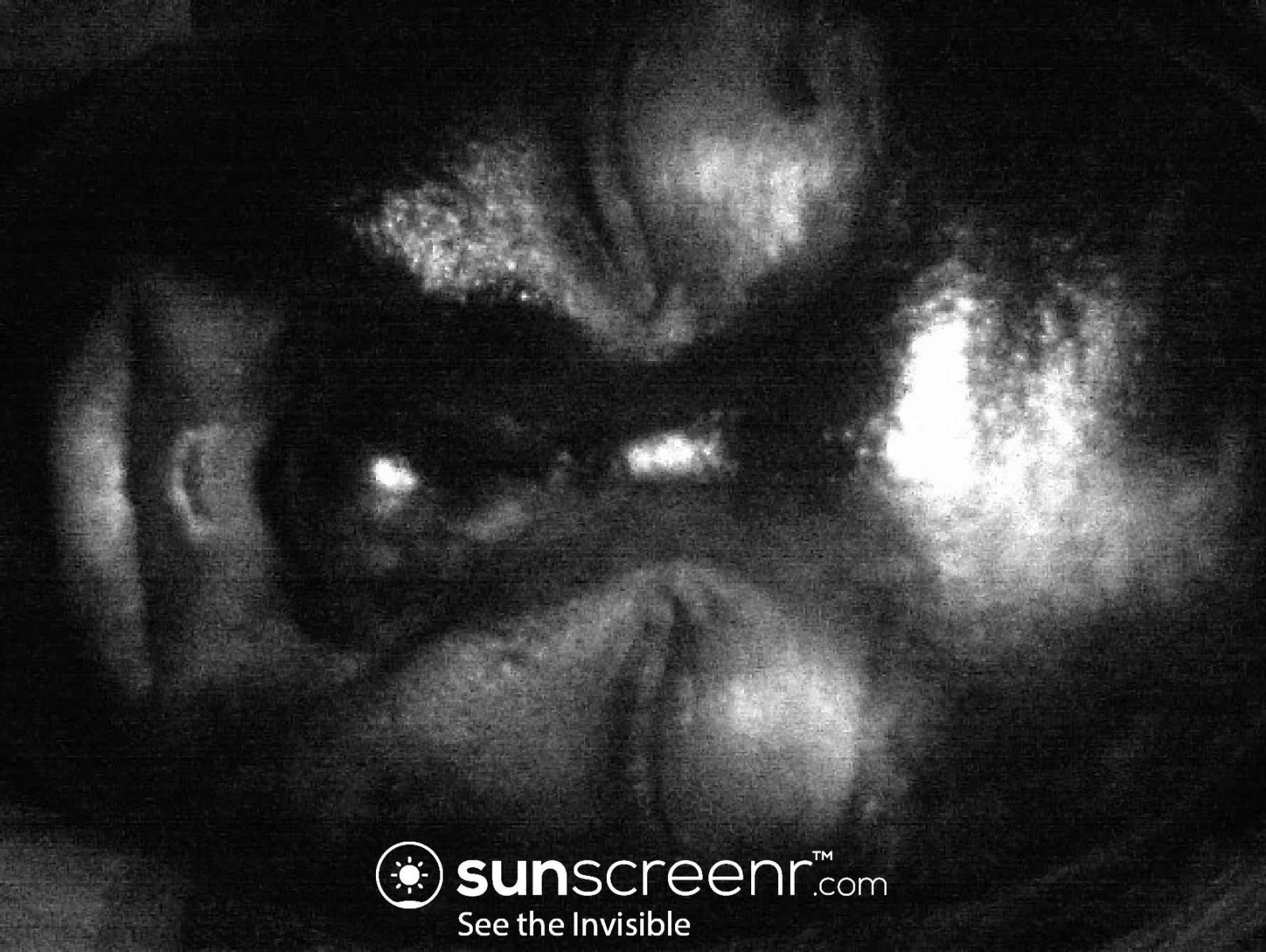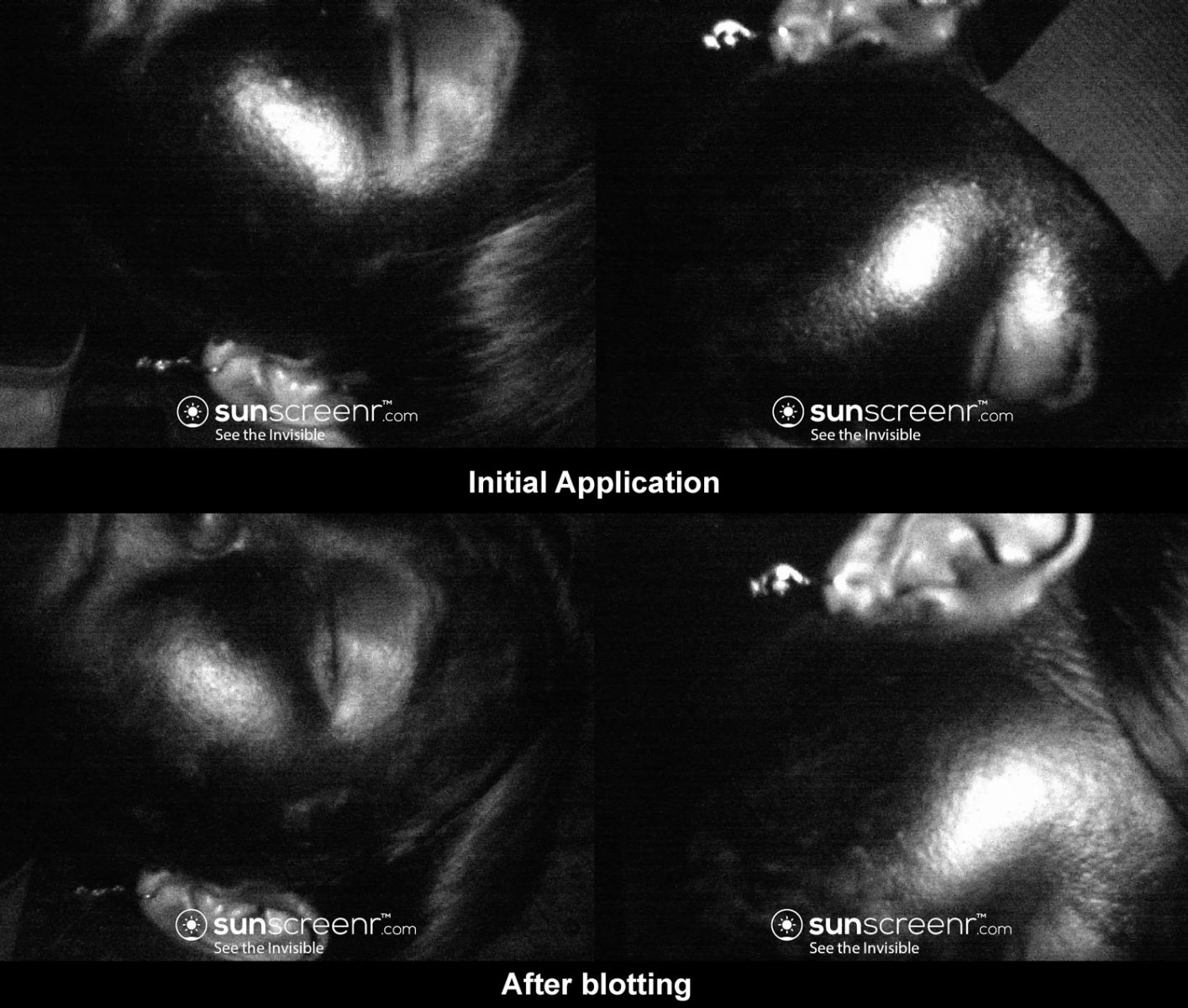 Wear Test 05 - Friction Test
I managed to capture how the friction withstood during my grocery shopping. Obviously I held many grocery bags on my arms, and I definitely see some sunscreen being rubbed off. Remember to reapply if you are rubbing off your skin with towel and if you are outside for longer period!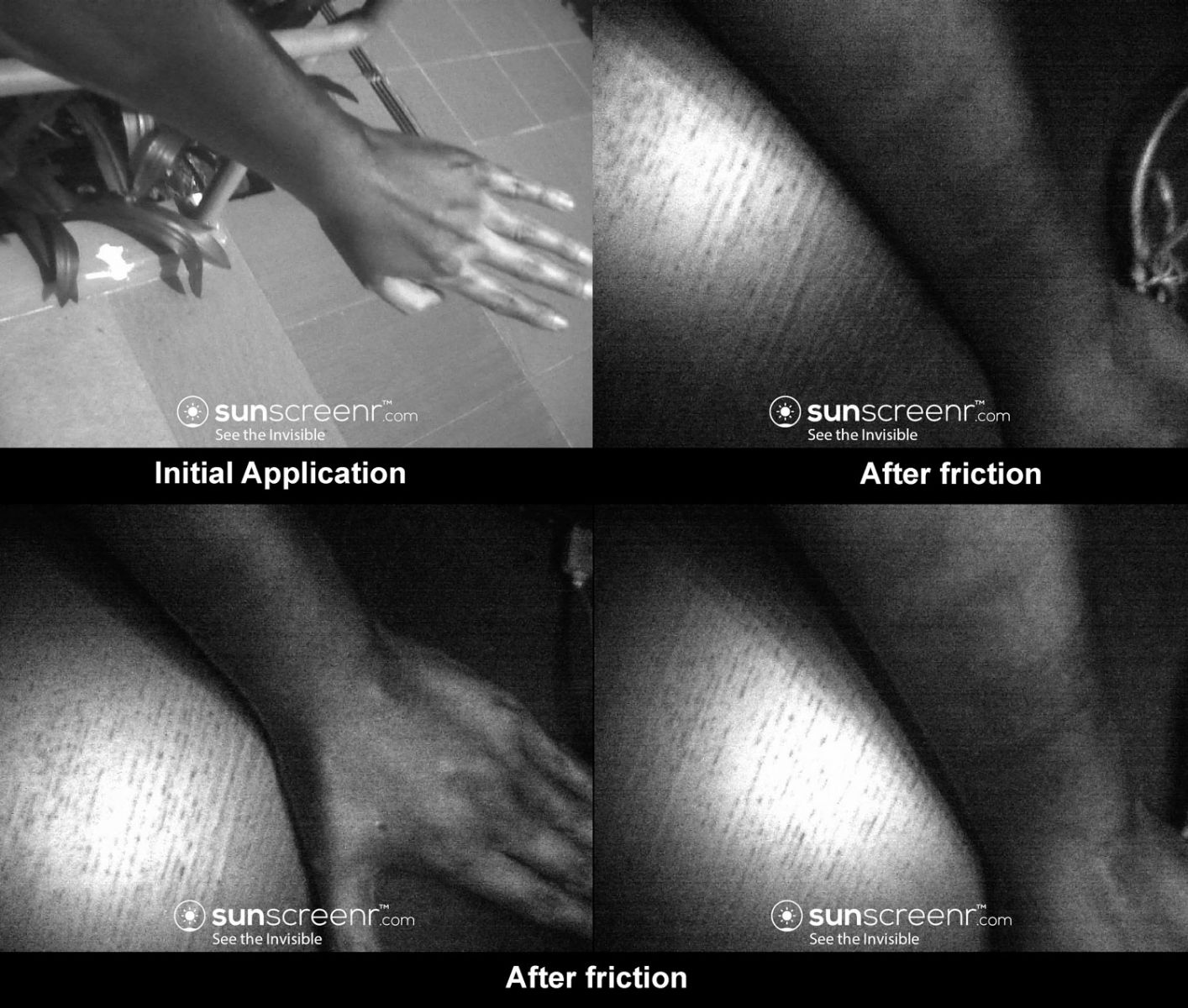 Conclusion
There you have it! Phew, that was a long trip.
I would recommend it for body application and I wouldn't mind to repurchase. The pilling is pretty annoying though.
I don't recommend it for face application, especially if you have dehydrated skin. It's a pain in the ass to reapply too, as it pills (big issue for me, personally).
Please reapply when you are out for longer period or when you rub off the sunscreen be it by toweling, sweating or blotting with tissue/whatnot.
I'm done with the 100g bottle of this Kose Suncut and I'm trying out new sunscreen. Ths time I'm trying out Kanebo Allie Extra UV Facial Gel N 3.0 SPF50+ PA++++ (product link here). So far so good! Much better finish than this Kose or the body version, however, unfortunately it has whitecast. Well, that's for another post next time.
I'm back with Anessa Perfect UV Milk for my body, and I want to slap myself sometimes thinking back how I could I endure applying this Kose Suncut on my body. I spent longer time to massage this Kose Suncut gel on my body evenly, while with the Anessa, it is so much easier to massage it evenly and it sets quick. My morning body sunscreen application time is shorter now with the Anessa. I would need to finish current opened bottle of the Anessa (I don't want it to go bad), before digging new sunscreen out.
Discussion
I posted this link over Reddit, Instagram and Twitter. If you would like to comment, you can head over these links for discussion.
https://www.reddit.com/user/chocosweet/comments/nwjhkm/under_uv_camera_kose_suncut_uv_perfect_gel/
https://www.instagram.com/p/CP73_bvn_7H/
https://twitter.com/chocosweetclub/status/1403245168598286337
About UV Camera
Disclaimer: I only use this to see if a sunscreen disperses an even layer (or patchy and spotty); and if I miss out a spot during application. It's not by all means to measure the sunscreen protection level. Got mine from sunscreenr.com. It's compatible with android phone.