Product Summary
Cancer Council Active Sunscreen SPF50+ UVA UVB Broad Spectrum Protection (AUST L 207979)
UV Filters:
Avobenzone 5% w/w
Enzacamene 4% w/w
Octocrylene 2% w/w
Tinosorb S 1.5% w/w
Properties:
No alcohol
Fragrance free
Water resistant (4 hours)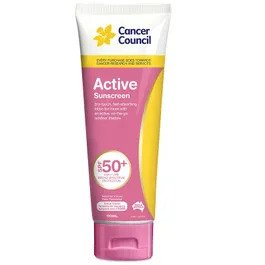 Preface
Hi everyone, how are you doing?
This will be my first post of Australian sunscreen. Well - not quite. If you follow me on Instagram, my first Australian sunscreen that I tried was the Hamilton Everyday Face SPF50+ (pictured below) and it was a failure. I had high hopes but that one pills and so greasy! And it stung my eyes. I don't have sensitive eyes at all. That's a shame. I have since passed it along to others to try, so I won't be reviewing that one.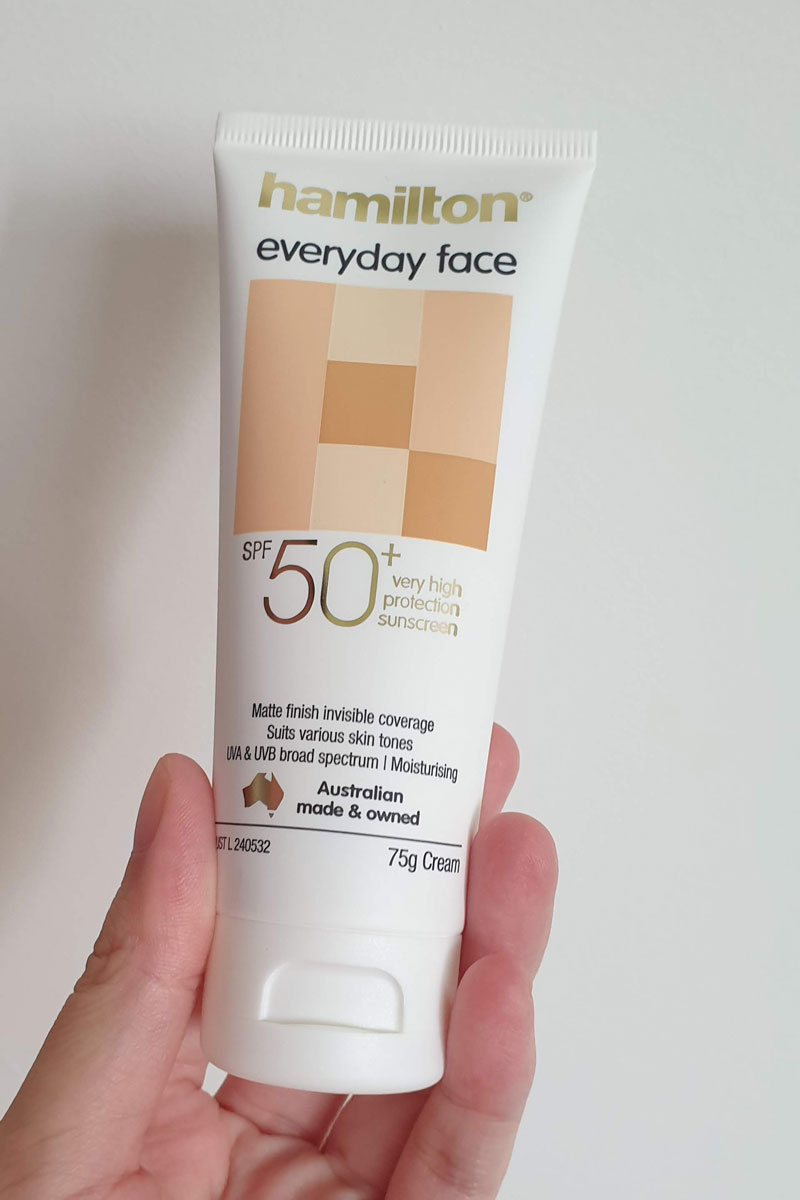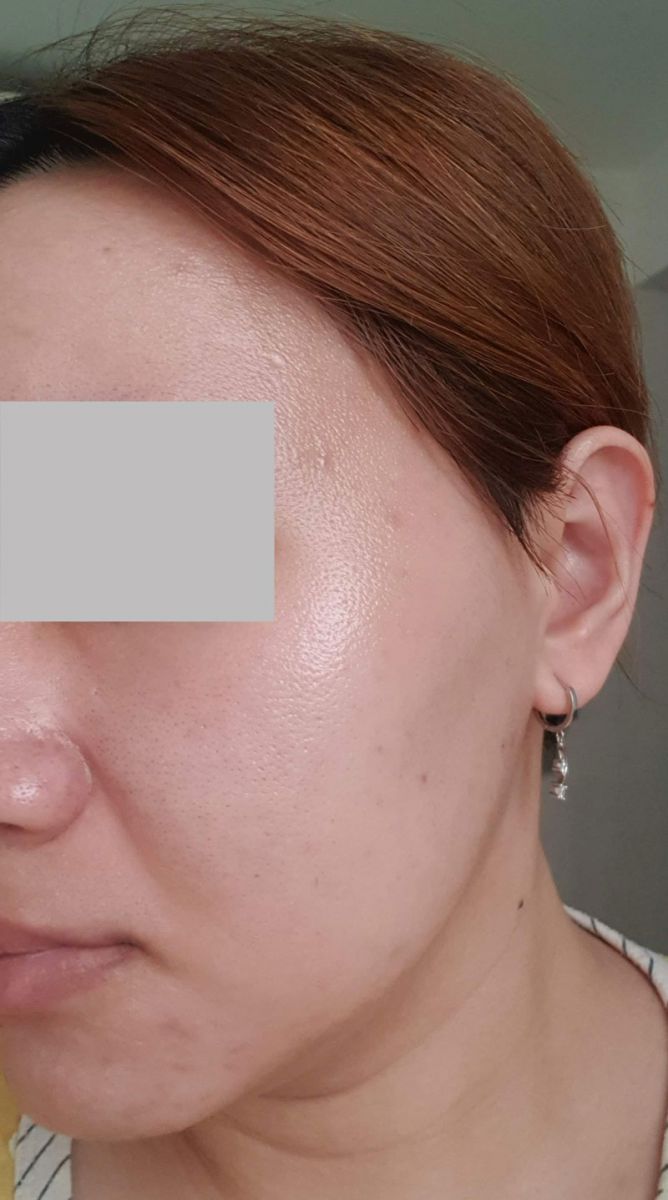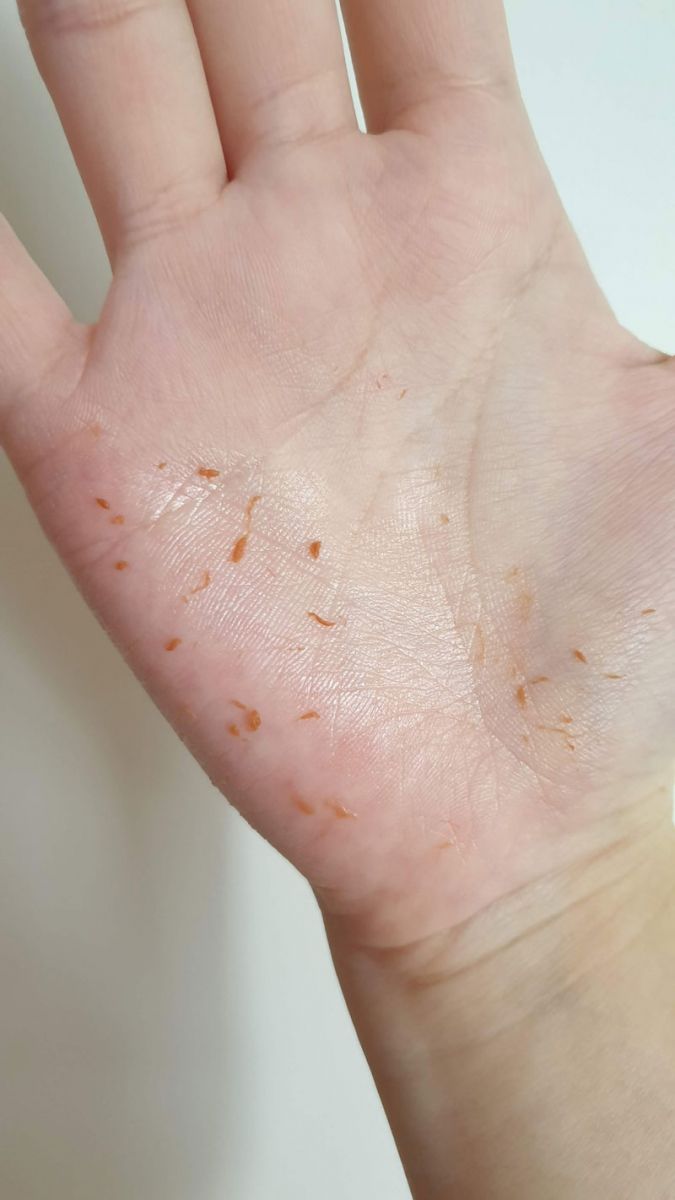 So today, I will be reviewing Cancer Council Active (Pink tube) instead.
I got mine from chemistdirect.com.au. It's not sold locally at where I live (Singapore).
Characteristics
Packaging
It doesn't come with a box, just a plain pink color tub, with flip lid opening. The opening of the tube was sealed with a foil inside.
It's pretty easy to flip open the lid, so if you are going to travel with it, remember to put it in a ziplock bag, and tape the opening if you can, to prevent leakage.
Texture
This is a very runny lotion, opaque white color, spreads really easily; probably too easy for my liking. I can feel the lotion has a hint of grittiness, very typical of silica containing sunscreen.
Scent
It's fragrance-free. I don't sniff anything funky from the lotion.
White Cast
No white cast. I haven't encountered any fabric staining either. Do note I rarely wear white fabric though. I prefer colorful shirts haha.
Finish
I use this mostly on my body and it sets really well but still with a touch of tackiness. Despite the tackiness, it still feels lightweight on my body skin. It has not triggered any sweating. It reminds me of the lightweight feel of Kose Suncut Perfect Gel, except the Kose Suncut is much more drier touch than this Cancer Council Active.
I'm really satisfied with the finish. It's not 100% dry touch, I can definitely still feel something on my skin, however, as I live in a humid country so I think it's inevitable.
Pilling
No pilling on first layer. On second layer, I can feel the lotion grittiness more pronounced, especially near hairy places, it may cause clumpiness.
ADHERENCE
Preparation
I applied the sunscreen on my left bare cleansed arm, took photos using UV camera (Sunscreenr). I let it set for ~30mins hour before taking the UV camera picture.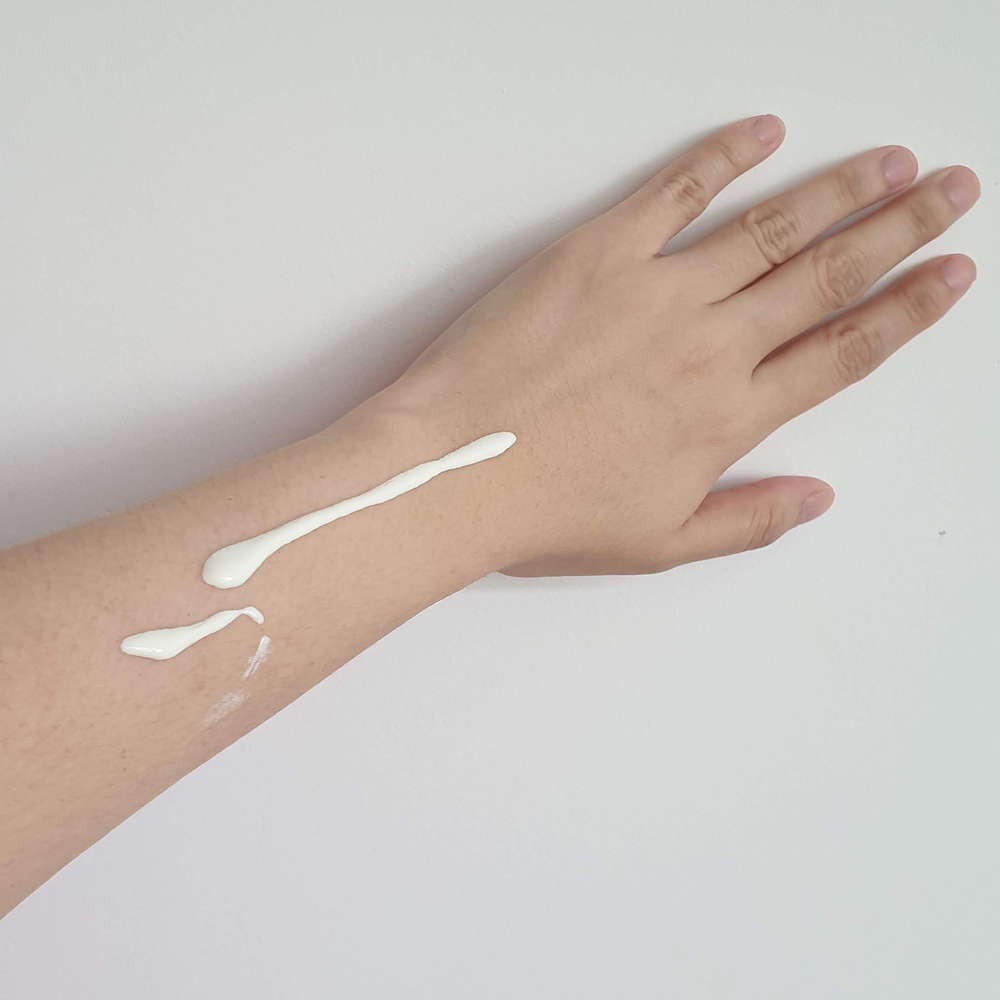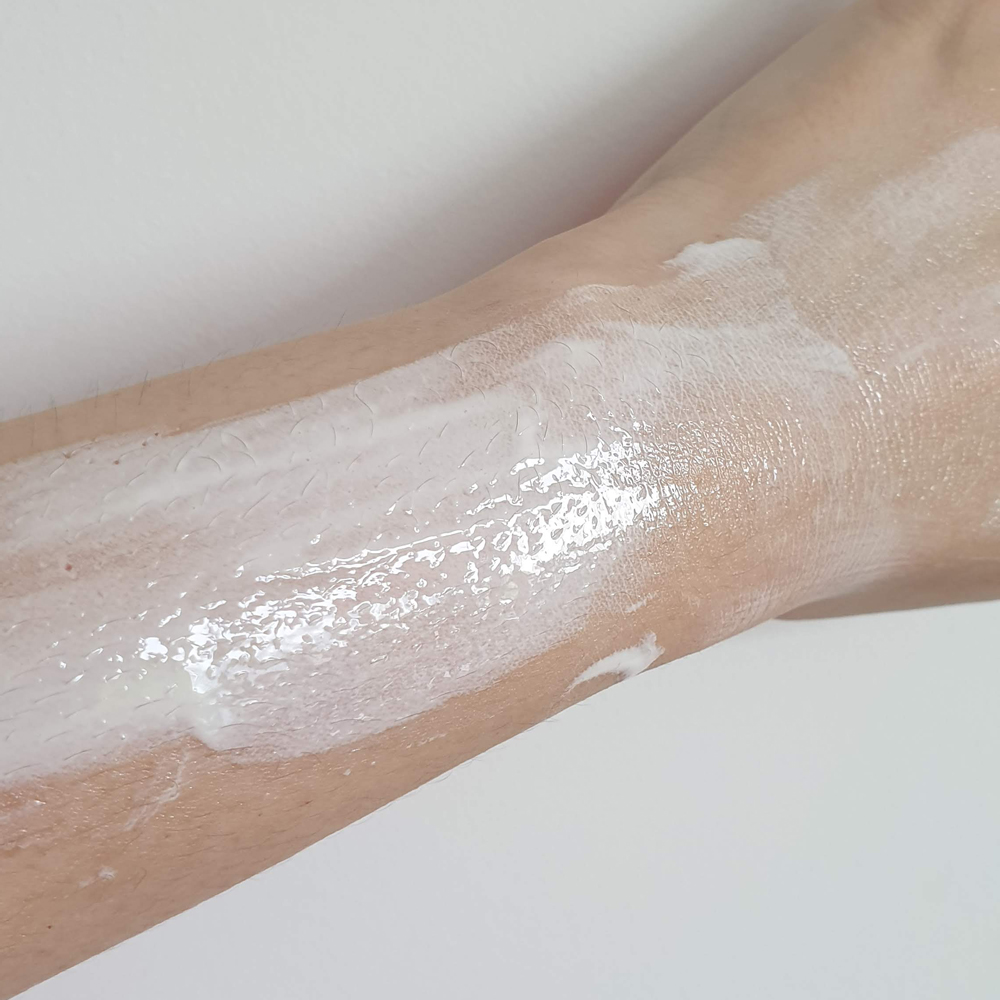 Shine Level
During initial application, I can feel some grittiness upon spreading the sunscreen. If you are familiar with silica containing sunscreen, it's a similar sensation. The shine does reduce after 30mins, but it never dries into matte finish, in my experience.
It doesn't take too long to spread and sets. I am really surprised that the sunscreen does actually set!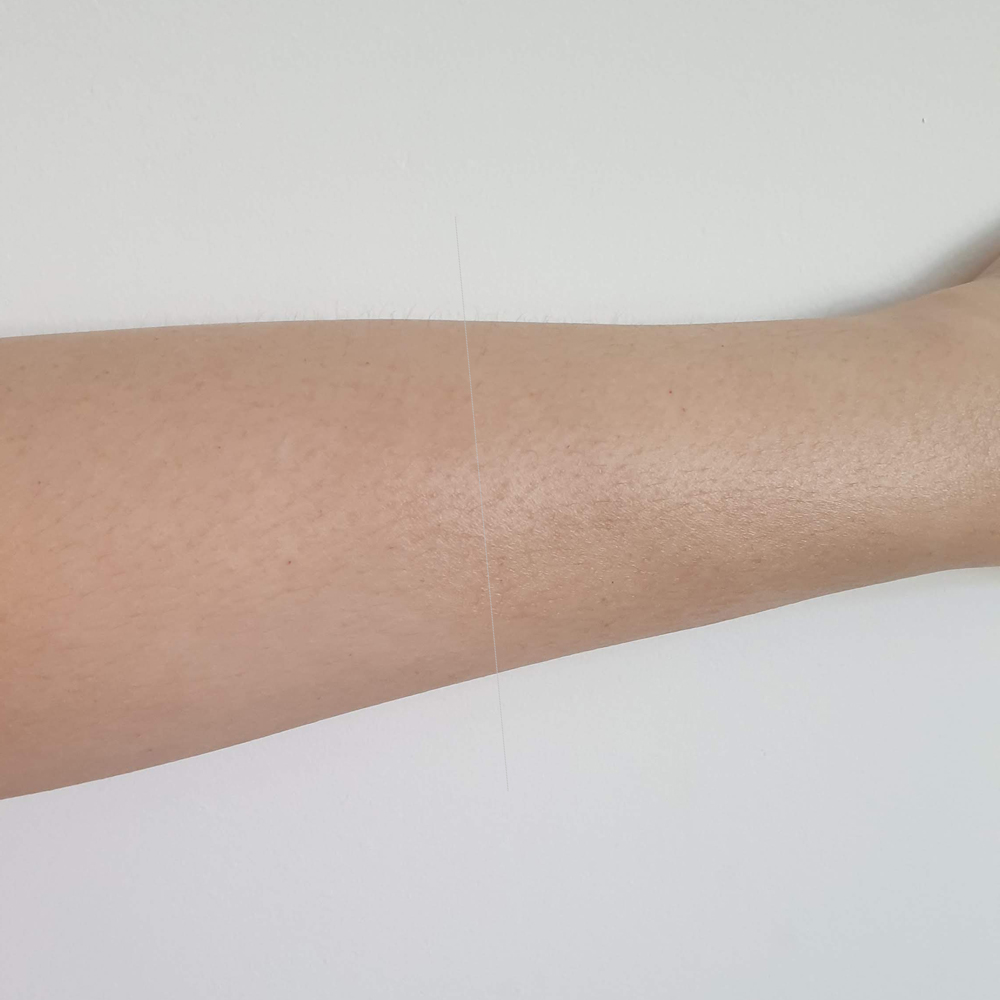 Coverage
As expected, it has even coverage.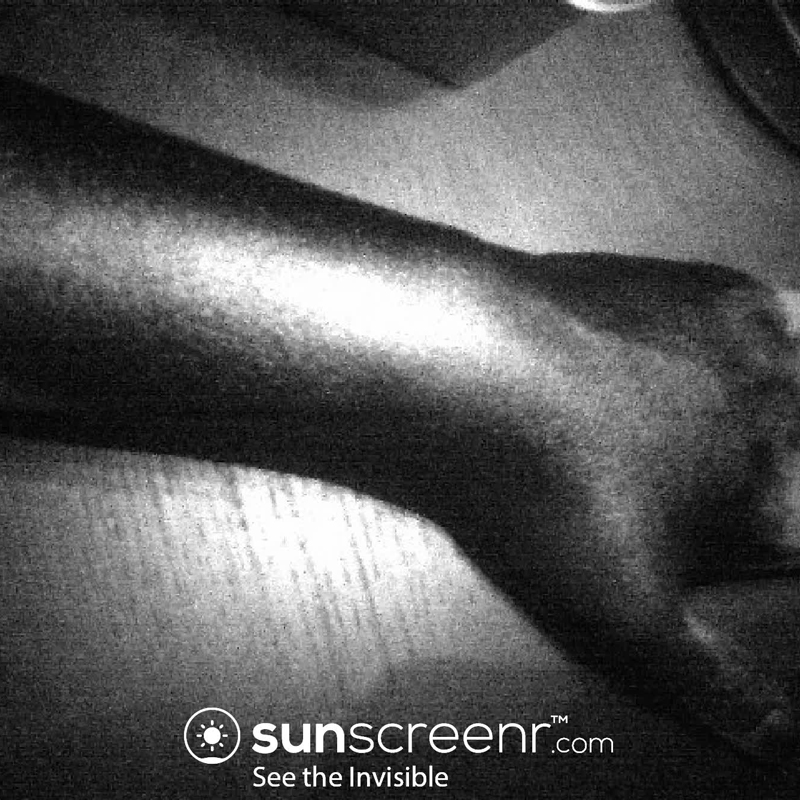 Rub Test and Removal
I rubbed back of my palm section under running water for ~30 seconds. And on my wrist area, I used Dove body wash (this product) in effort to remove it.
The Dove body wash contains stronger surfactant and oil, hence my sunscreen is pretty much gone after rinsing it off with water.
I also used MUJI Cleansing Oil and it removes the sunscreen effortlessly. This is what I use on daily basis to remove sunscreen from by body.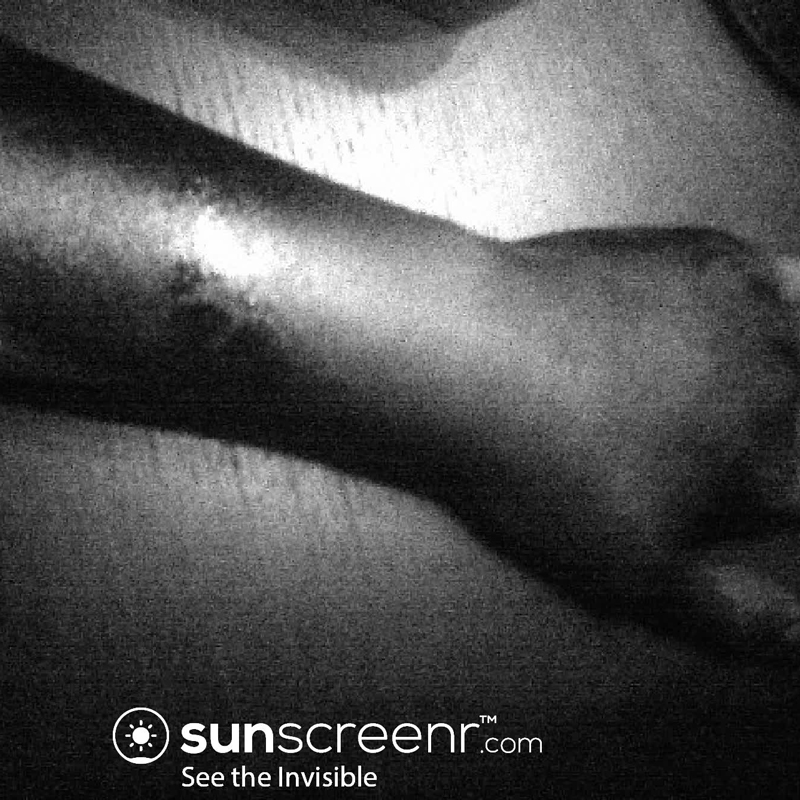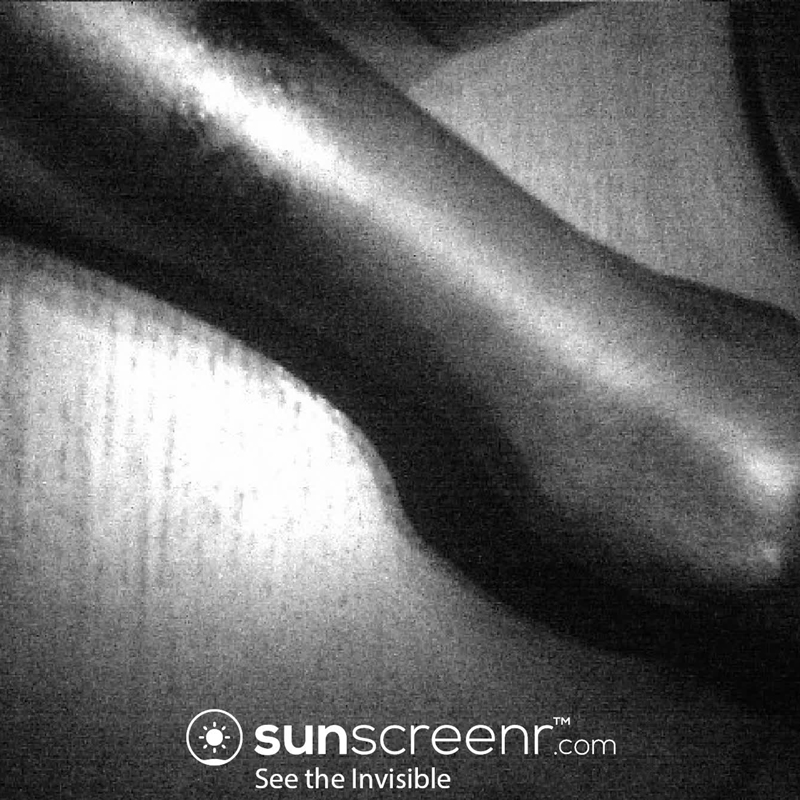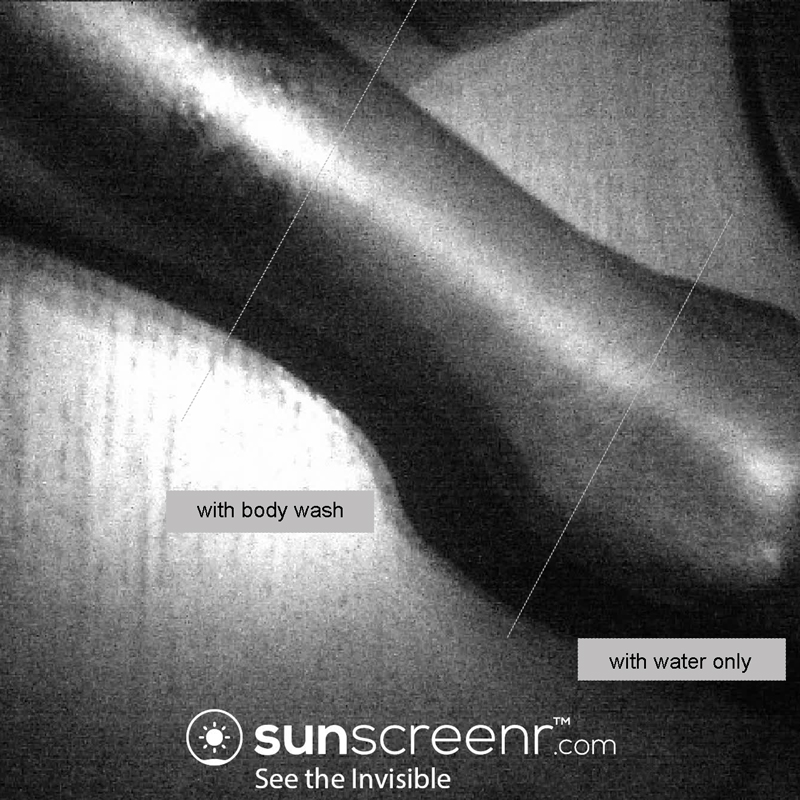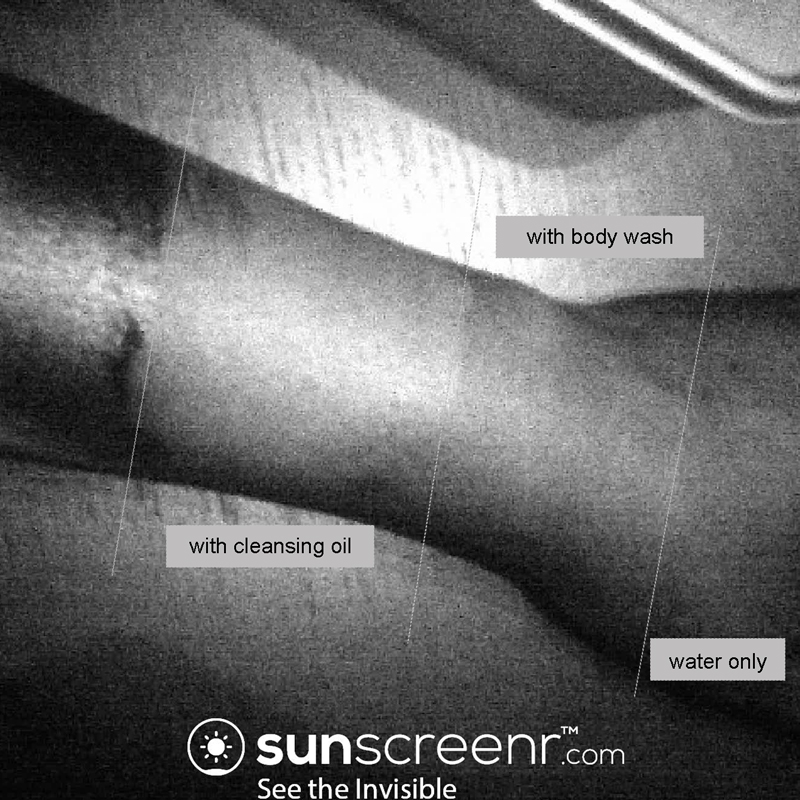 Wear Test
Preparation:
On this swatch, I used my usual AM skincare underneath the sunscreen. This is what my usual AM routine looks like:
DHC Cleansing Oil
DIY - Niacinamide + Tranexamic acid serum in simple water and glycerin base
Finacea Gel
Benzac AC 10% Benzoyl Peroxide Cream
Sunscreen of the day
I don't do any wait times. As the serum is my own concoction, I always make it very watery and leaves no emollient residue. By the time I apply my sunscreen, my face is hydrated, but not damp or wet for sure.
I didn't apply any sunscreen on ears and lips for contrast and comparison with Shiseido The Perfect Protector. It is currently my most matte sunscreen in my collection. Well, wait, Skinfood Sunflower No Sebum Sunflower SPF50+ PA++++ is even more matte than that, but I no longer use it, as it's troublesome to import it.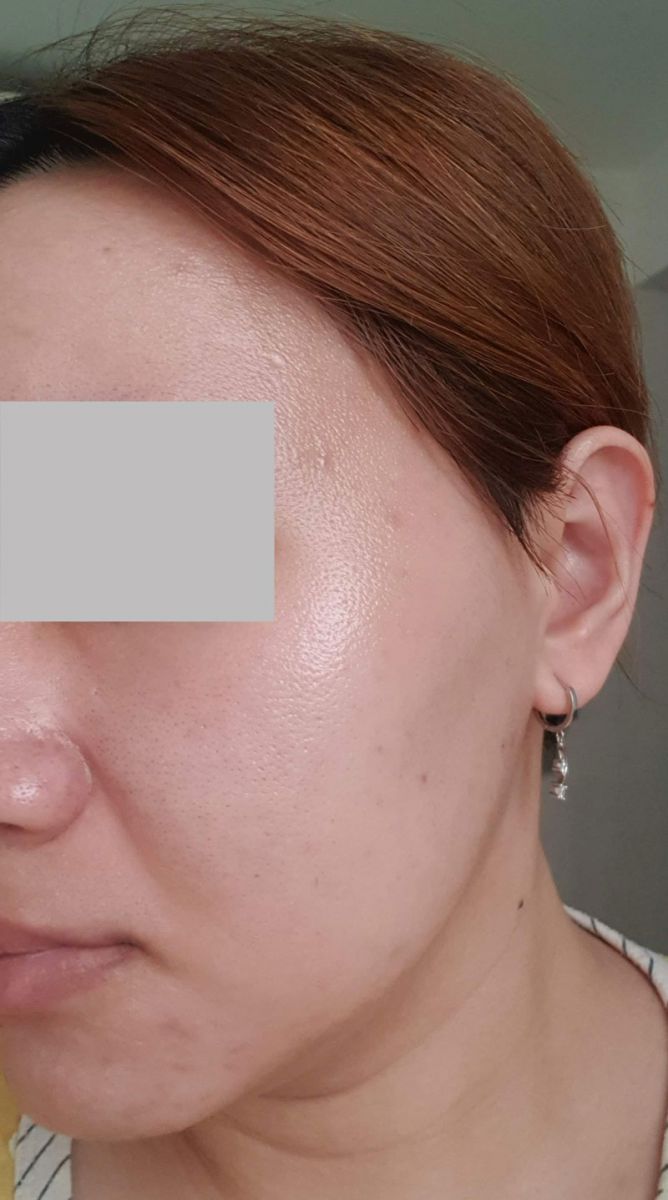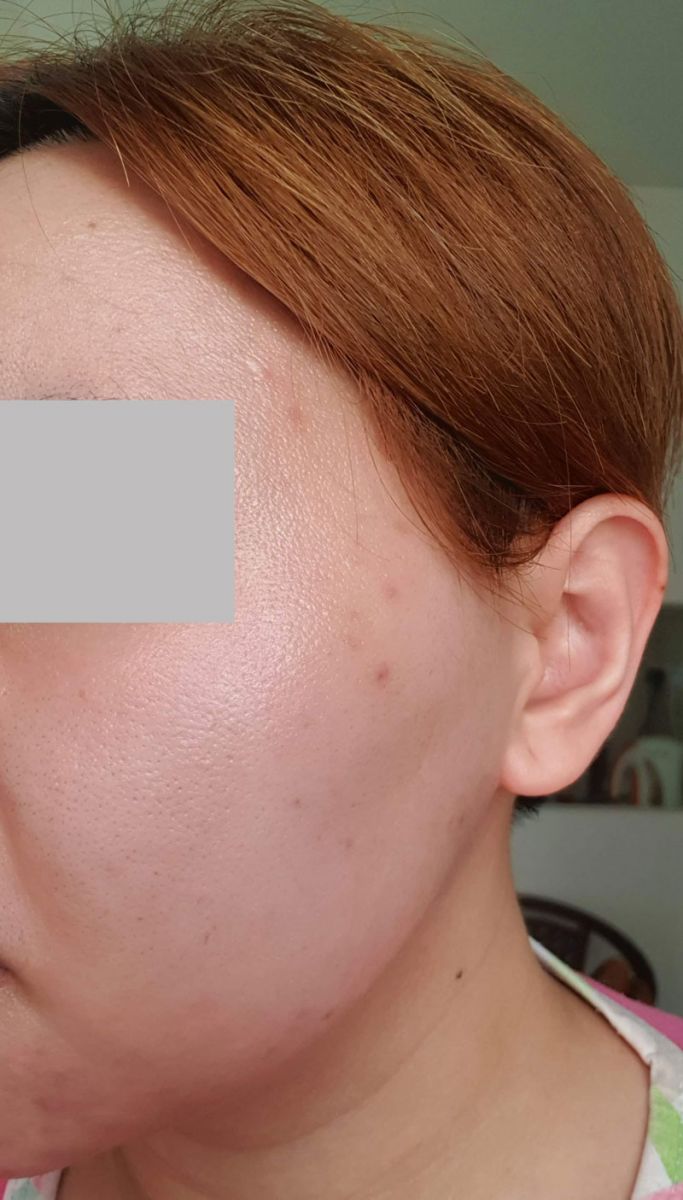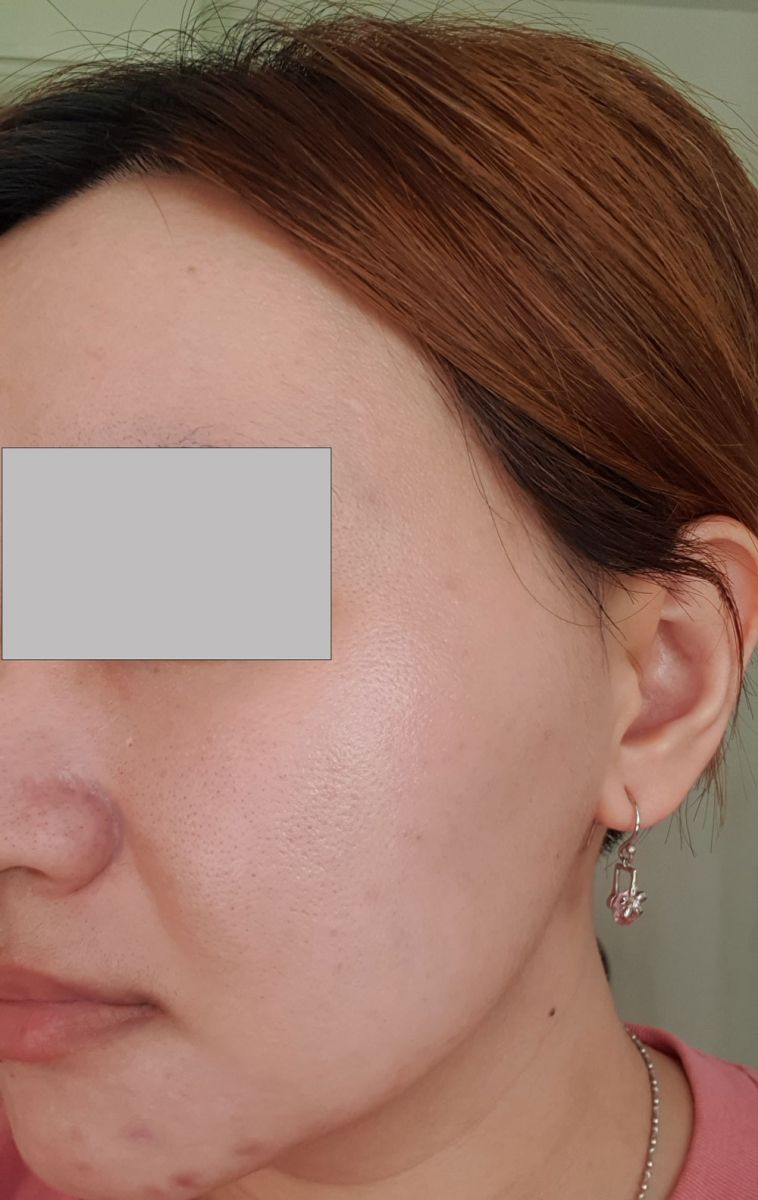 You can see the pictures below to see how it looks under UV camera. I also uploaded some check-ins that I took as day went on.
My face turns greasier as day goes on, nothing new. At 4 hours mark, I can see the sunscreen layer started breaking up due to the face sebum. I feel like the sunscreen also slides around. You can notice there is a small part below my nose; from the initial application to after 4-hours, it transfered slightly to below the nose.
On my reapplication, I tried putting straight onto my eyelids, just to make sure it doesn't sting my eyes and I'm glad to report it doesn't sting my eyes.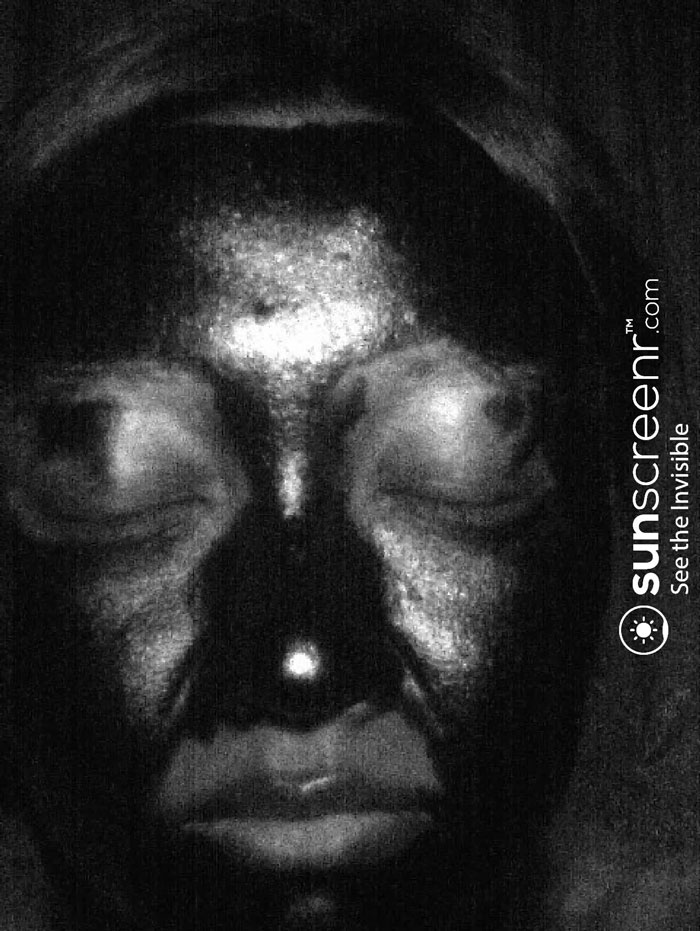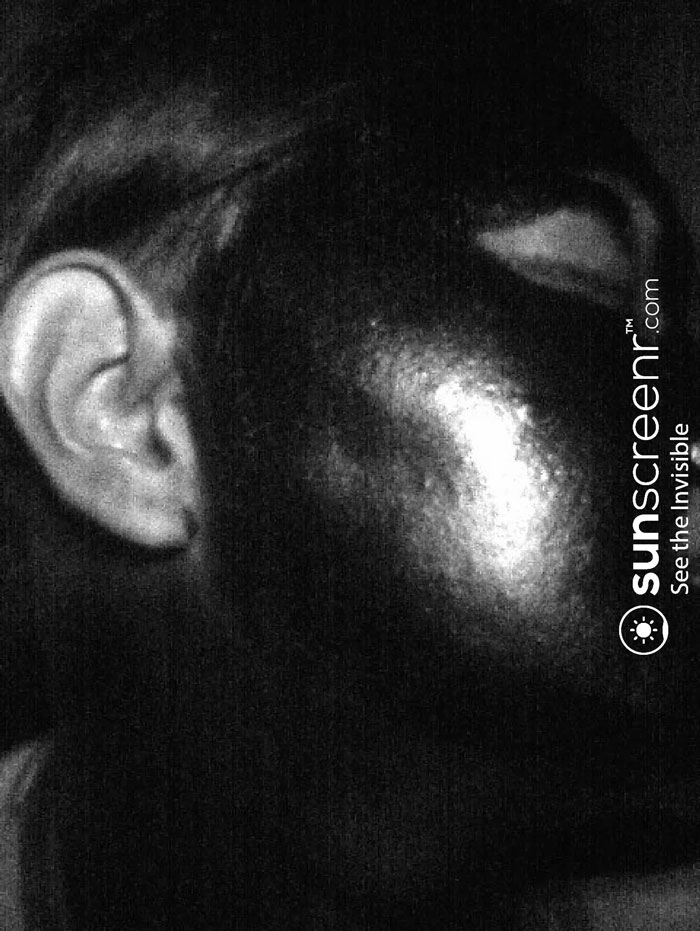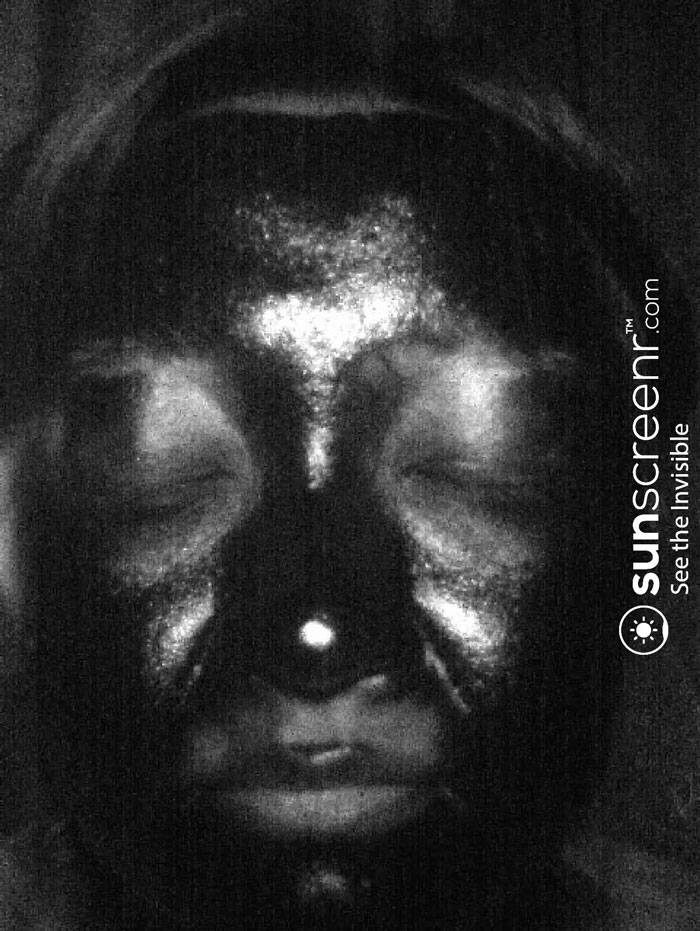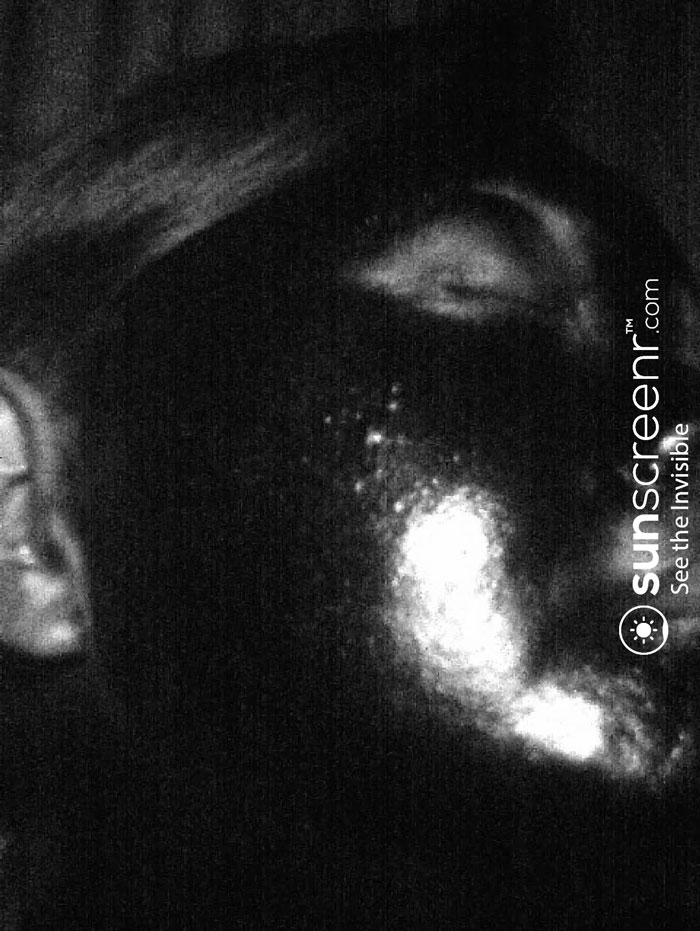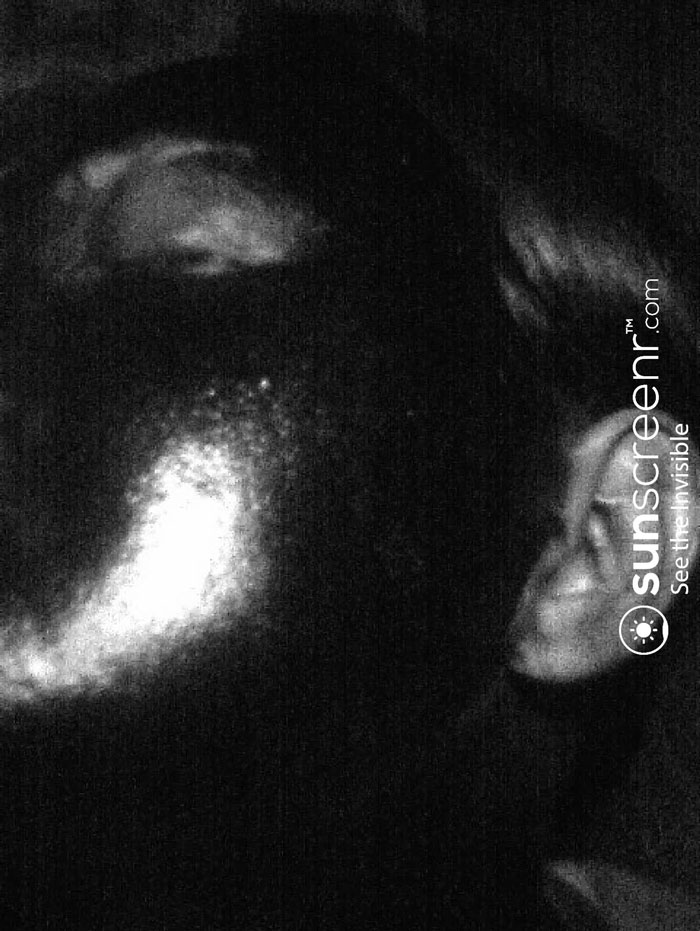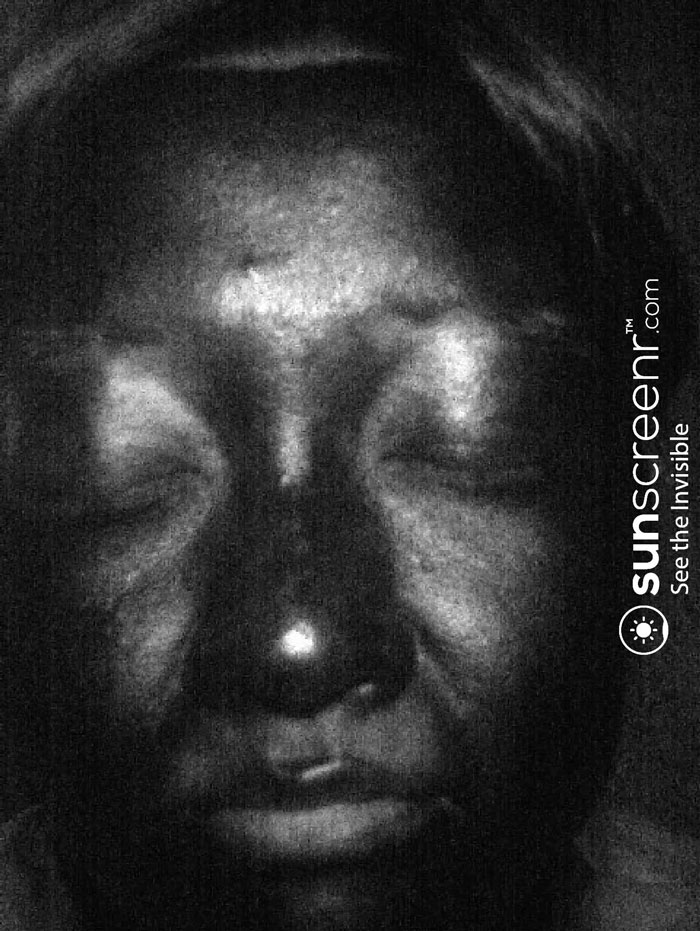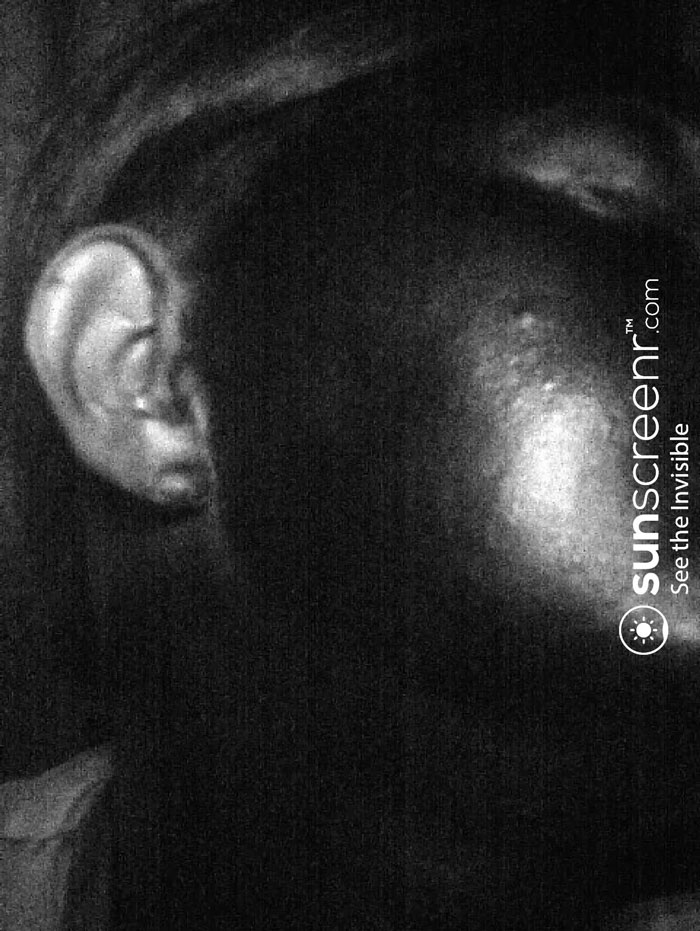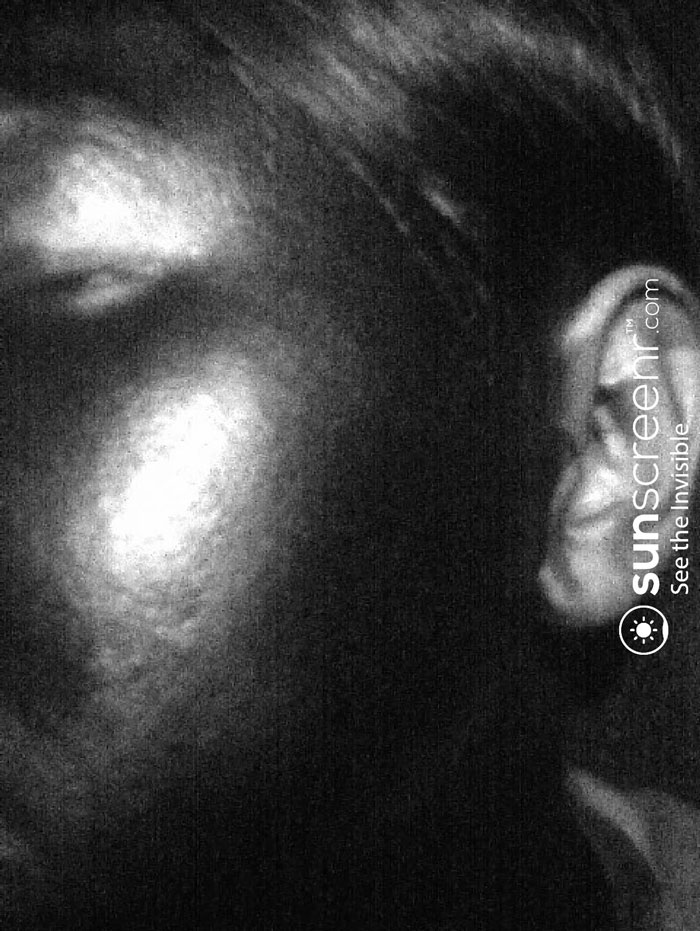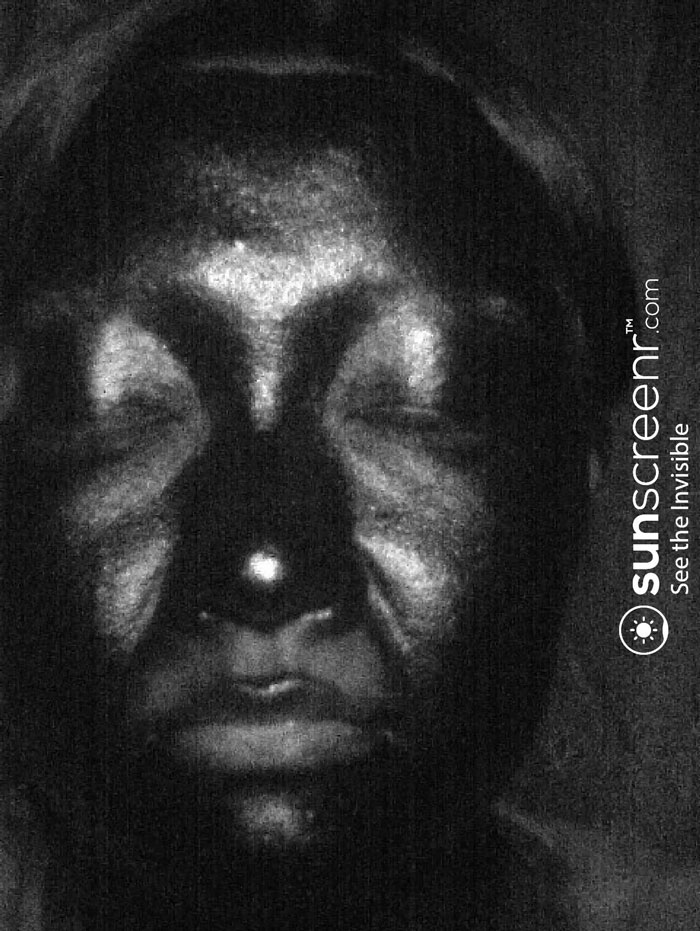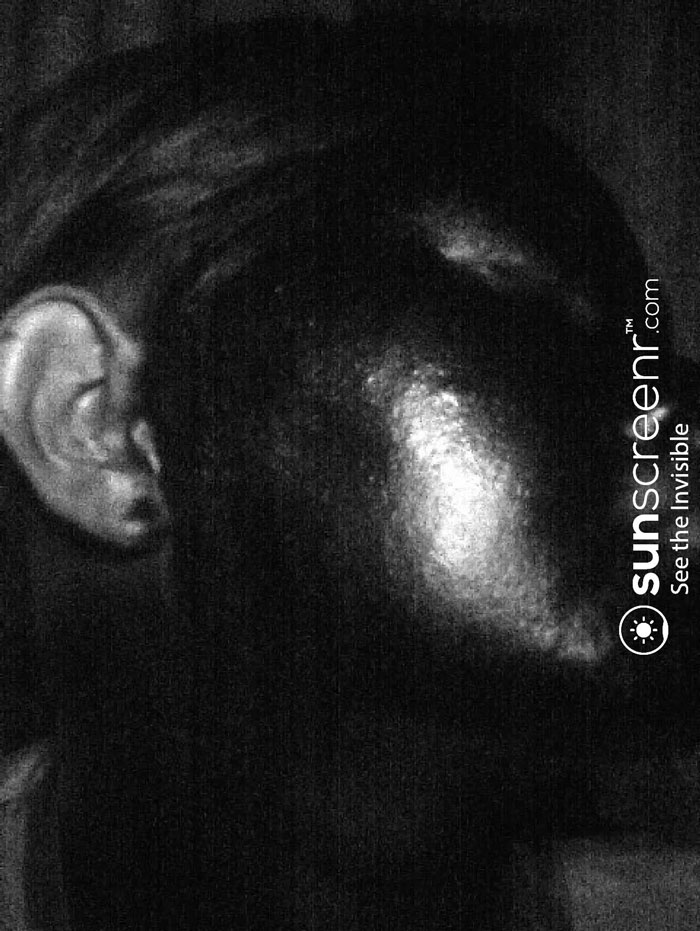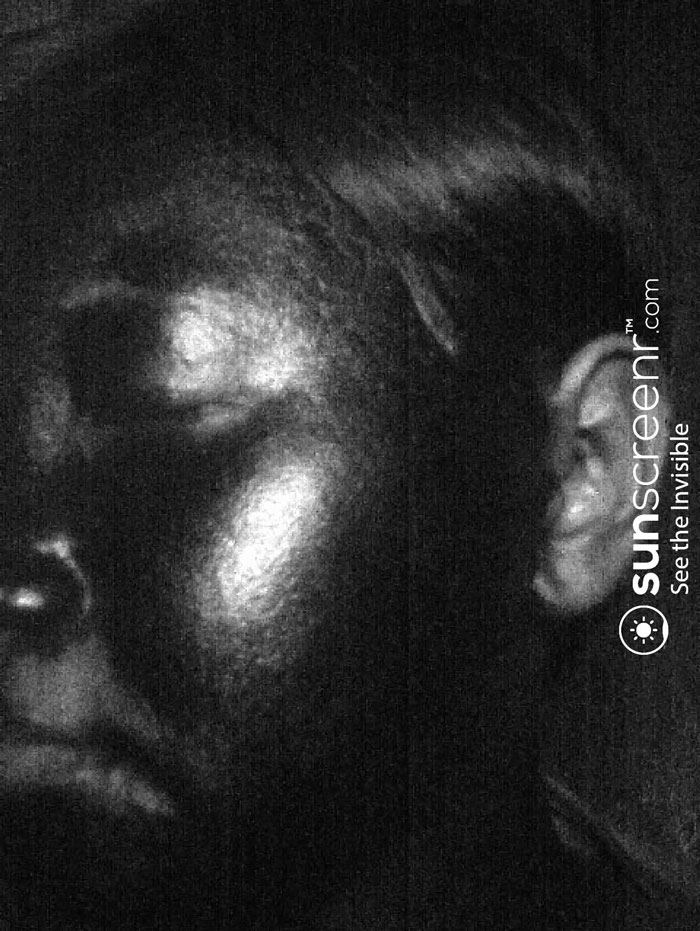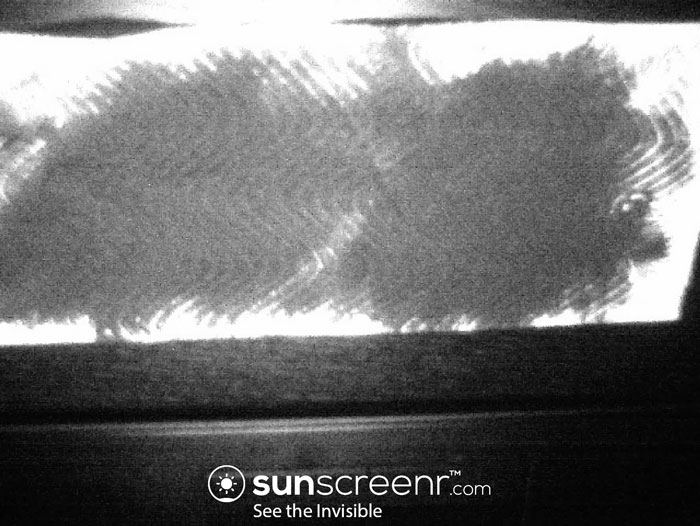 Conclusion
There you have it. I really enjoy this sunscreen and I would recommend it and wouldn't mind to repurchase it.
I let my siblings to try this sunscreen on their body and both of them also commented it's a great, non-sticky sunscreen.
Until next time!
Disclaimer: I only use the UV camera to see if a sunscreen disperses an even layer (or patchy and spotty); and if I miss out a spot during application. It's not by all means to measure the sunscreen protection level. Got mine from sunscreenr.com. It's compatible with android phone.