Product Summary
KOSE SUNCUT PERFECT UV ESSENCE SPF50+ PA++++
UV Filters: Octinoxate, Parsol SLX, Uvinul A Plus & Tinosorb S.
Properties:
Contains alcohol
Fragrance free
Contains Plant Extracts
Water Resistant
Friction Resistant
Sweat Resistant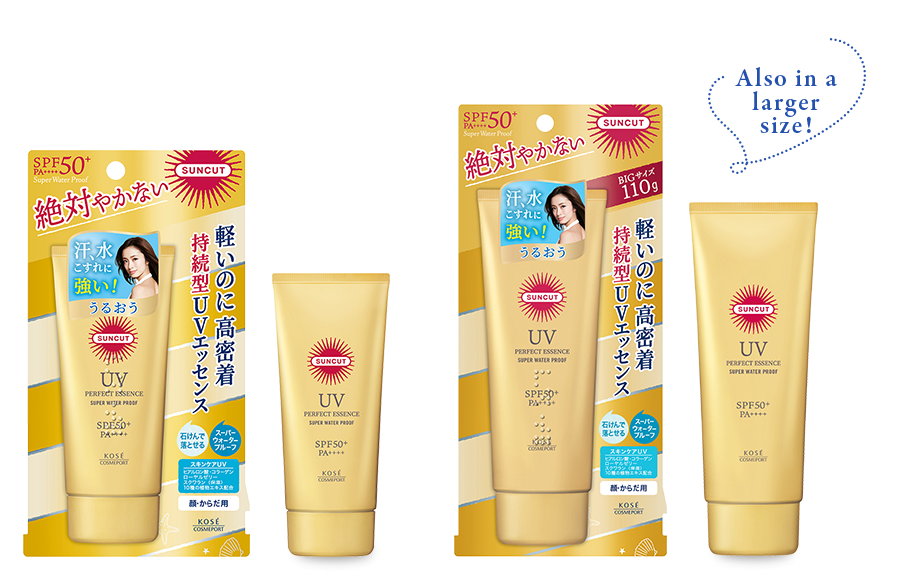 Preface
Hello friends, how is it going?
Today I will be reviewing Kose Cosmeport Suncut Perfect UV Essence. Let's dig in!
As usual, my skin profile: I have oily skin, living in hot humid tropical country. My skin is not as oily as in the last year. Probably stopping tretinoin and start taking collagen powder (that has HA in it) is helping? *wishful thinking*
I purchased mine locally and I can find 60g and 110g tubes.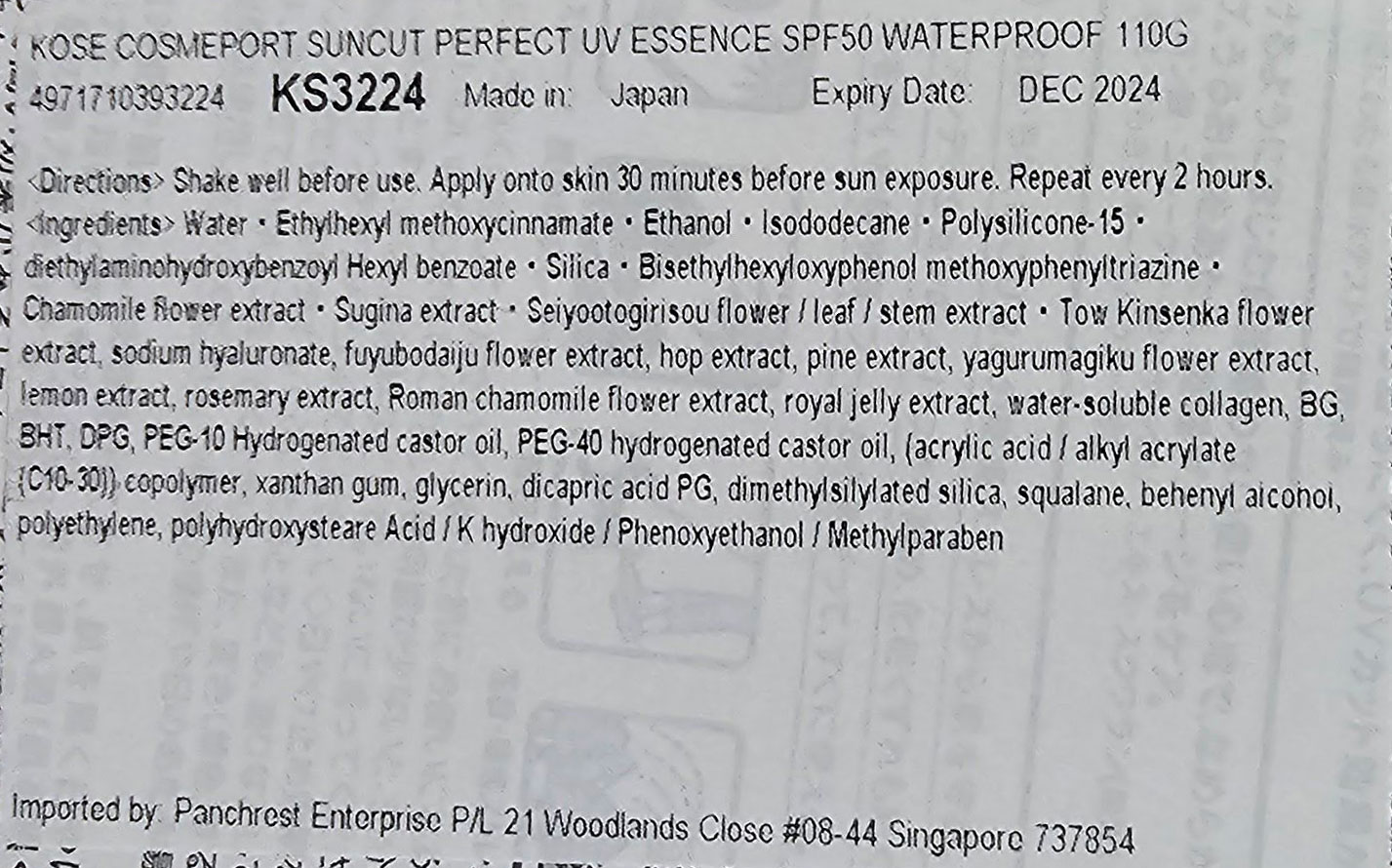 Characteristics
Packaging:
It comes in a yellow gold tub. Mine is still the older packaing with screw cap. The newer packaging has flip cap.
Texture:
It's an essence texture sunscreen. Not runny at all. Blends easily.
Scent:
It has strong alcohol smell. There's no fragrance, but it does contain plant extracts.
White Cast:
No, no white cast is observed.
Finish:
This sunscreen is dry touch once it sets. It sets slightly slower compared to its Gel counterpart, however, it's quick to dry.
Despite being dry touch, however, this does not have matte finish. In fact, this is still quite glowy for my taste.
Pilling:
I haven't noticed pilling on fresh application or reapplication. That being said, at the end of the day, when I touch my skin, I can feel its grittiness.
This is definitely better than the Gel counterpart in this aspect.
Eye Stinging:
No eye stinging for me. I can apply it on eyelids just fine.
Skin Irritation:
Unfortunately, after wearing it for 3 days or so, my skin got really irritated. At the end of the day, my skin was parched. On 4th day of wearing, my morning application caused red stinging face.
ADHERENCE
Preparation
I applied the sunscreen on my left bare cleansed arm, took photos using UV camera (Sunscreenr). I let it set for 61mins before taking the UV camera picture.
Click on the image to view bigger image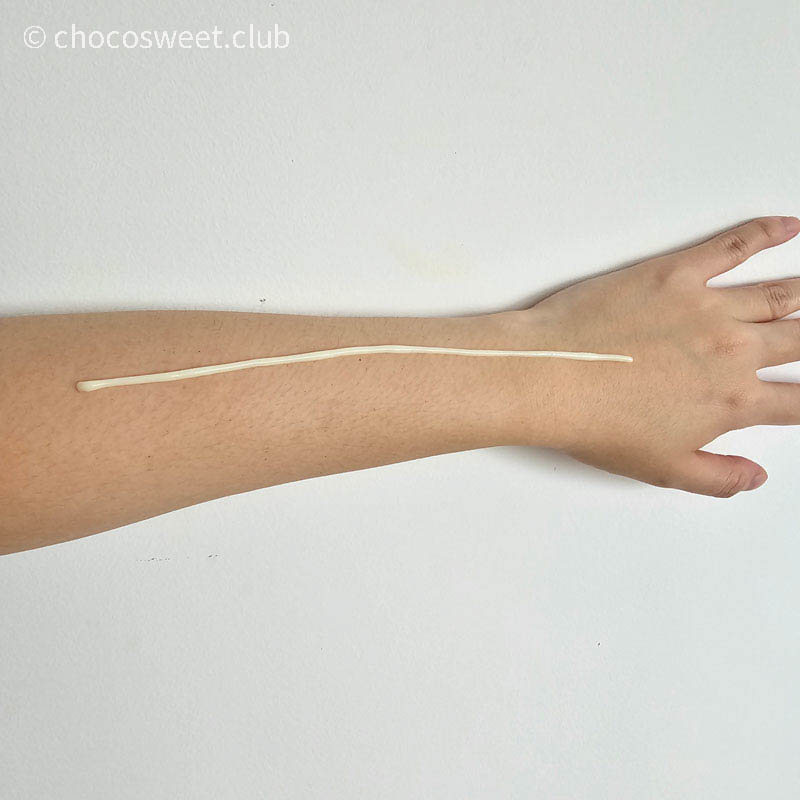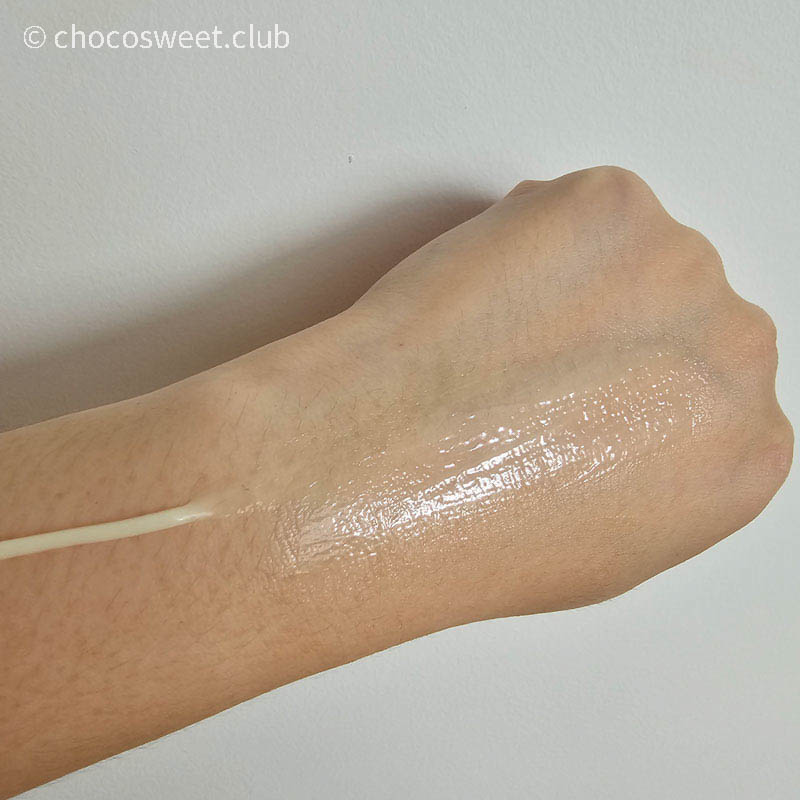 Shine Level and White Cast
It has NO white cast. Dry to the touch once set. Unfortunately it has slight glowy finish but I can live with it.
It has ZERO oil control, so my skin actually got oily quicker than usual, too bad.
I currently use this on my body and so far it's easy to use and has not given me any issue. The dry touch aspect is a lifesaver!
Click on the image to view bigger image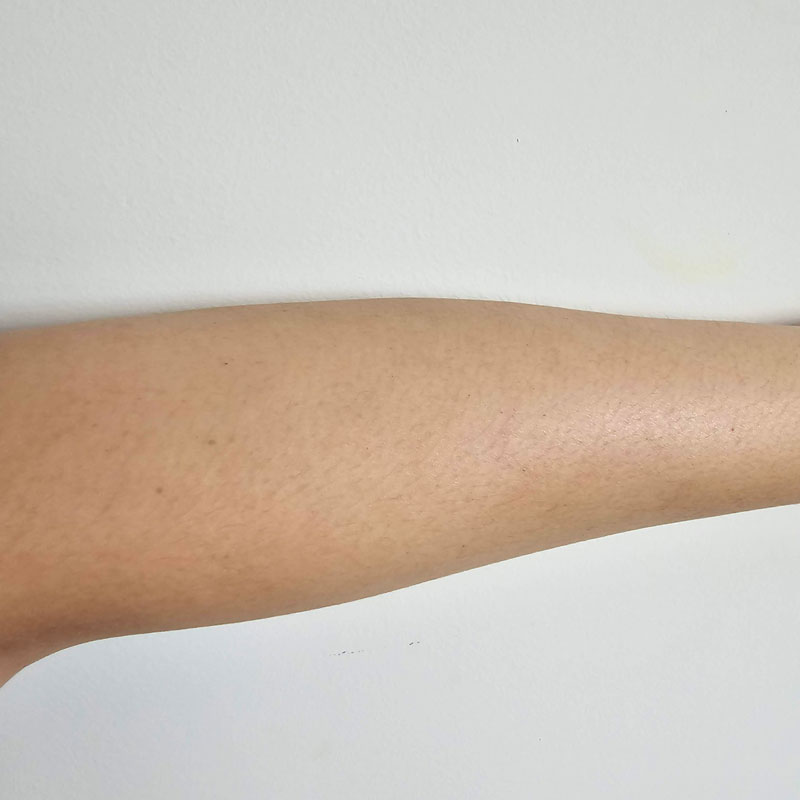 Coverage
It has very even coverage, as you can see below.
Click on the image to view bigger image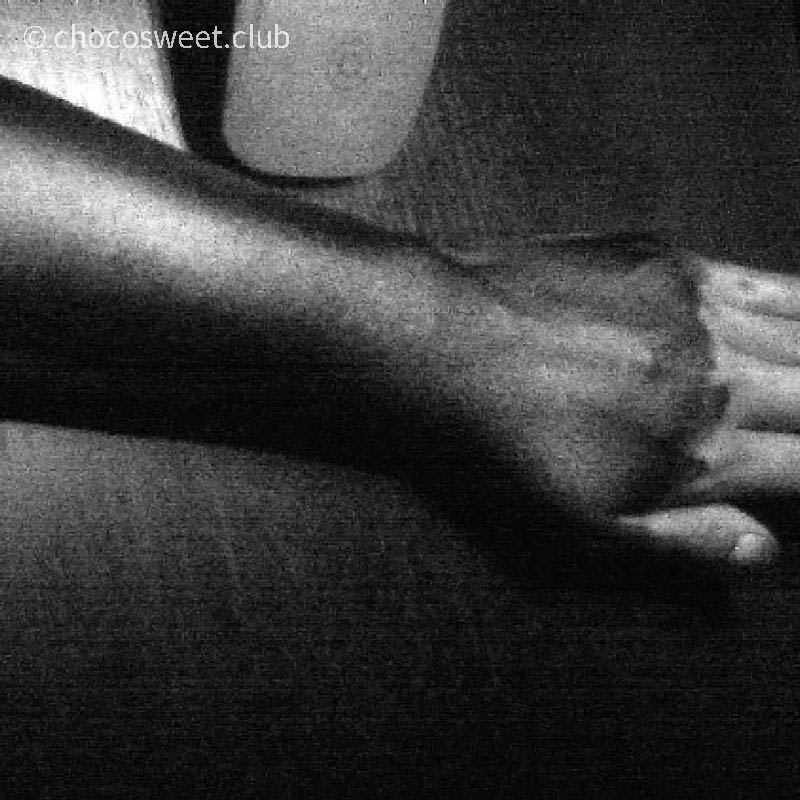 Rub Test and Removal
I rubbed back of my palm section under running water for ~30 seconds, rubbing it vigorously, afterall it has friction resistant claim.
There's no significant difference between water-only rubbing and gentle foam wash (Biore Facial Foam).
Cleansing oil (MUJI Mild Cleansing oil) and Curel Make Up Cleansing Gel removed it thoroughly.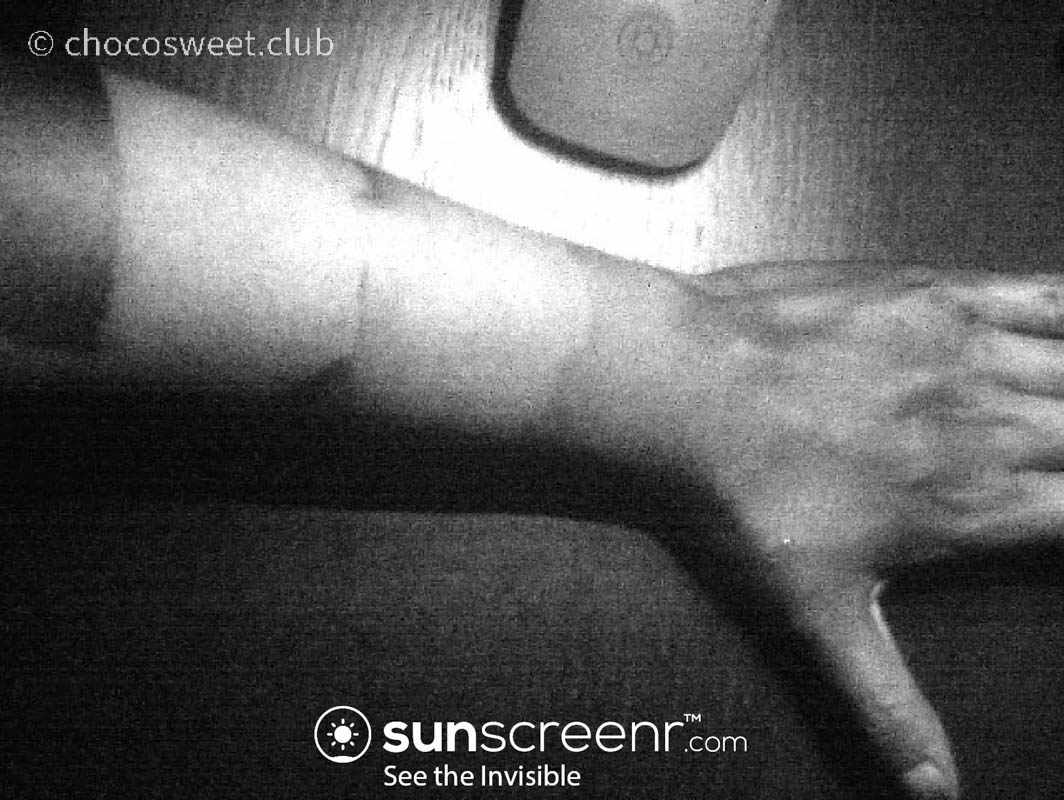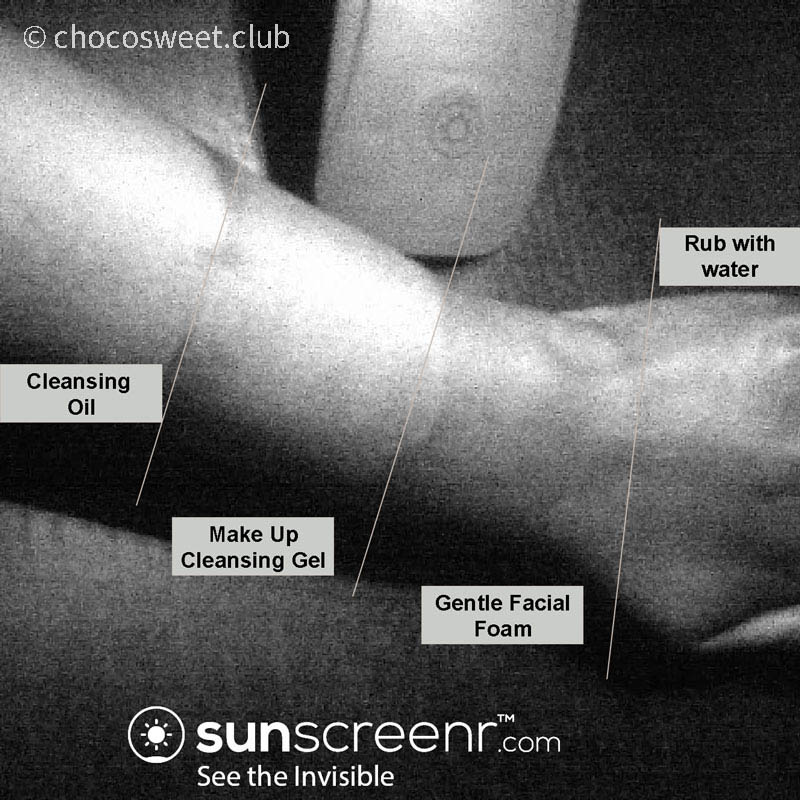 Click on the image to view bigger image
Wear Test - No Reapplication
Preparation:
On this swatch, I used my usual AM skincare underneath the sunscreen. This is what my usual AM routine looks like:
DHC Cleansing Oil
DIY - Niacinamide + Tranexamic acid serum in simple water and glycerin base
Finacea Gel
Benzac AC 10% Benzoyl Peroxide Cream
Sunscreen of the day
I don't do any wait times. As the serum is my own concoction, I always make it very watery and leaves no emollient residue. By the time I apply my sunscreen, my face is hydrated, but not damp or wet for sure.
As usual, I skipped applying on eyelids and space between the nose and lips, and my ears.
This is how it looks on my skin. I'm not sure if it's clear, but my upper cheek had slight redness from the stinging. It also has glowy finish.
Click on the image to view bigger image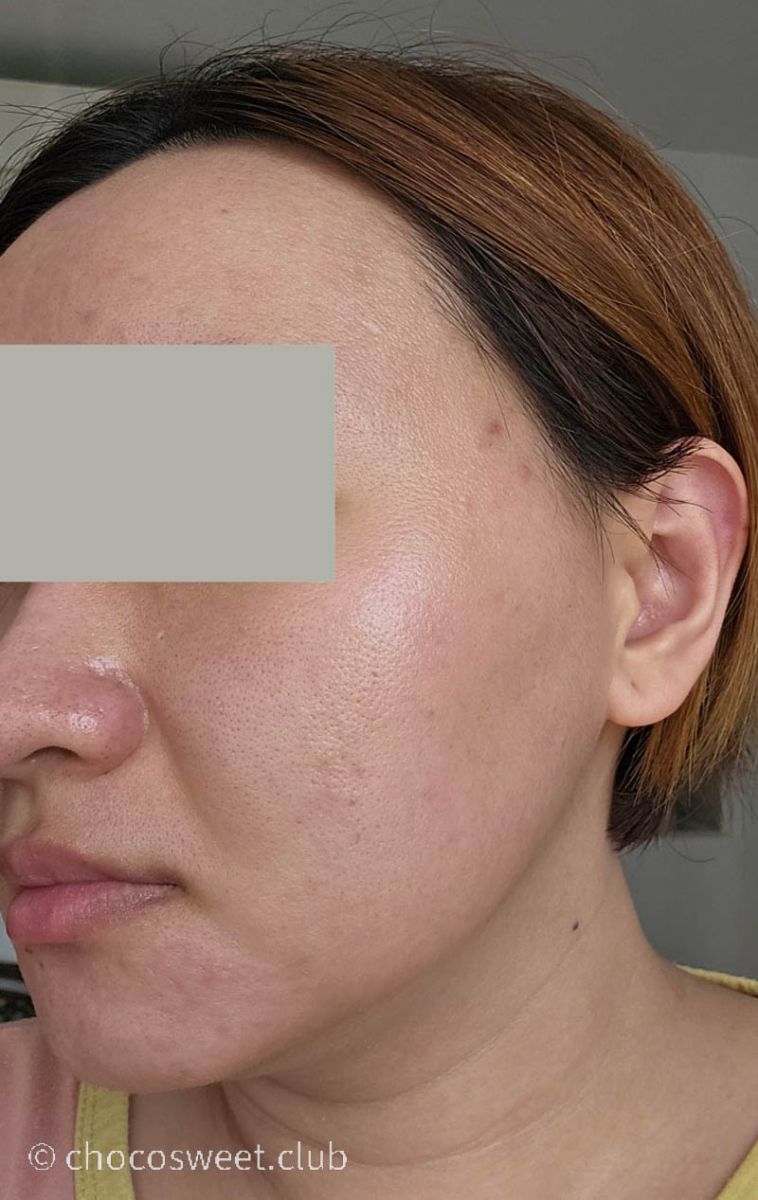 You can see the pictures below to see how it looks under UV camera. I also put check-ins as day went on.
It wears off similarly with the Kose Cosmeport Suncut UV Gel. My skin still did get oilier quicker as usual throghout the day, unfortunately
Click on the image to view bigger image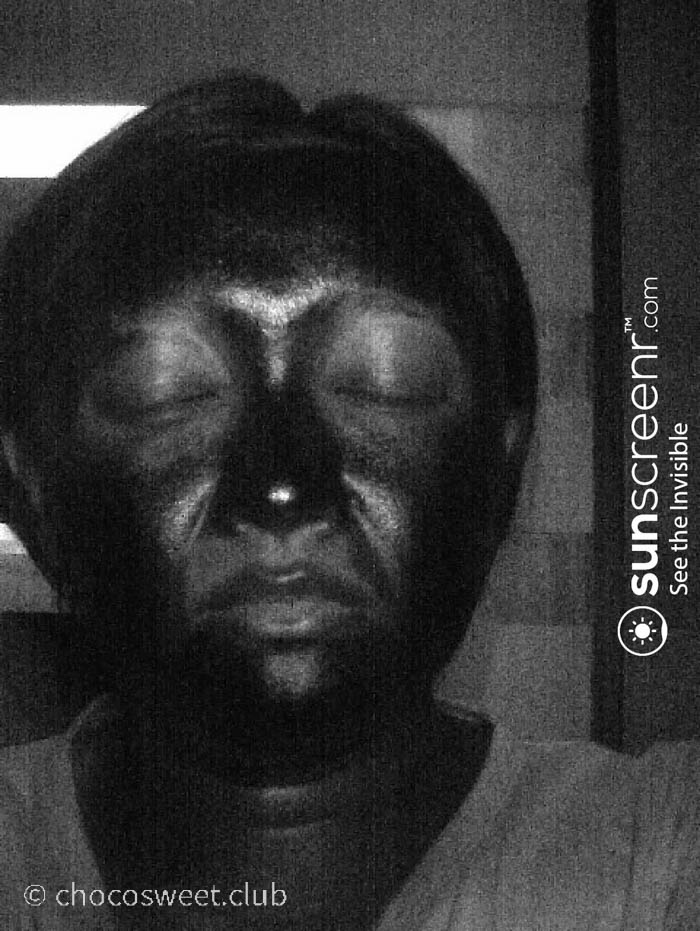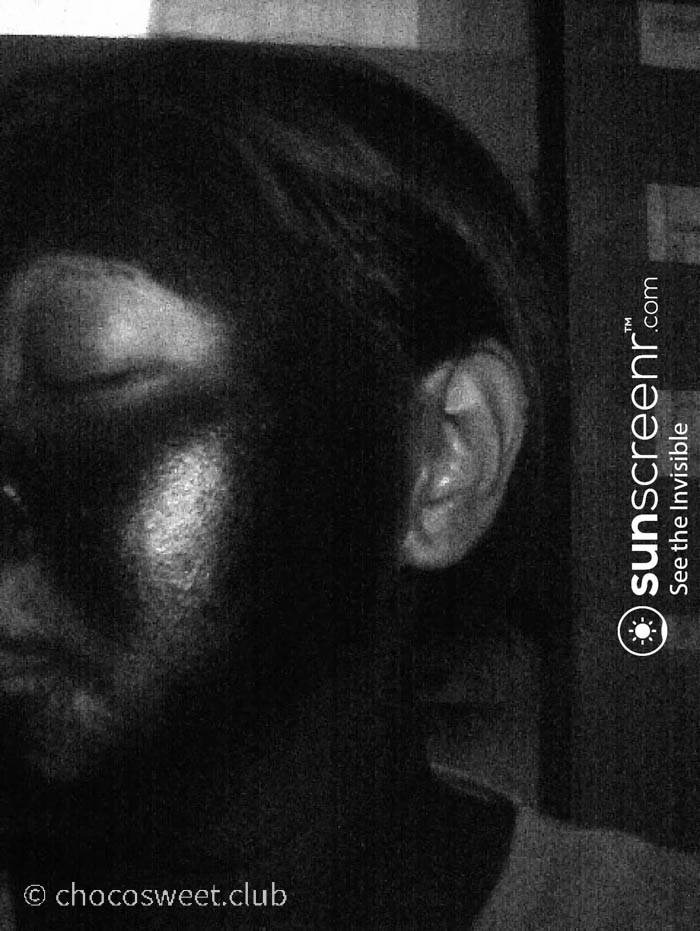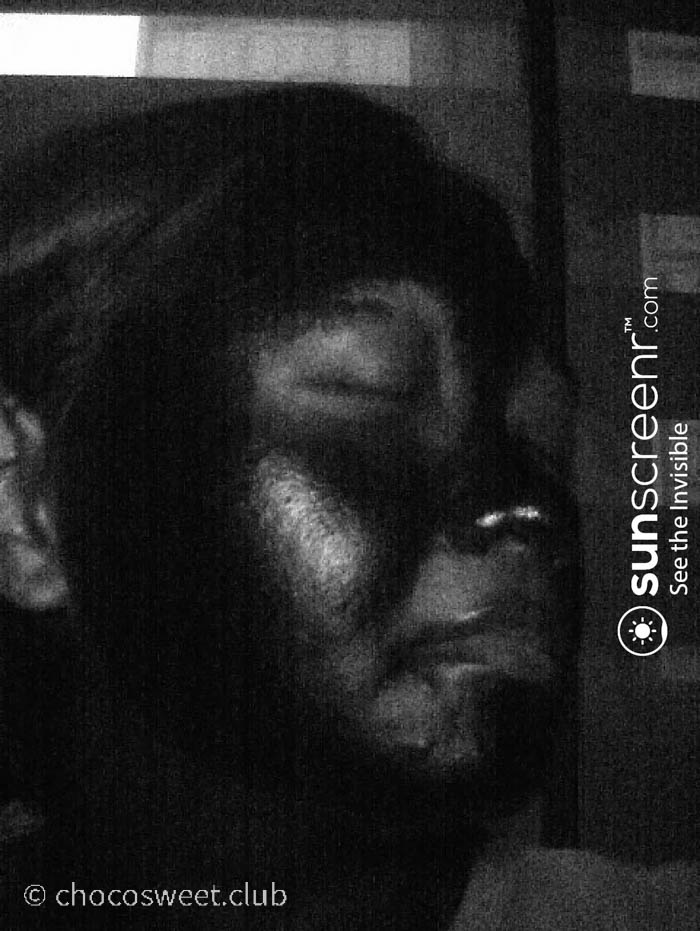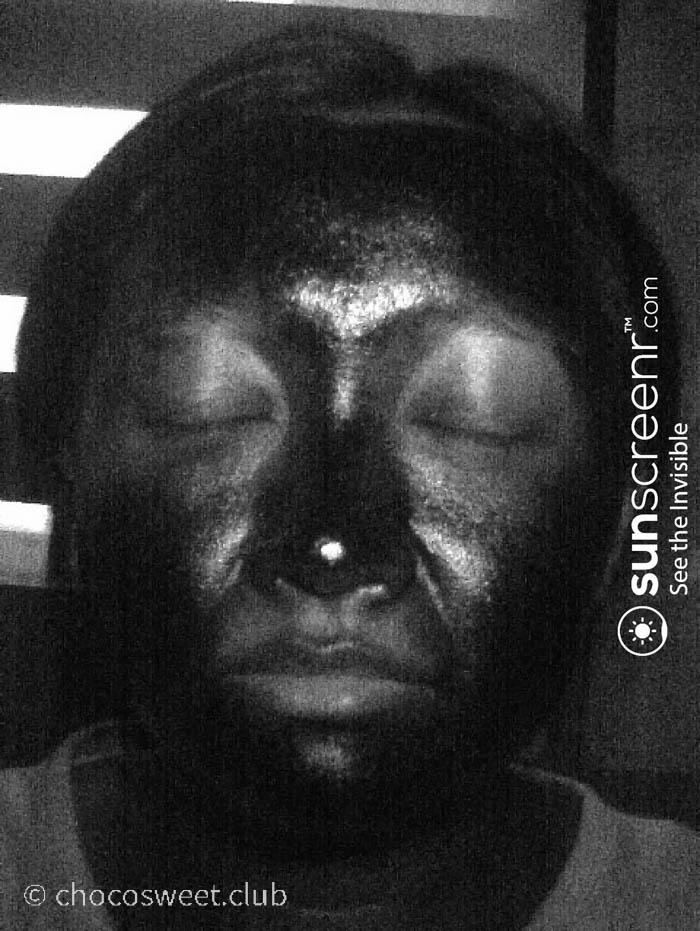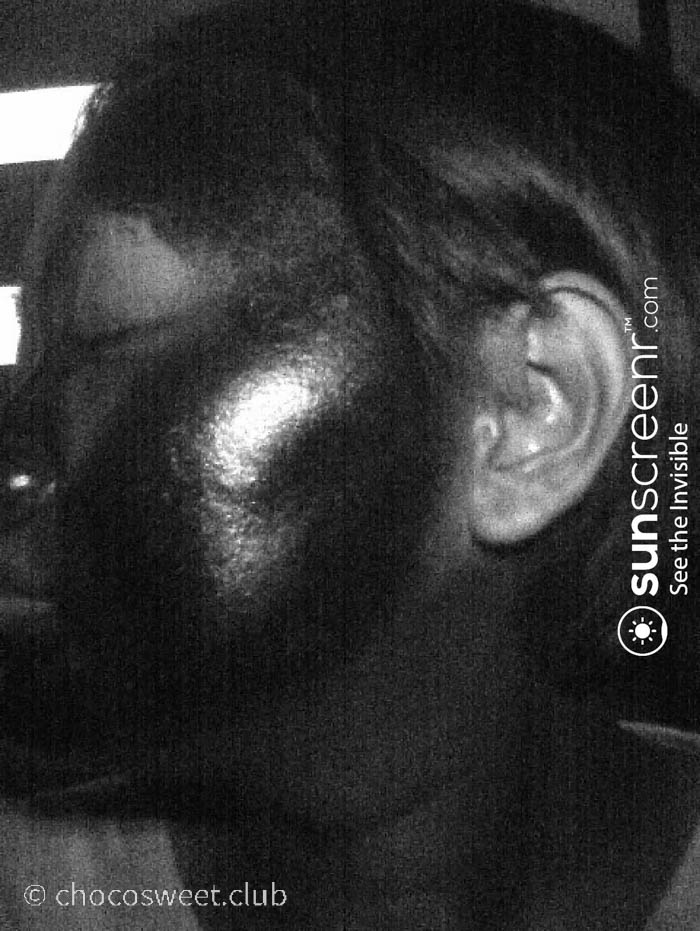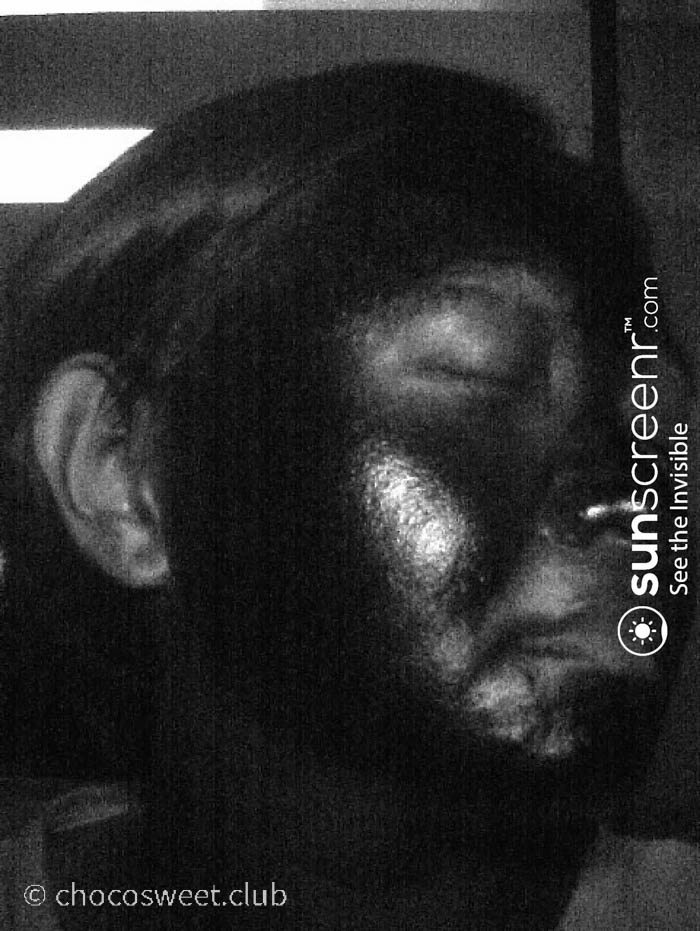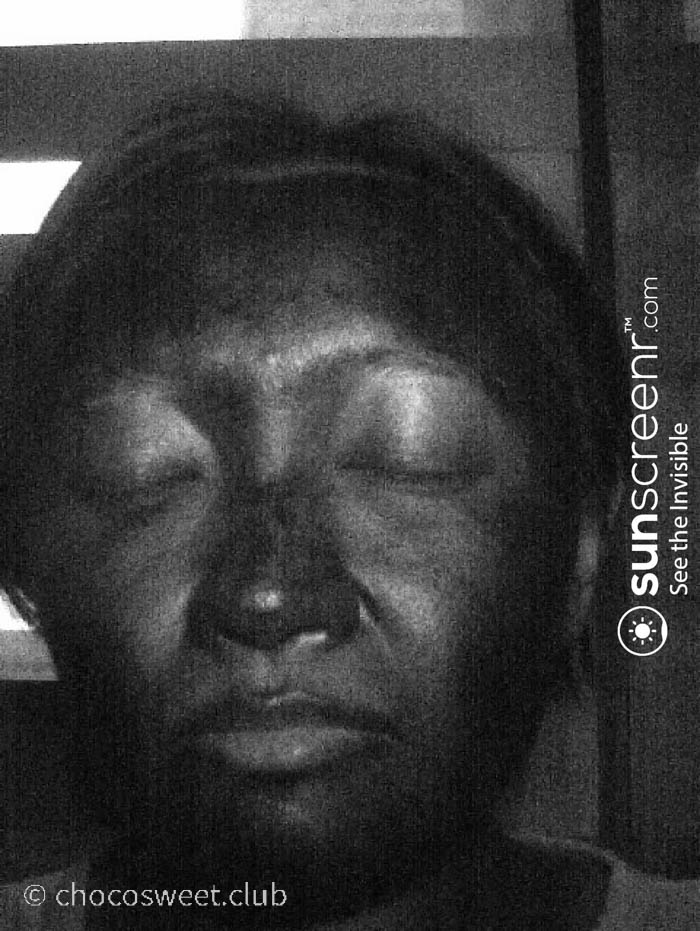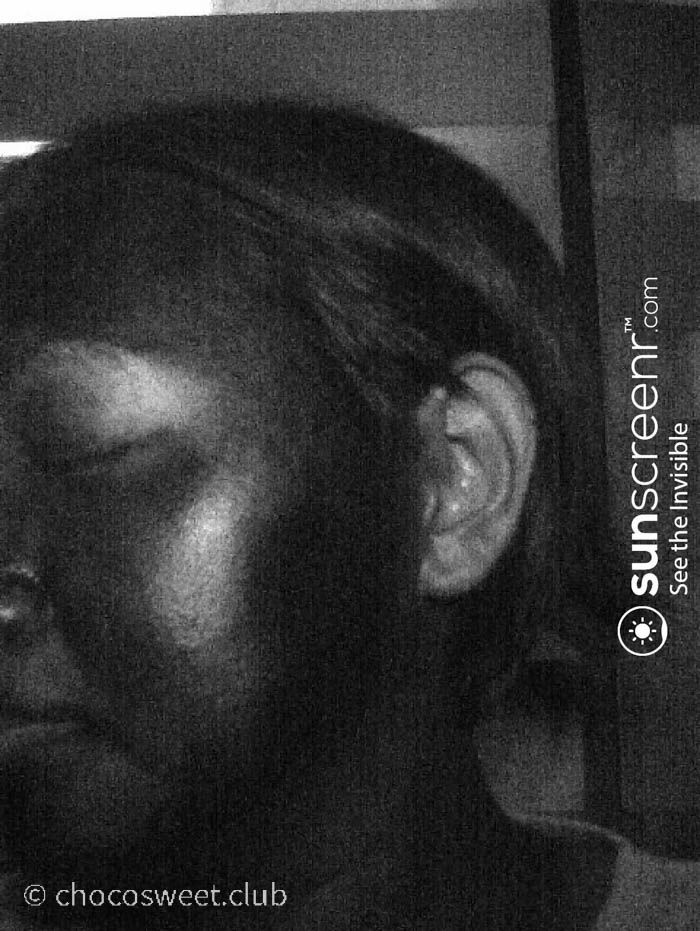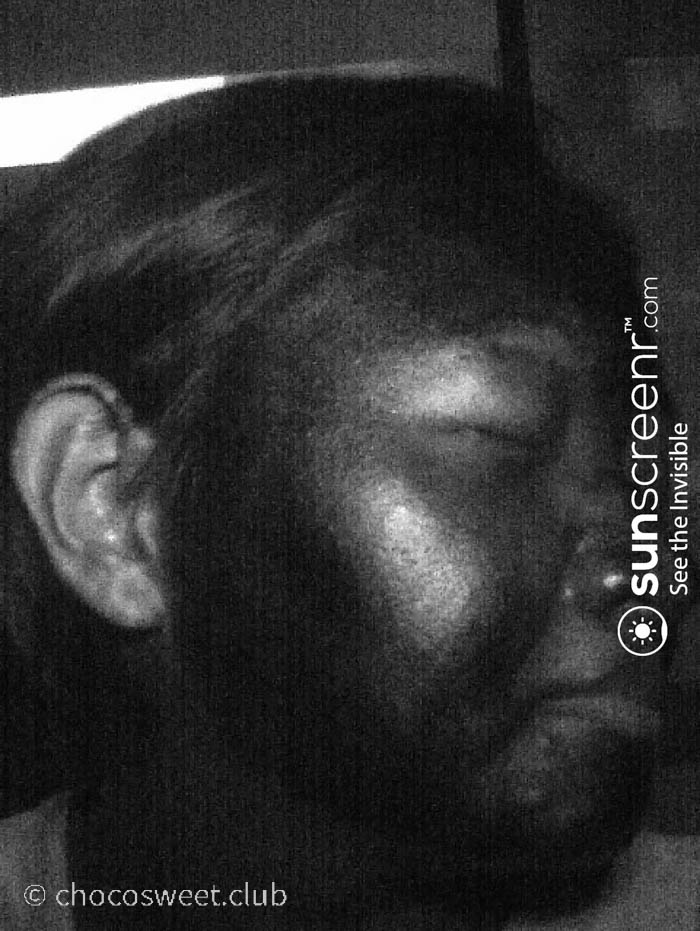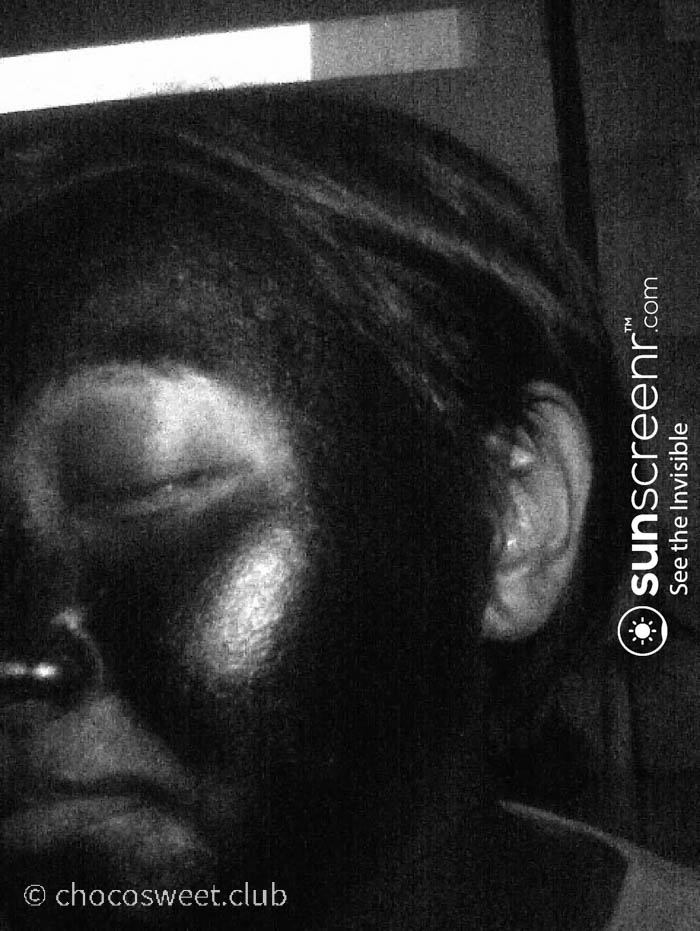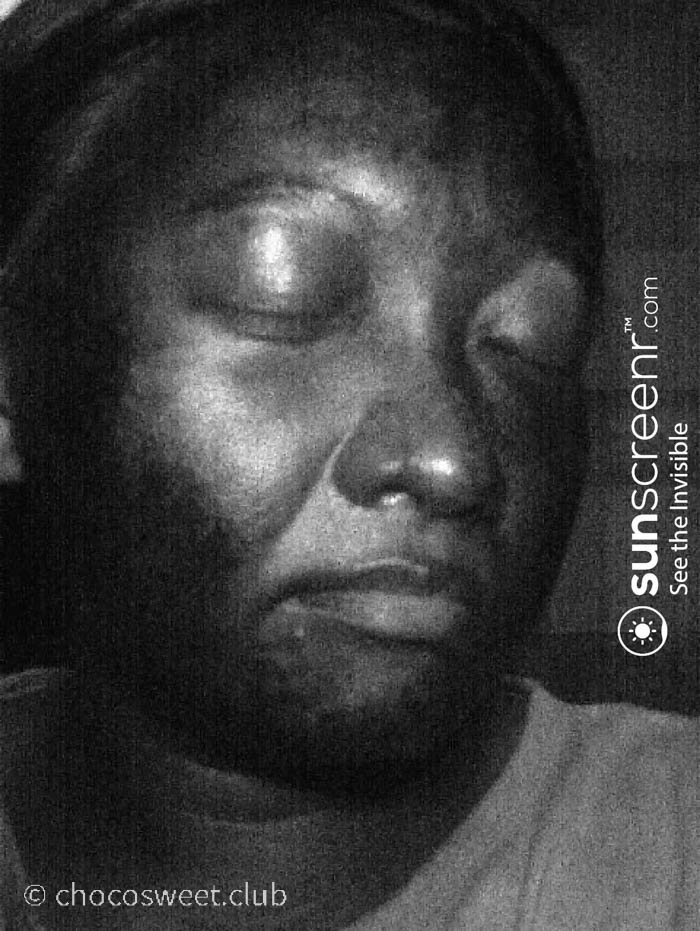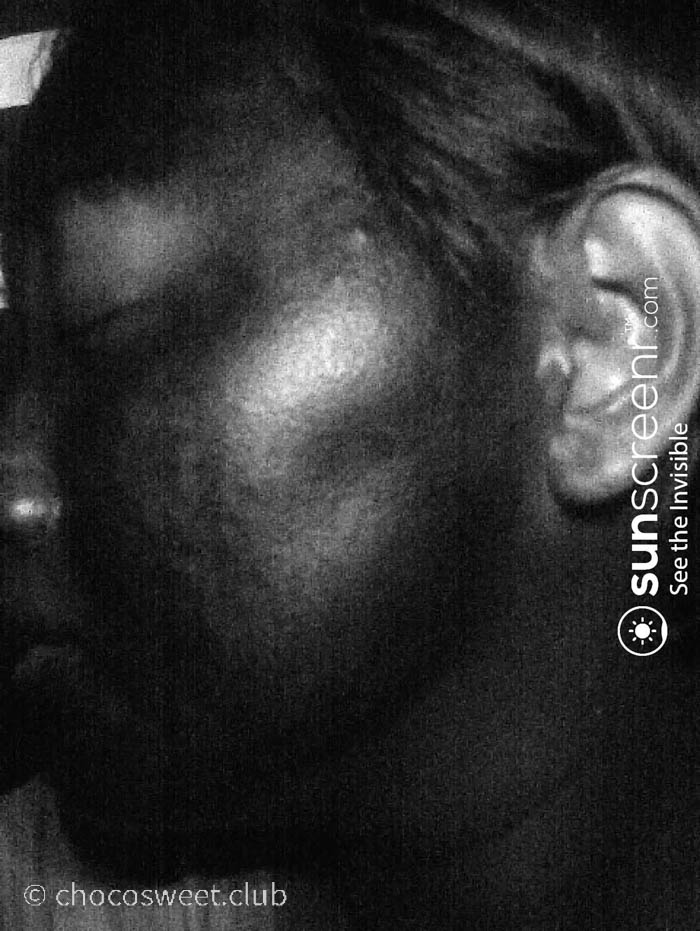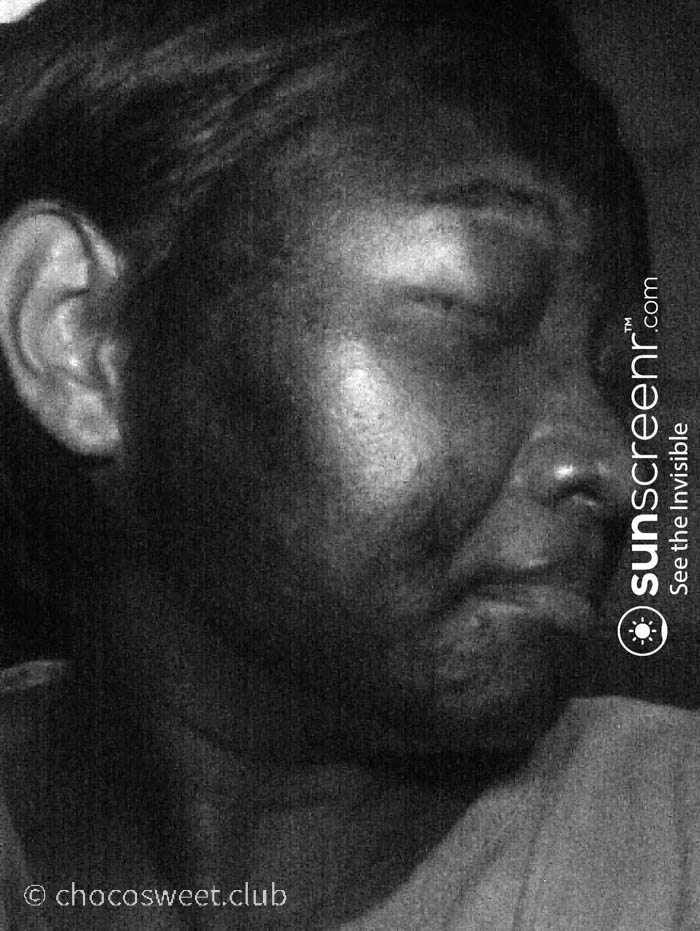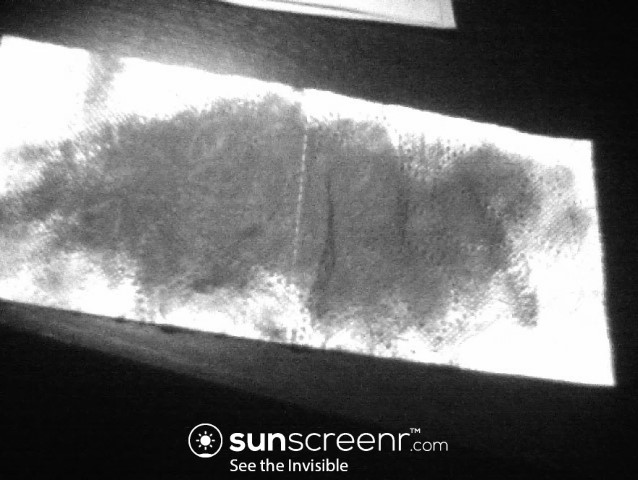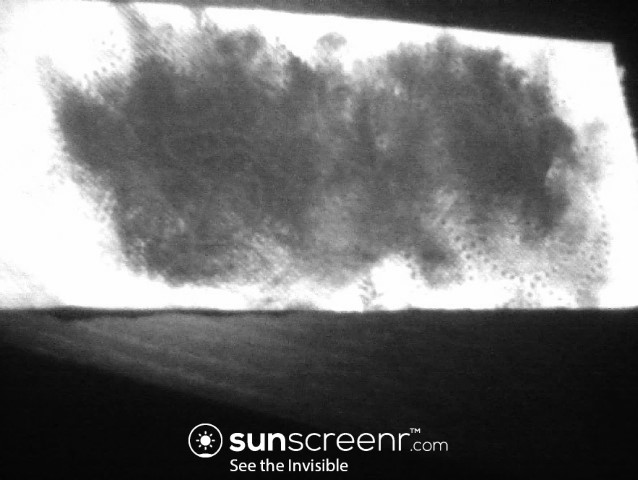 Conclusion
Phew. I'm glad I'm done trying this on my skin. The redness and stinging weren't fun. Honestly, I don't like this on my face, just like how I experienced with its Gel counterpart. It's not flattering on my face.
In the meantime, I will continue using it as body sunscreen, since it's inexpensive and it's actually pleasant on my body for its quick drying property. My sister dislikes it though and said she can "feel" it on her arms. I agree with that, I can actually feel it on my body but I blame it to the weather. Recently it's getting more humid at where we live (and higher temperature too).
Have you tried this?
Disclaimer: I only use the UV camera to see if a sunscreen disperses an even layer (or patchy and spotty); and if I miss out a spot during application. It's not by all means to measure the sunscreen protection level. Got mine from sunscreenr.com. It's compatible with android phone.