Howdy everyone!
Like my previous Biore UV Aqua Rich Watery Essence post, I also managed to redeem a trial bottle of Biore UV Athlizm Skin Protect Milk SPF50+ PA++++.
Let's dig in!
Product Summary
Biore UV Athlizm Skin Protect Milk SPF50+ PA++++
UV Filters:
Zinc Oxide, Octinoxate, Uvinul A Plus, Titanium Dioxide, Tinosorb S.
Properties:
Contains alcohol
Contains fragrance
Water Resistant
Sweat Resistant
Friction Resistant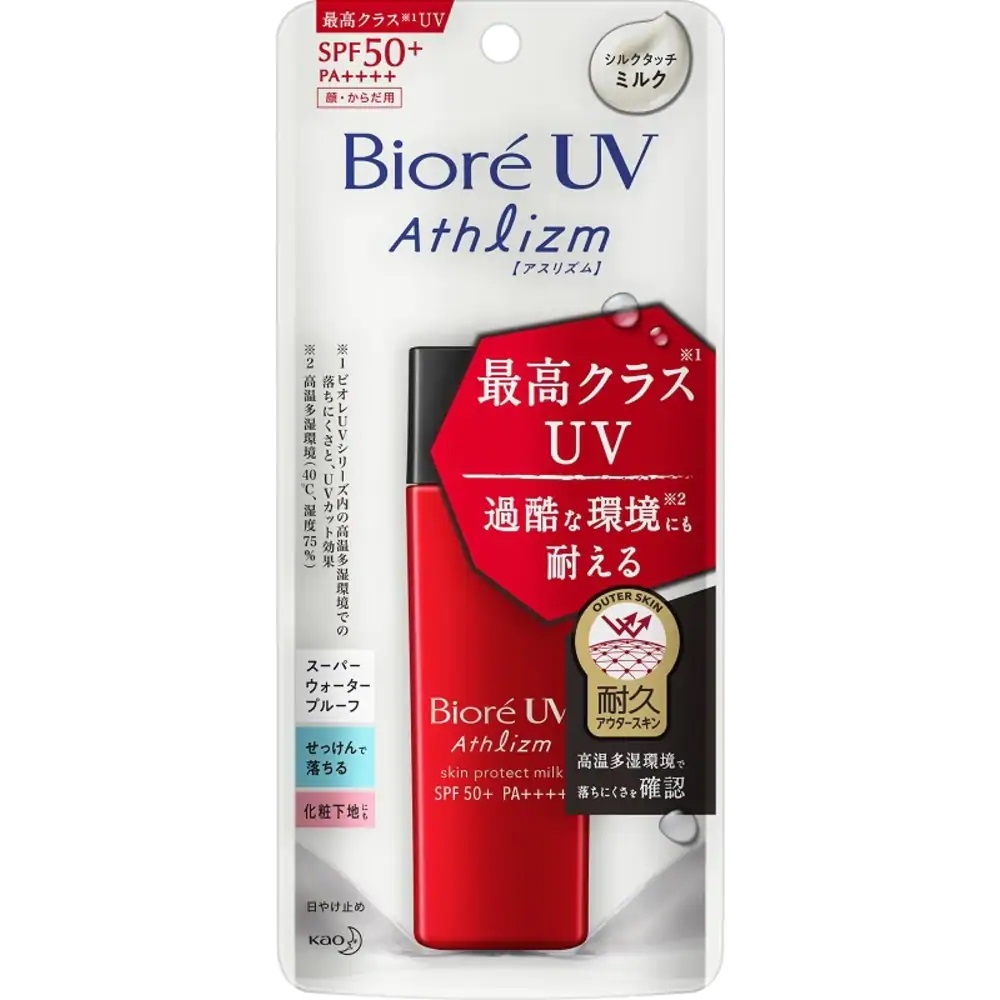 Preface
My skin type: I have oily skin, living in hot humid tropical Southeast Asia. We only have sunny or rainy days over here. UV index ranging from 9 to 12 and above almost all year round, well except if it's raining. On average, the weather temperature is around 31-33ยบC during the day, humidity is 80% and above, it is not uncommon to reach 100% humidity, especially on rainy days.
Characteristics
Texture
It's a white milky texture, spreads easily. It can be hard to apply due to the fluid texture.
Finish:
I actually don't mind how it layers on my body at all. It's shiny on my oily face, however. It also takes SO DAMN LONG to set, when I compared it to my Anessa Perfect UV Milk.
This Biore UV Athlizm Milk has silicone-y feel to the touch once it sets; while Anessa Perfect UV Milk has powdery finish to the touch.
I have tried Biore UV Athlizm Essence - this one takes shorter time to set, to a more glowy finish than the Milk version.
White cast:
It leaves a white cast - which is inevitable for a hybrid/combination sunscreen like this.The white cast is on similar level as Anessa Perfect UV Milk 2018 and 2020 formulation.
The white cast intensifies on reapplication.
In constrast, Biore UV Athlizm Essence doesn't have a white cast.
Scent:
It does have fragrance. Nothing strong or pungent, just...weird metallic smell for me.
Pilling:
I don't find it pills with reapplication.
Eye Stinging:
It doesn't sting my eyes. I can use this on my eyelids without problem.
Adherence
Preparation
I applied the sunscreen on my left bare arm, and let it sit for 30 mins. Once it set, I took photos using UV camera (Sunscreenr). I indicate the timing accordingly on the photos. I use a UV lamp (for curing gel nail) as the source of light.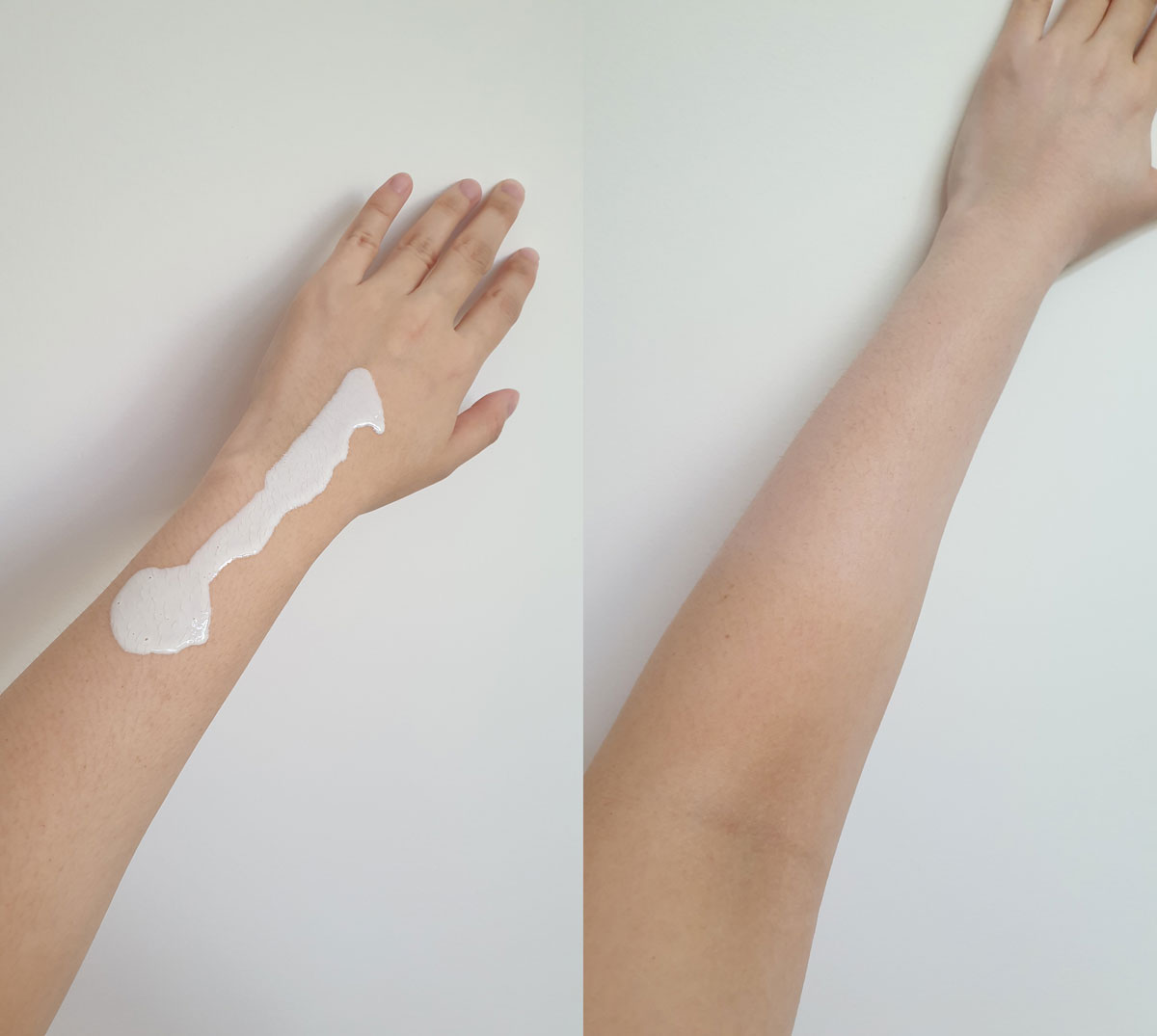 Texture
It is a very runny fluid, very easy to blend and rub. Albeit too messy in my liking. It's even runnier than La Roche Posay Anthelios Shaka/Invisible Fluid.
Scent
It has light metallic fragrance, but it's very light. I can't really sniff it unless I put my arm in front of my nose up close.
Shine Level
It's not the shiniest or most glowy sunscreen I have. I think it's pretty decent natural finish (just how your skin looks without putting anything). I dislike how it takes forever to set thoug. I HAD to keep rubbing continuously for 8 minutes, until it finally set to a primer-like finish.
Unfortunately, it never sets on my oily face - or perhaps I didn't rub LONG enough on my face.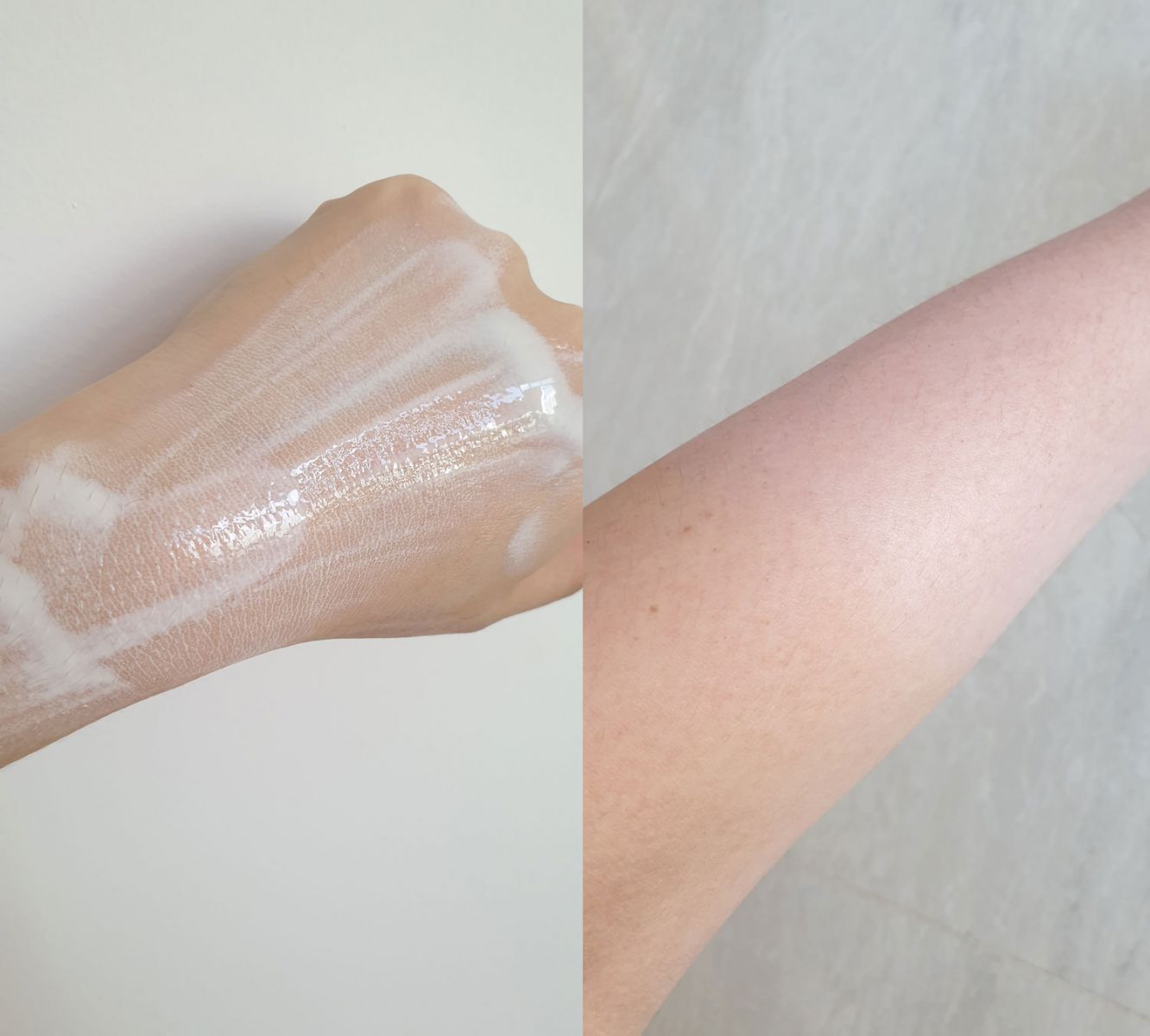 Coverage
The sunscreen disperses really evenly, as you can see from the picture below. Also noticed that even under UV Camera, the shine level is not glaring at all.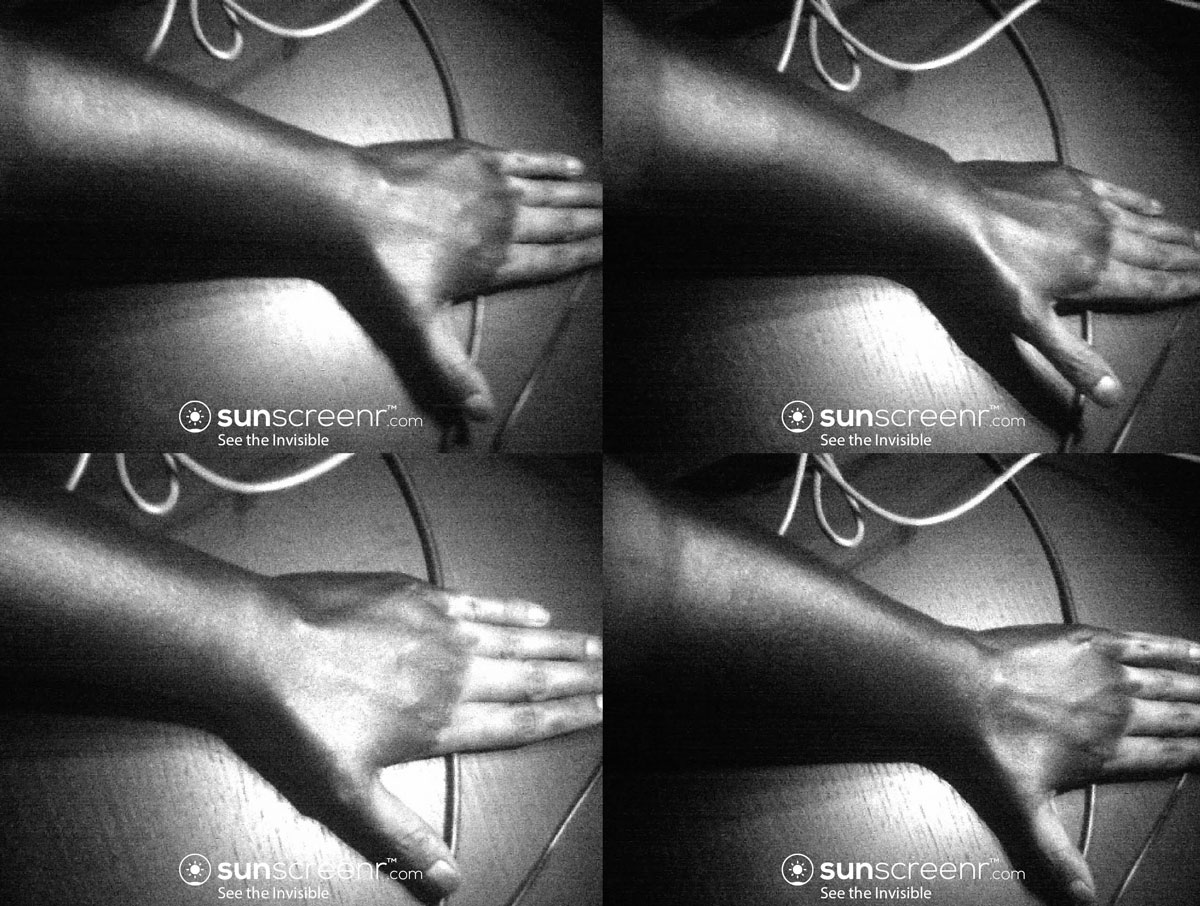 Rub Test
Well. since it features their "Friction Resistant", of course we have to actually put it into test. As usual, I rubbed one part of my hand under running sink water for 10 seconds. Unfortunately, I can see most of the sunscreen has been removed, though there is still little layer left. Remember to reapply!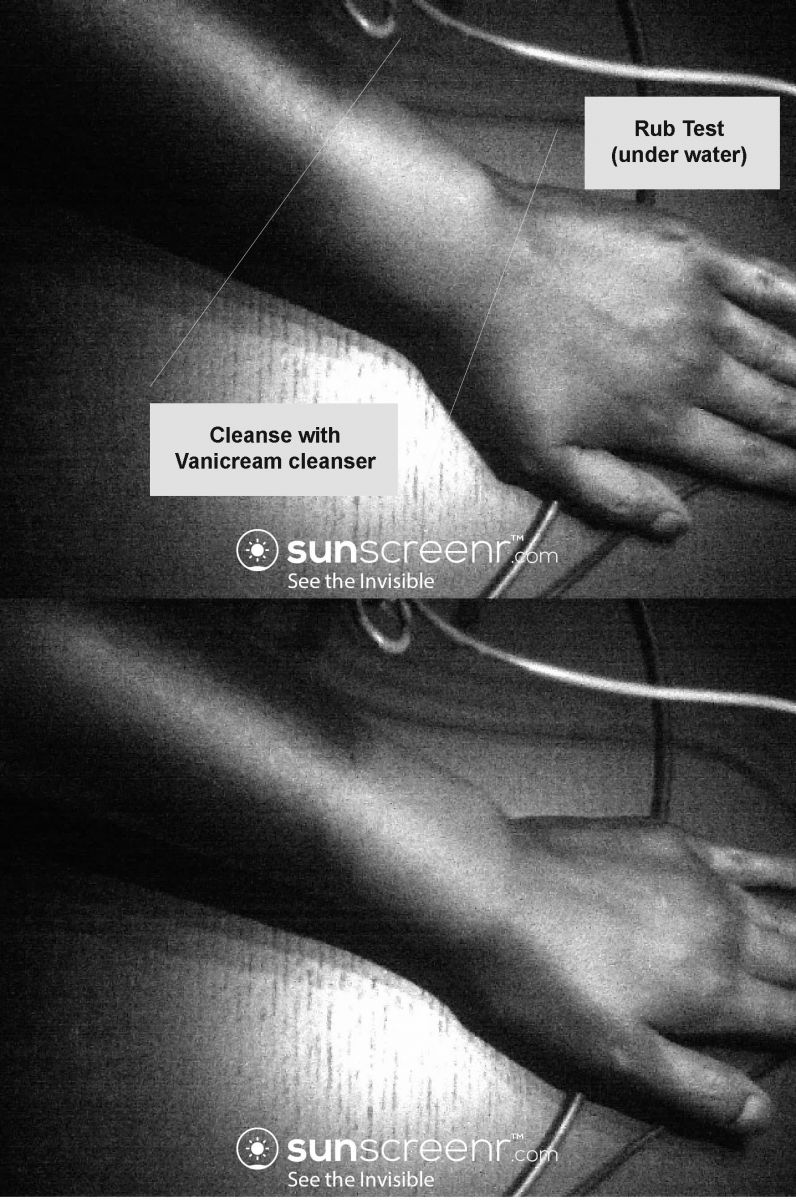 Removal with Vanicream Gentle Facial Cleanser
I used Vanicream Gentle Facial Cleanser on dry skin and massaged it for 10 seconds and washed it off. I can see a very faint sunscreen layer left.
Removal with DHC Cleansing Oil
My trusted DHC Cleansing oil always takes off any sunscreen I have.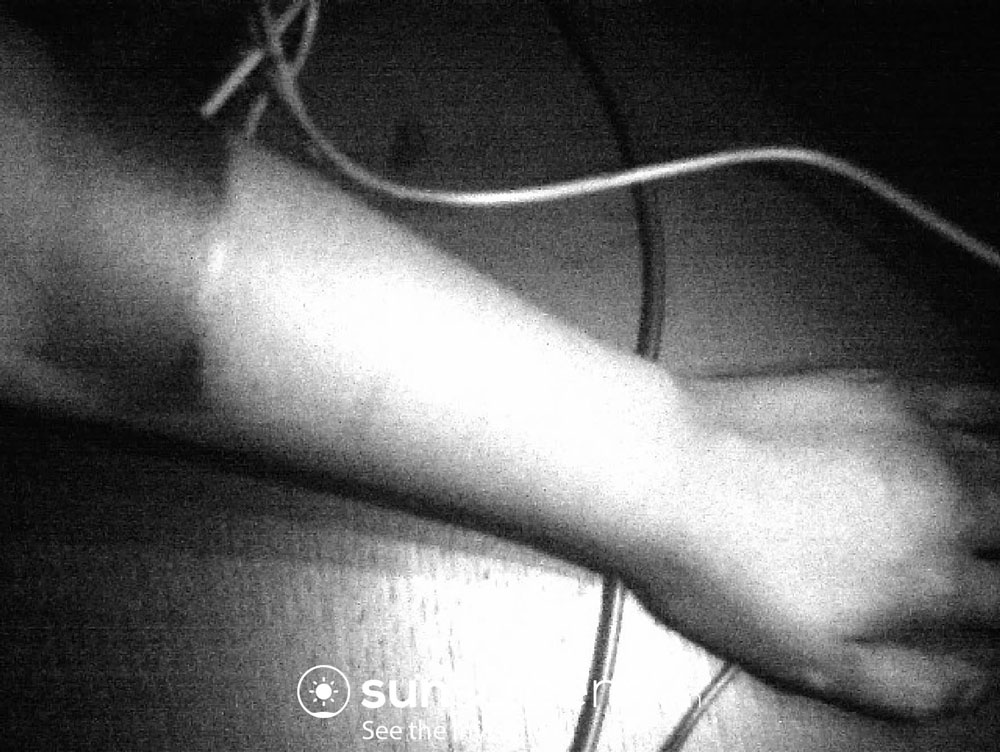 Conclusion
It's a decent sunscreen. It's not a 100% exact "dupe" for Anessa Perfect Milk since I don't think its "Friction Resistant" is as strong as Anessa Perfect UV Milk, but I wouldn't mind to purchase this at all. Plus, it's cheaper per ml (compared to Anessa when it's not on discount). However, this is on the higher price range compared to other Biore UV products.
Discussion
I just posted this content over Reddit. Do headover there if you want to discuss anything about it!
https://www.reddit.com/user/chocosweet/comments/nleid5/under_uv_camera_biore_uv_athlizm_skin_protect/
Disclaimer: I only use the UV camera to see if a sunscreen disperses an even layer (or patchy and spotty); and if I miss out a spot during application. It's not by all means to measure the sunscreen protection level. Got mine from sunscreenr.com. It's compatible with android phone.