Hey everyone!
I managed to redeem a trial bottle of Biore Aqua Rich Watery Essence SPF50+ PA++++ 2019 formulation.
Product Summary
Biore Aqua Rich Watery Essence SPF50+ PA++++
UV Filters:
Octinoxate, Uvinul T 150, Uvinul A Plus, Tinosorb S
Properties:
Contains alcohol
Contains fragrance
Water Resistant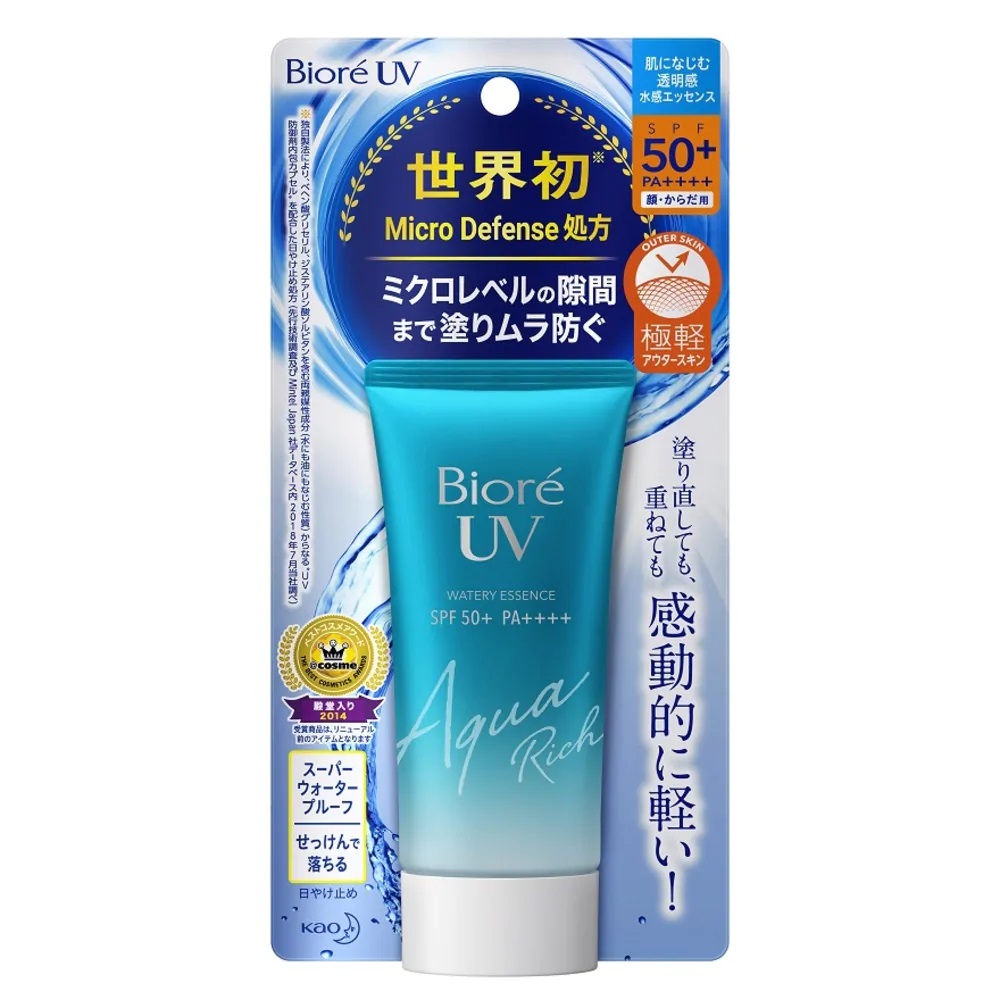 Preface
Let me preface this, out of all Biore UV range, this is my least favorite, second least favorite is the Biore UV Athlizm Milk. EDIT 23/05/2021: I changed my mind - I finally can make it work on my body, still hates it on my face. Anyhoo!
Characteristics
Texture
It's a yellowish gel texture, spreads easily.
Finish:
As you can see, it's a very shiny sunscreen. I don't like it personally. The Biore Aqua Rich Watery GEL is less shiny than this Essence. The Gel is also lighter texture than this Essence version.
White cast:
I don't find the Biore Aqua Rich Watery Essence leaves a cast. The Biore Aqua Rich Watery GEL version will leave a cast, as it's a combination sunscreen.
Scent:
It does have fragrance. Nothing strong or pungent, fortunately. I would say it smells like floral, very light citrusy floral scent.
Pilling:
I don't find it pills with reapplication. The Biore Aqua Rich Watery Gel however, can pill on reapplication.
Eye Stinging:
It doesn't sting my eyes. I can use this on my eyelids without problem.
Adherence
Preparation
I applied the sunscreen on my left bare arm, took photos using UV camera (Sunscreenr). I indicate the timing accordingly on the photos. I use a UV lamp (for curing gel nail) as the source of light.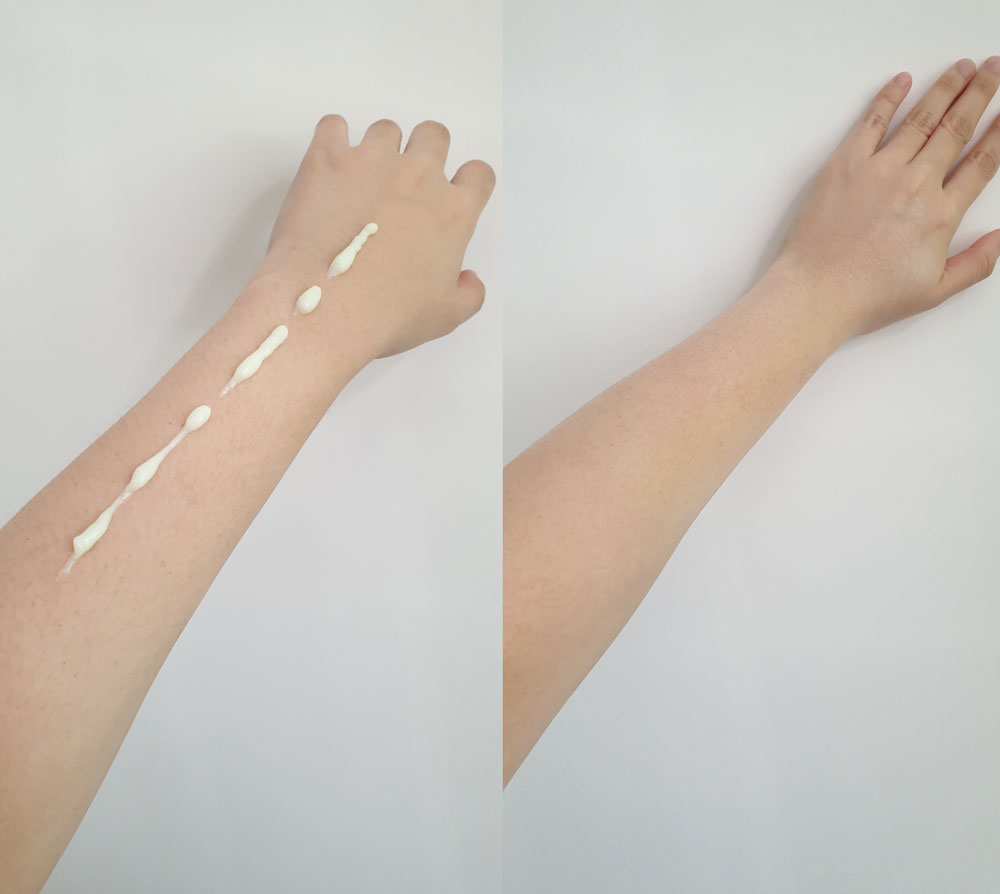 Texture
It has gel like texture. It has light fragrance, but it's very light. I can't really sniff it unless I put my arm in front of my nose up close. It's very easy to glide and rub. Probably too easy in my liking, as it can cause one to underapply as it's easy to cover large area with small amount.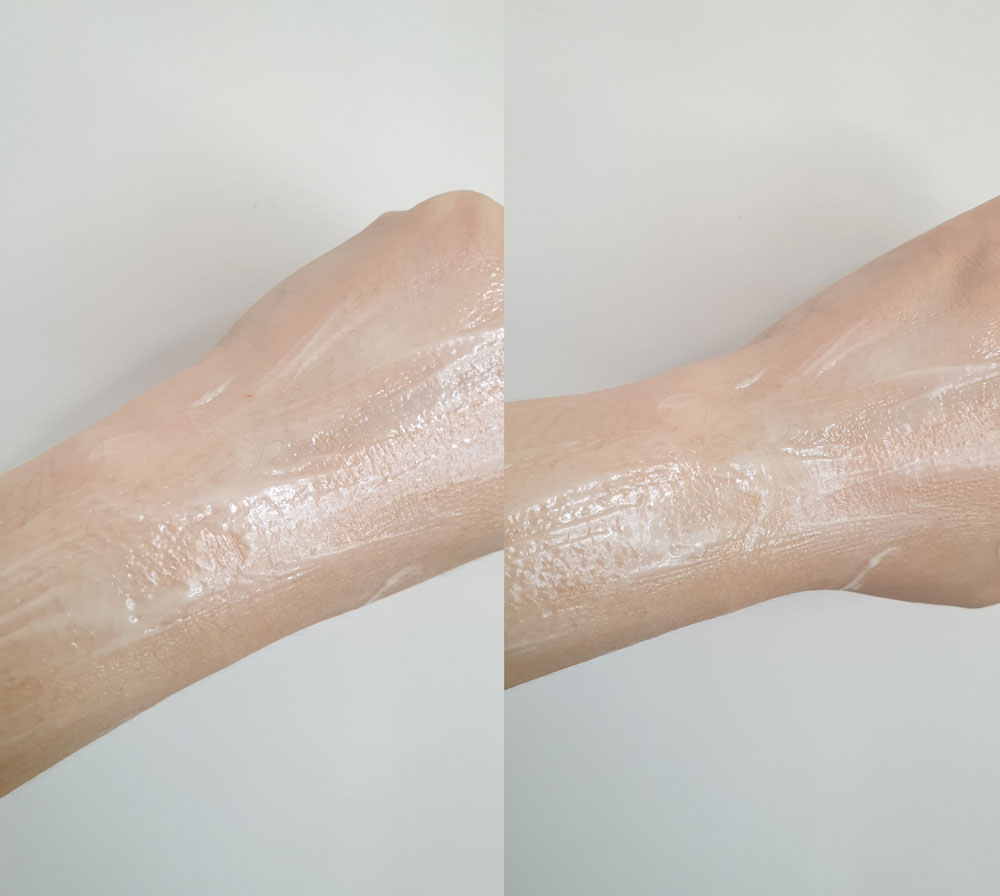 Shine Level
It's a very shiny sunscreen, even after letting it set for an hour.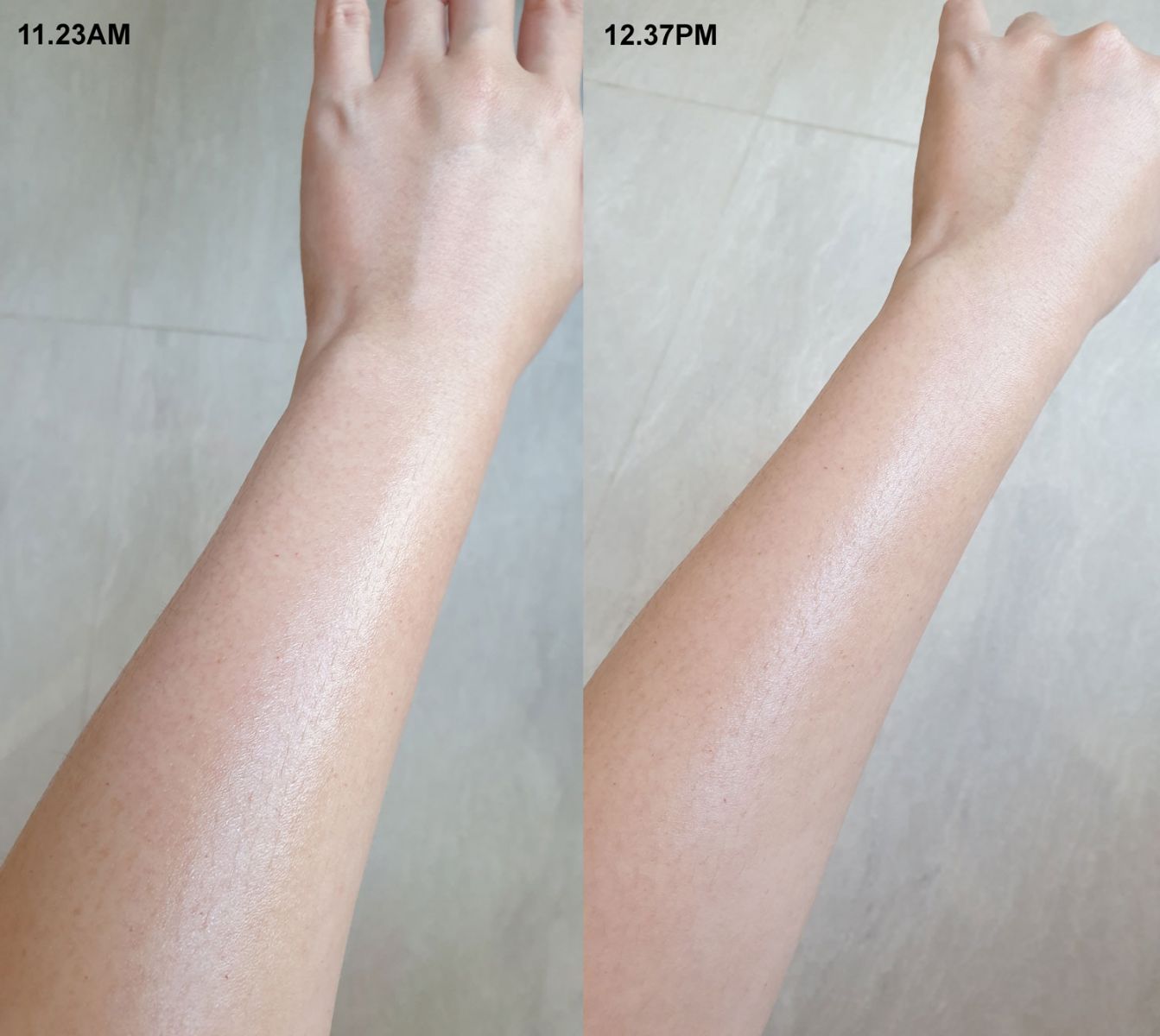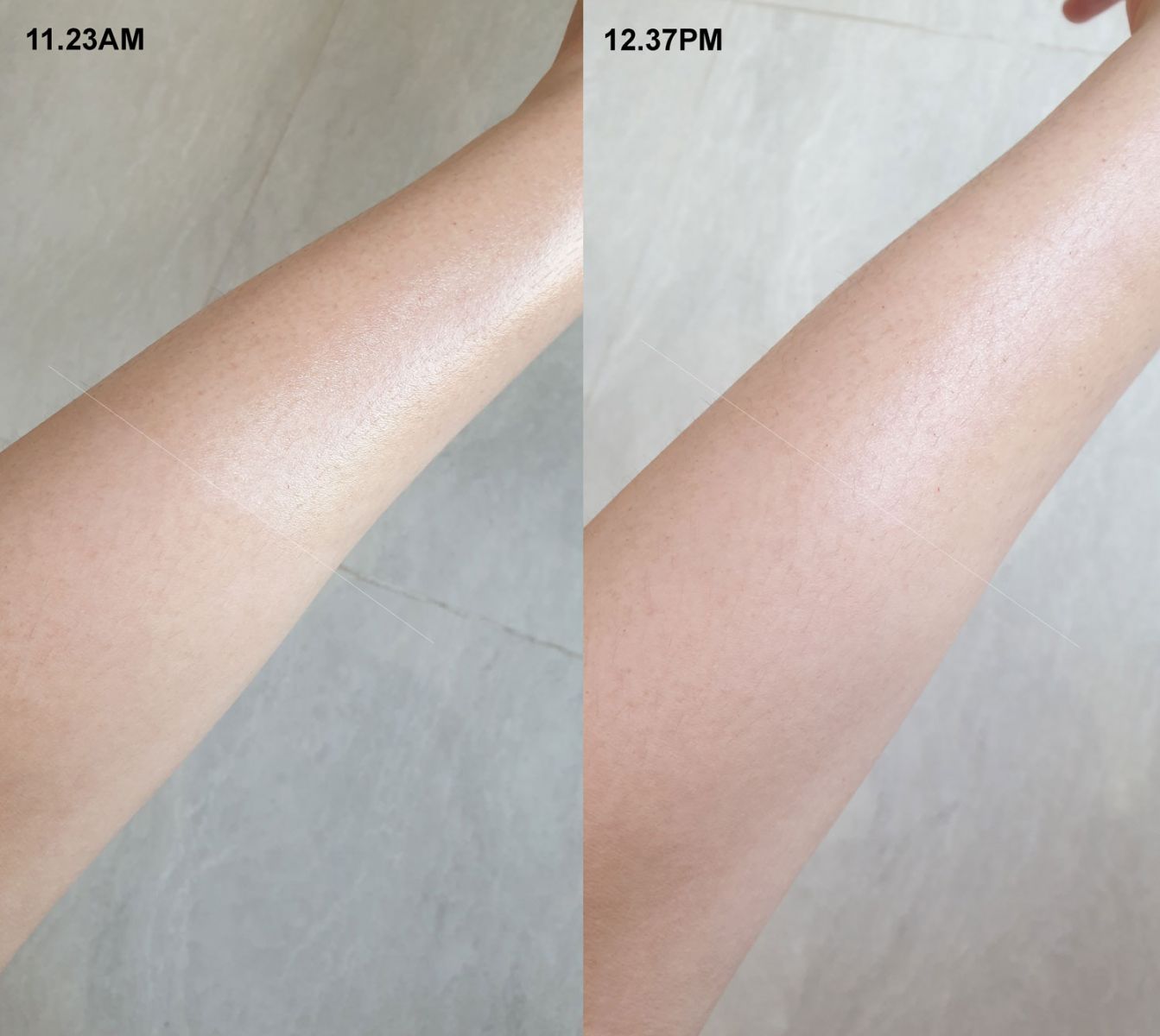 Coverage
The sunscreen disperses really evenly, as you can see from the picture below. You can also notice that the shine level can also be seen under UV camera.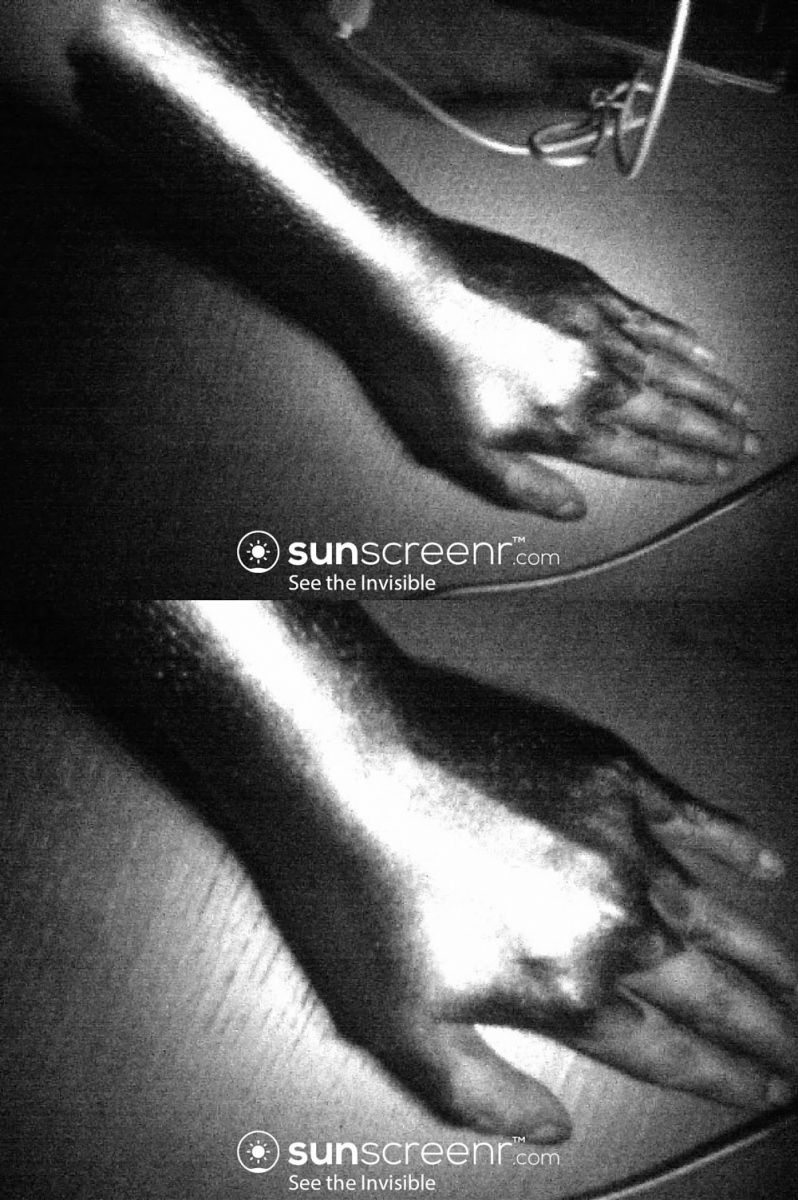 For comparison sake, here is my right arm (with Eucerin Sensitive Protect Dry Touch Gel Cream) with much lesser shine. You can see my full review about it here.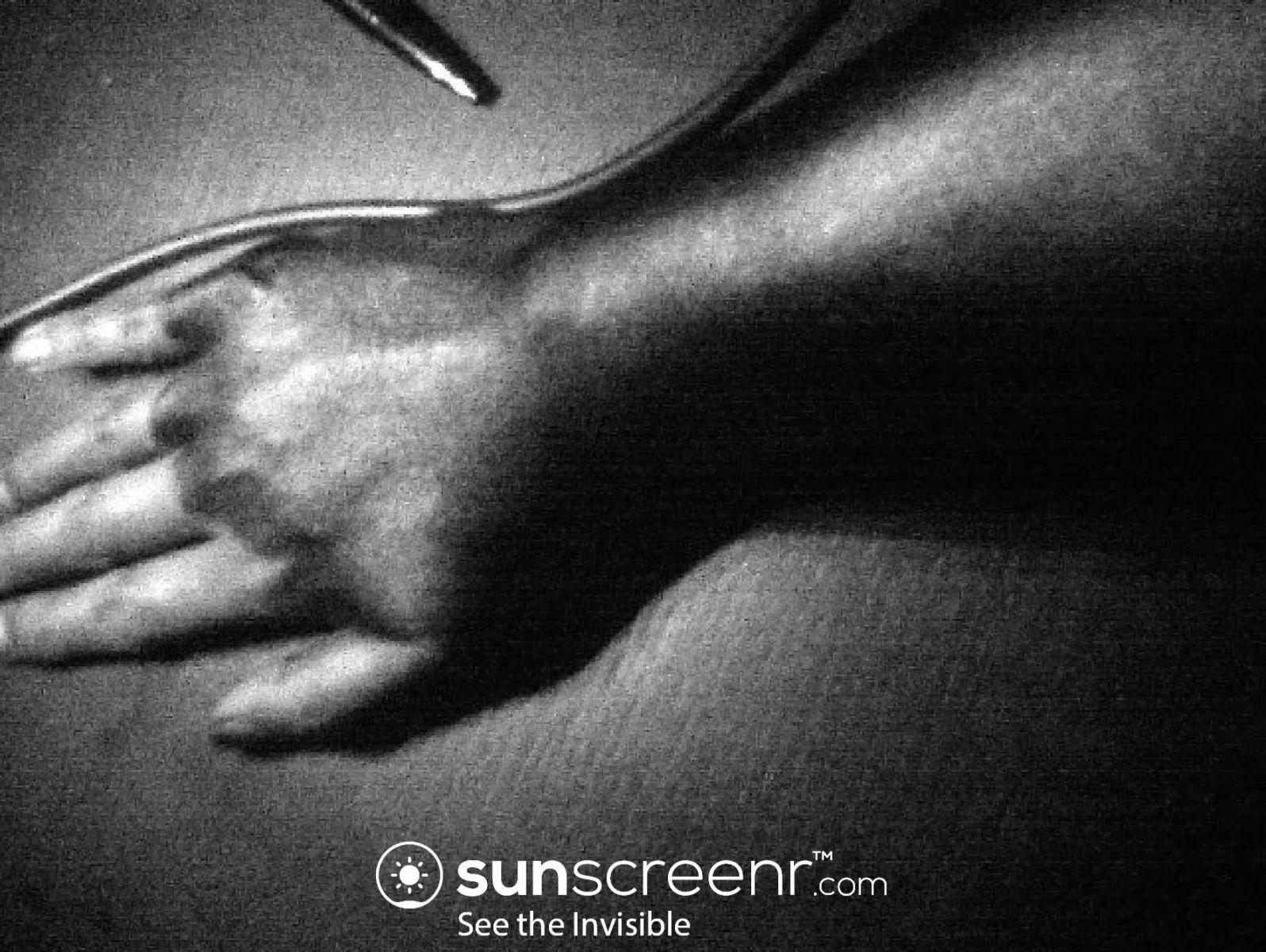 Rub Test
As usual, I rubbed one part of my hand under running sink water for 10 seconds. I can see most of the sunscreen has been removed, though there is still very little layer left.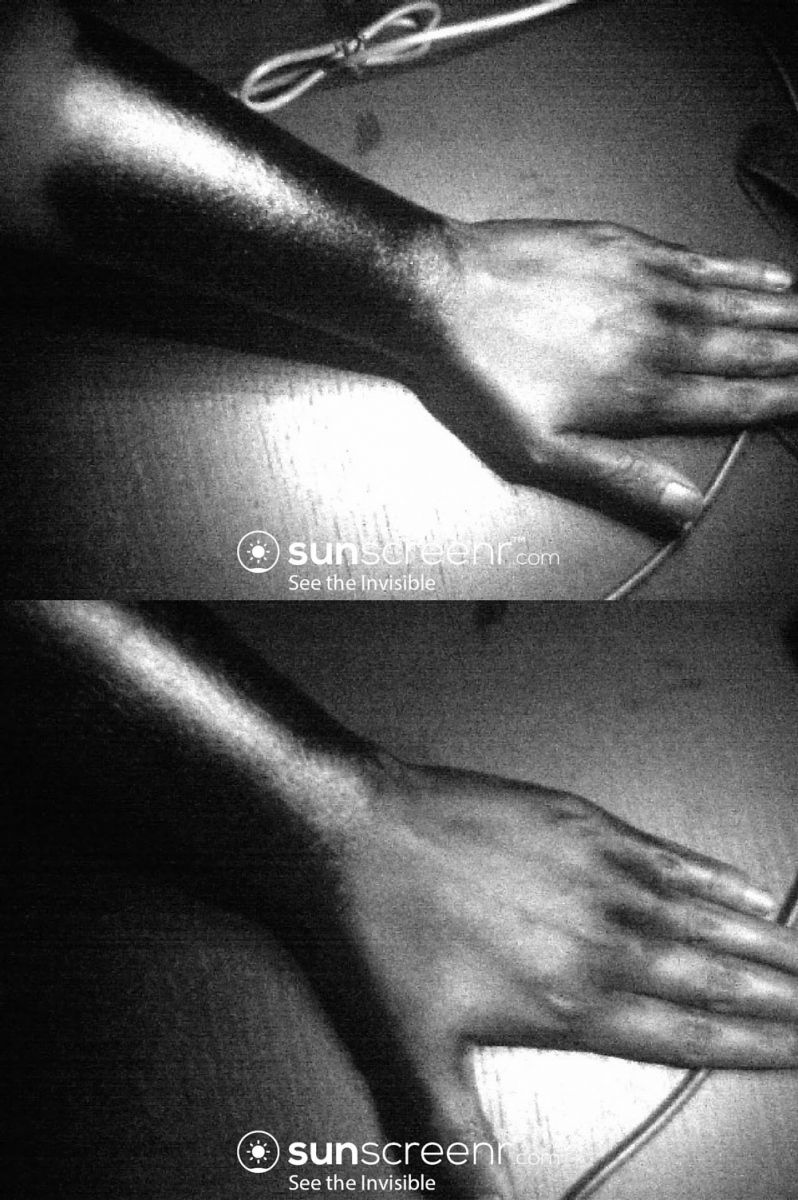 Removal with Vanicream Gentle Facial Cleanser
I used Vanicream Gentle Facial Cleanser on dry skin and massaged it for 10 seconds and washed it off. I can see the sunscreen has been properly removed.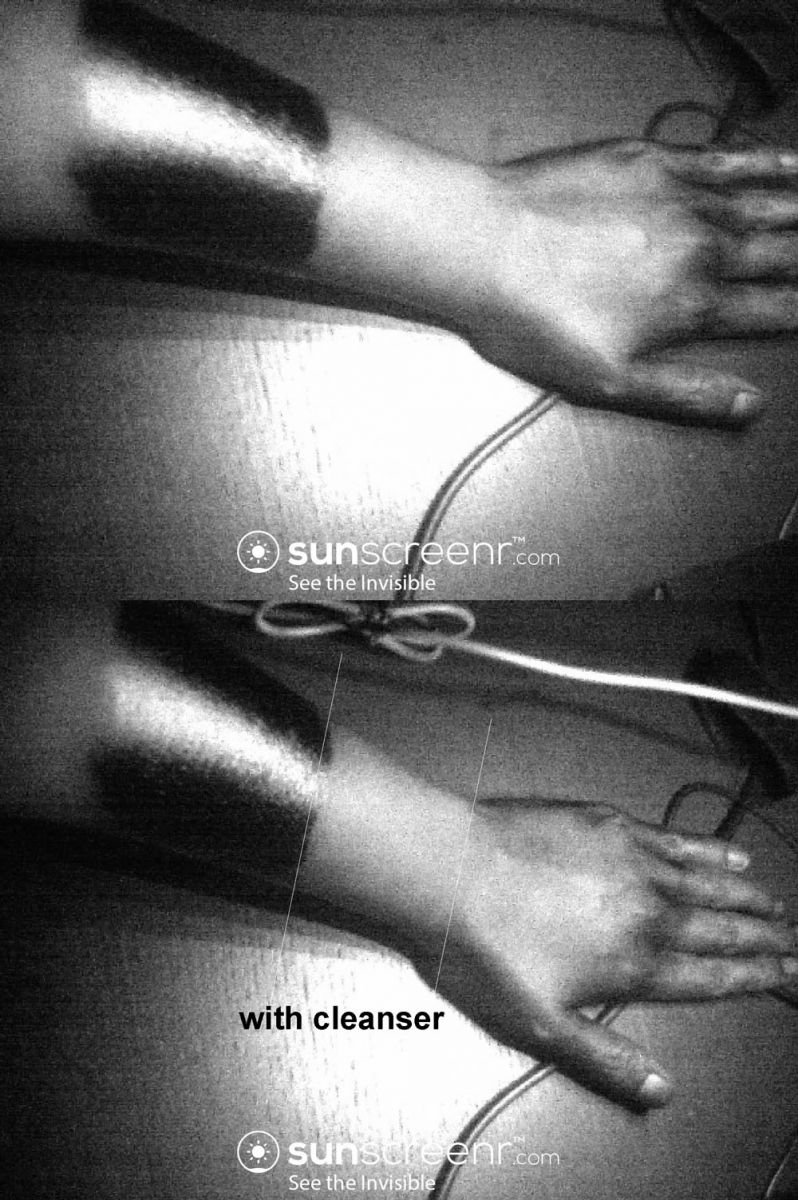 Face Swatch
Preparation:
On this swatch, I used my usual AM skincare underneath the sunscreen. This is what my usual AM routine looks like:
Biore Facial Foam Mild
DIY - Niacinamide + Tranexamic acid serum in simple water and glycerin base
Finacea Gel
Benzac AC 5% Benzoyl Peroxide Cream
Sunscreen of the day
I don't do any wait times. As the serum is my own concoction, I always make it very watery and leaves no emollient residue. By the time I apply my sunscreen, my face is hydrated, but not damp or wet for sure.
For the sake of comparison, I applied Biore and Garnier sunscreen on each half of my face, leaving my eyelids and nose bare for contrast. I let it set for 15 mins.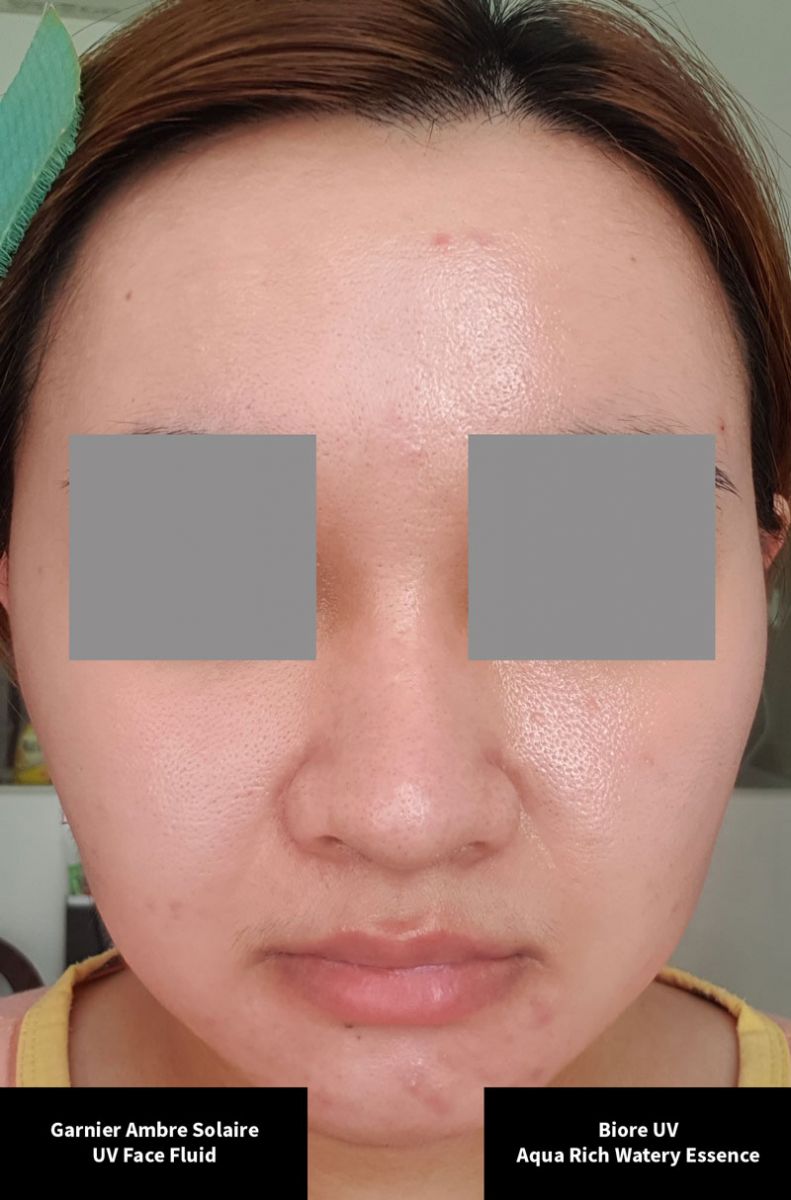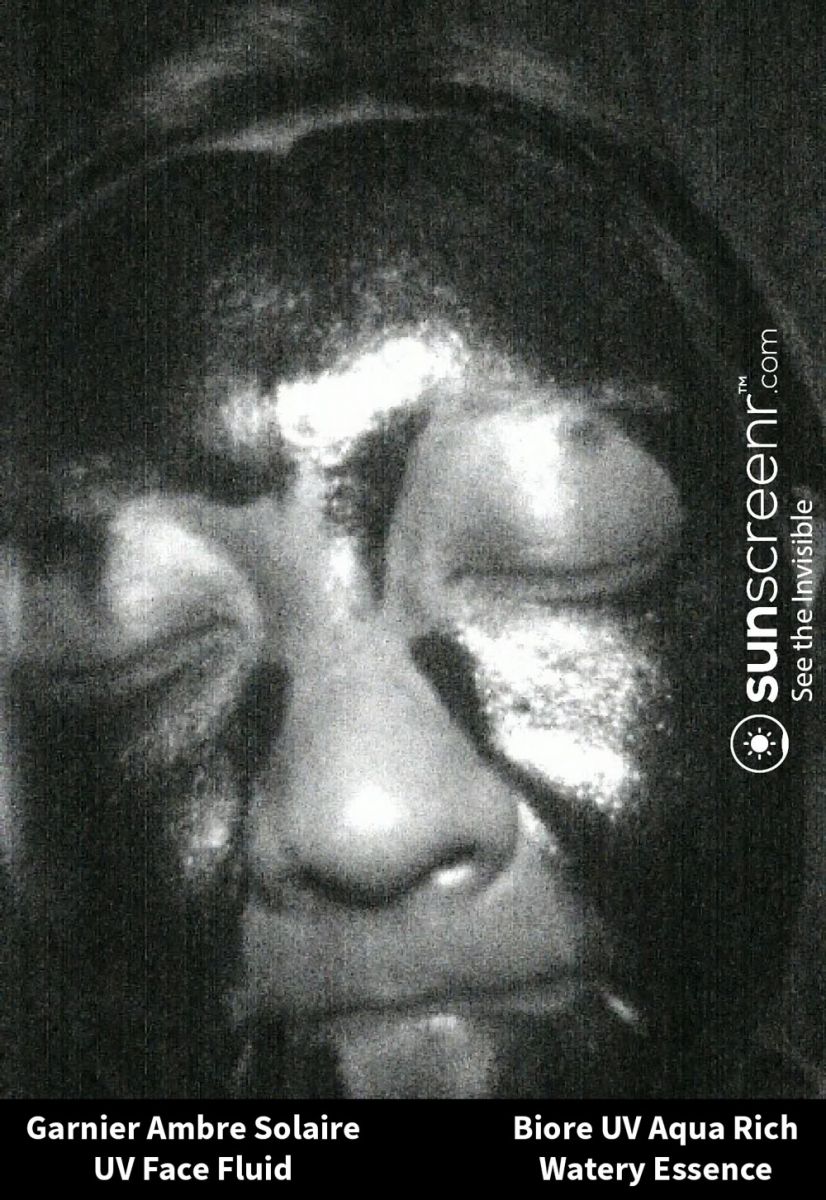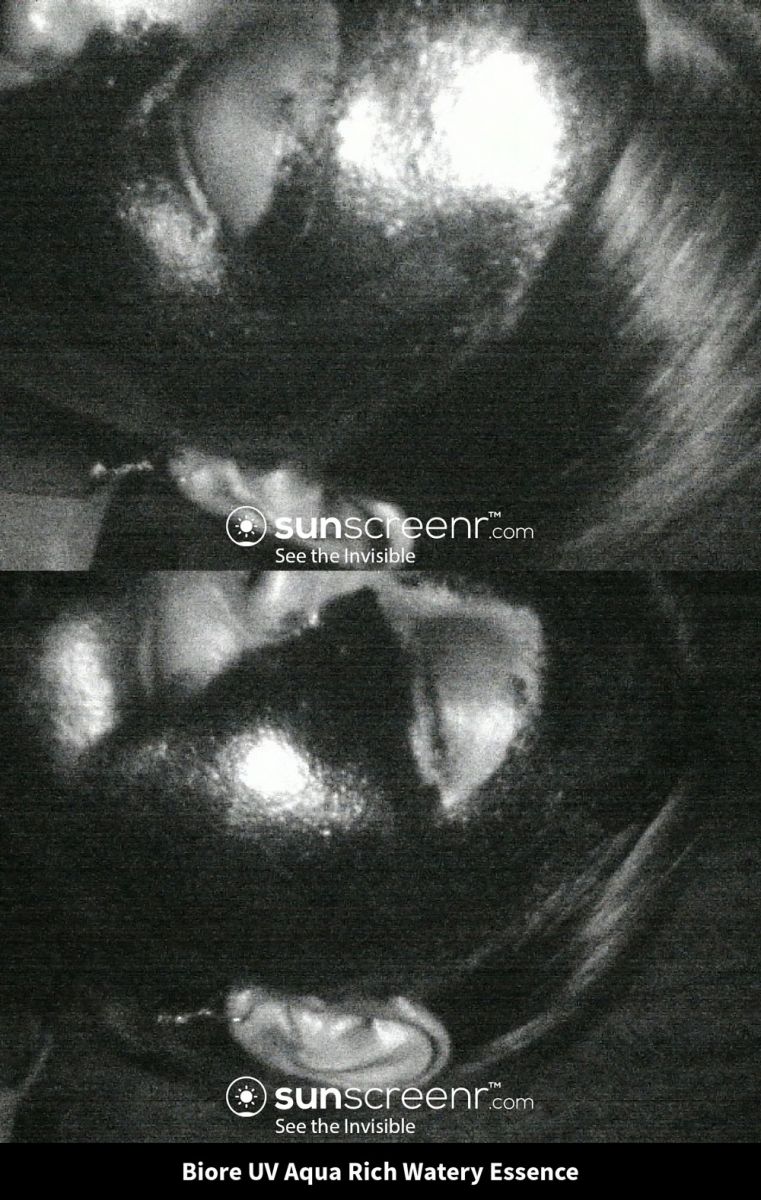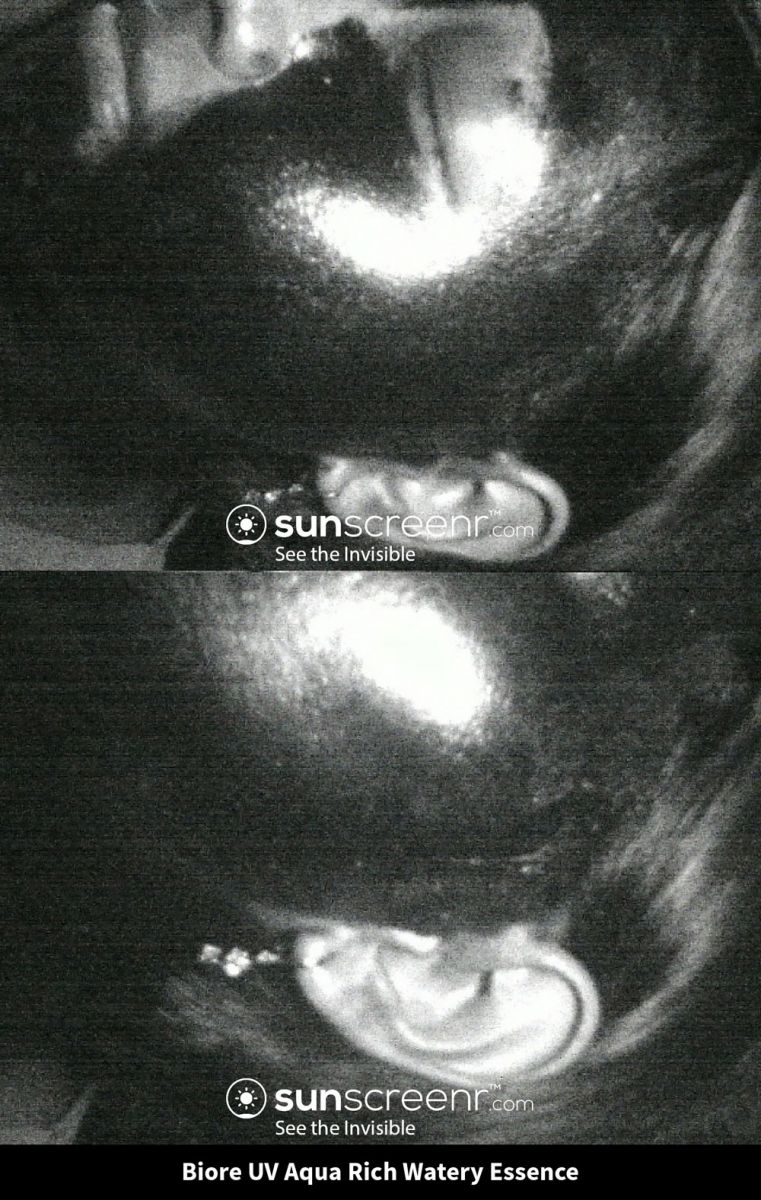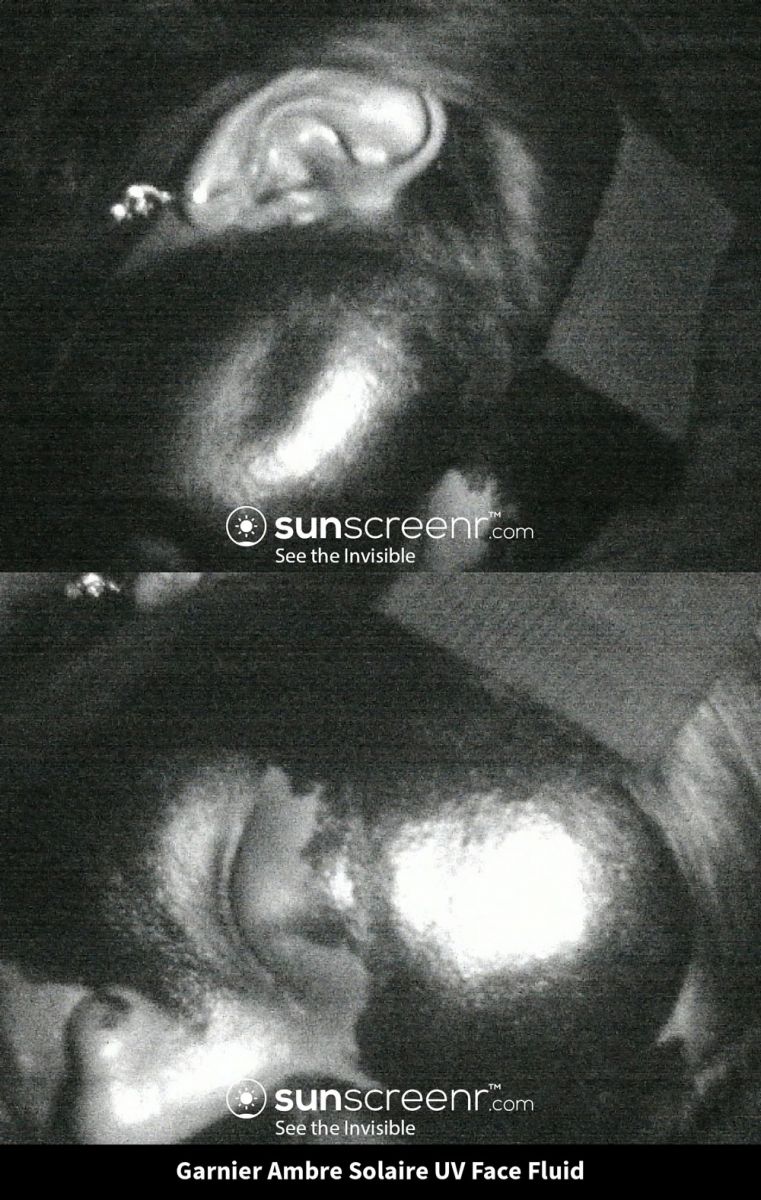 Wear Test - After 4 hours wear
Check below photos on how it wears off after 4 hours. Make sure to reapply accordingly, especially if you are going to be under the sun.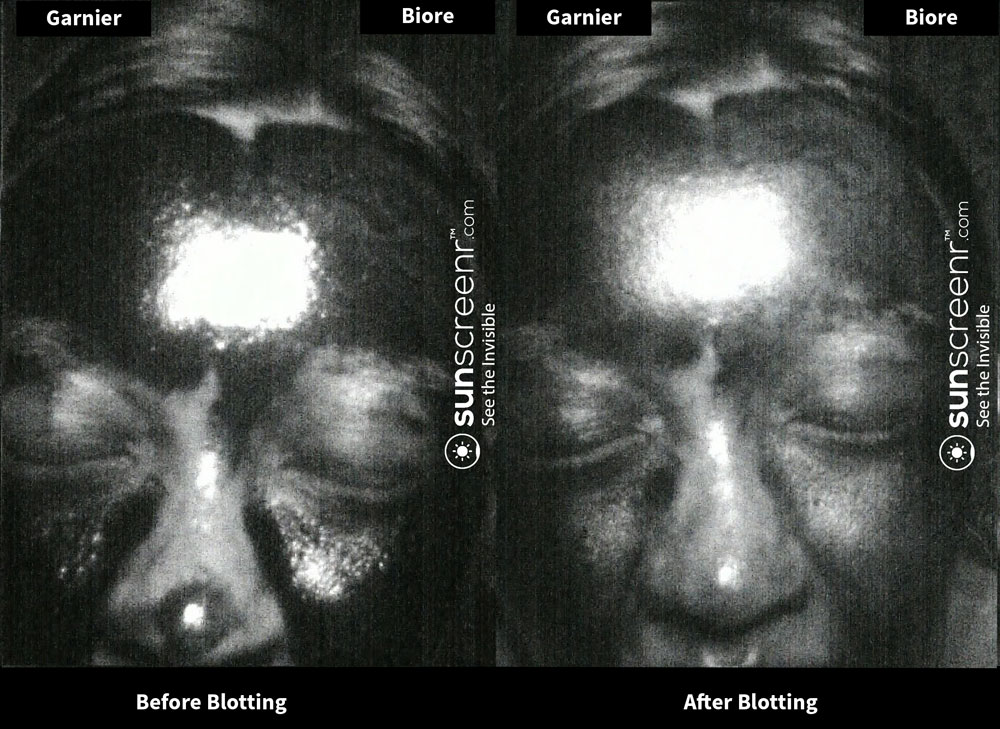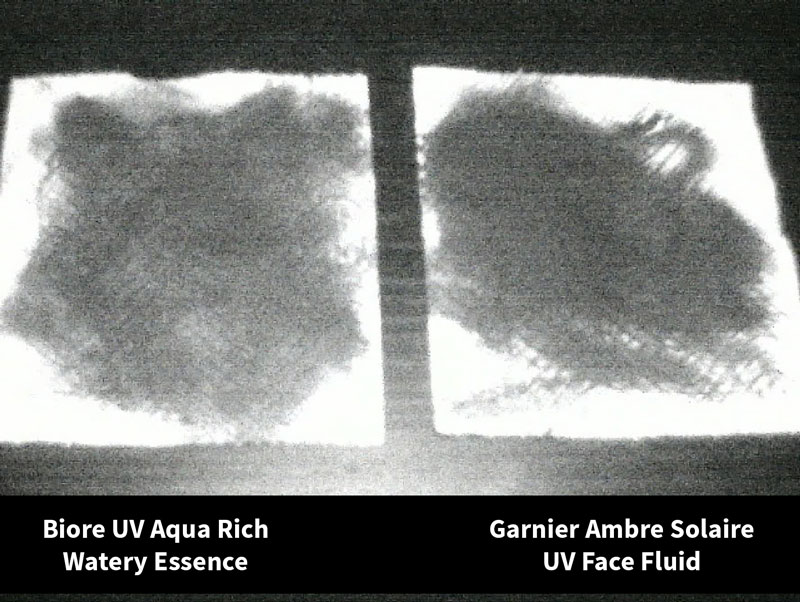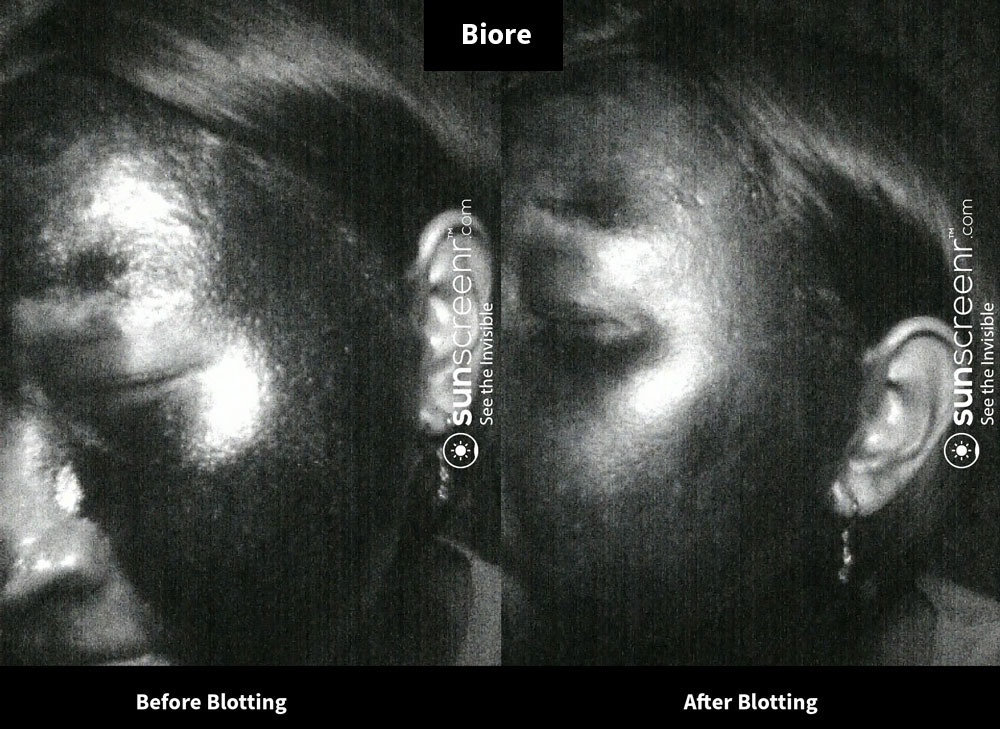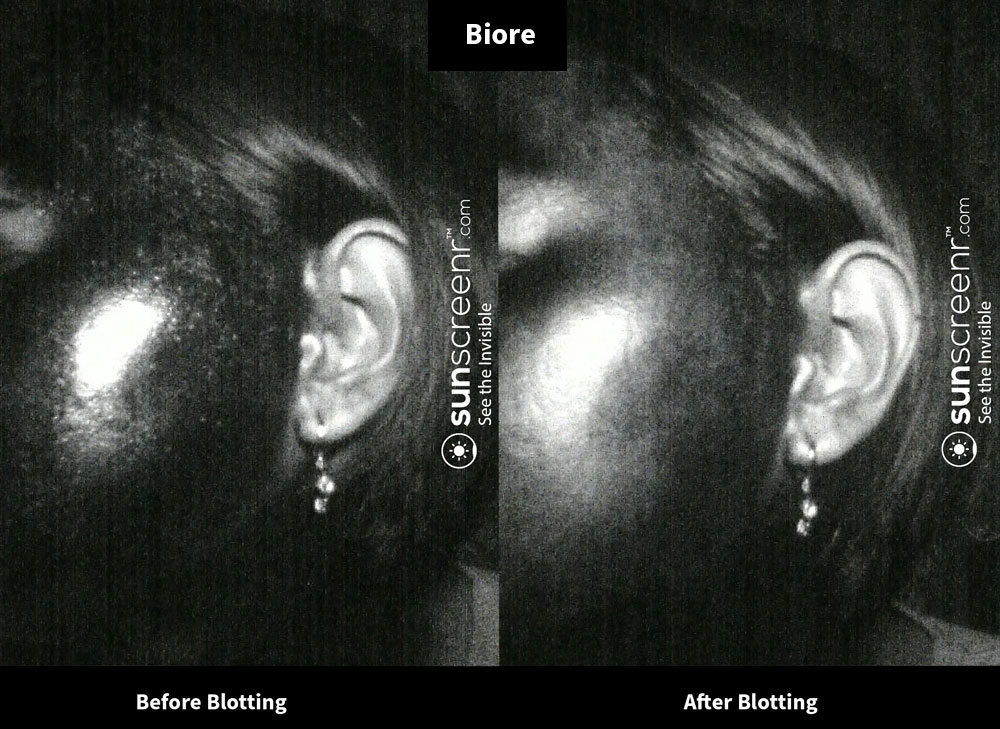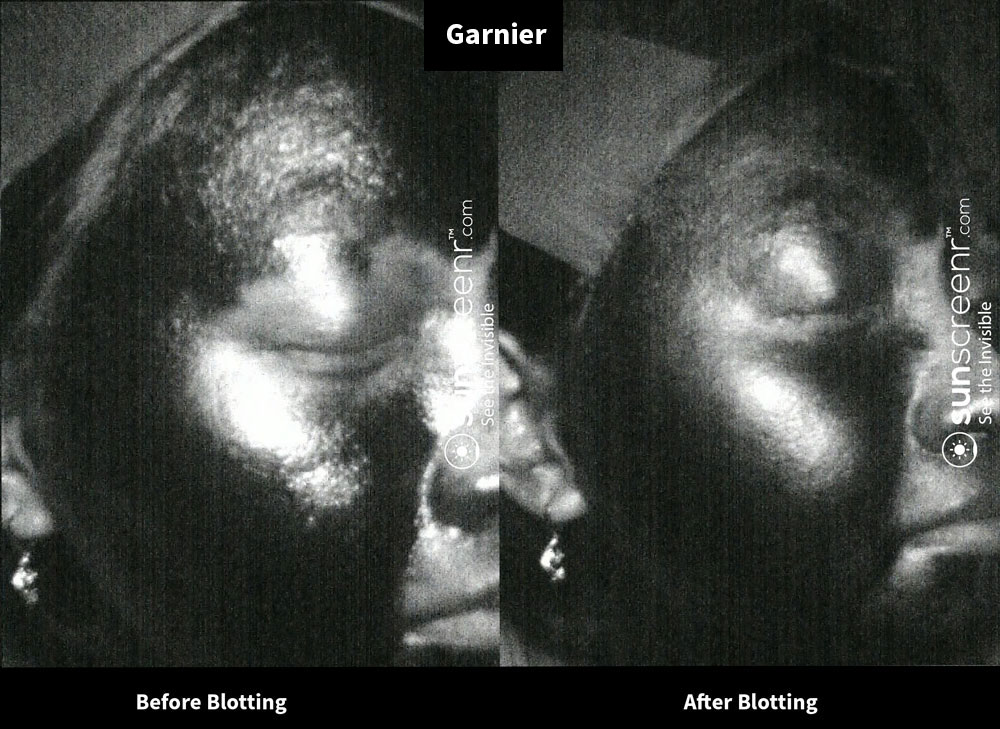 Conclusion
It's a fine sunscreen. Just that not for oily skin in humid country. I know my normal and dry skin friends love this one, as it's glowy and it is a great make up base.
Discussion
I posted this link over Reddit. If you would like to comment, you can head over this link for discussion!
https://www.reddit.com/user/chocosweet/comments/n8xwa6/under_uv_camera_biore_uv_aqua_rich_watery_essence/
Disclaimer: I only use the UV camera to see if a sunscreen disperses an even layer (or patchy and spotty); and if I miss out a spot during application. It's not by all means to measure the sunscreen protection level. Got mine from sunscreenr.com. It's compatible with android phone.