Hi everyone! It's been a while since my last post. Hope you are all doing great!!
Anyway, today I notice I have used up like ~75% of Eucerin Sensitive Protect Dry Touch Sun Gel Cream SPF50+ 200ml. To be honest, I'm pretty proud of it! It's rare I can finish an European sunscreen willingly without feeling tortured haha!
Product Summary
Eucerin Sensitive Protect Dry Touch Sun Gel Cream SPF50+ 200ml
UV Filters:
Homosalate, Avobenzone, Tinosorb S, Octisalate, Uvinul T 150, Uvinul A Plus, Ensulizole.
Properties:
Contains alcohol
Contains fragrance
Extra water resistant
Sweat resistant
Anti sand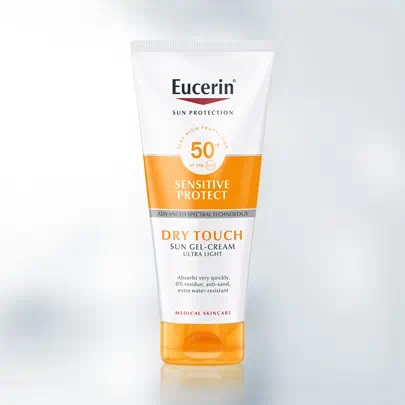 Preface
I have oily skin living in hot humid tropical country. I got this sunscreen from LookFantastic website. I definitely saw Eucerin Sensitive Protect range being sold locally here, but the labelling and ingredients are slightly different. Anyway, let's dig it.
Characteristics
Texture
It's a yellowish gel cream texture, spreads easily, sets pretty quick so make sure to work on fast.
Finish:
When I use this SPF on my face, it would trigger facial sweating immediately, so it's annoying. It's very shiny on my face too, never dries. Remains wet to the touch.
For my body, it's decent, not that sticky after letting it set for at least 30~60mins. It's not dry touch for the climate here, however.
It comes out as a thick cream, easily spreadable. I can see it's great for drier skin type. It has no white cast.
When it is raining (aka humidity is higher than usual), its thickness is even more prominent, like I can actually FEEL it's on my arms. That being said, I think it's still a great one for an EU sunscreen.
For sunny days though I can tell you this, my partner is not excited when bumping his arms with my arms, he said it's icky sticky when I wear this Eucerin spf, despite I haven't started sweating even hahaha! So I can foresee this is not a good sunscreen to wear in a packed train lol!
Note: he doesn't find Anessa Perfect Milk or Skinfood Sunflower sticky at all when bumping on my arms, which makes sense, as both of the mentioned SPFs have kinda powdery finish.
Scent:
The fragrance is too much to be around my nose, unfortunately. It lingers, lets say I apply at 9am, the scent is still around by noon, and the scent gets stronger by the time of reapplication. So I don't use this on my face.
I still can smell it on my arms, but it's bearable now after wearing it daily.
The scent is pretty pungent. It reminds me of Nivea UV Face Shine Control, though it's NOT the exact fragrance, but it's a reminiscence of that.
Pilling:
It pills on re-application on my face. It is fine on first application.
It can pill on my arms as well, I haven't found out the cause, but the pilling on my arms happens rarely as long as I quickly rub the sunscreen.
Bear in mind I always use it on bare arms. So for reapplication, I would run my arms under running water and towel them dry and reapply.
Now I think about it, most 'Dry Touch' sunscreens tend to pill on me. I observed the same pilling issue with the Vichy Soleil Dry Touch gel cream, Avene Dry Touch Fluid, La Roche Posay Anti Shine, Eucerin Oil Control Sun gel.
Eye Stinging:
I know my eyes don't like Avobenzone, so they most probably will sting my eyes. Again, I don't use this on my face.
Adherence
Preparation
I applied the sunscreen on my left bare arm, took photos using UV camera (Sunscreenr). I indicate the timing accordingly on the photos. I use a UV lamp (for curing gel nail) as the source of light.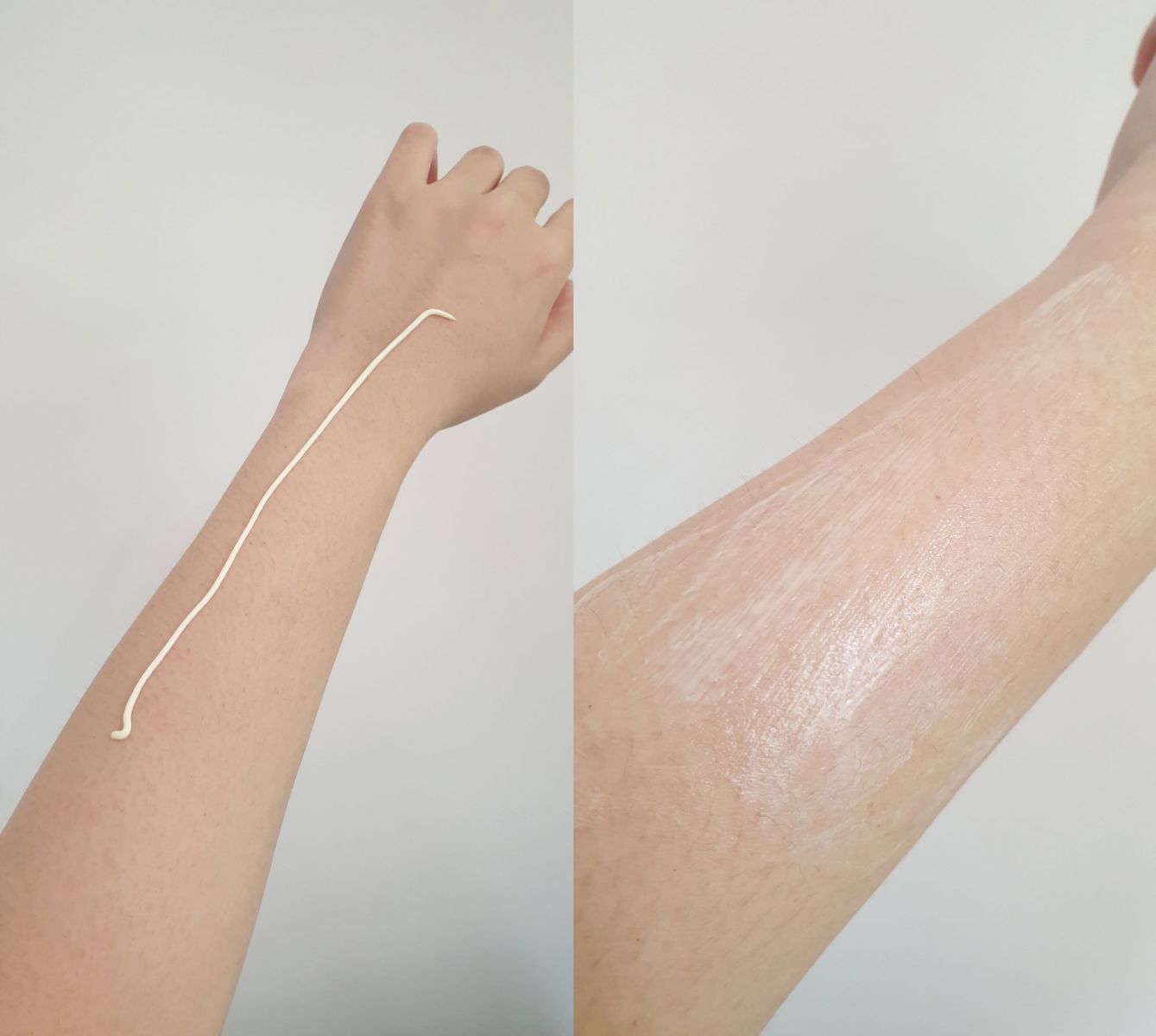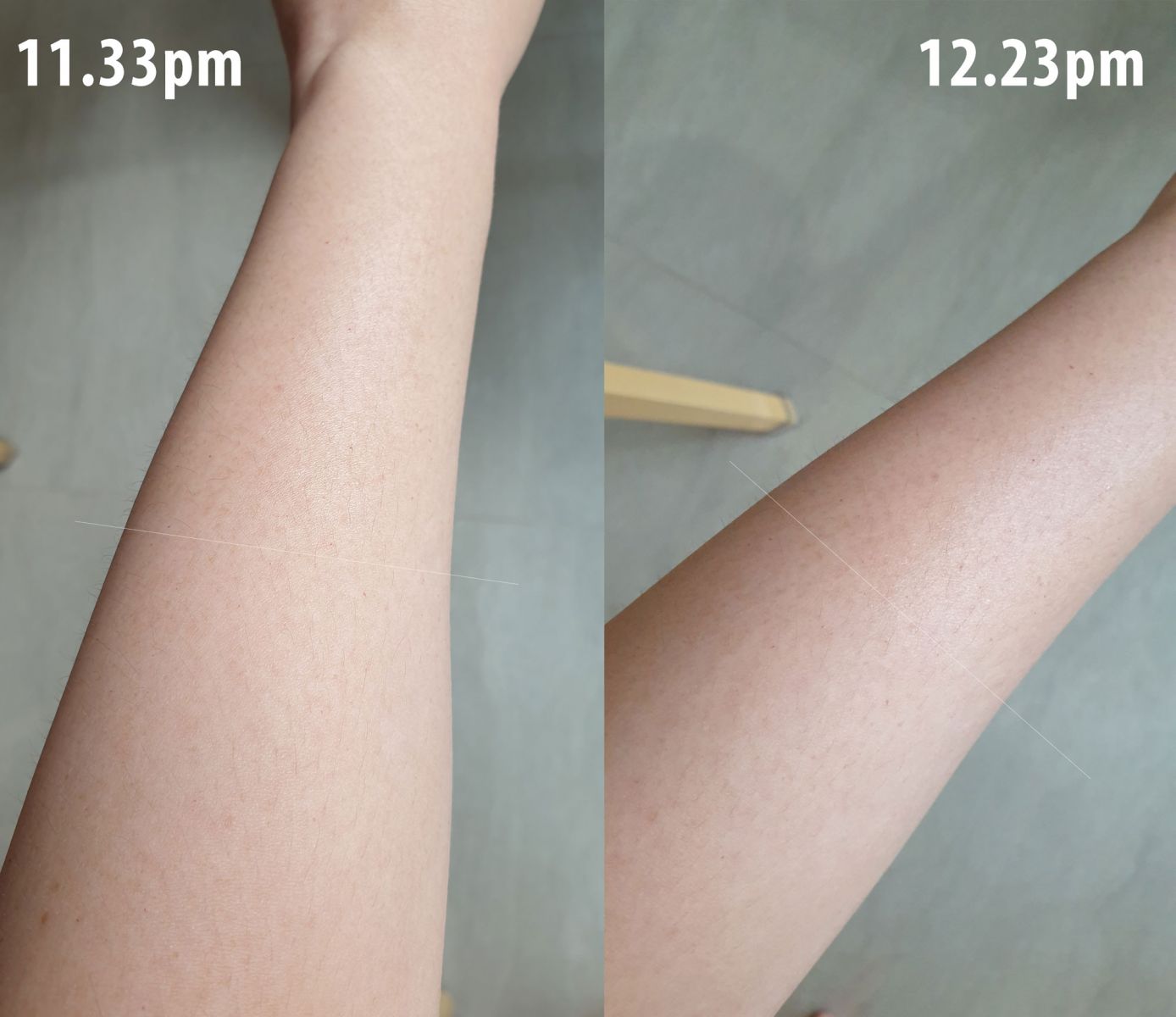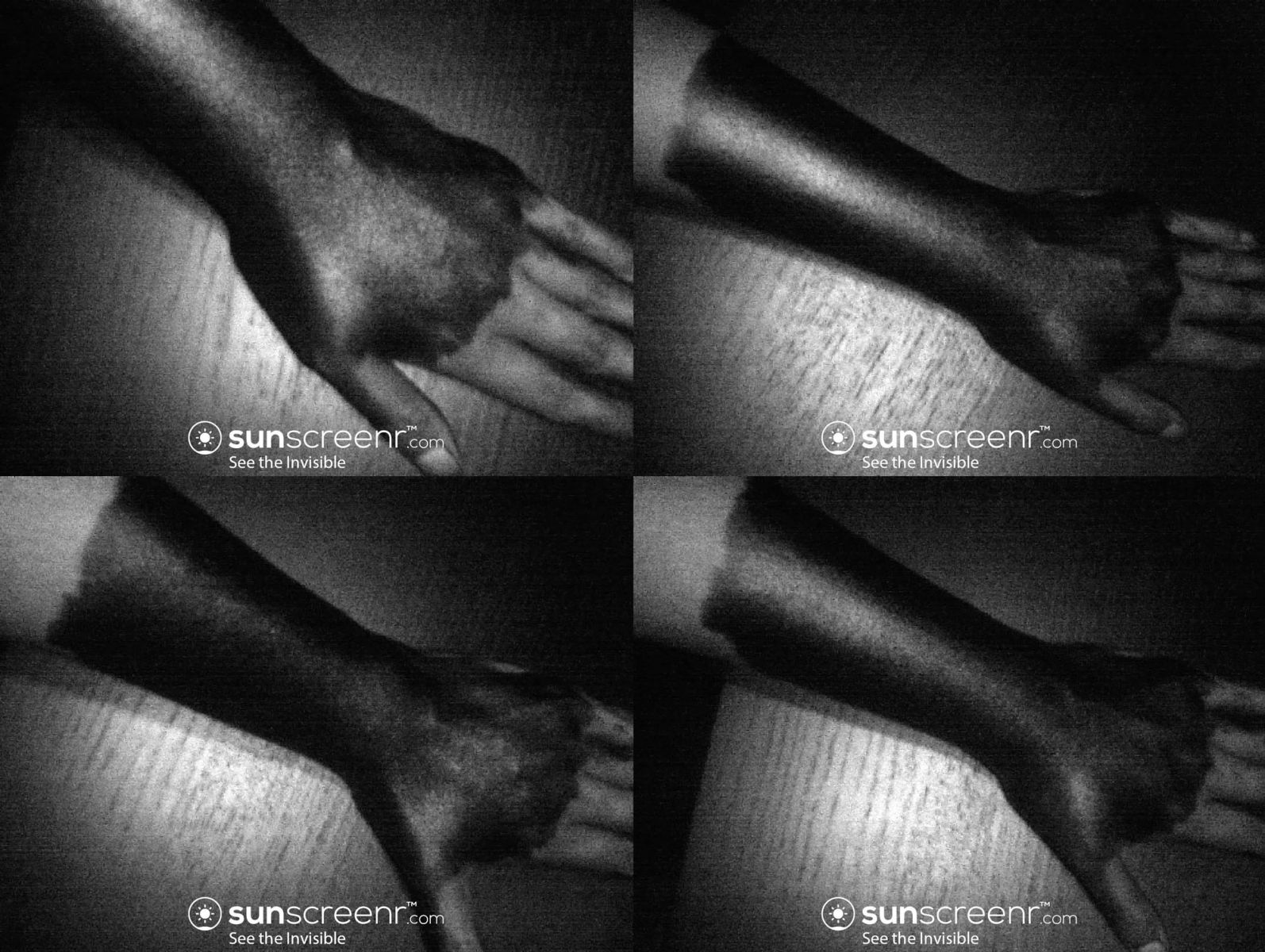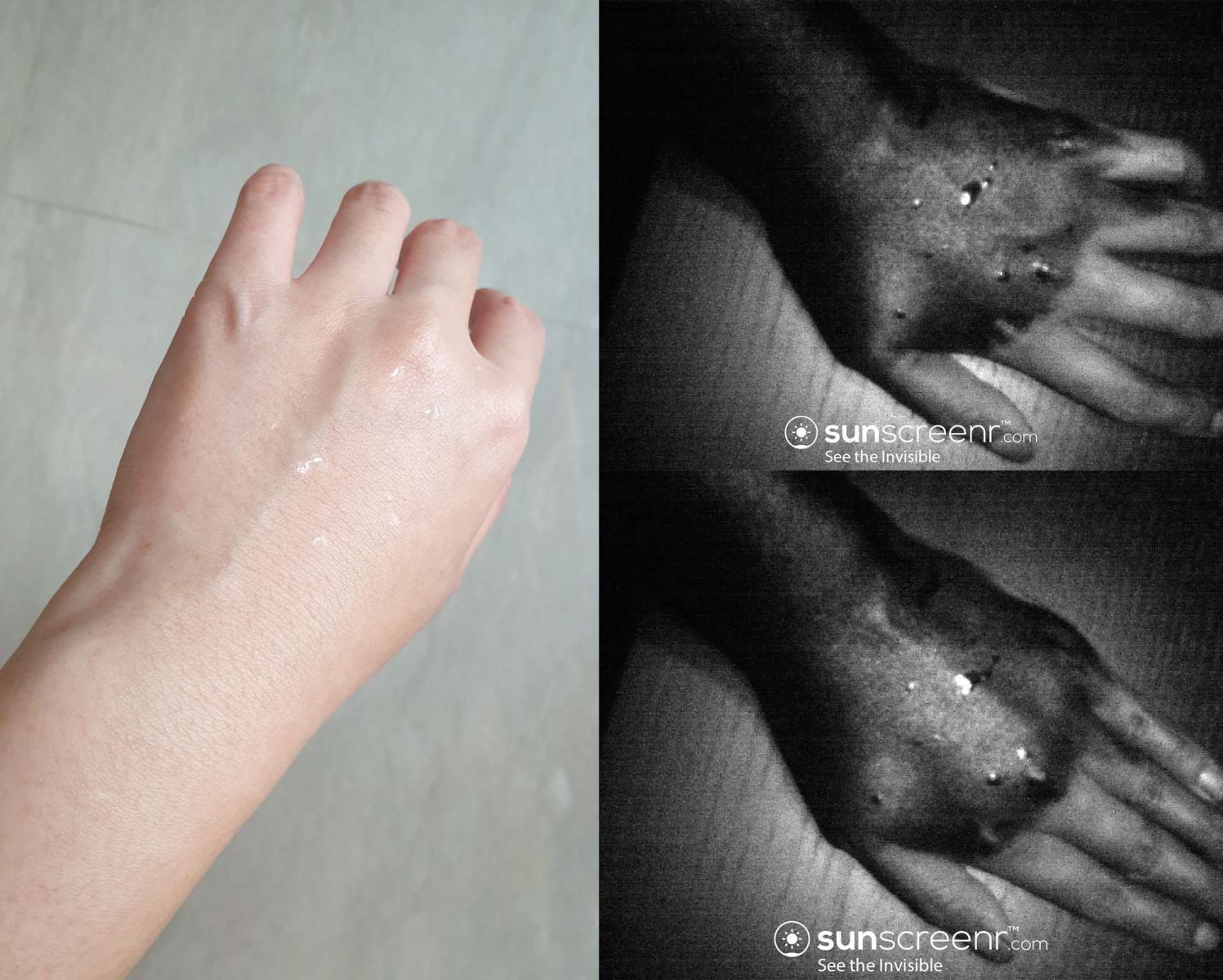 Rub Under Running Water & Cleanse with Vanicream Gentle Facial Cleanser:
I rubbed it under running sink water for like 10s vigorously, and I used Vanicream Gentle Facial Cleanser on other part of my hand (massaged it for 30s before rinsing)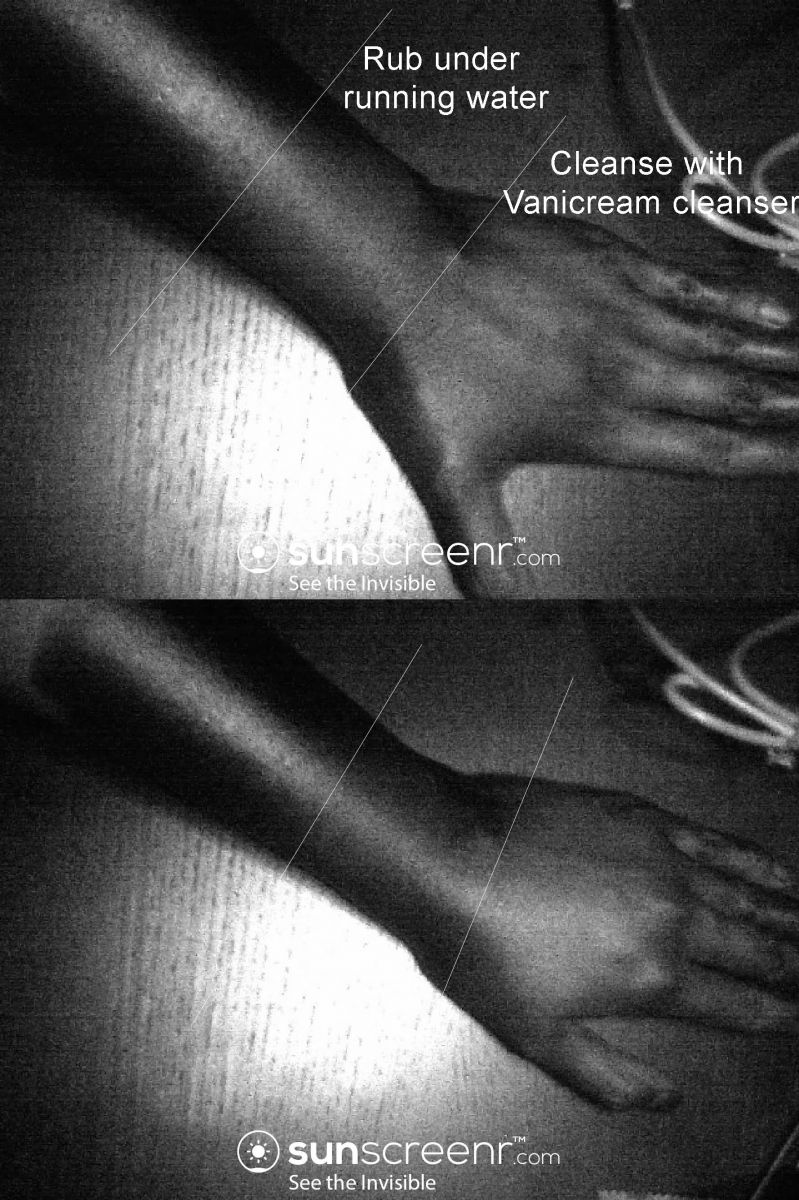 It's pretty good. SO much better than previous experiment with Ultrasun Anti Pollution Face Fluid, isn't it?!
Removal
This time I use MUJI Mild Cleansing Oil and it took off the sunscreen perfectly!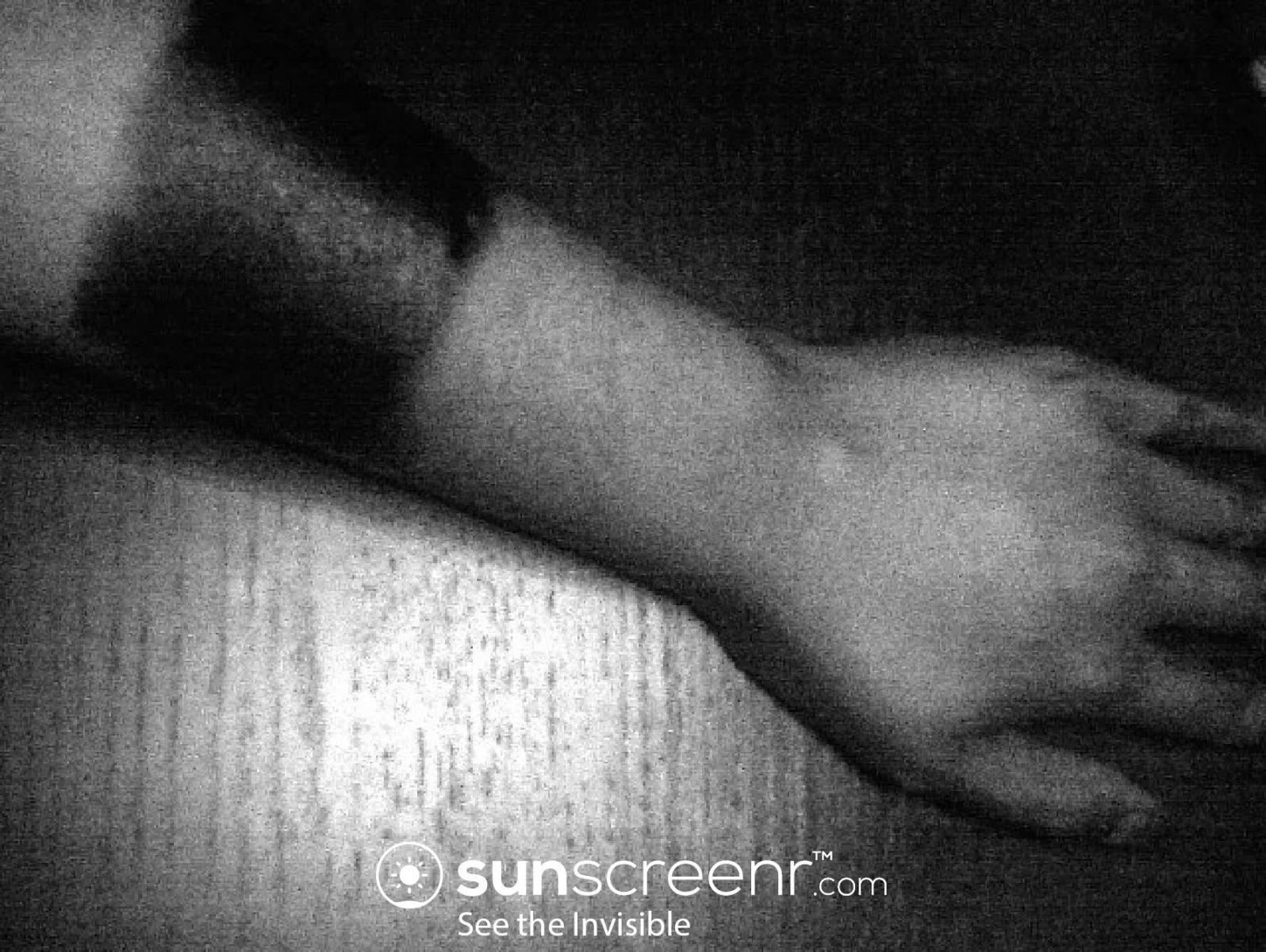 I usually use this oil cleanser on my body since it's cheaper. I don't like this cleansing oil for my face as it has residue (DHC cleansing oil doesn't leave residue on me, I don't always use 2nd cleanser, you see, so it matters)
Wear Test
Yesterday we had an impromptu walk around the (beautiful) neighborhood at noon. I applied this SPF at around 10.30am and went out for a brunch/lunch (sheltered). I never reapplied. At 12.30pm we walked around the neighborhood without any shelter or umbrella* until 2pm.
*It's common thing to take out umbrella when it's sunny outside over here. My partner actually asked why I wasn't taking out the umbrella from my bag, since it was scorching hot. Well, he didn't know I'm greater than the sun LOL -- OK joke aside, it's been raining cats and dogs here lately so I welcome the great weather hahaha!
Little did I know the UV index actually reached 14 (!!) during the walk (took a screenshot of UV index last night). Yesterday morning around 10 or so, it was gloomily cloudy, I didn't expect the UV index was also in the "high" range.
Thankfully I didn't get tan (I tan easily, rarely burn), considering I didn't reapply and I did sweat. I got very sweaty (I live in very humid tropical Southeast Asia, sweating is a daily thing) and I used tissue to blot my sweaty sticky arm.
After we were back, I took a look at my arms, and my arm did get patchy now. See below: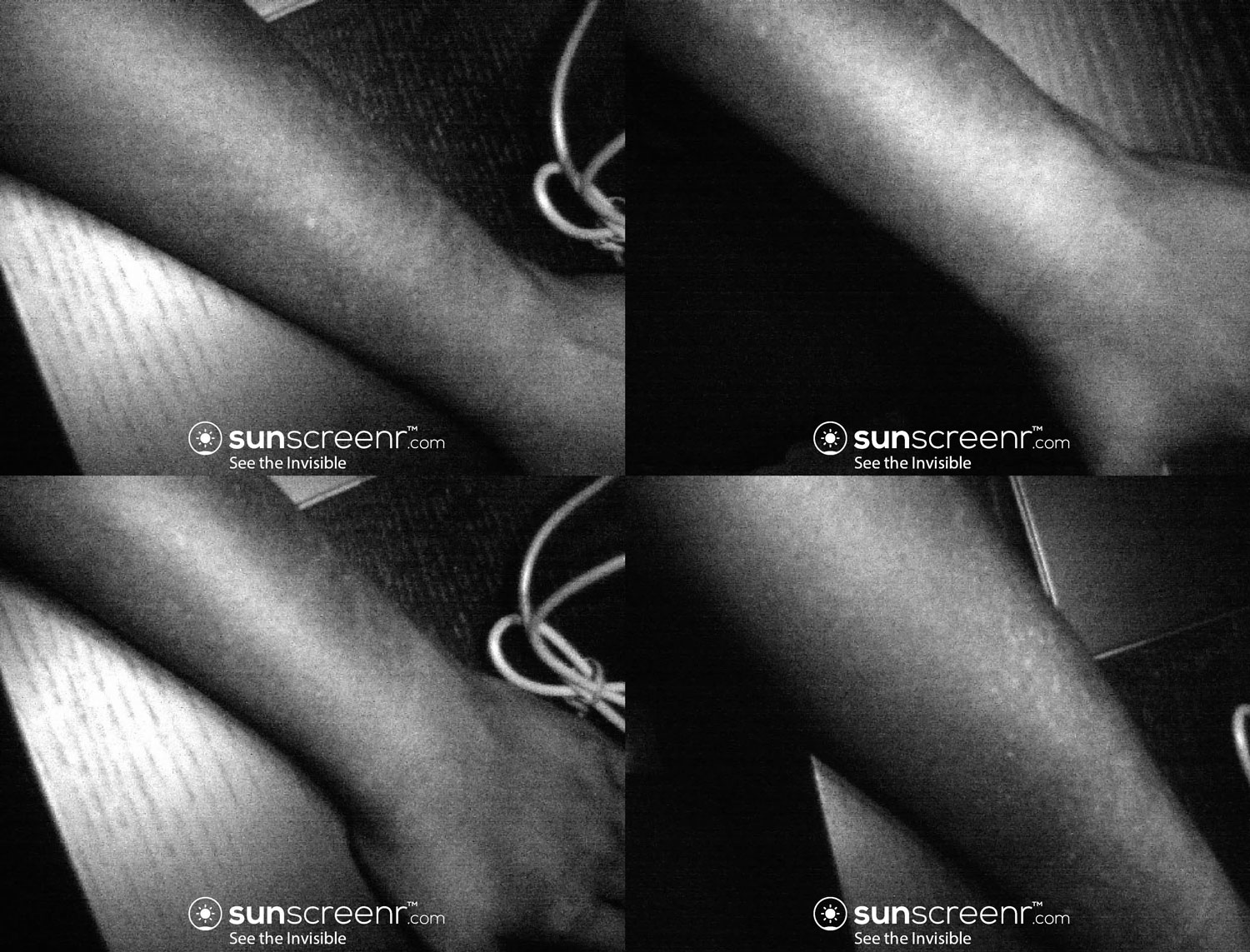 As you can see, the sunscreen layer had faded significantly (well, duh obviously, I got sweaty and blot with tissue). And it was really patchy and spotty on some part.
Moral of the story: Even if the weather is gloomy/cloudy, it doesn't mean low UV radiation if you are located nearer to the equatorial, and SPF reapplication is important.
Conclusion
There you have it! Other than the annoying scent, I'm pleasantly surprised with this purchase and I'm glad to try it. I don't mind repurchasing it in the future for my body SPF!
For now, I'm going to use up my other SPFs first. Cheers!!
Disclaimer: I only use the UV camera to see if a sunscreen disperses an even layer (or patchy and spotty); and if I miss out a spot during application. It's not by all means to measure the sunscreen protection level. Got mine from sunscreenr.com. It's compatible with android phone.