Product Summary
Eucerin Sun Allergy Protect Gel Cream SPF50+
UV Filters:
Homosalate, Avobenzone, Tinosorb S, Uvinul A Plus, Uvinul T 150, Ensulizole.
Properties:
Contains alcohol
Fragrance free
Water resistant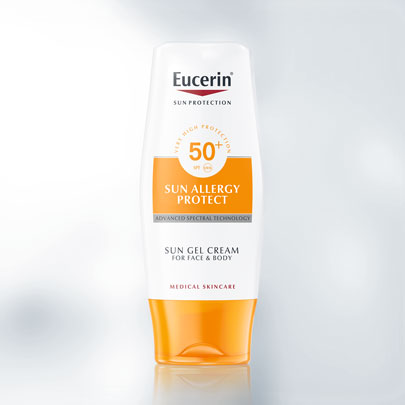 Preface
Hello everyone! It's been a while since my last post. I tried to keep up but I was so busy on my day job that I forgot to post about this, despite having prepared the content. HA! Anyway, let's dig in.
My skin type is oily. I live in hot humid tropical country. On average, the weather temperature is around 31-33°C. These days it's been raining on and off, so the humidity is pretty high (and terrible!).
Characteristics
Texture:
This is a thick cream. It reminds me of body butter kind of texture. It's very easy to spread but also feels thick on the skin.
To compare with Eucerin Sun Sensitive Protect Gel Cream Dry Touch, that version has drier texture, has powdery feel when I rub between my fingers.
Scent
It's fragrance-free! It does have slight sunscreen-y scent, but I can't sniff it when I apply it on my body.
White Cast
Upon gliding on, it does look white, due to the thick cream, but once I'm done rubbing, I don't see any white cast.
Finish:
I use this for my body, it's bearable. On lower humidity days (~70% whereabouts), this sets pretty well, and not as sticky as when the weather hits 90% humidity, which unfortunately is the norm at where I live.
On the face however, it is very shiny, very greasy, very reflective, very sticky. However, I can feel it does "adhere" well despite having greasy finish.
Compared to Eucerin Sun Sensitive Protect Gel Cream Dry Touch, that version has drier texture and more matte looking on my body. It's still shiny on my face but lesser than this Sun Allergy version.
Pilling
On reapplication, I don't notice any pilling, be it on my face or arms. While the Eucerin Sensitive Protect does pill on reapplication.
ADHERENCE
Preparation
I applied the sunscreen on my left bare cleansed arm, took photos using UV camera (Sunscreenr). I let it set for 1+ hour before taking the UV camera picture.
It's a heavy thick cream. As you can see from the image below, it looks like I squeezed a bit of sunscreen only but it's very emollient and spreadable. I most likely be underapplying, but it's the maximum I can tolerate.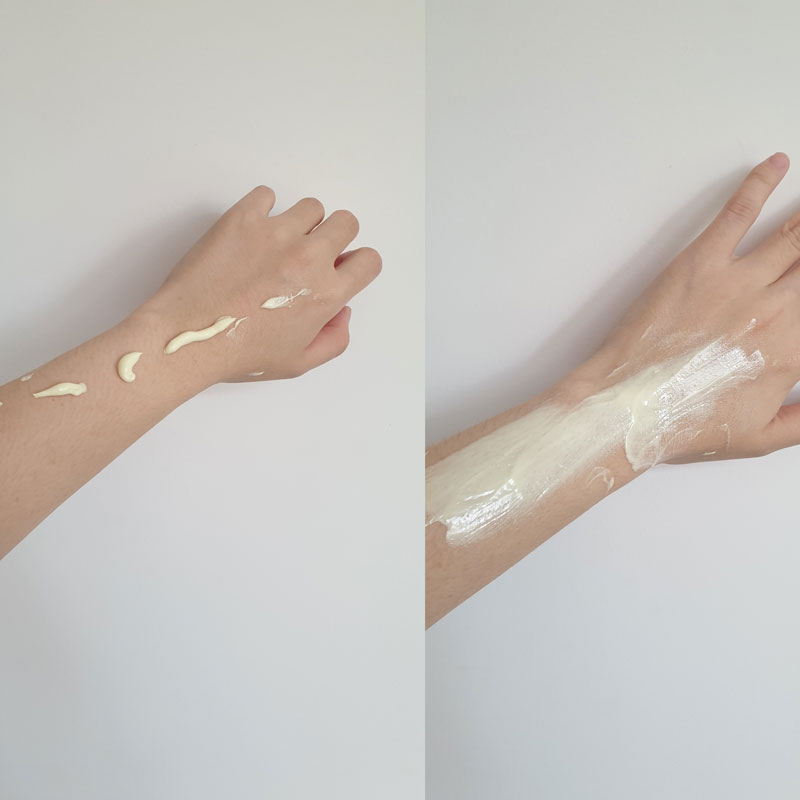 Shine Level
I applied the sunscreen and went on about my day. I just sat throught a zoom meeting, so I didn't really disturb the sunscreen layer, and let it sit for almost 2 hours. The sunscreen is very shiny and sticky to the touch, as you can see from below images. The shine has definitely subsided a little bit, but who has the time?????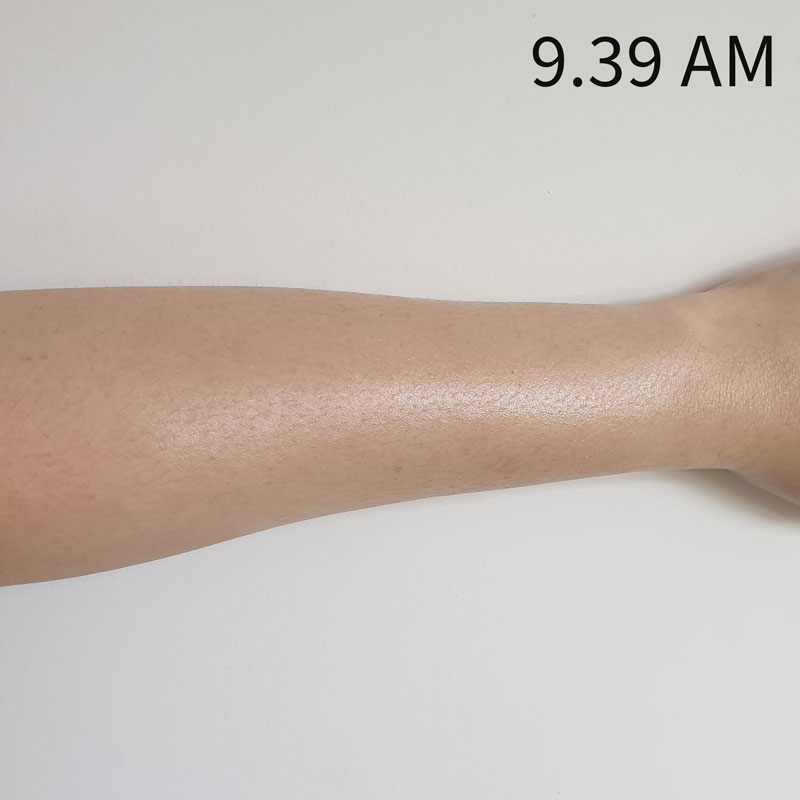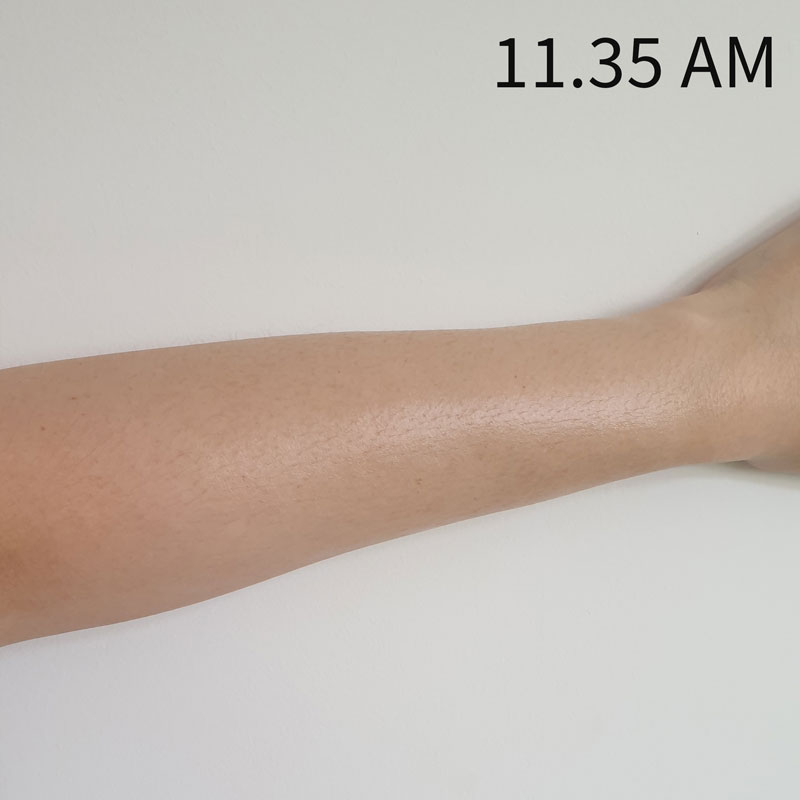 Coverage
As expected, it has even coverage. It's really easy to apply, just that I need to rub longer than I like to make it somehow sets.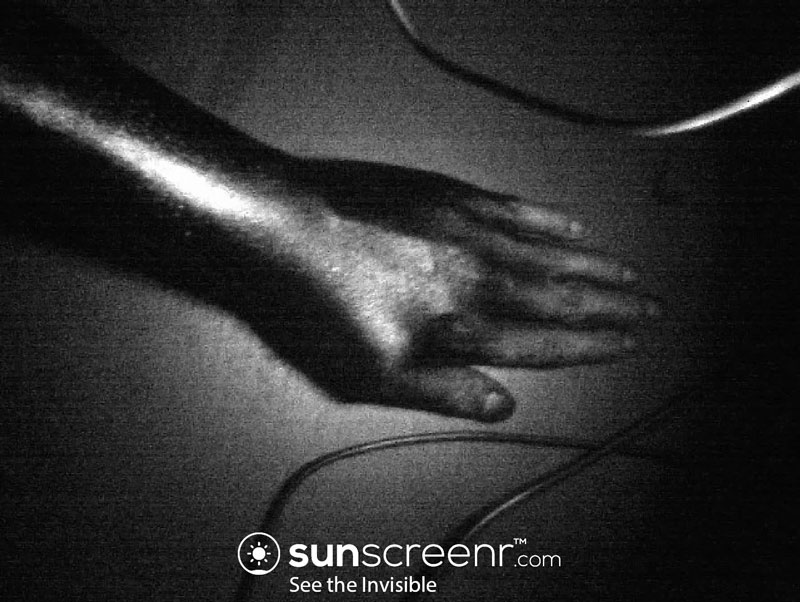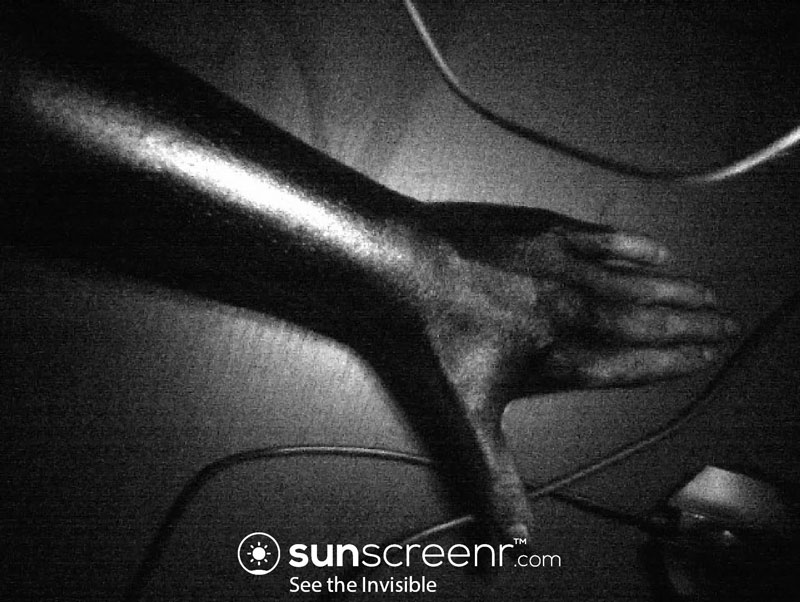 Rub Test and Removal
I rubbed a section near my fingers of my hand under running sink water for 10 seconds. I can see some of the sunscreen has been removed, however it's not that bad, frankly speaking. I could see the waterproof-ness when the water run on my skin.
I also did wash my wrist section with Biore Facial Foam Mild. I think it gets most of the sunscreen pretty well. Though, the DHC Oil Cleanser somehow removed more throroughly and quicker.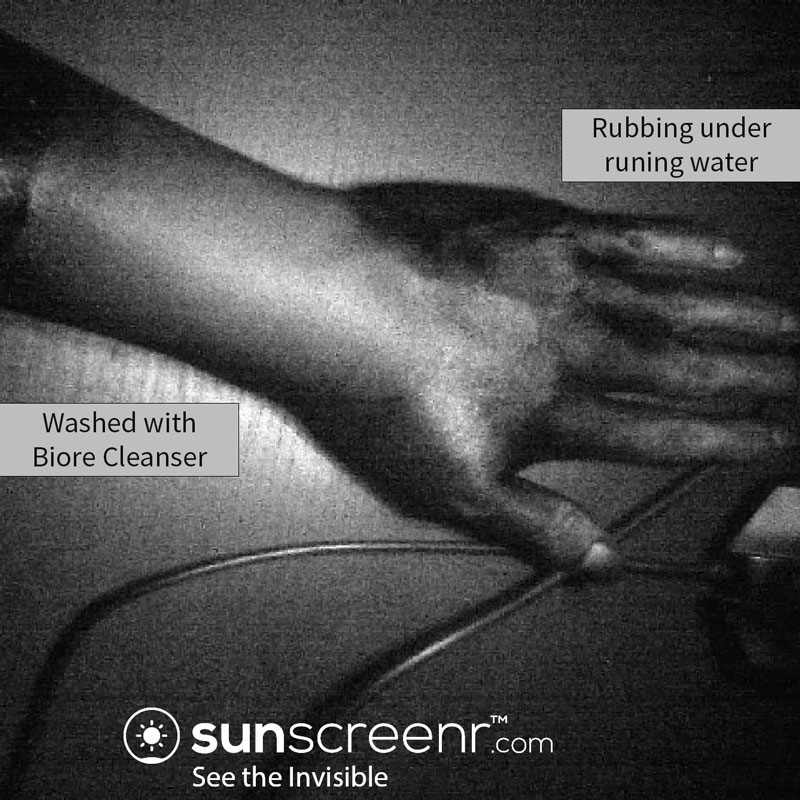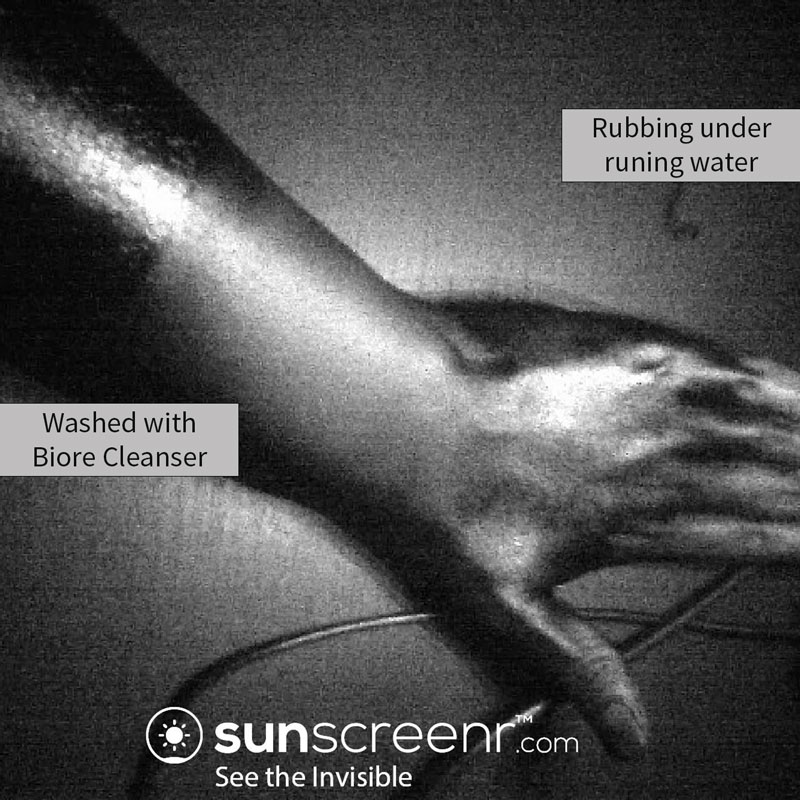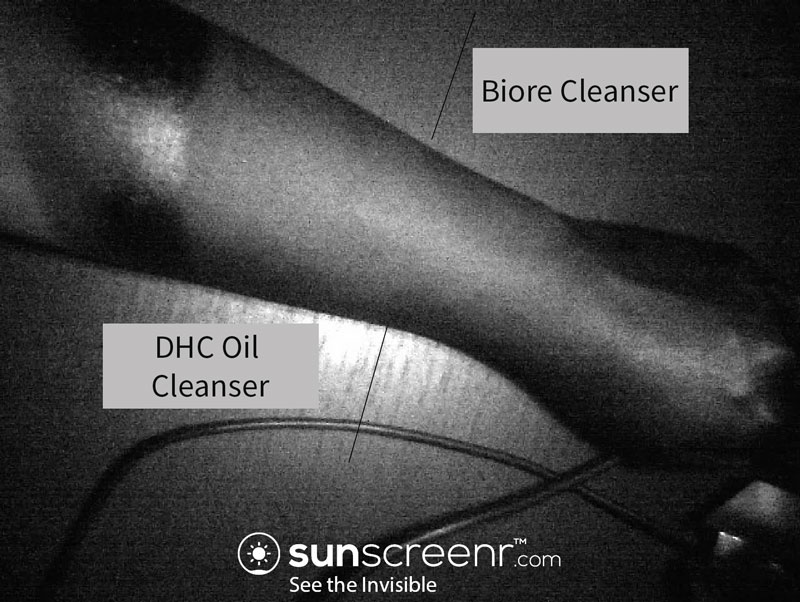 Wear Test
OK, like I have mentioned, it's a very shiny sunscreen, so I don't really use it on my face on daily basis. However, I know many of us always try to find economical sunscreen that can be used all over the face and body. I tried it once and it wasn't a pleasant experience. This test was taken back in August.
As usual, I didn't apply it on my eyelids, below nose and ears for contrast.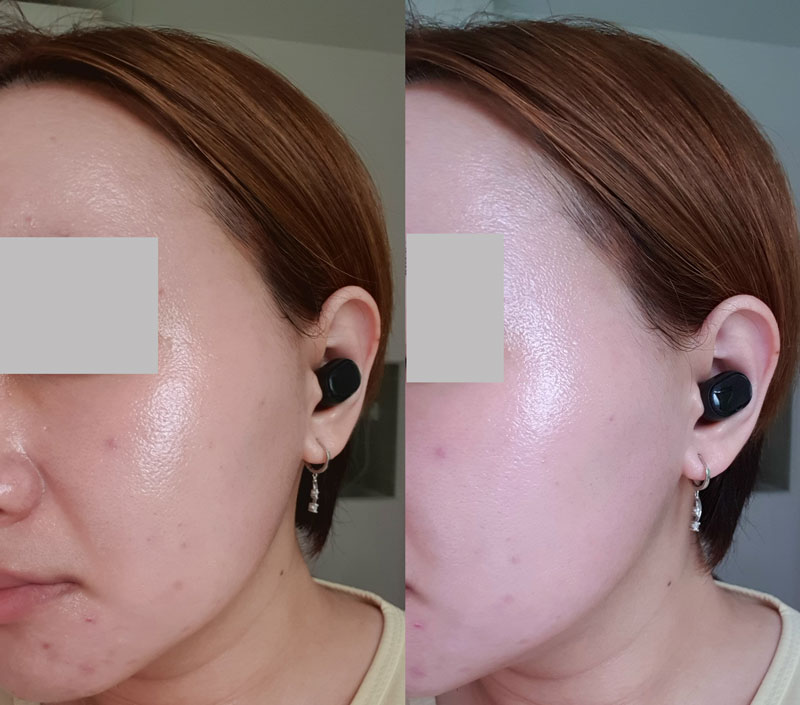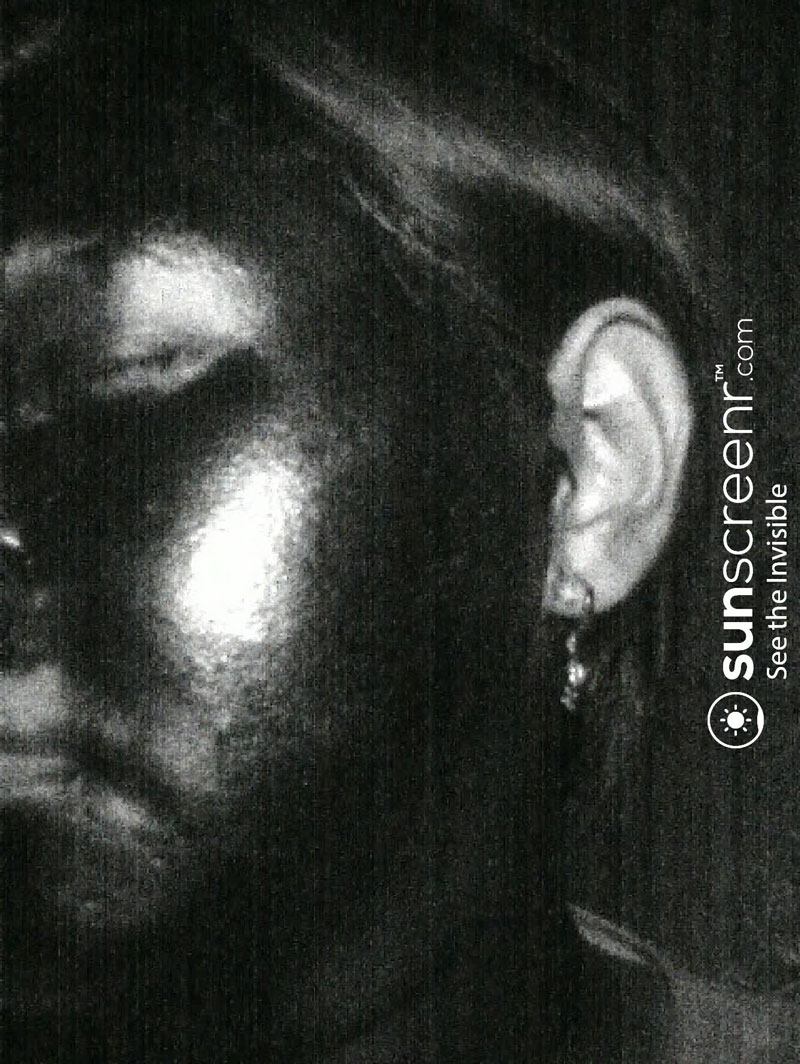 After Blotting:
After 3 hours, my skin was an oily mess and very shiny. I really couldn't stand how my face was feeling so I blot my face with tissue, and I did not reapply. I think the sunscreen adhered pretty well, despite the greasiness, it didn't transfer into my eyes.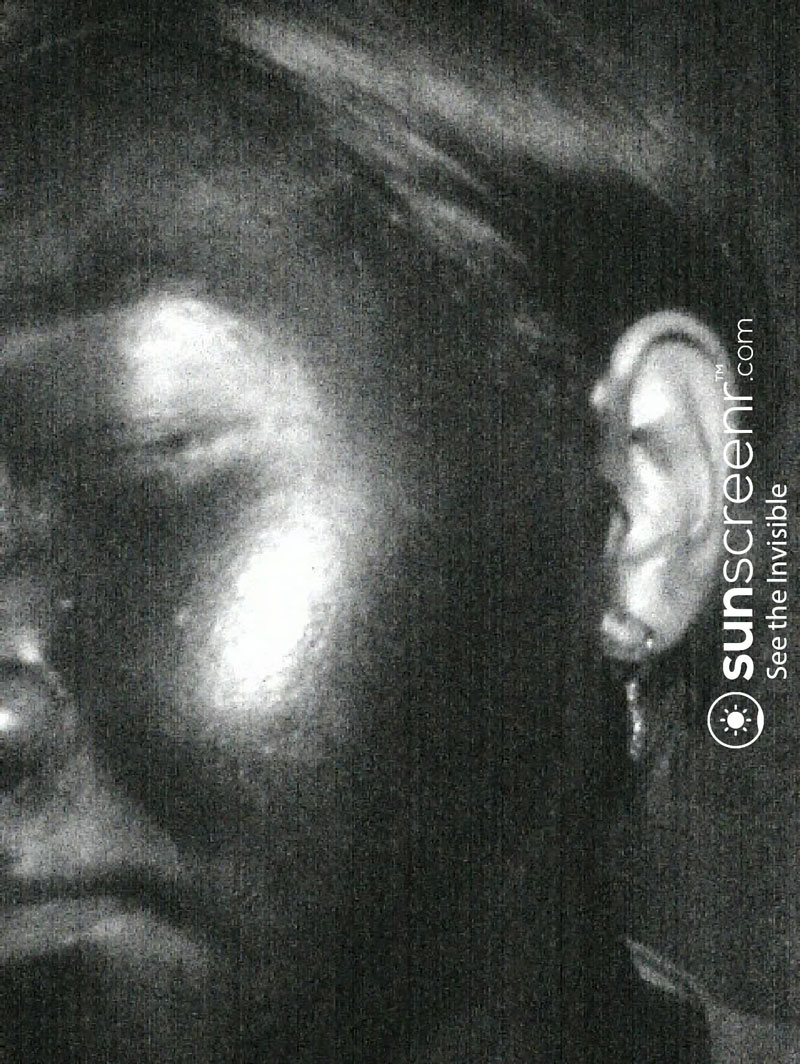 Note: the tissue did pick up the sunscreen: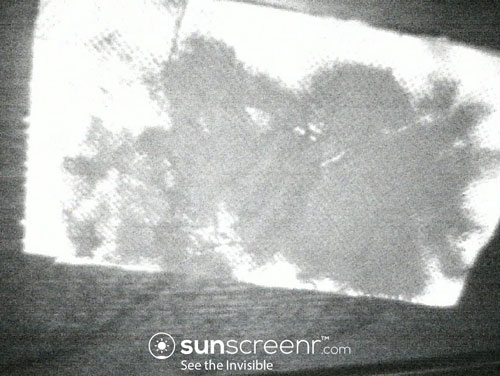 Conclusion
There you go! I'm still using it, admittedly I don't really reapply when I use this sunscreen, it's really thick and I can "feel" it on my skin. Due to the stickiness, it's mostly my indoor sunscreen, or when I'm running short errand outside where I won't bump into strangers (e.g. commute).
I prefer the Eucerin Sensitive Protect Dry Touch Gel Cream, this is the sunscreen I don't mind wearing out meeting people as it's not sticky. Though, when humidity hits 90%, every sunscreen will be tacky, really, but at least not to the point of "sticky" mess. The fragrance is too much for me though, so the search goes on...
Discussion
I have posted the link over other channels.
Reddit: https://www.reddit.com/user/chocosweet/comments/rdpdb8/under_uv_camera_eucerin_sun_allergy_protect_gel/
Instagram: https://www.instagram.com/p/CXU3DbIJO3D/
Twitter: https://twitter.com/chocosweetclub/status/1469495525829320705
Disclaimer: I only use the UV camera to see if a sunscreen disperses an even layer (or patchy and spotty); and if I miss out a spot during application. It's not by all means to measure the sunscreen protection level. Got mine from sunscreenr.com. It's compatible with android phone.