Product Summary
BIORE UV PERFECT MILK SPF50+ PA++++
UV Filters: Zinc Oxide, Octinoxate, Uvinul A Plus, Titanium Dioxide & Tinosorb S.
Properties:
Contains alcohol
Contains fragrance
Water resistant
Sweat & Sebum resistant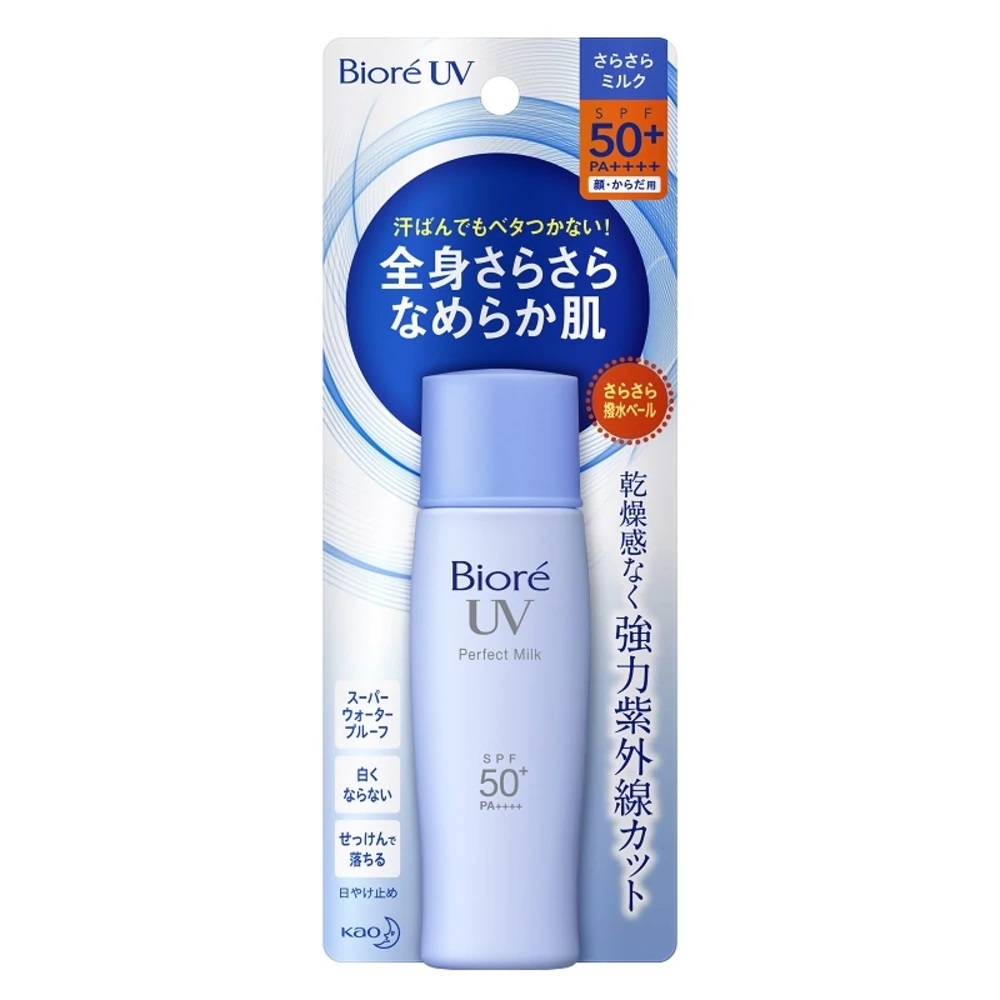 Preface
Hello friends, how is it going?
This review is way overdue - I bought this sunscreen last year, I believe and I am only trying it out now. This is the 2019 version. I have used its older formula which was great in terms of keeping matte finish, but the white cast was intense. Let's see how this one fares!
There are 3 versions in this range: blue, pink and white bottle. Texture wise, all three feel the same to me (at least when I tried the testers). The Pink and White bottle have more cast than the Blue bottle, and also smaller in volume. I got myself the Blue one.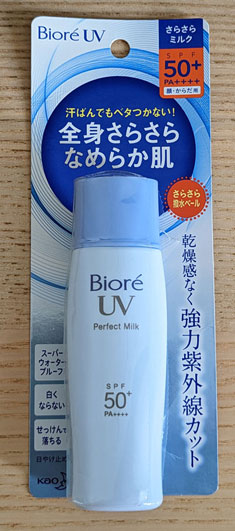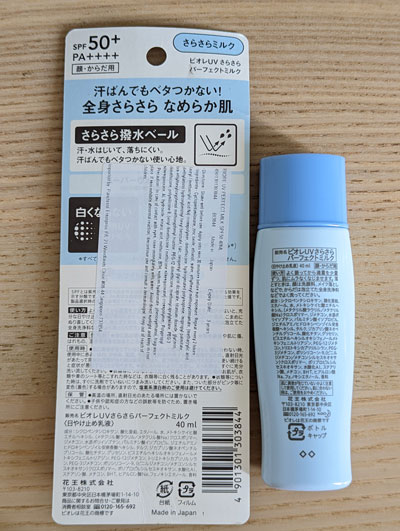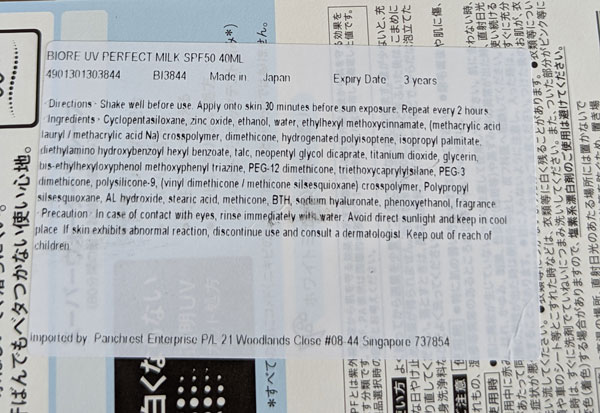 I have oily skin, living in hot humid tropical country. Many sunscreens leave my face greasy, so I have built high tolerance on how greasy a sunscreen can be.
Characteristics
Packaging:
It comes in blue bottle, 40ml volume.
Texture:
It's fluid milky sunscreen. You need to shake it before use. It has a shaker ball in it.
Scent:
It has floral cent, it's not fragrance-free. The scent is very subtle for me. I didn't get any sneezing upon first application. It's a pleasant scent for me, very uplifting kind of scent. It dissipates quickly.
White Cast:
Yes, it has white cast, even more so after reapplication.
Finish:
It's shiny for my oily skin. Not a fan. It also remains tacky on my skin. The shine does subside after sometime, but it has 0 oil control.
Pilling:
No pilling on fresh application or reapplication.
Eye Stinging:
Yes, sadly, this sunscreen stings my eyes gradually as day goes on.
ADHERENCE
Preparation
I applied the sunscreen on my left bare cleansed arm, took photos using UV camera (Sunscreenr). I let it set for ~30mins hour before taking the UV camera picture.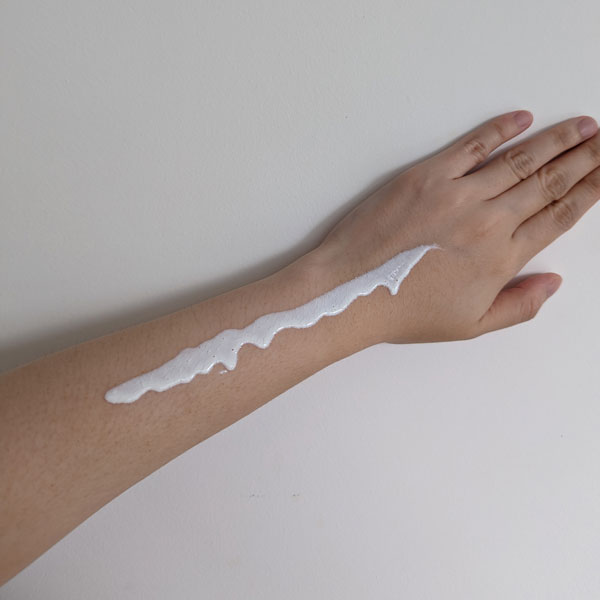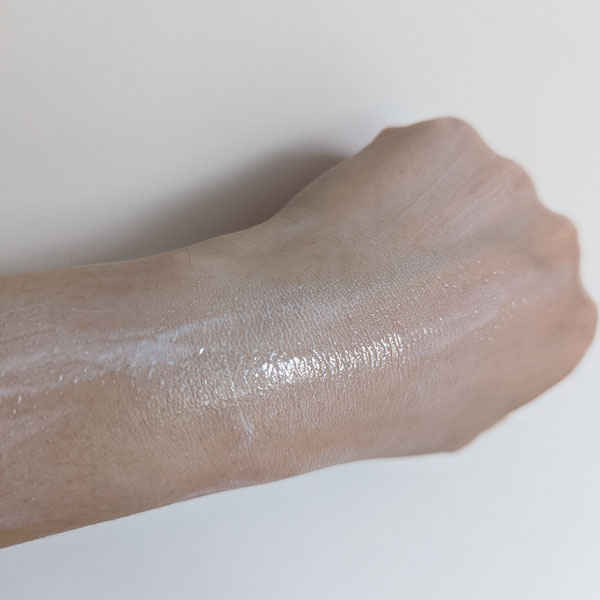 Shine Level and White Cast
It does have white cast. It is also shiny. The shine does improve after letting it sit, but it's not a matte sunscreen.
Even after letting it set for almost half an hour, it remains tacky to the touch.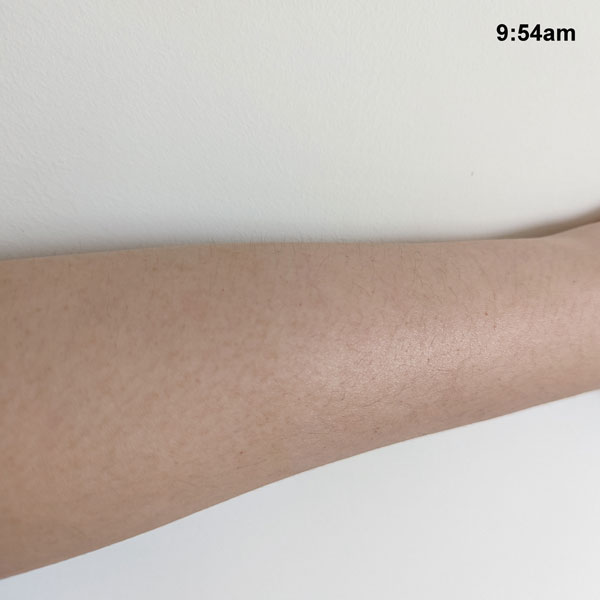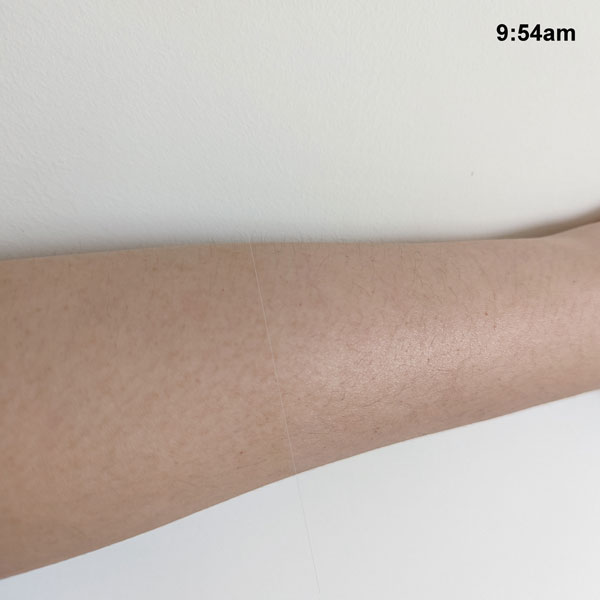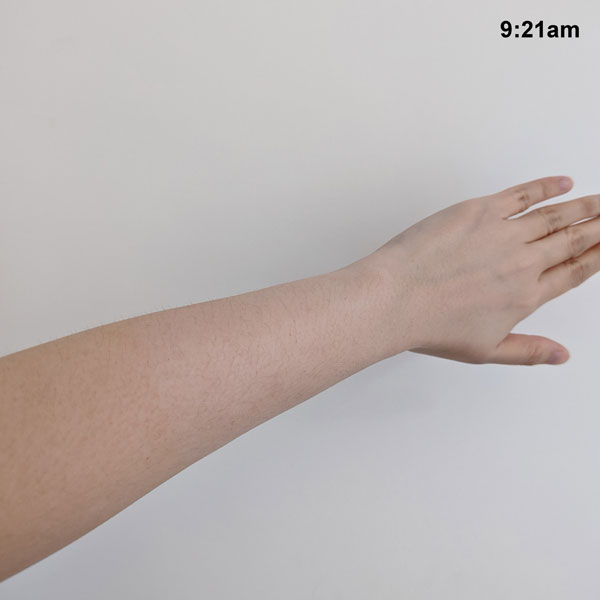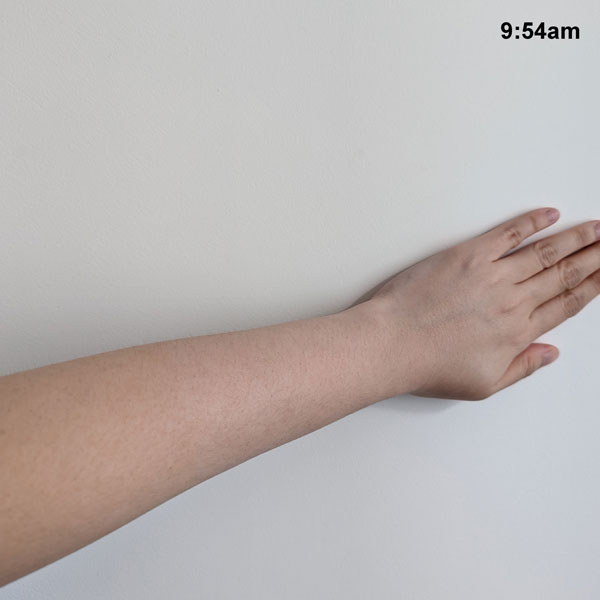 Coverage
It has very even coverage, and super shiny, as you can see below.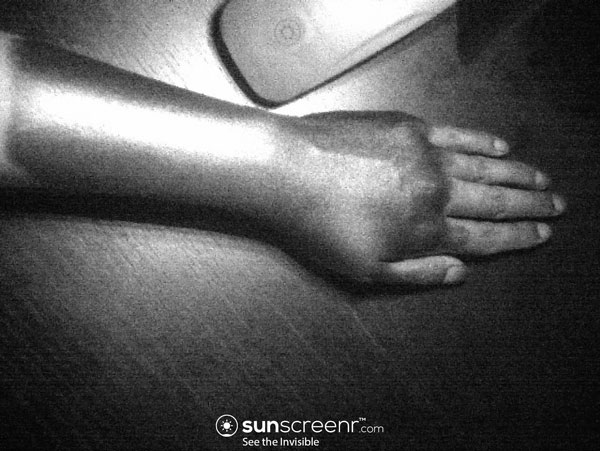 Rub Test and Removal
I rubbed back of my palm section under running water for ~30 seconds. These are the exact products that I used:
Using my gentle cleanser (Biore Mild Foam), I can still see the sunscreen remnants.
DHC Cleansing Oil removed the sunscreen completely.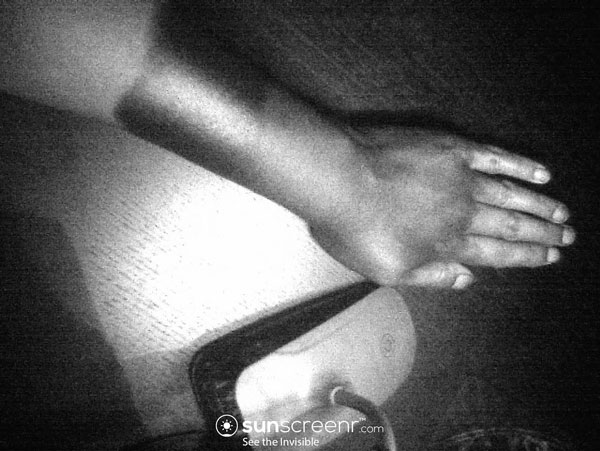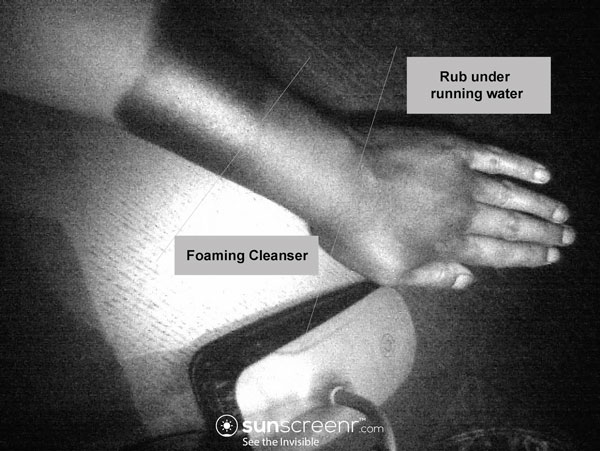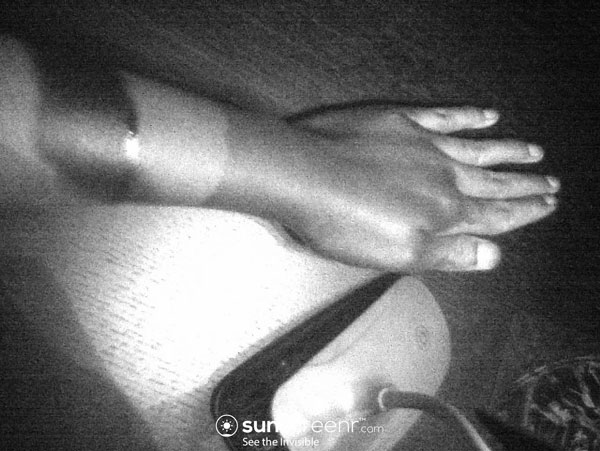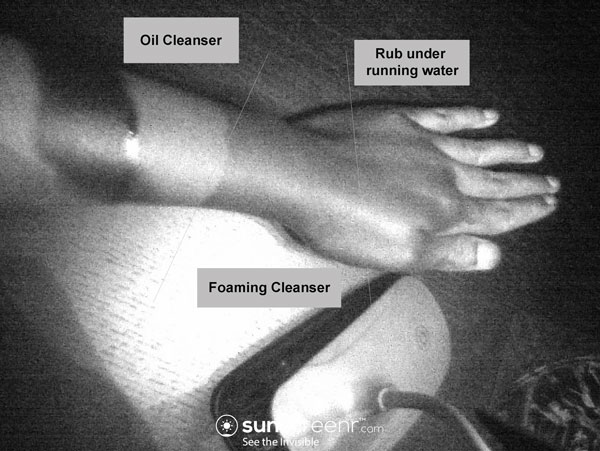 Wear Test
Preparation:
On this swatch, I used my usual AM skincare underneath the sunscreen. This is what my usual AM routine looks like:
DHC Cleansing Oil
Finacea Gel
Benzac AC 10% Benzoyl Peroxide Cream
DIY - Niacinamide + Tranexamic acid serum in simple water and glycerin base
Sunscreen of the day
I don't do any wait times. As the serum is my own concoction, I always make it very watery and leaves no emollient residue. By the time I apply my sunscreen, my face is hydrated, but not damp or wet for sure.
Side note: I recently re-started tretinoin gel 0.025% again on nightly basis. I haven't had any peeling/shedding nor dryness, thankfully.
As usual, I skipped applying on eyelids and space between the nose and lips, and my ears. On my neck, I'm using Allie Chrono Facial UV Gel (I love it! Super dry touch and fast drying, but that's beside the point)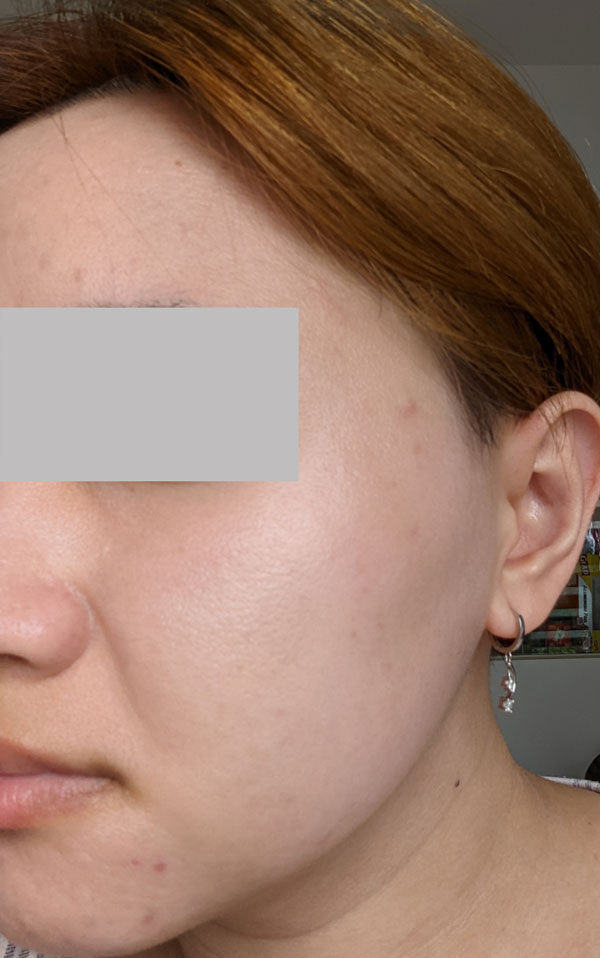 You can see the pictures below to see how it looks under UV camera. I also put check-ins as day went on.
My face gets oily as day goes on, nothing new. At 4 hours mark, I could see the sunscreen layer started breaking up due to the face sebum.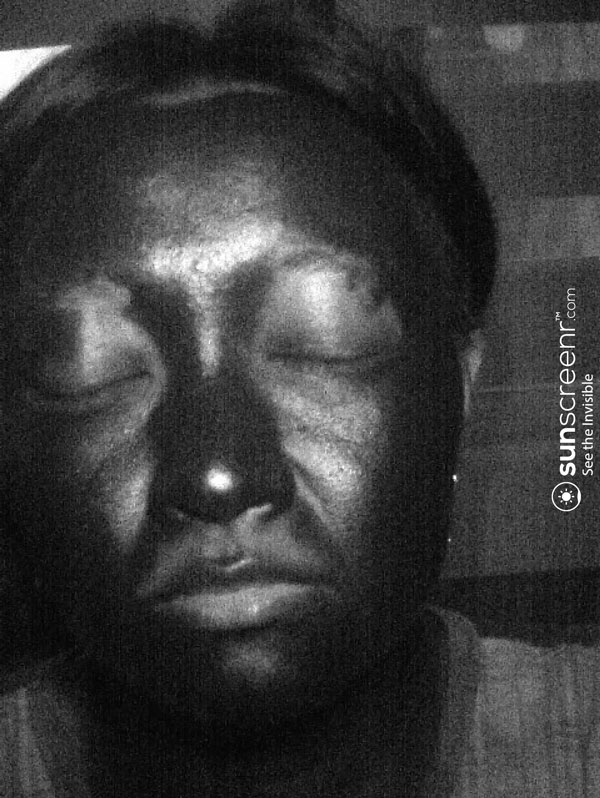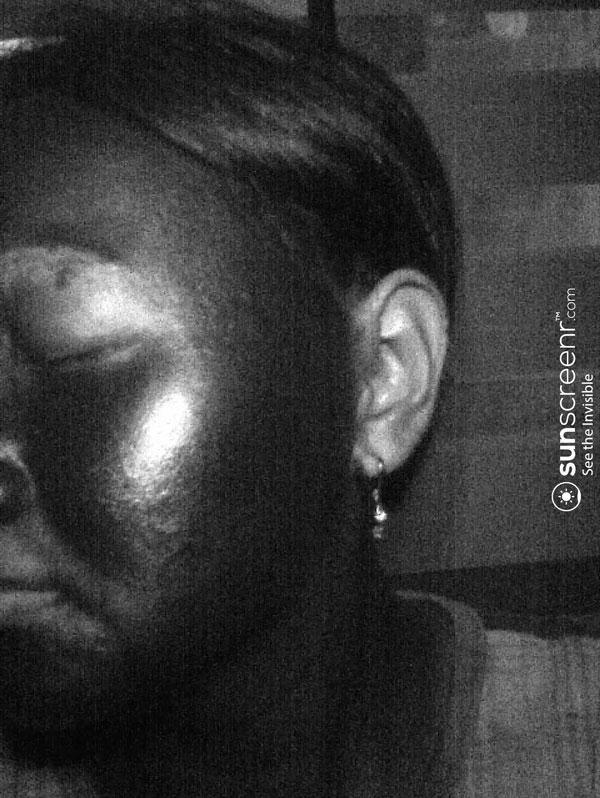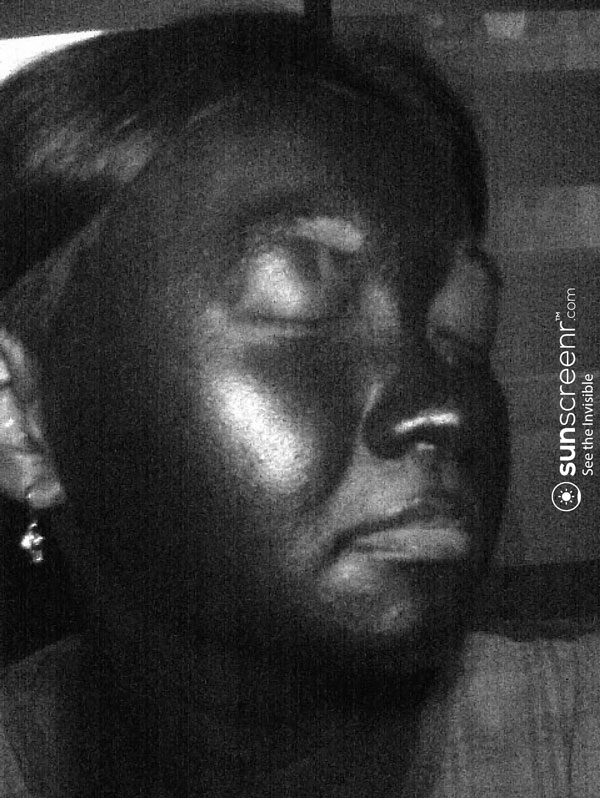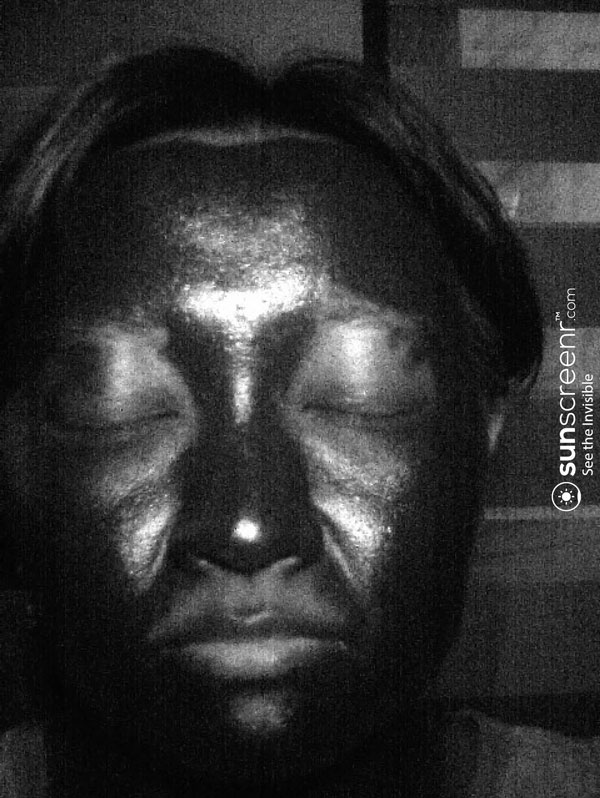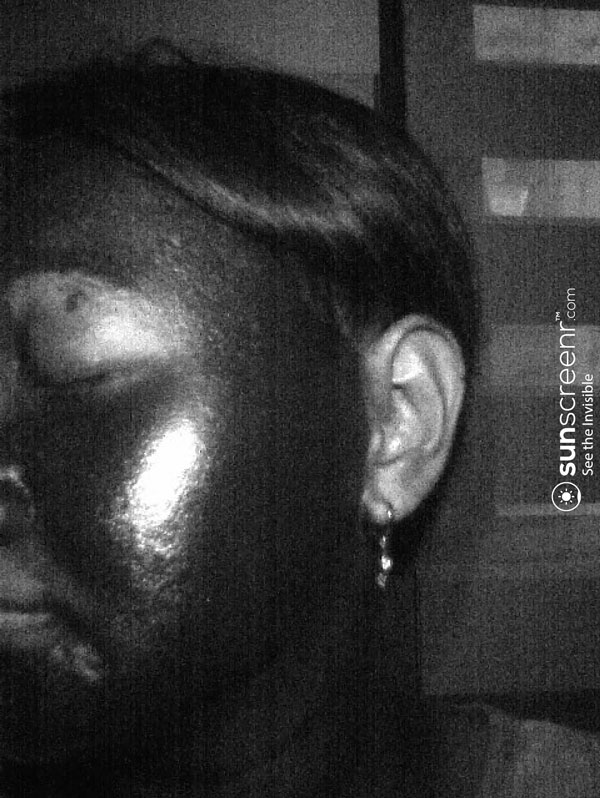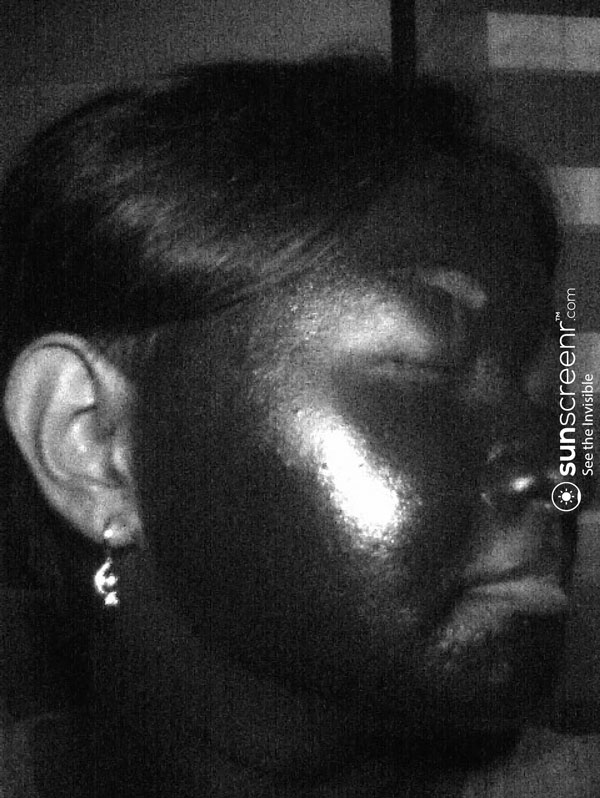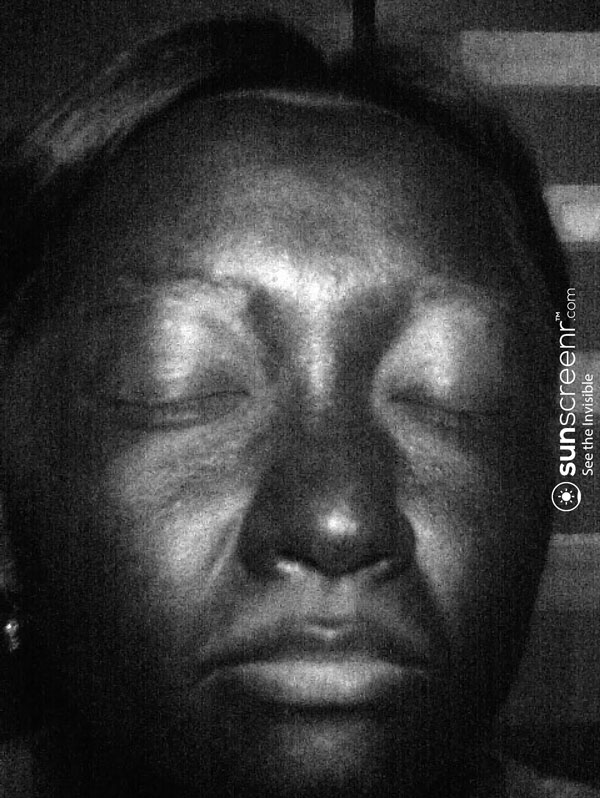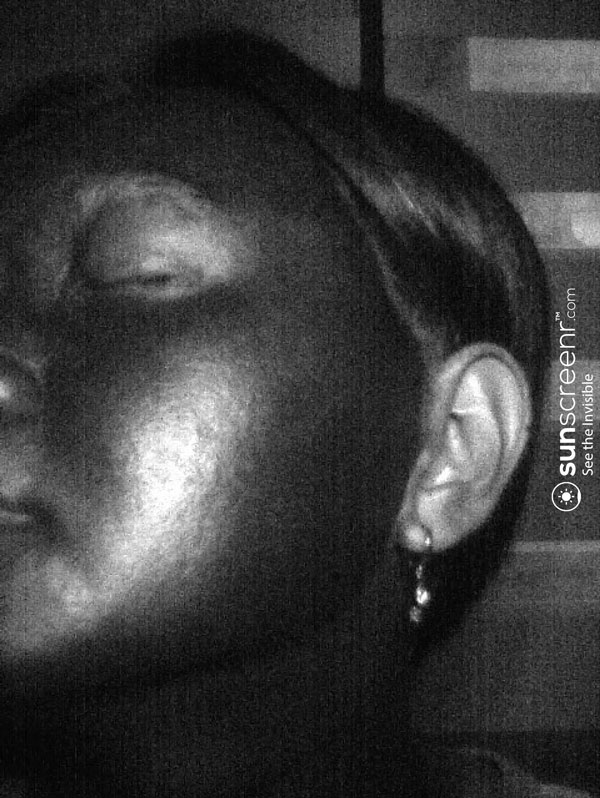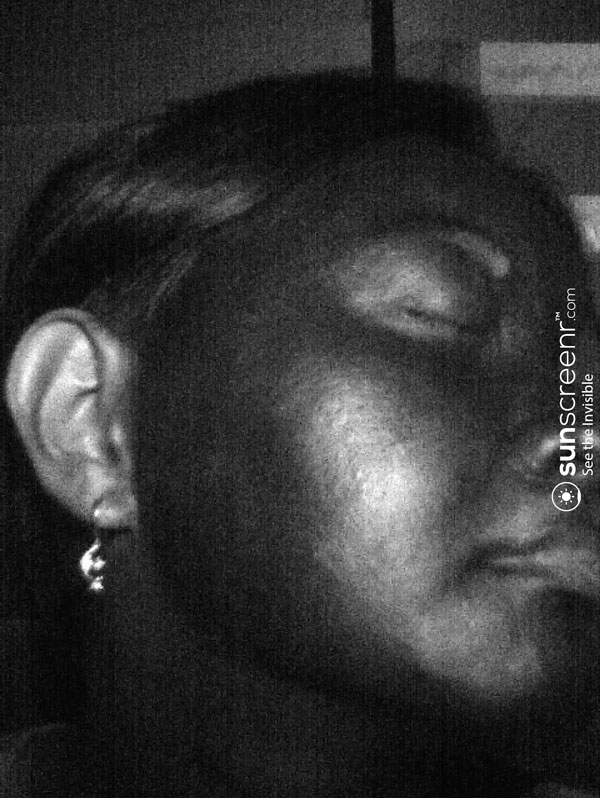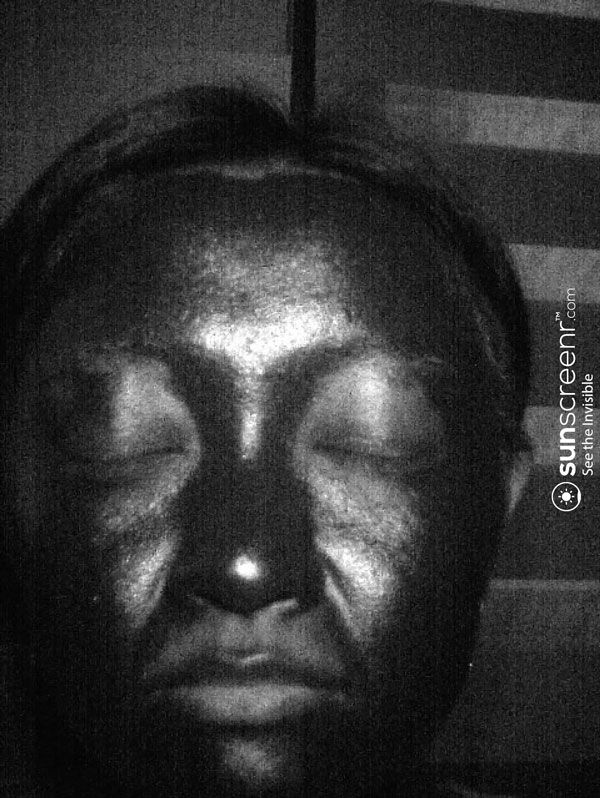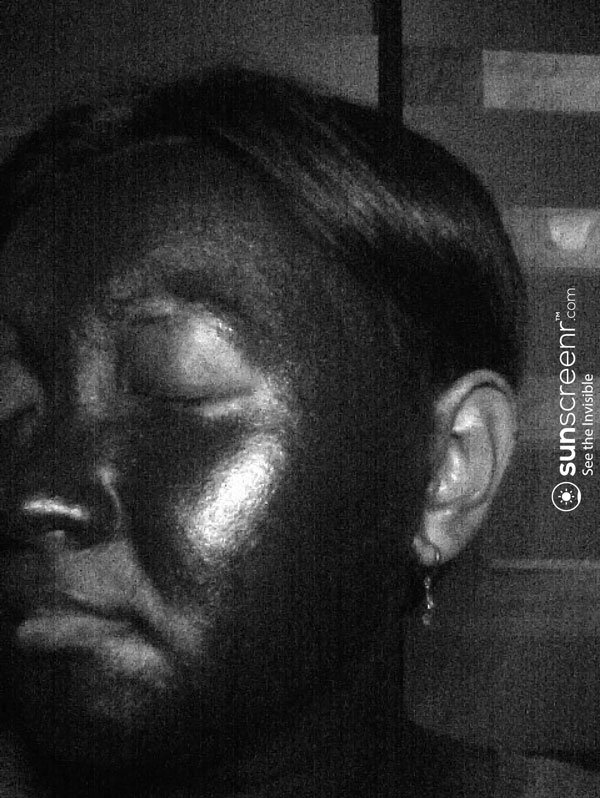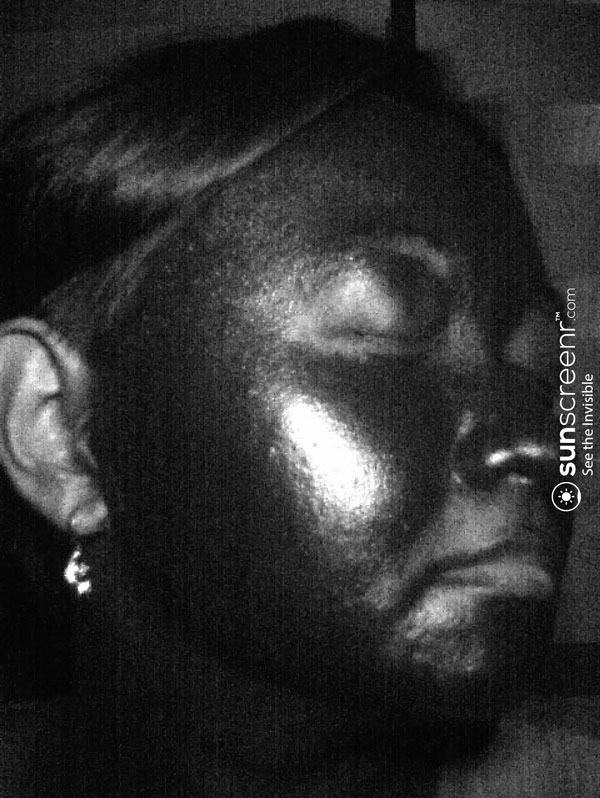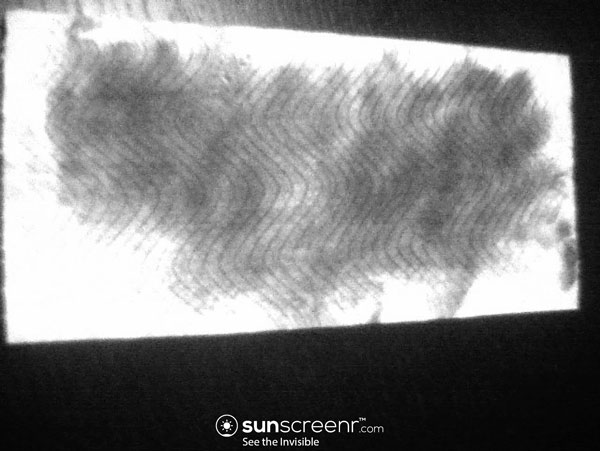 Conclusion
I have mentioned earlier I ever used its older formulation. The older version was a matte sunscreen, and had much more intense white cast.
I'm pretty bummed with this version as it is too shiny for my oily skin; while the white cast is much lesser, but not completely non-existent.
When I use it on my feet (where I can be careless with the tackiness), the sunscreen moves around and stains my pants white. The stain is easily removed after laundry, but I don't think it's a great body sunscreen.
Overall, not impressed. Let's move on...
Disclaimer: I only use the UV camera to see if a sunscreen disperses an even layer (or patchy and spotty); and if I miss out a spot during application. It's not by all means to measure the sunscreen protection level. Got mine from sunscreenr.com. It's compatible with android phone.