I got the hyped Garnier 'dupe' of La Roche Posay Shaka/Invisible Fluid. Let's play around with it!
Product Summary
Garnier Ambre Solaire Sensitive UV Face Fluid SPF50+
UV Filters:
Octisalate, Uvinul T 150, Tinosorb S, Avobenzone, Mexoryl XL, Mexoryl SX.
Properties:
Contains alcohol
Fragrance free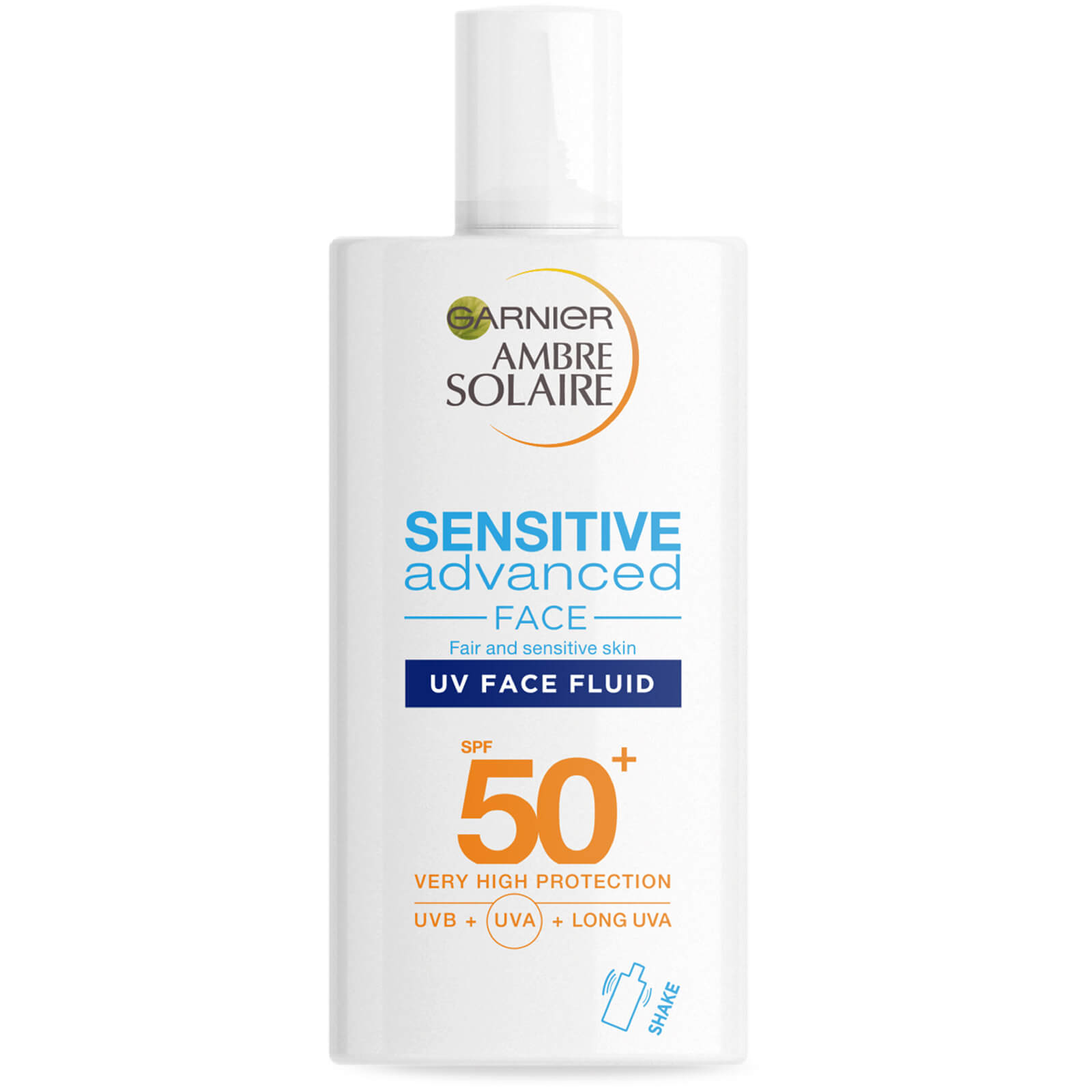 Preface
This morning I was undecided whether to open my Lierac Sunissime SPF50+ or this Garnier one. I feel like either one may disappoint me in terms of cosmetic elegance. Nevertheless, I just picked the Garnier one to try as I am curious how it would compare with the La Roche Posay Shaka Fluid / Invisible Fluid - the Garnier one is supposedly to be the dupe and less greasy than the LRP version.
I hate the LRP Shaka Fluid - it's very greasy. Seeing is believing. I digress.
Disclaimer: Today is my first time wearing it so my opinion may change as I use it for longer period.
Characteristics
Texture:
Upon squirting from the tube (after shaking the bottle), it's very liquidy. I'd say it is really similar with LRP Shaka Fluid. However, I have few mini tubes of Shaka Fluid (3ml samples) and their texture is different from my big bottle. Not sure what's up with that. For sure, I got the full size bottle from authorized local drugstore. That would be a bummer if the texture differs between batches.
The Scent
Well, it's the trademark scent of unfragranced L'oreal sunscreen. You can blindfold me and I can tell you straightaway that sunscreen uses Mexoryl filters. It's less strong than L'oreal Perfect UV Matte and Fresh or any La Roche Posay sunscreens though.
Finish:
Perhaps due to the lower expectation, I'm really surprised with how fast it dries, which is a good thing for me! I was like, FREAKING FINALLY one of the EU sunscreen that actually dries on me!
Does it leave me matte finish? Of course not. But it is a whole lot better than the LRP Shaka Fluid.
It also feels lightweight, feels less heavy than Purito Centella Unscented (you can check how it looks on me here). This one gives me a glow, probably around the same as Purito Centella Unscented but without the 'heaviness', less glowy than Dr. Jart Solarbiome Ampoule too (review here). I'd still put a powder on top if I'm stepping out the house though.
I haven't tried putting it on my eyelids as it has avobenzone that could sting my eyes.
How it looks under UV Camera
As expected, it looks very even under UV Camera. I did a wear test today out of curiosity. For reference, I have oily skin, living in humid tropical southeast asia, near equator.
Today I was indoor the whole day, hence I didn't wear mask. The weather is actually pretty cool (25 - 33°C) nowadays and cloudy today (it rained this morning).
The highest UV index this noon was 8 (the usual is 12). Need to test out when it's sunny again.
Initial Application:
I applied my usual amount and wait for 20 mins on my face alone (and intentionally didn't apply it on my ears, under nose for contrast, and eyelids). And seems like missed a line near my jaw. Well, life happens lol. I used Dr. Jart Solarbiome Ampoule on my neck btw.
After 4 hours (no blotting):
As today it was cloudy, I didn't bother to reapply every 2 hours (and I'm indoor anyway). Before reapplication, I'd always blot my face with tissue to remove my facial sebum (I have oily skin). This is how it looks prior blotting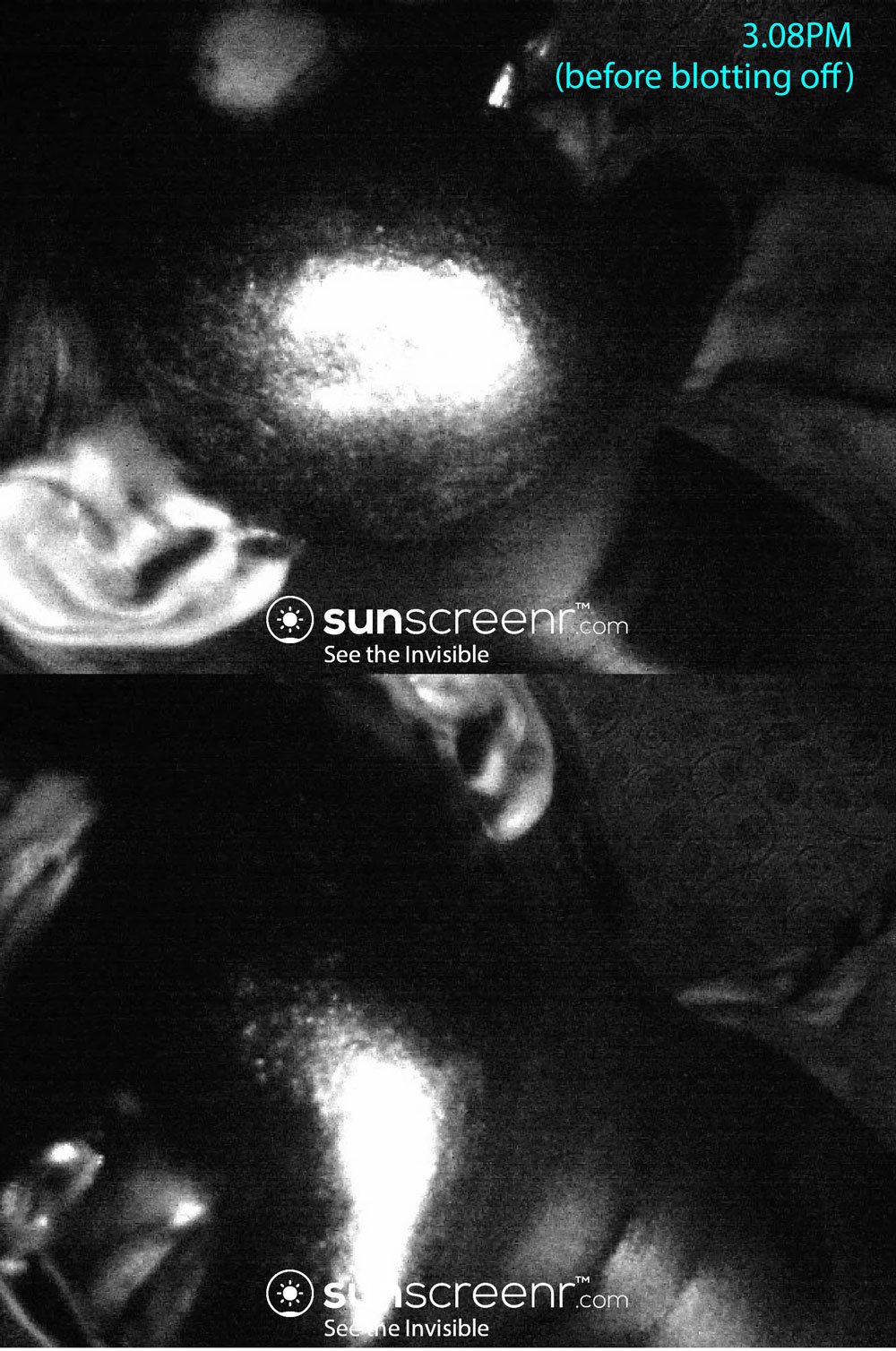 After 4 hours (blot with tissue to reapply):
And this is how it looked after I blot my face *gently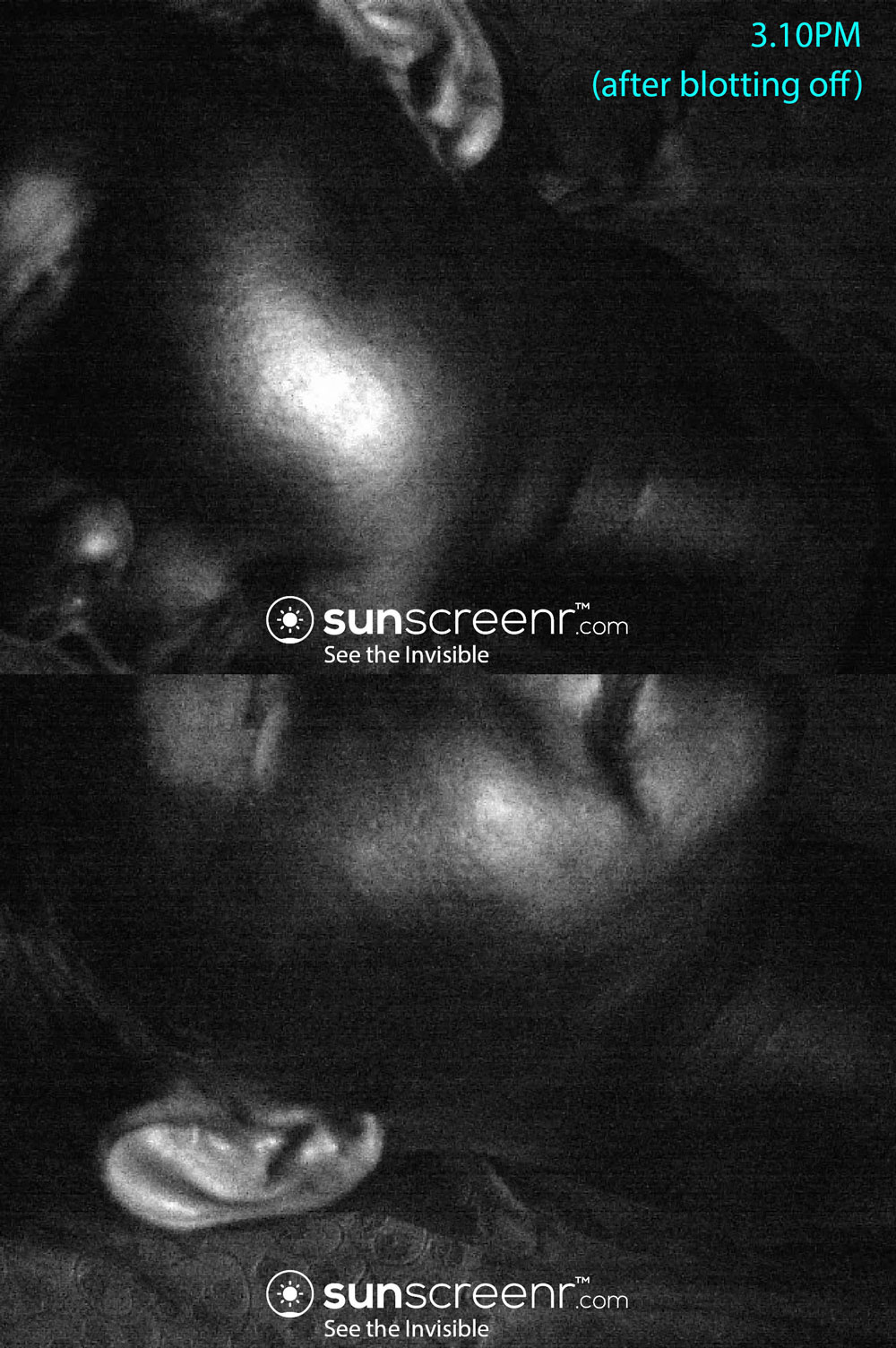 Note: the tissue did pick up the sunscreen: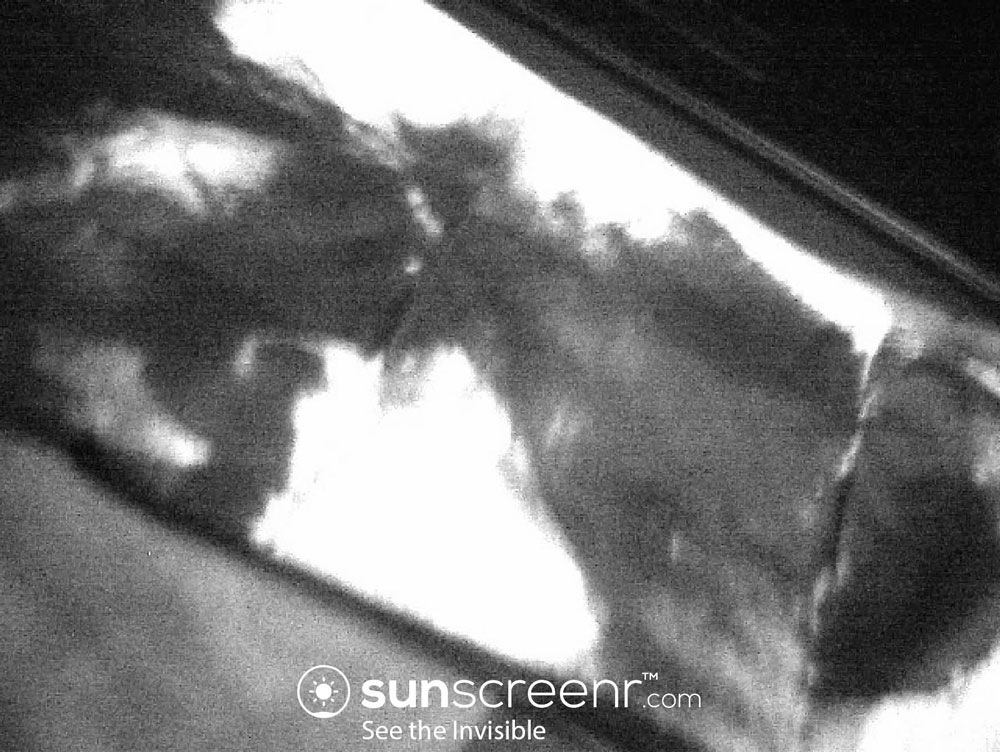 Then I reapplied it, thankfully no pilling! And ~2 hours later I did light exercise and towel (patting motion) my sweaty face: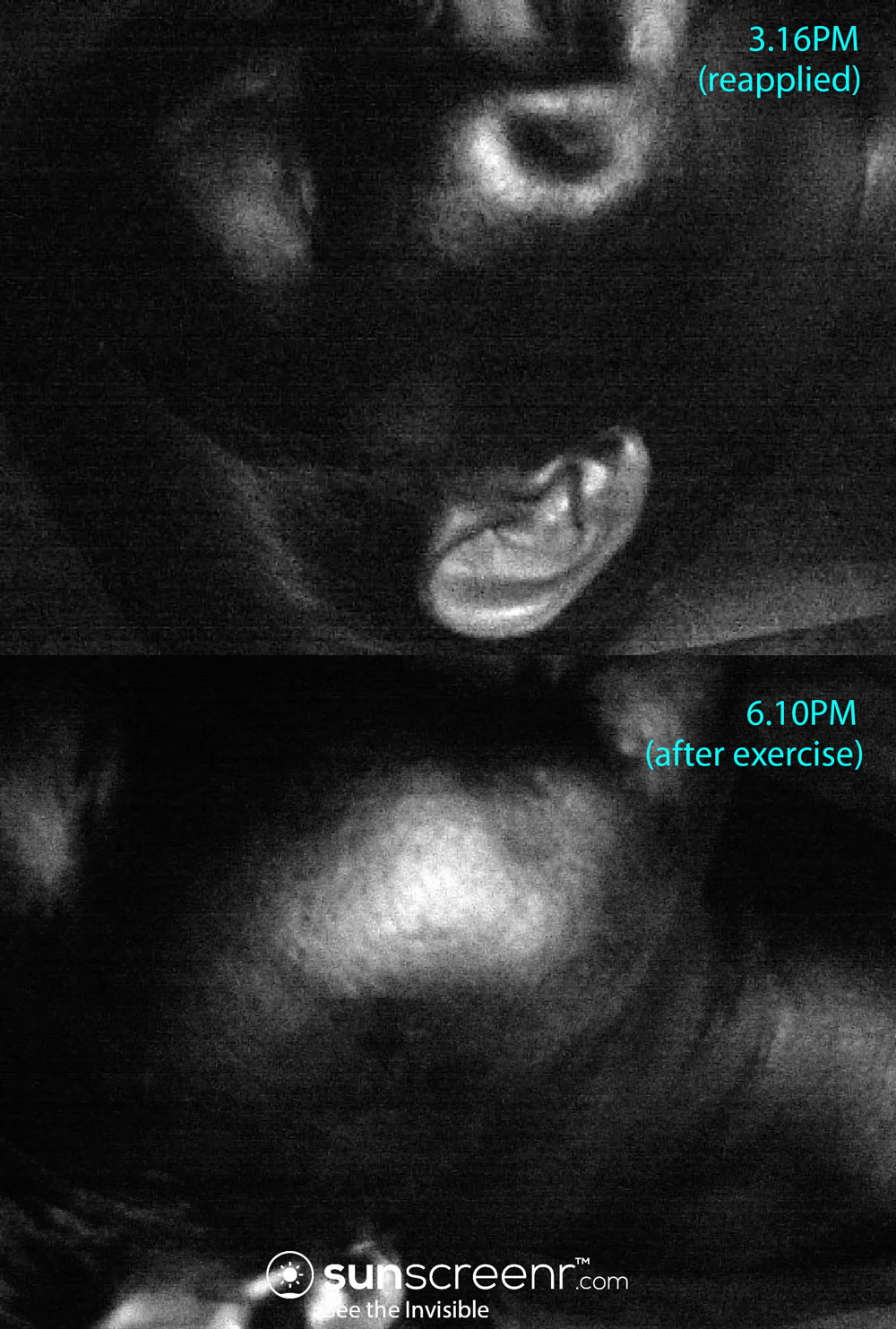 Conclusion
I'm pleasantly surprised with this one. For an European sunscreen, I would not mind to use it at all. I understand high protection doesn't come with high cosmetic elegance, so I'm not mad with this purchase at all!
Disclaimer: I only use the UV camera to see if a sunscreen disperses an even layer (or patchy and spotty); and if I miss out a spot during application. It's not by all means to measure the sunscreen protection level. Got mine from sunscreenr.com. It's compatible with android phone.