Product Summary
ALLIE CHRONO BEAUTY FACIAL UV GEL EX SPF50+ PA++++
UV Filters: Zinc Oxide, Titanium Dioxide, Uvinul T 150, Polysilicone-15, Tinosorb S and Uvinul A Plus.
Properties:
Contains alcohol
Fragrance free
Water resistant
Sweat resistant
Sebum resistant
Friction resistant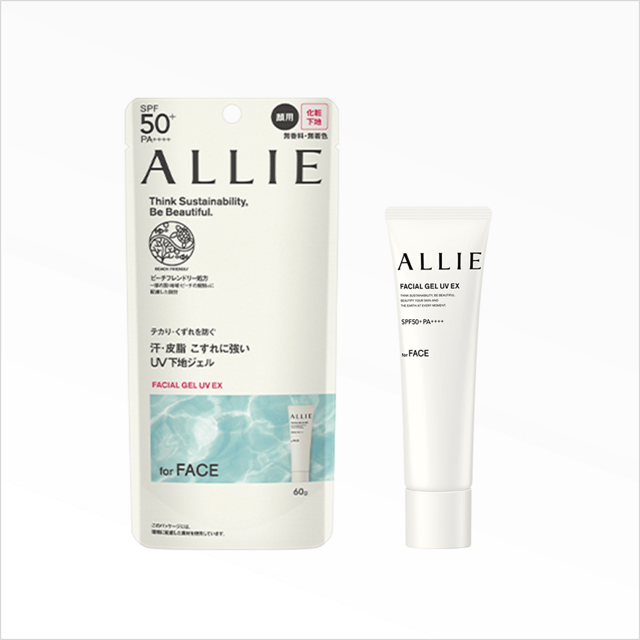 Preface
First post of the year!
I haven't done any review in January as I was out of town almost the entire month to visit my family. Even though at the end, my mom stole my Eucerin Sensitive Protect Dry Touch Gel Cream SPF50+ sunscreen (PS: it's one of my rare repurchase of EU sunscreen), that was a well-spent break.
This is not the first time I use this Allie sunscreen. In fact this is second repurchase. Let's dig in!
My skin profile: I have oily skin, living in hot humid tropical country. I stopped using tretinoin as I'm lazy, and I think tretinoin is exacerbating my oily skin somehow. My skin moisture barrier is fine, trust me, I feel no redness, no raw skin, no peeling, it's just oily. Stopping it for the entire January and my skin is less oily now. I am planning to retry it with cream base to see if it makes a difference, I digress.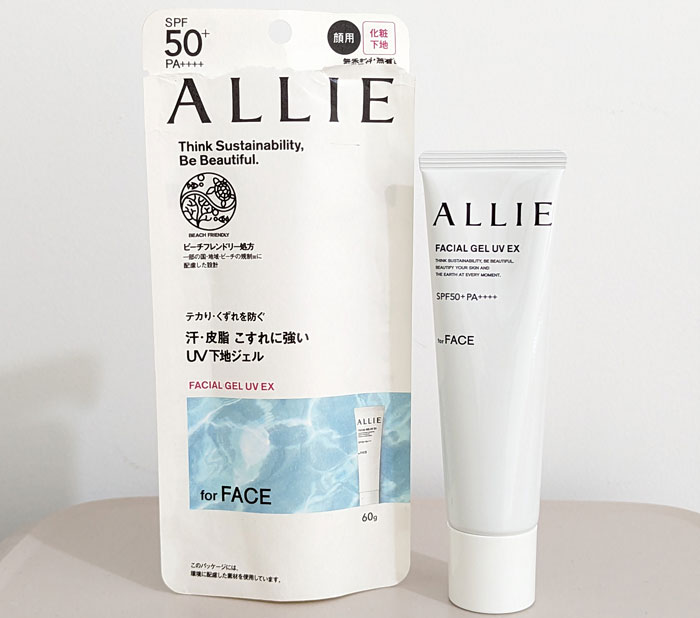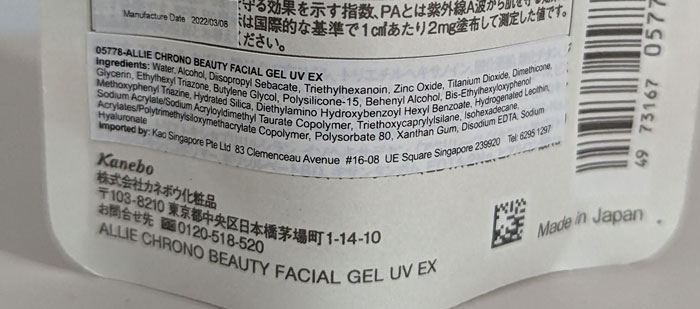 I loved using the older formulation, as I reviewed here. I doubt you can still find the older formulation, in any case, you can check these few areas printed on the packaging and bottle to check if you have the same version as mine.
Look for the following label:
FACIAL UV GEL EX
アリィー クロノビューティフェイシャルジェルUVEX
ALLIE CHRONO BEAUTY FACIAL GEL UV EX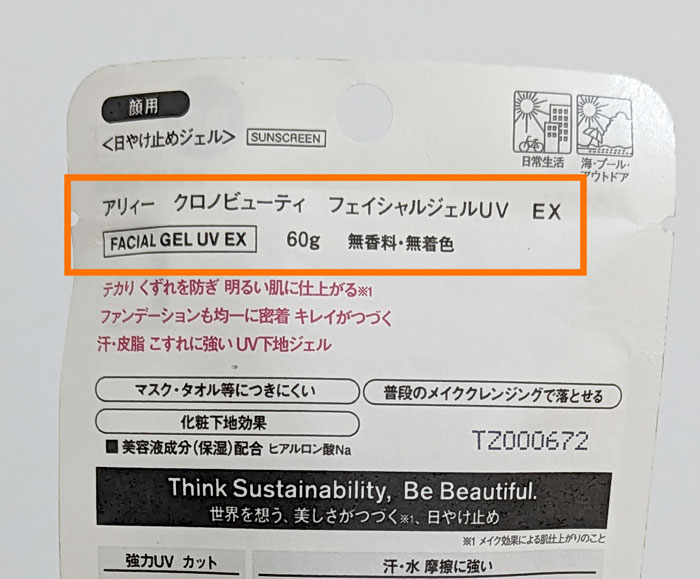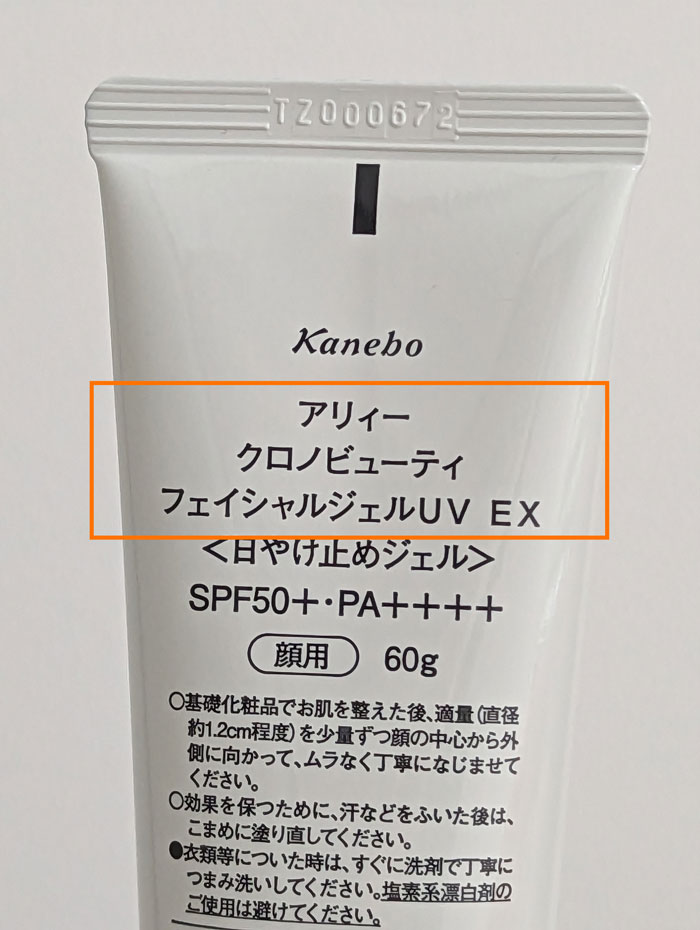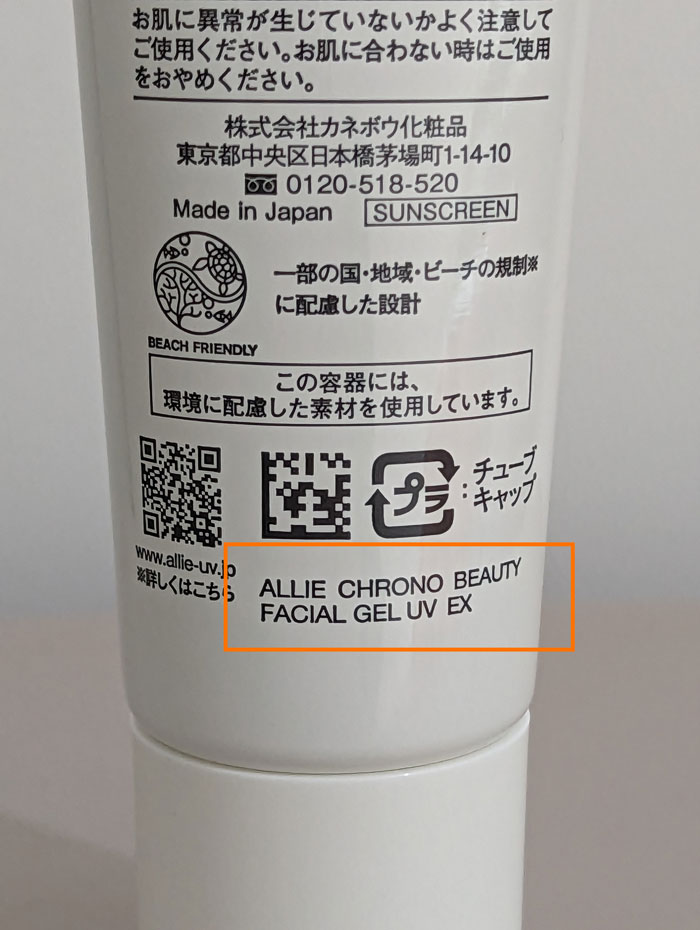 Characteristics
Packaging:
It comes in a tube, 60g volume with screw cap.
Texture:
It's a gel-cream sunscreen. It doesn't spread the easiest, but I love that it doesn't spread far. It sets quick, but not as fast as the old La Roche Posay Anti Brillance Dry Touch Gel Cream in a way that it doesn't pill.
Scent:
It's fragrance free.
White Cast:
Yes, it has white cast. The cast intensifies on reapplication.
Finish:
While the white cast is arguably bad, but I appreciate that it's on the dry-touch finish, and it actually sets. It's not a flat matte sunscreen, it still gives a super minimal glow when there's light hitting the highest point of the face, but it is not sticky or greasy.
Pilling:
No pilling on fresh application or reapplication, surprisingly. It can feel like I'm tugging the skin during reapplication though, but it has not pilled on me.
Eye Stinging:
No eye stinging for me. I can apply it on eyelids just fine.
ADHERENCE
Preparation
I applied the sunscreen on my left bare cleansed arm, took photos using UV camera (Sunscreenr). I let it set for 30mins before taking the UV camera picture.
Click on the image to view bigger image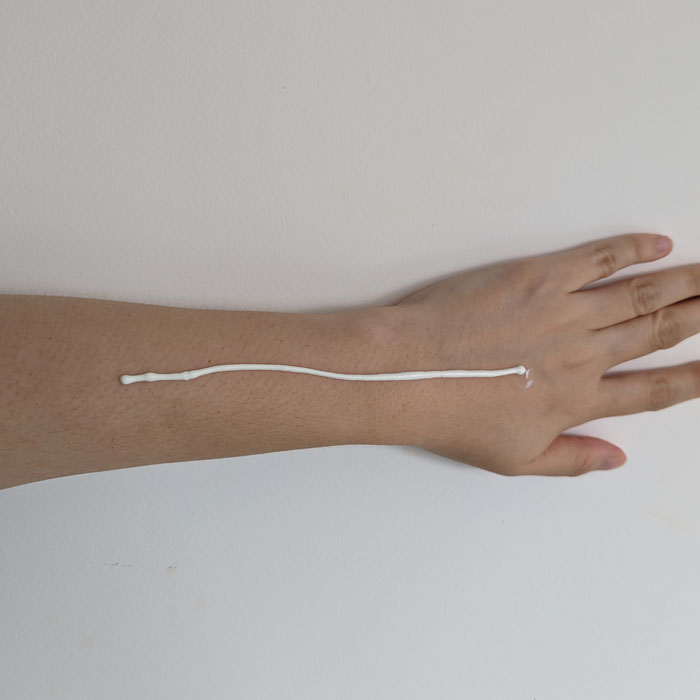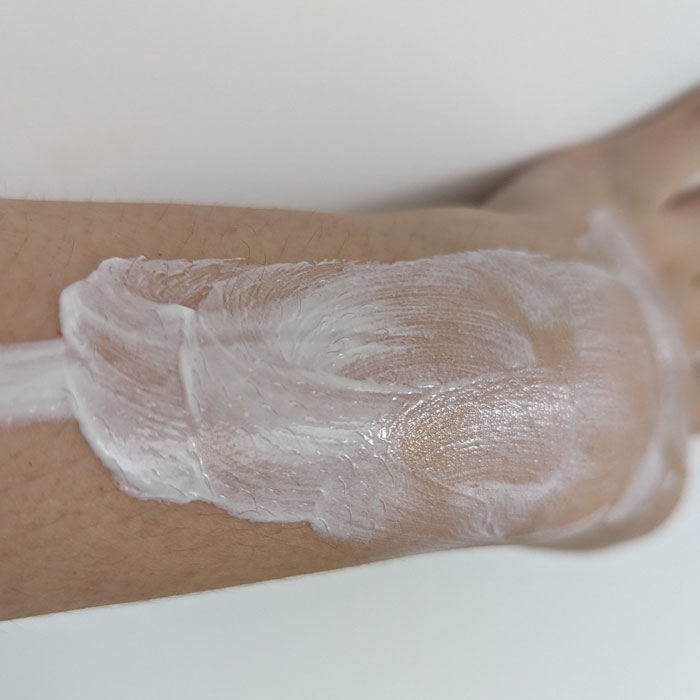 Shine Level and White Cast
It has white cast, though I love that it's dry to the touch. It also sets fast, I appreciate fast drying sunscreen and am glad it doesn't set too fast that it pills, nope, this does not do that.
I also use this regularly on my neck as it's one of the sunscreens that does not settle into my horizontal neck lines!
Click on the image to view bigger image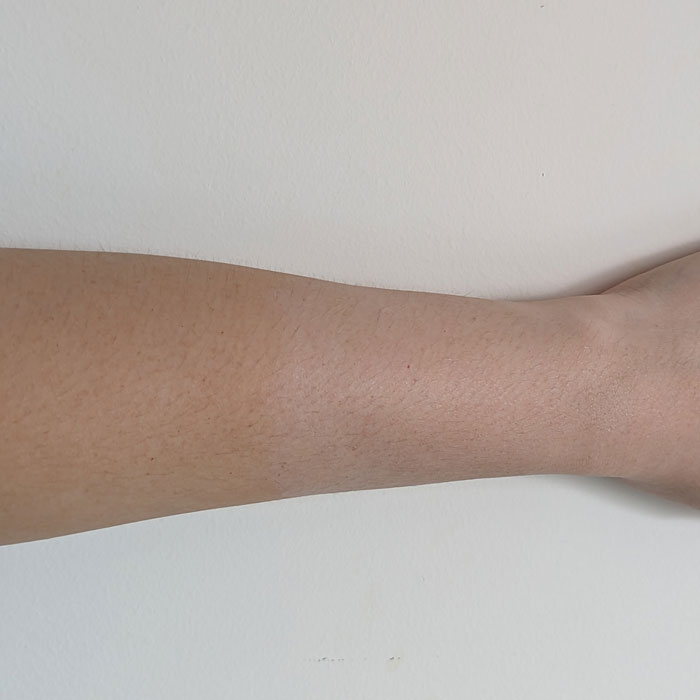 Coverage
It has very even coverage. You can also notice it has almost zero glare from the picture. The more matte looking sunscreen has lesser glare under the UV camera.
Click on the image to view bigger image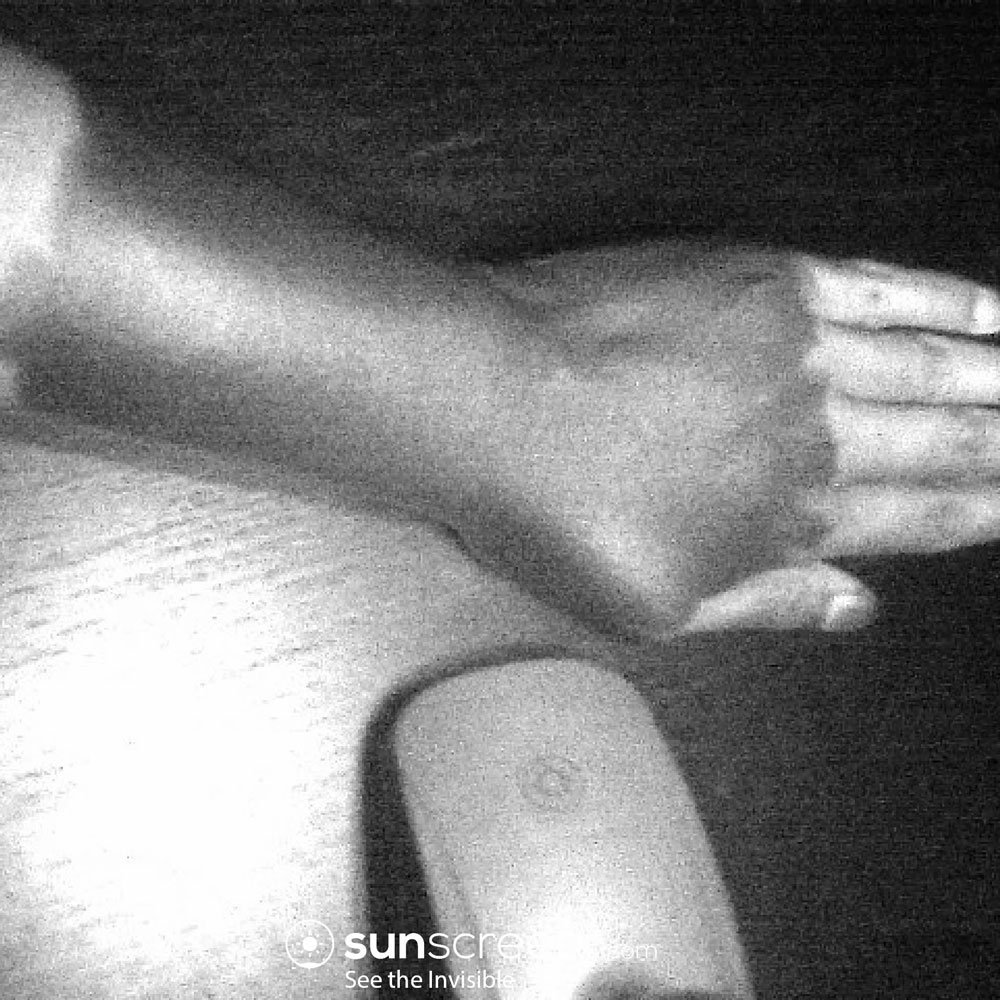 Rub Test and Removal
I rubbed back of my palm section under running water for ~30 seconds, rubbing it vigorously, after all it claims to be friction resistant.
I can see there are very little remnants of the sunscreen, just by cleansing with Biore Facial Foam. Cleansing oil removes it effortlessly.
Click on the image to view bigger image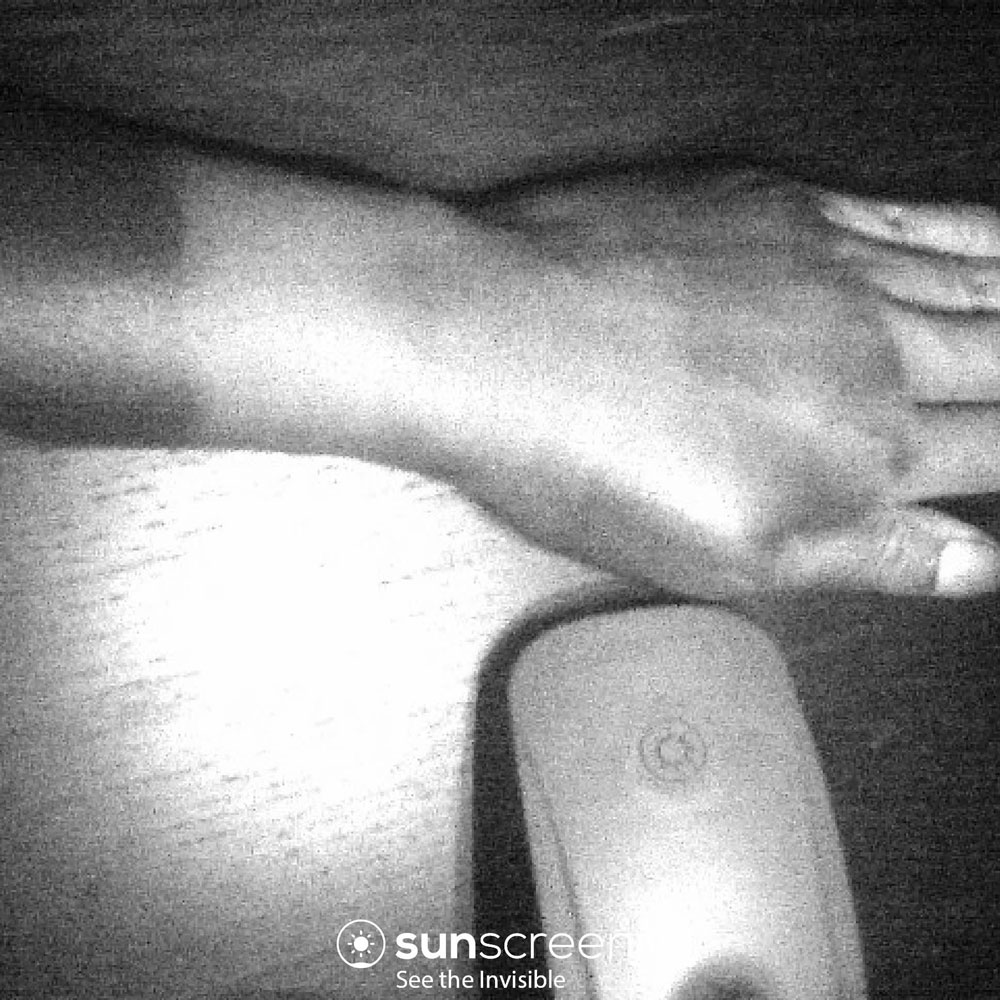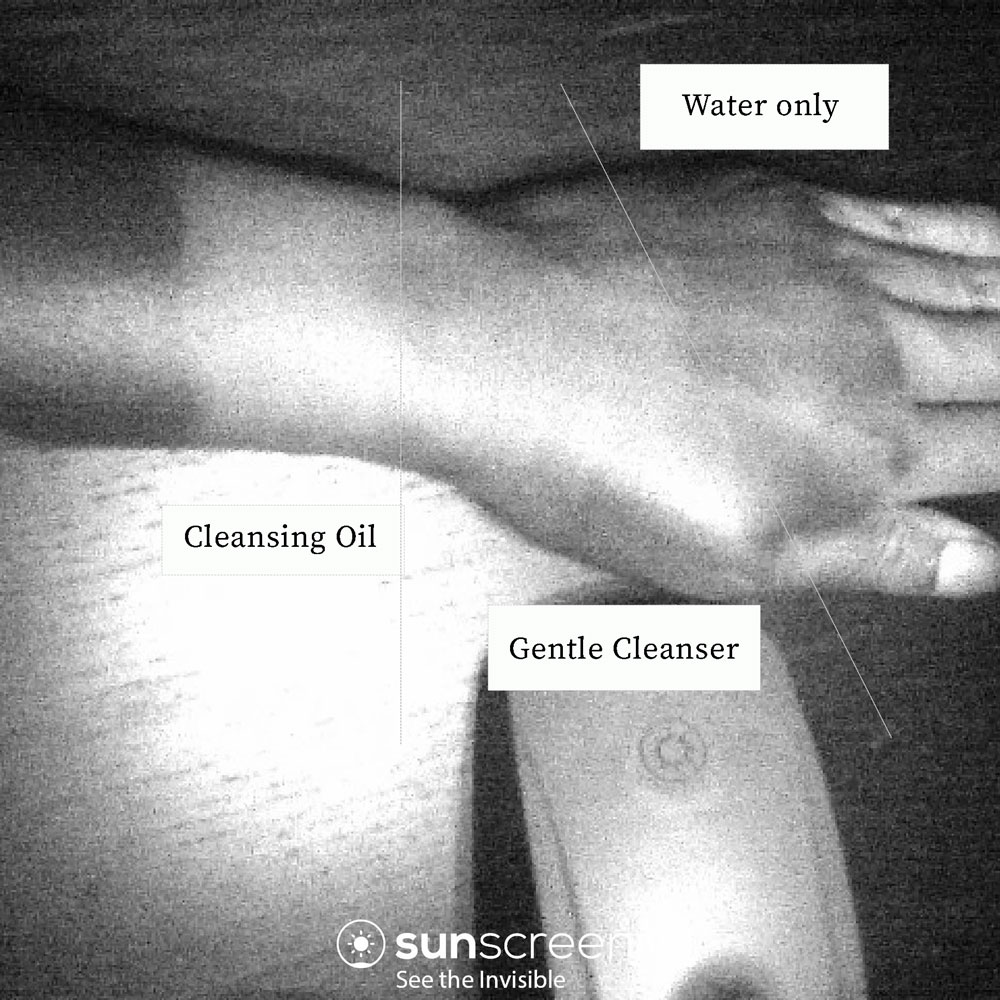 Wear Test - No Reapplication
Preparation:
On this swatch, I used my usual AM skincare underneath the sunscreen. This is what my usual AM routine looks like:
DHC Cleansing Oil
DIY - Niacinamide + Tranexamic acid serum in simple water and glycerin base
Finacea Gel
Benzac AC 10% Benzoyl Peroxide Cream
Sunscreen of the day
I don't do any wait times. As the serum is my own concoction, I always make it very watery and leaves no emollient residue. By the time I apply my sunscreen, my face is hydrated, but not damp or wet for sure.
As usual, I skipped applying on eyelids and space between the nose and lips, and my ears. On my neck, I'm using Etude Sunprise Mild Airy Finish SPF50+ PA++++ (PS: I don't like it, see that it settles into my horizontal neck lines).
The sunscreen has very little shine. I don't look sweaty with it.
It has white cast on me, as you can compare the area between my nose and lips. When I apply it all over my face and neck, it is not that casper-white on me; at most people would think I wear a tone up sunscreen (which thankfully it's not frown upon at where I live).
The current Allie Extra Facial Gel EX version is still very similar with the discontinued Allie Extra UV Facial Gel N 3.0 in terms of gel cream texture. I actually think this version spreads much easier than the old version. You can see from my old post about it here, where I find the gel gets clumpy on rubbing.
Click on the image to view bigger image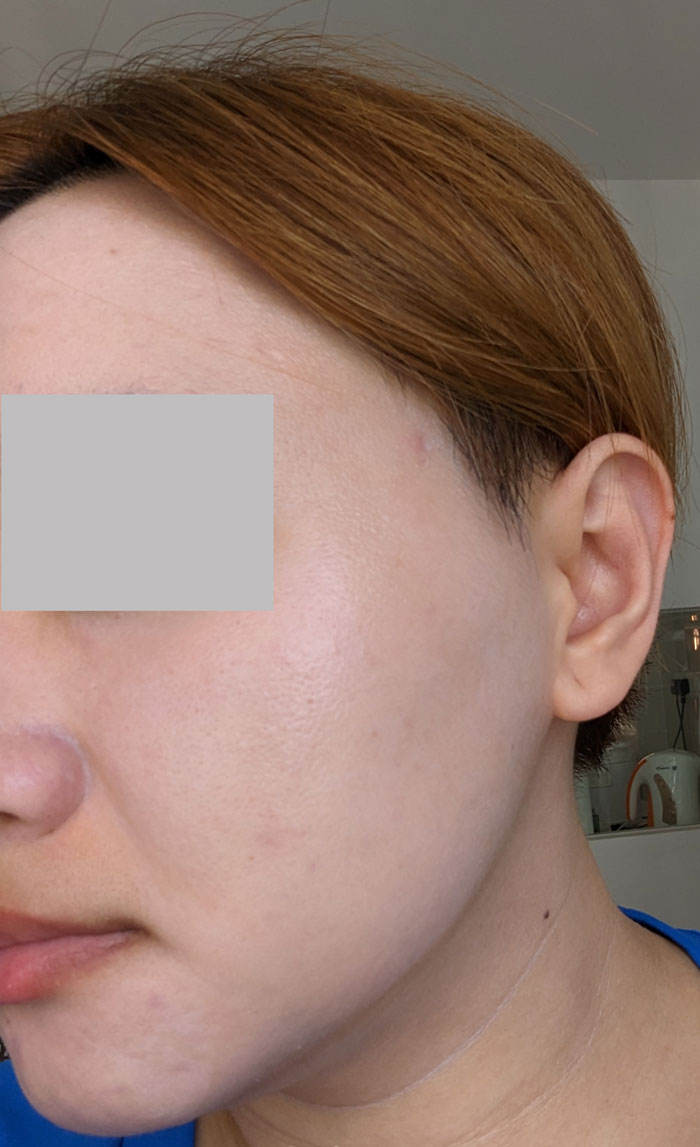 You can see the pictures below to see how it looks under UV camera. I also put check-ins as day went on.
It wears off decently on me. Of course, reapply is important, as you can probably tell from all of my posts: after blotting with tissue, the tissue lifts off the sunscreen layer. Reapply if you are going under the sun regularly!
My skin still gets oily, but not as fast as other sunscreens, say, Kose Cosmeport Suncut Milk (one of my go-to milk type sunscreen at this moment).
Click on the image to view bigger image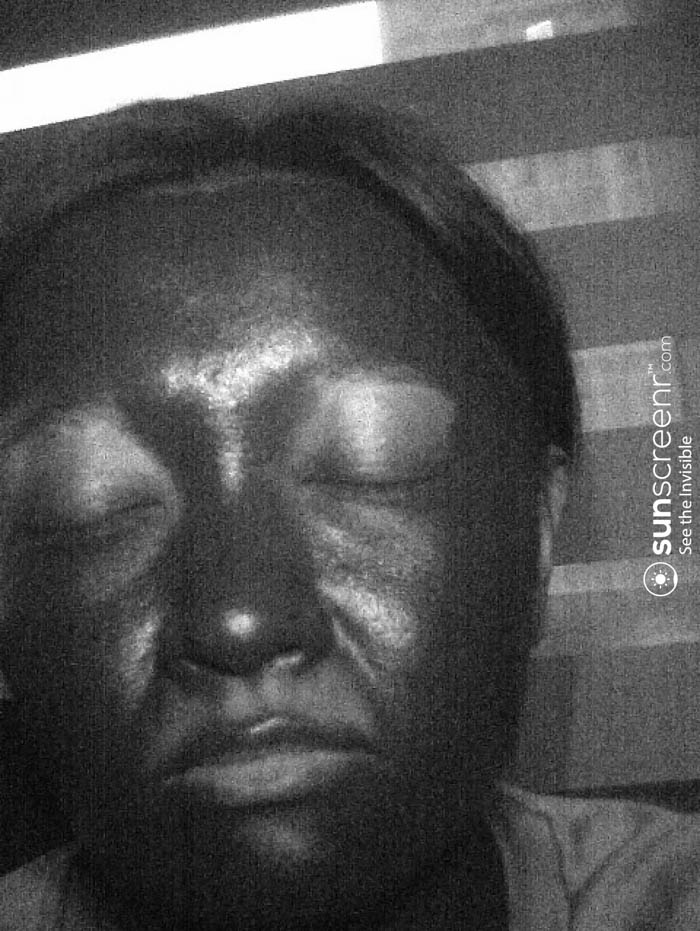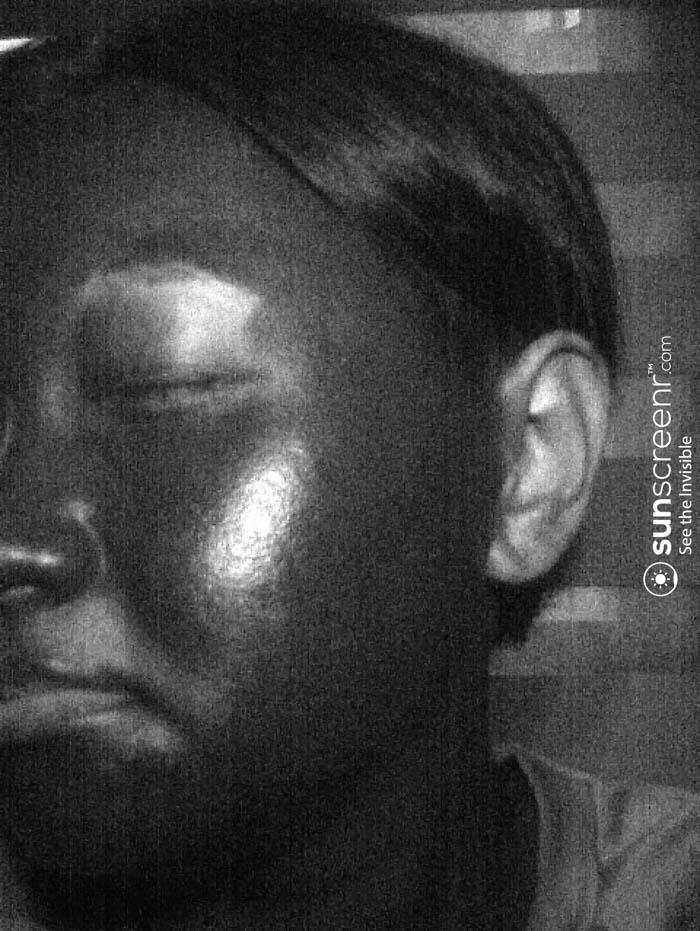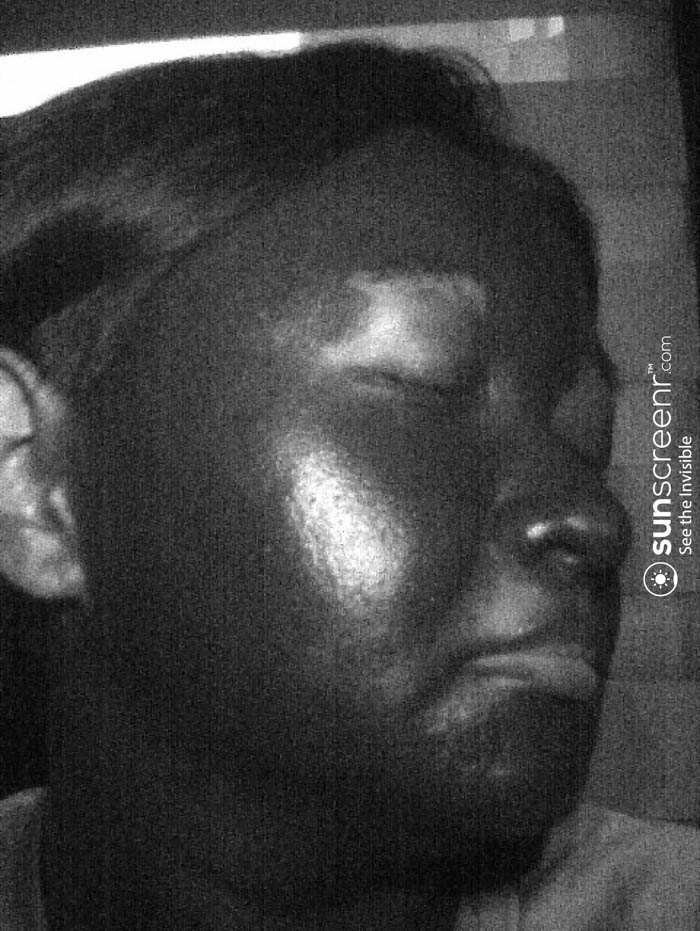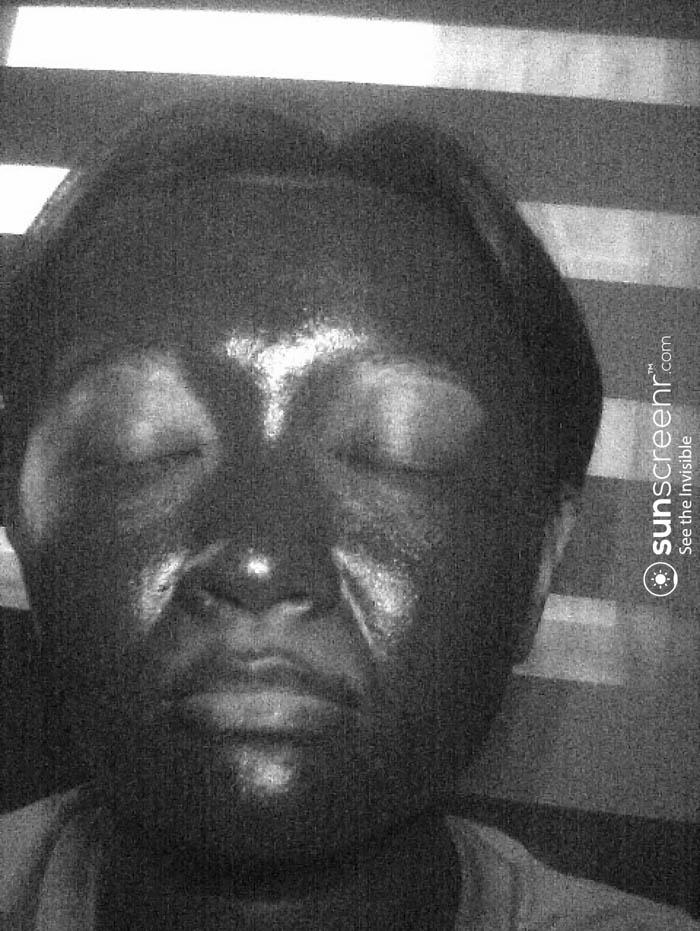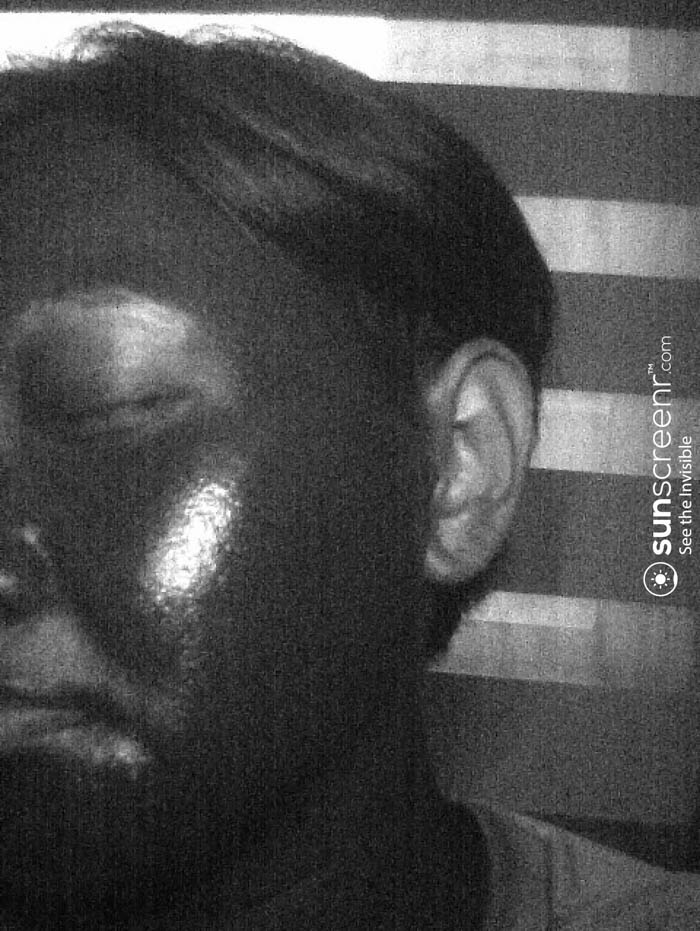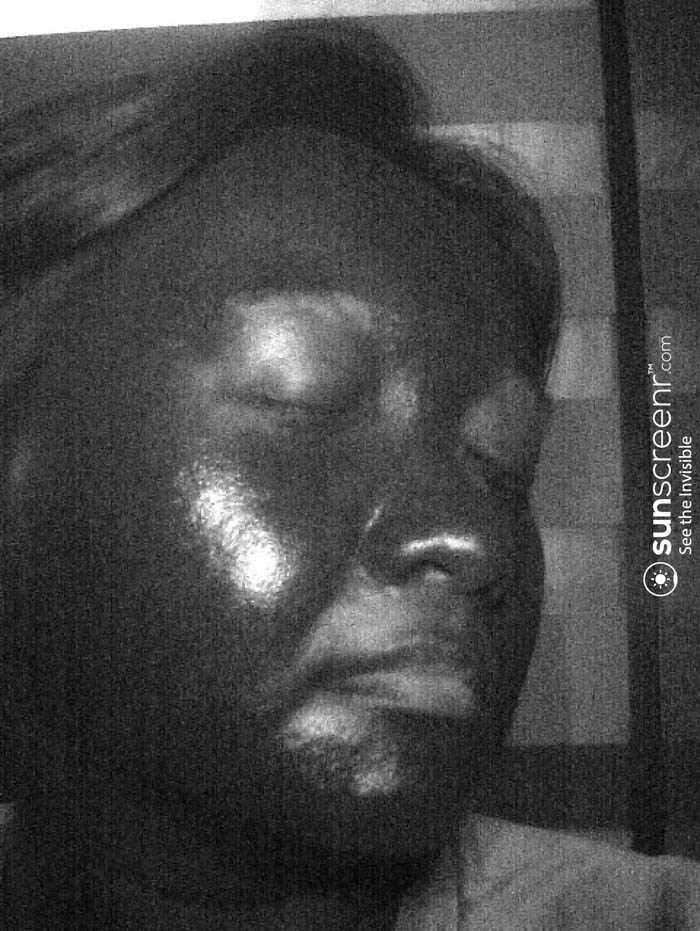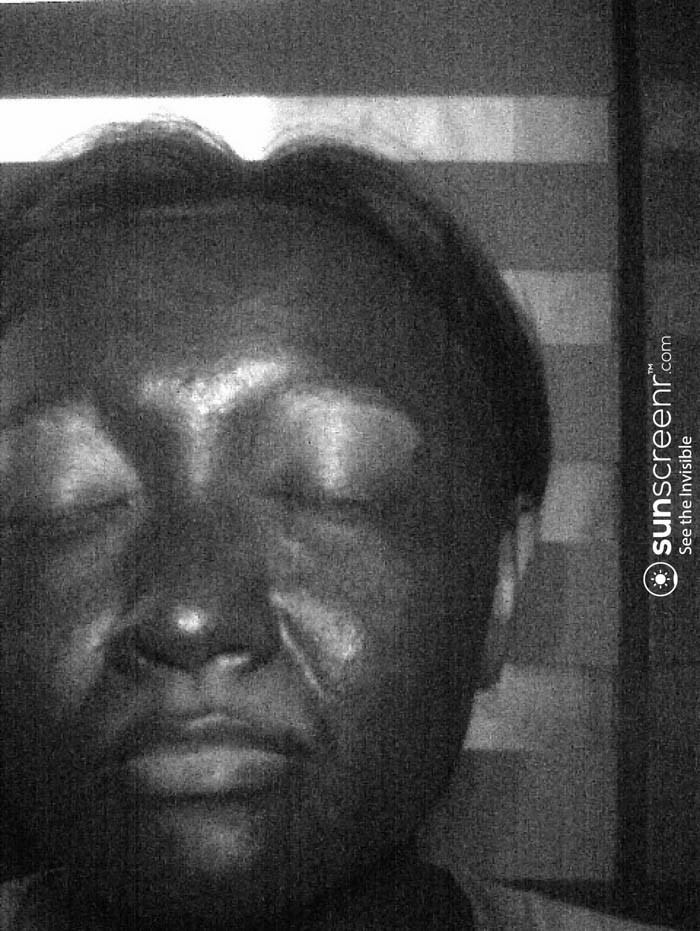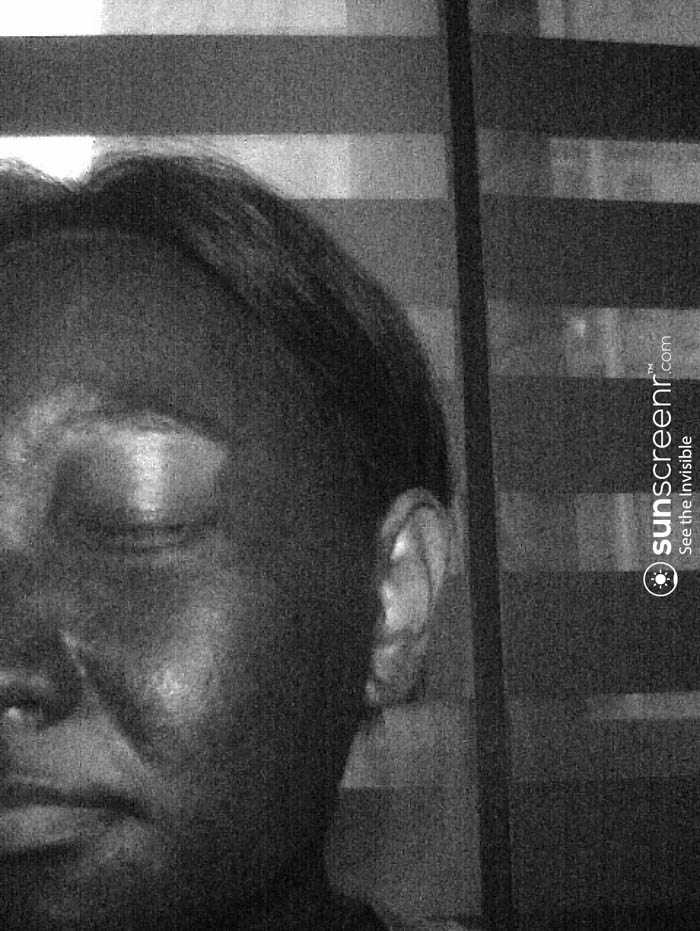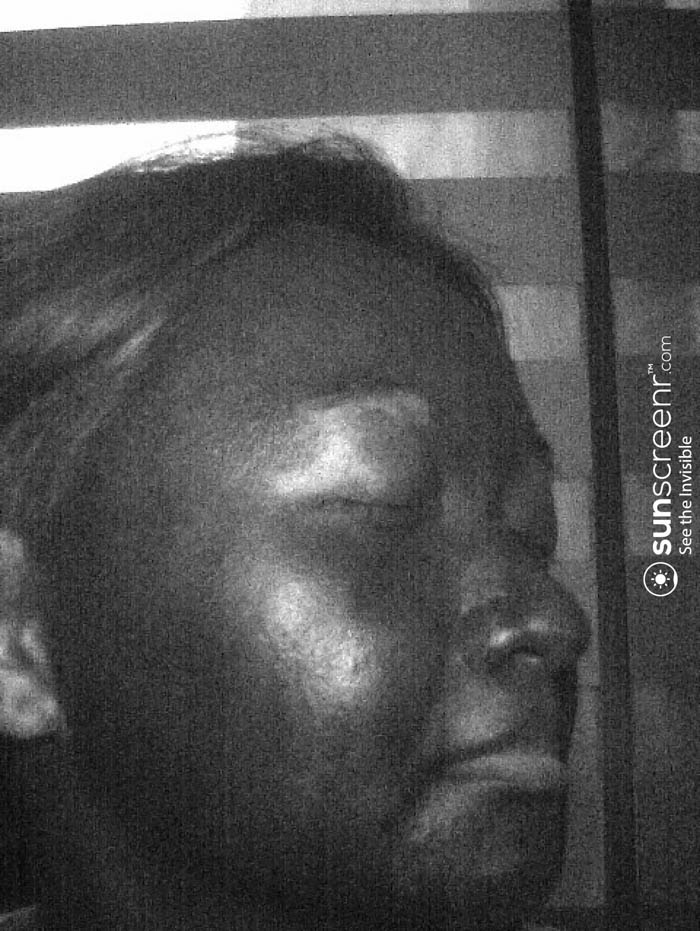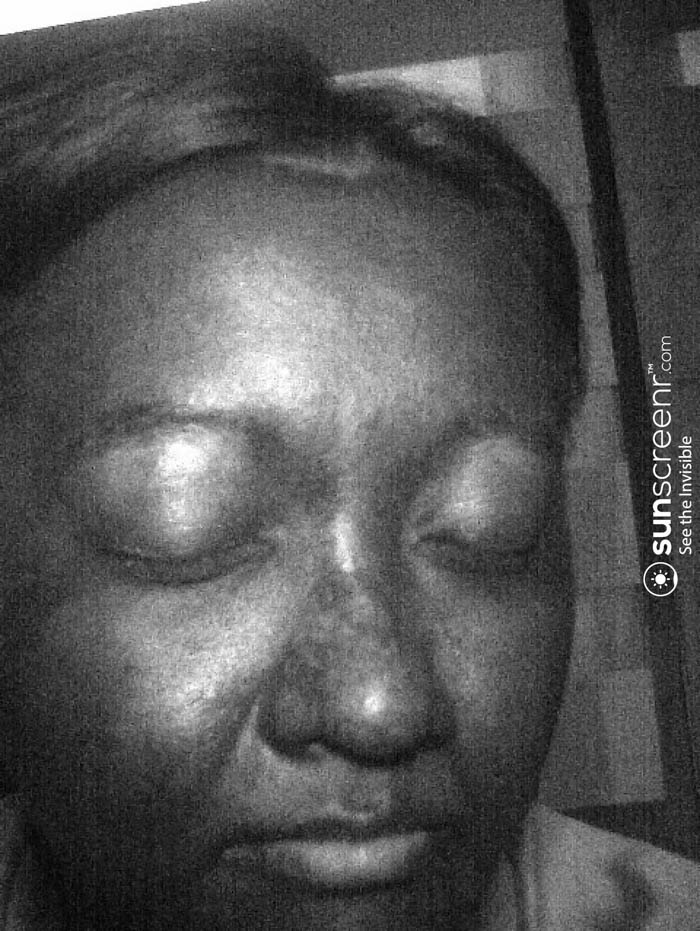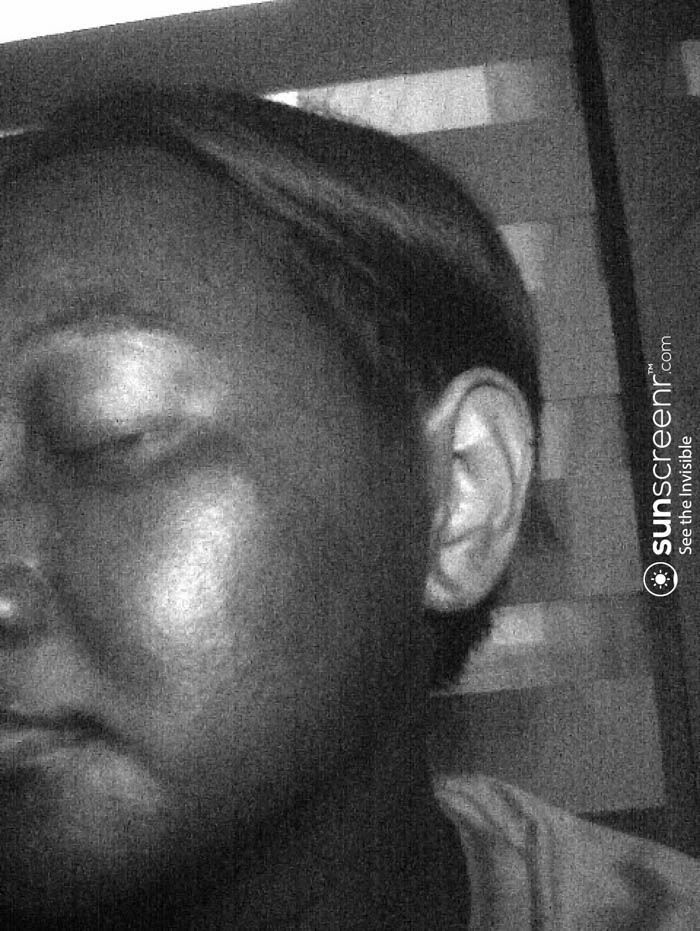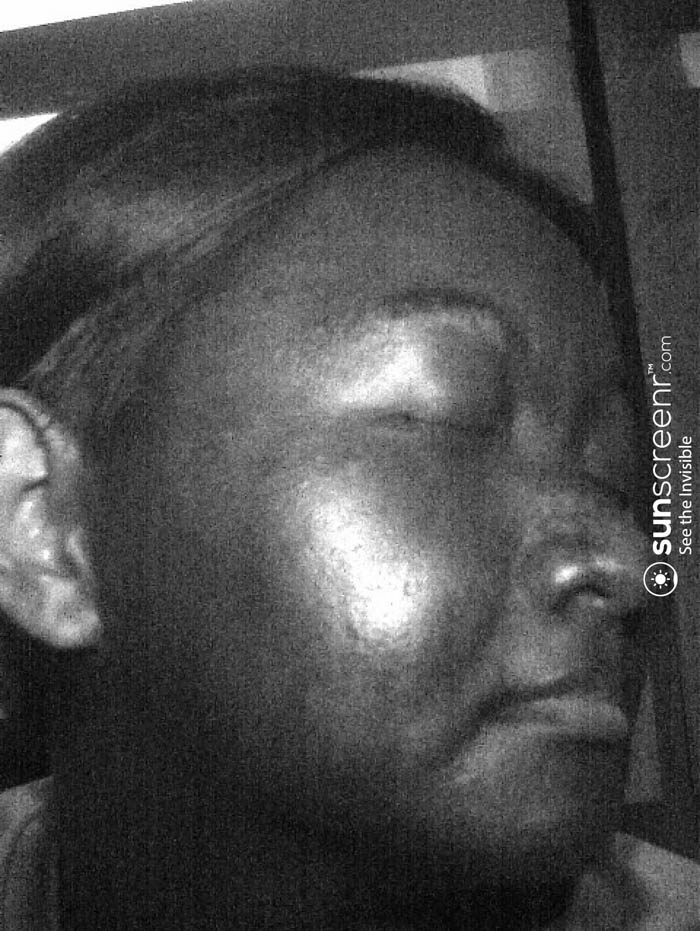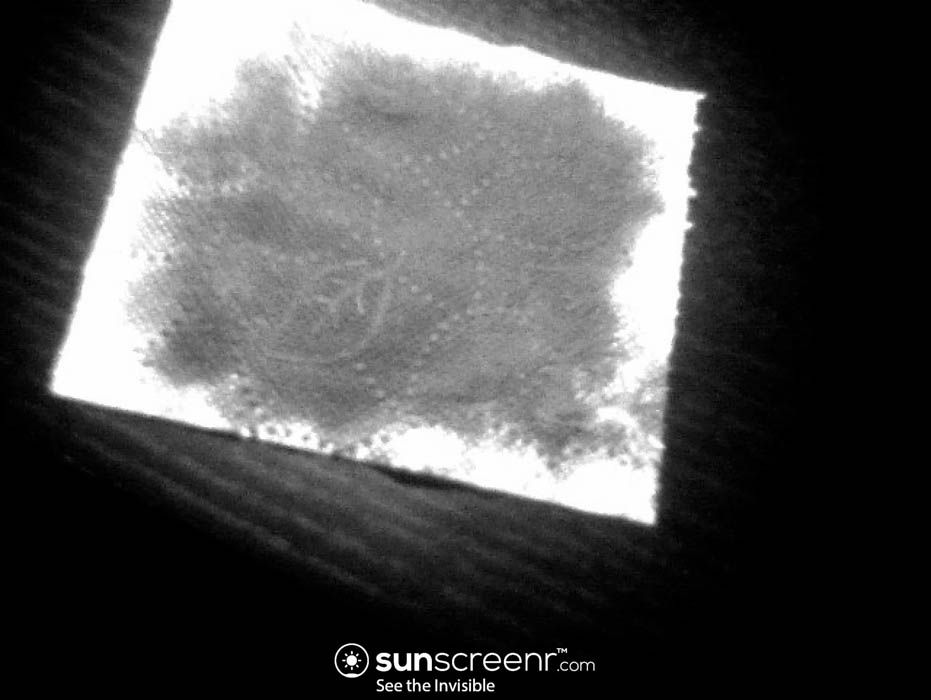 Conclusion
Finally a less shiny sunscreen! Sadly it has white cast. I have tried wearing it out a few times, nobody has ever pointed out I look pale or anything like that, so probably I can get away with the cast.
Our mask mandate will be lifted next week (yay!), so I can perhaps try layering with some tinted powder and blushes/bronzer to tone the cast down for office setting.
Have you tried it?
Disclaimer: I only use the UV camera to see if a sunscreen disperses an even layer (or patchy and spotty); and if I miss out a spot during application. It's not by all means to measure the sunscreen protection level. Got mine from sunscreenr.com. It's compatible with android phone.