Product Summary
Ultrasun Sports Spray SPF50 PA++++
UV Filters:
Uvinul A Plus, Octisalate, Uvasorb HEB, Uvinul T 150, and Tinosorb S.
Properties:
Contains alcohol
Fragrance free
Water resistant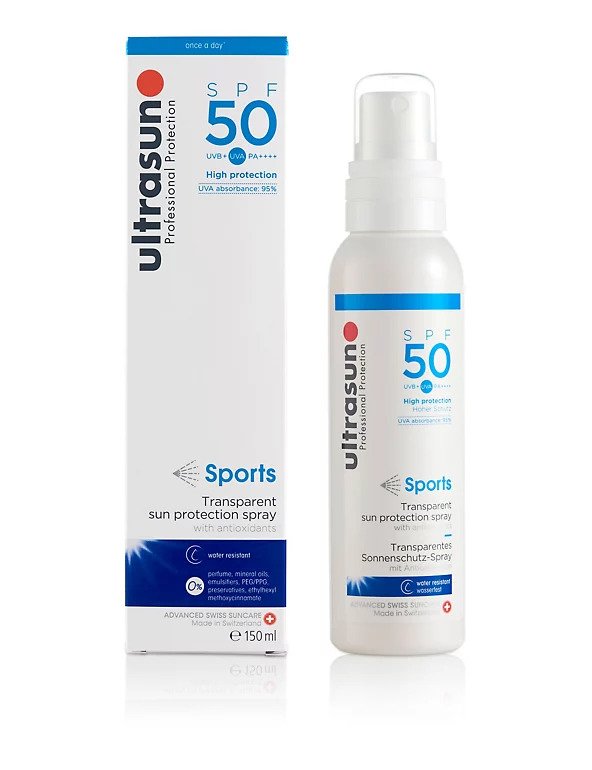 Preface
Hi everyone, hope you are all doing great!
Been too caught up with my day job that I haven't been posting since April! I failed my "New Year Resolution" to post at least once every month. Oh well, we do what we can do.
Let's dig in. I have this sunscreen for a while now, and finally it's its turn to be used.
As always, some background of my skin: my skin type is oily. I live in hot humid tropical country. Many sunscreens, especially without alcohol one, will be very greasy to use in this climate. Let's start from the packaging.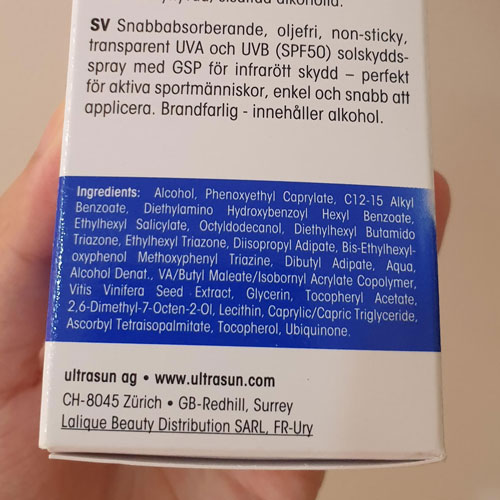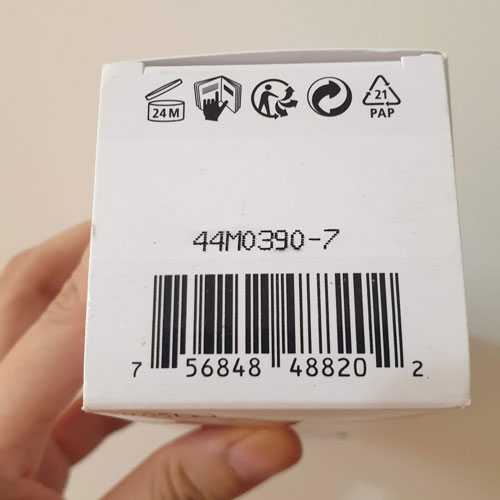 Characteristics
Packaging
The spray type is not a mist spray mechanism, but it squirts out liquid sunscreen. It's no different than pouring a liquid sunscreen from a bottle, really.
I don't tend to like spray sunscreen since it's hard to "contain" the squirted out sunscreen into my palm, yet squirting it out directly on my body may also cause the sunscreen dripping to the floor and making a mess. However, I notice big volume sunscreen tends to have spray mechanism. It's conundrum!
Make sure to wipe the nozzle after squirting out, as it gets messy and the sunscreen may flow down to your bottle and make it sticky to the touch. I even grab a tissue and tuck into the edge to suck in the excess sunscreen, as you can see from the photos below.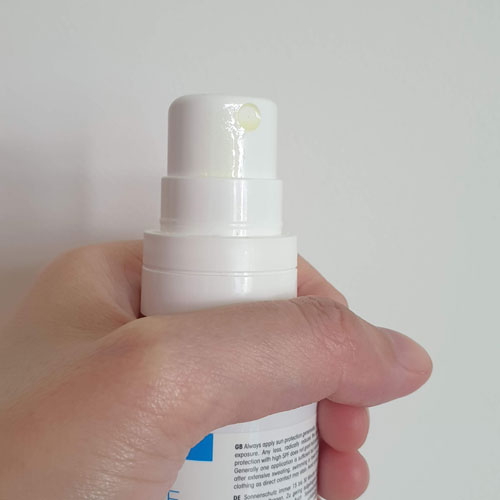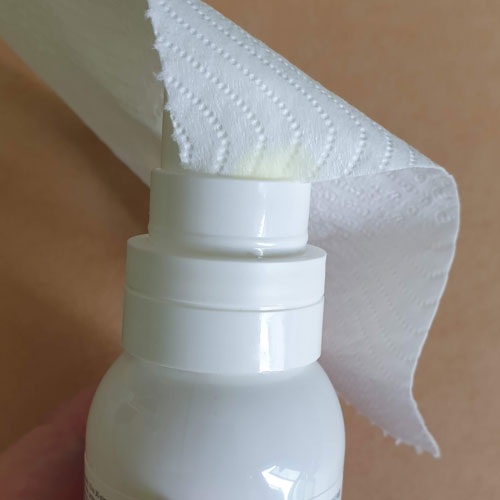 Texture
This is a yellow tinged transparent liquid. Feels lightweight and sets pretty quick. Sadly it has oily residue to the touch, even after it sets.
Scent
It's fragrance-free. It does have very very slight sunscreen-y scent, but I can't sniff it when I apply it on my body.
White Cast
No white cast, it's transparent. However, let's say if I rub my sunscreen-ed arm to a white fabric, the fabric will have yellow hue. So far I haven't had any staining (you know, the avobenzone stain kind) so I think the detergent is doing its job.
Finish
I use this for my body, it's bearable. On lower humidity days (~70% wherebouts), this sets pretty well, and not as sticky, though I won't categorized this as "lightweight" if we compare with Japanese sunscreen. I'd say the heaviness is similar, probably lighter, than Garnier Ambre Solaire Fluid.
Pilling
No pilling is observed even after reapplication. It's very easy to reapply.
Period After Opening (PAO)
24M / 2 years of PAO
ADHERENCE
Preparation
I applied the sunscreen on my left bare cleansed arm, took photos using UV camera (Sunscreenr). I let it set for ~30mins hour before taking the UV camera picture.
It's a transparent liquid sunscreen with a yellow hue.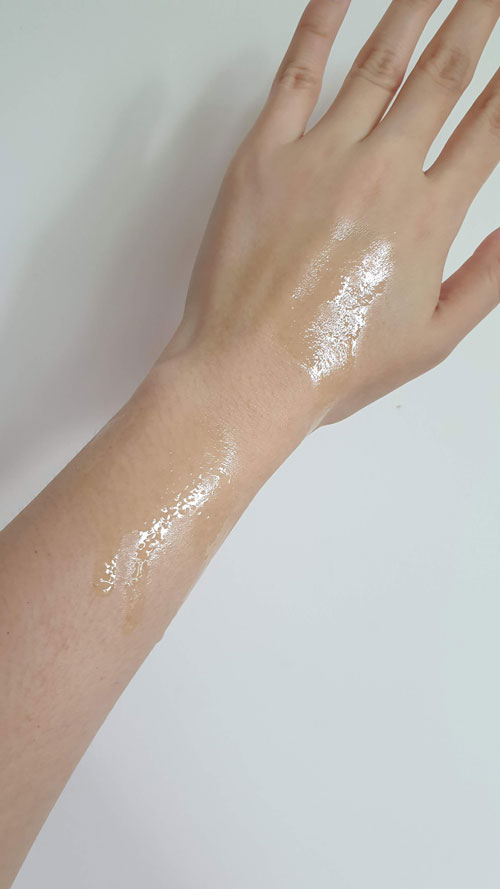 Shine Level
It is a not-so-shiny sunscreen on my body. Not the worst I have encountered, I guess the high alcohol content helps with that. I don't mind wearing it when I need not to be in a crowded place, as I do not wish anybody to rub against my arms as the sunscreen will stick to that person lol!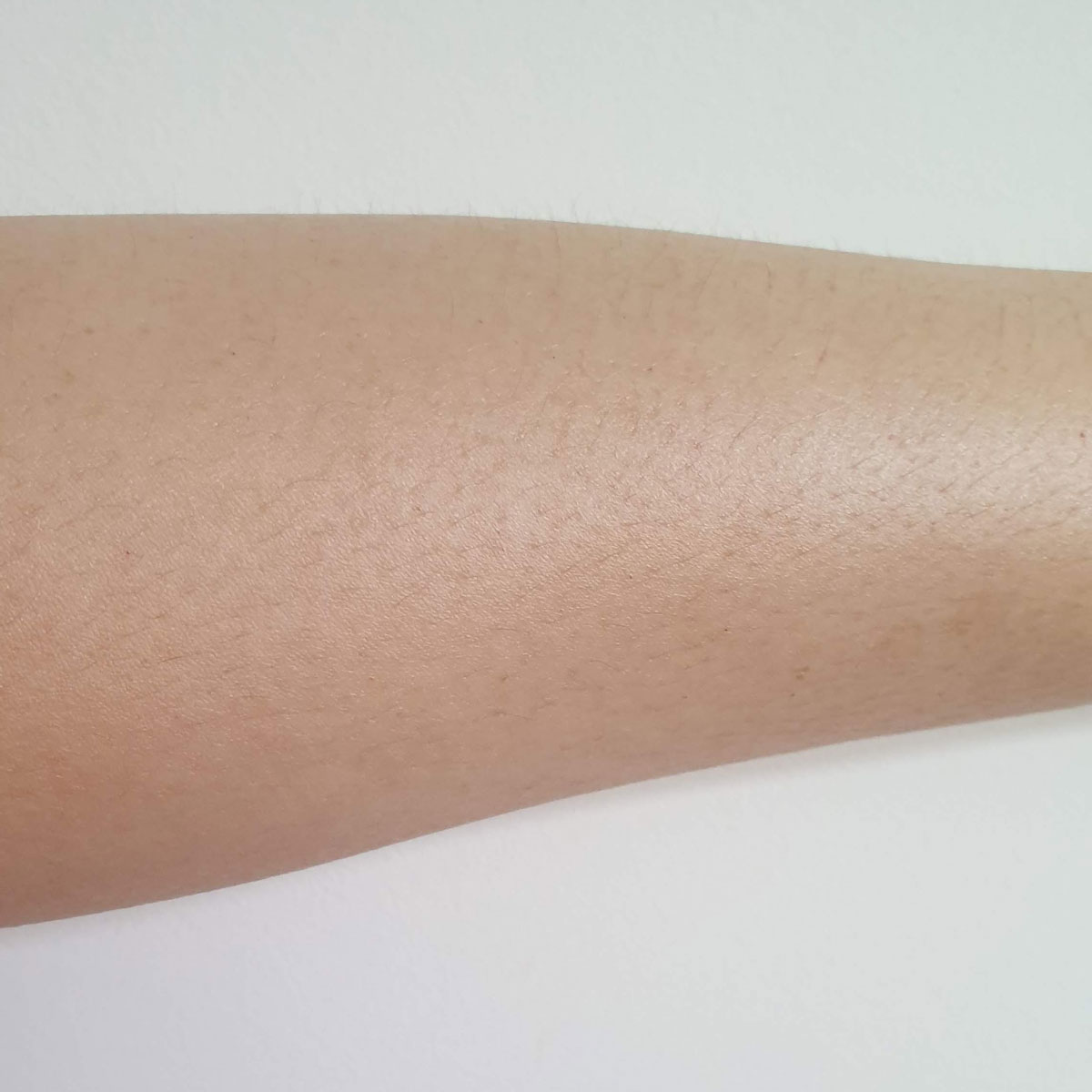 Coverage
As expected, it has even coverage. It's really easy to apply, sets faster compared to (old) Bioderma Photoderm MAX Spray or La Roche Posay Anti Shine Mist or Boots Soltan Kids Spray. (By the way, I loved the Bioderma and Soltan!)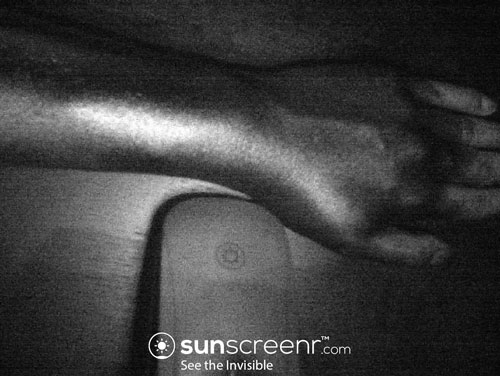 Rub Test and Removal
Now, my past experiences with Ultrasun sunscreens in terms of rubbing adherence were not that great, so I gently rubbed back of my palm section for ~10 seconds. As you can see the sunscreen was lifted greatly.
Then I move on to my wrist area to use Dove Avocado and Calendula Body Wash in effort to remove it. This is the link to the Dove body wash. It contains stronger surfactant and oil, hence my sunscreen is pretty much gone after rinsing with water.
I also used Biore Facial Foam Mild just to try if gentler cleanser can remove it. And I think it removes most of the sunscreen. I'd think I need to lather/massage it longer and I should be able to remove it completely.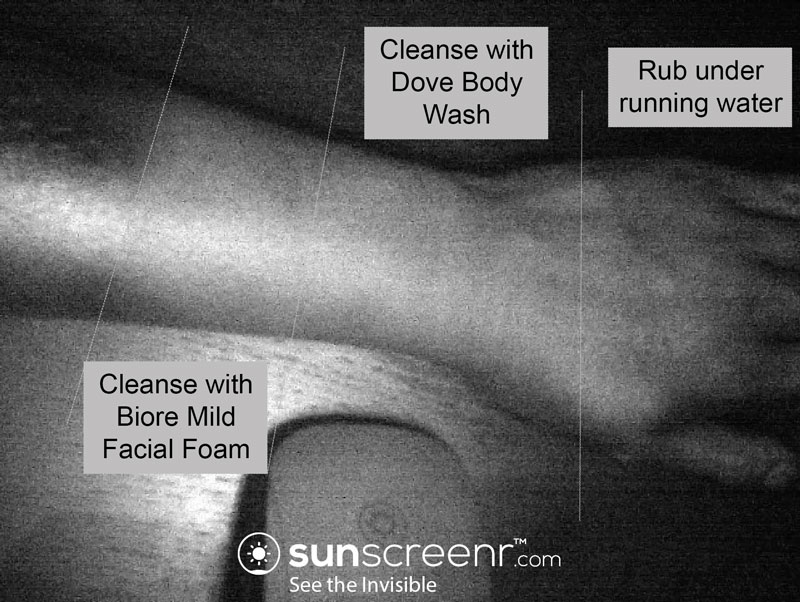 Conclusion
That's it! This is a short post. I don't wear this on my face as I'm 200% sure it's gonna be a greasy mess.
Currently I'm using Allie sunscreen on my face and I enjoy it very much, so I'm gonna wait for it to finish to try on new sunscreen.
Disclaimer: I only use the UV camera to see if a sunscreen disperses an even layer (or patchy and spotty); and if I miss out a spot during application. It's not by all means to measure the sunscreen protection level. Got mine from sunscreenr.com. It's compatible with android phone.