Hey everyone! Been so busy with my side project for these few weeks but I'm allowing myself to take it easy during this holiday season...(coughcough)...procrastination at its best hahaha!!
It's gonna be a long post, get your coffee/tea! I'm having peppermint chocolate milk as I'm typing. Yumyum!
Product Summary
Ultrasun Anti Pollution Face Fluid SPF50+ 50ml
UV Filters:
Tinosorb M, Titanium Dioxide, Octisalate, Tinosorb S, Uvinul A Plus, Uvinul T 150.
Properties:
Contains alcohol
Fragrance free
Water resistant
Has white cast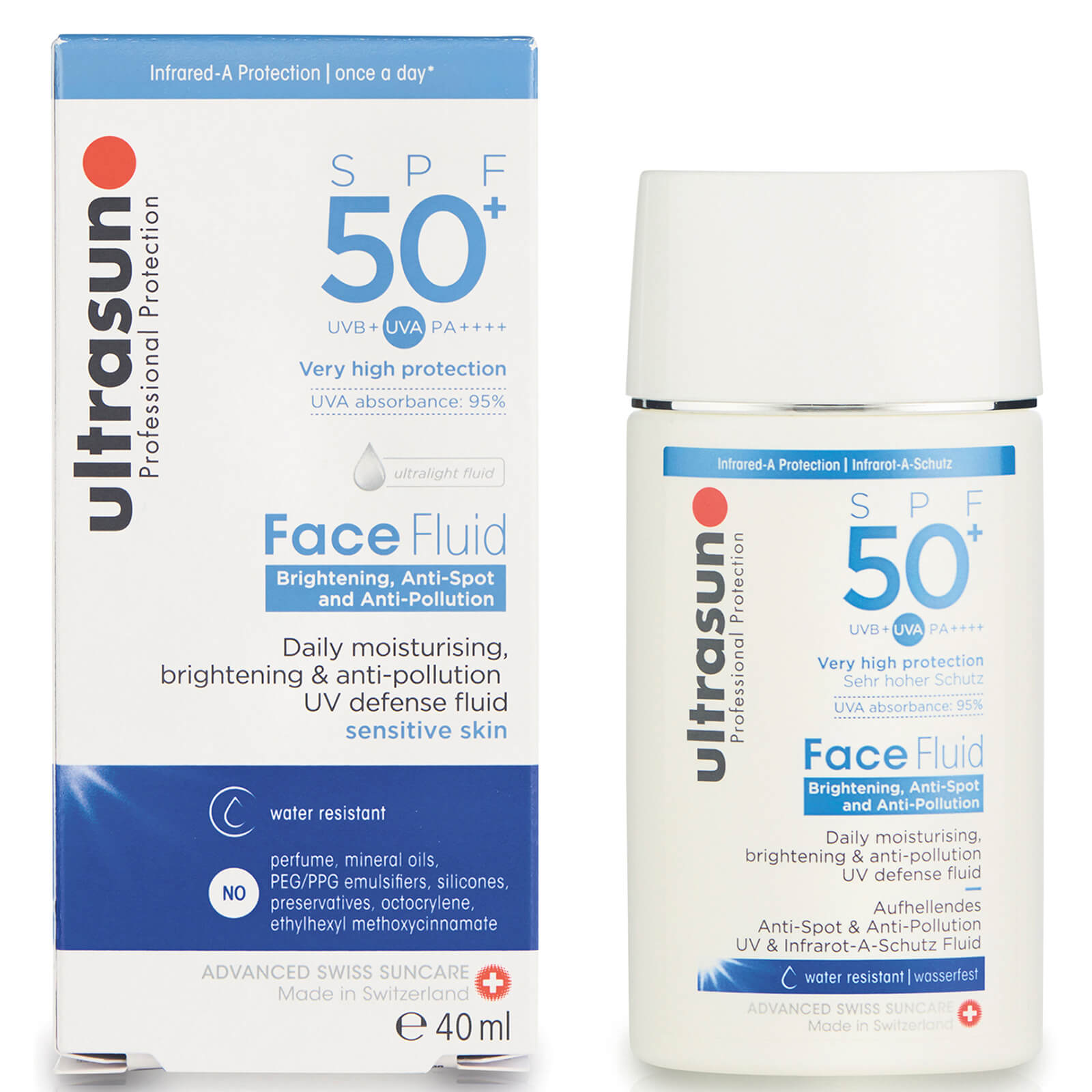 Preface
Just for context, my morning routine is short, my skin is as good as bare dry skin before any sunscreen. I use tretinoin 0.05% cream every night (but I don't have any peeling/dryness).
AM: Vanicream cleanser > a water-weight serum (coz I DIY it myself) > Finacea gel > Benzoyl Peroxide gel > Sunscreen.
Characteristics
Texture
It's a white fluidy cream texture. Not as liquidy as La Roche Posay Invisible Fluid, but not as thick as cream moisturizer either.
White Cast
Yep, there is intense white cast as one would expect with Tinosorb M high on the list. I use it on my neck due to that reason.
The cast is more or less the same with other EU high Tinosorb M sunscreens. I have tried: Avene Dry Touch Fluid, Avene Cleanance SPF, A-derma Protect AD Cream, A-derma Protect AC Mattifying Fluid, Ultrasun Extreme.
If my memory serves me right, the Ultrasun Extreme has more intense white cast than this Ultrasun Anti Pollution Fluid though.
The white cast intensifies when in contact with water and sweat in my experience.
Eye Stinging
I don't experience any eye stinging. I actually use this exclusively on my neck and eyelids as it contains more of new gen filters.
Finish
Well, I have low expectation for EU sunscreen in terms of finish. You could tell from my pics, it's not matte. It's not dry touch. It will pill if I keep on rubbing. You can feel it's going to "set", but it's no where "dry". It remains tacky on my arms (even more so on oily face). It settles into dry patches.
It also sticks and clumps on my eyebrows and hairline. Well, nothing unusual from Tinosorb M sunscreen tbh. For those who ever used Tinosorb M will probably realize this aspect.
Reapplication
It pilled on me during reapplication. Even if I managed to make it work, the white cast will intensify.
Admittedly, I don't reapply with this one lol since it's mostly using new gen filters. It's a risk I am willing to take.
Scent
It has no fragrance, doesn't smell like anything for me.
Misc.
As I use this on my neck, it settles into the horizontal neck folds. I haven't had any solution for this, it's unsightly but nothing deal breaking for me.
When I sweat with this (e.g exercise), the sunscreen will run down unfortunately. It stays put for generally humid weather (e.g. casual days). But I won't use this for running, for example.
Adherence
Preparation
I applied the sunscreen on my left arm, took photos using UV camera (Sunscreenr). I indicate the timing accordingly on the photos. I use a UV lamp (for curing gel nail) as the source of light.
I don't apply any body lotion on my arms prior any sunscreen application (be it this post, or my older posts). It's my bare naked arms (I shower twice a day so it's clean from any moisturizer residue too)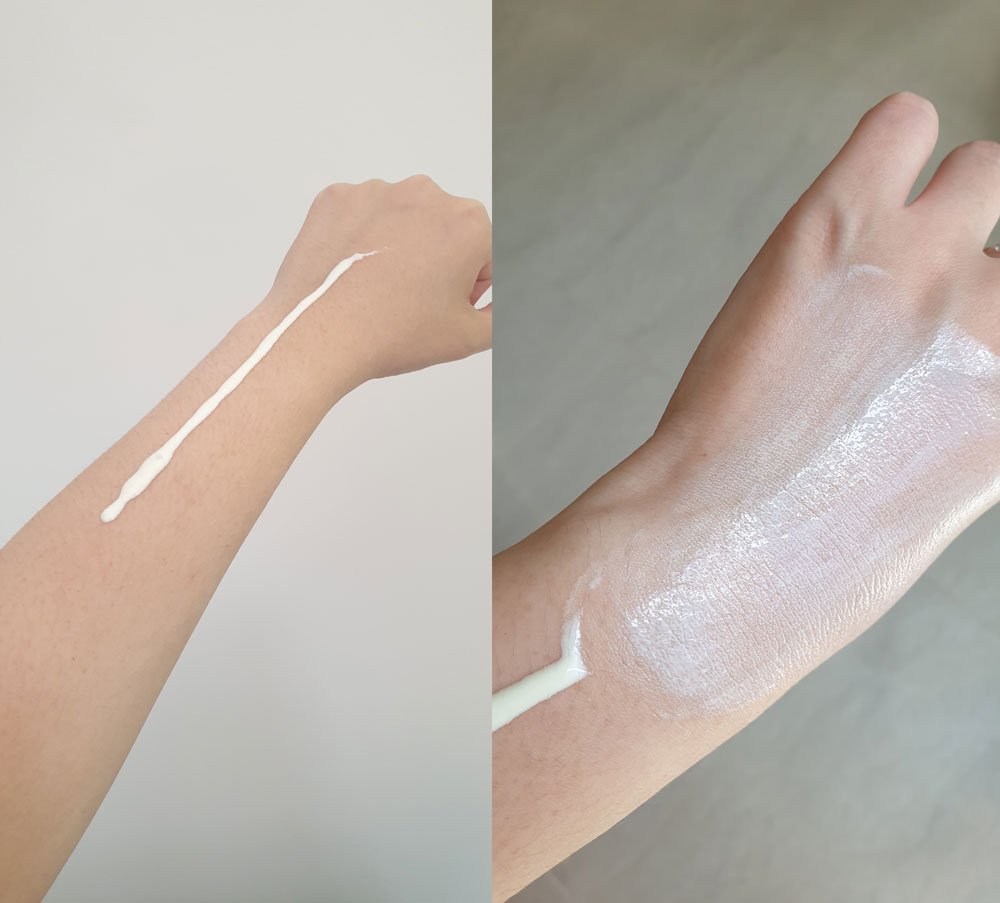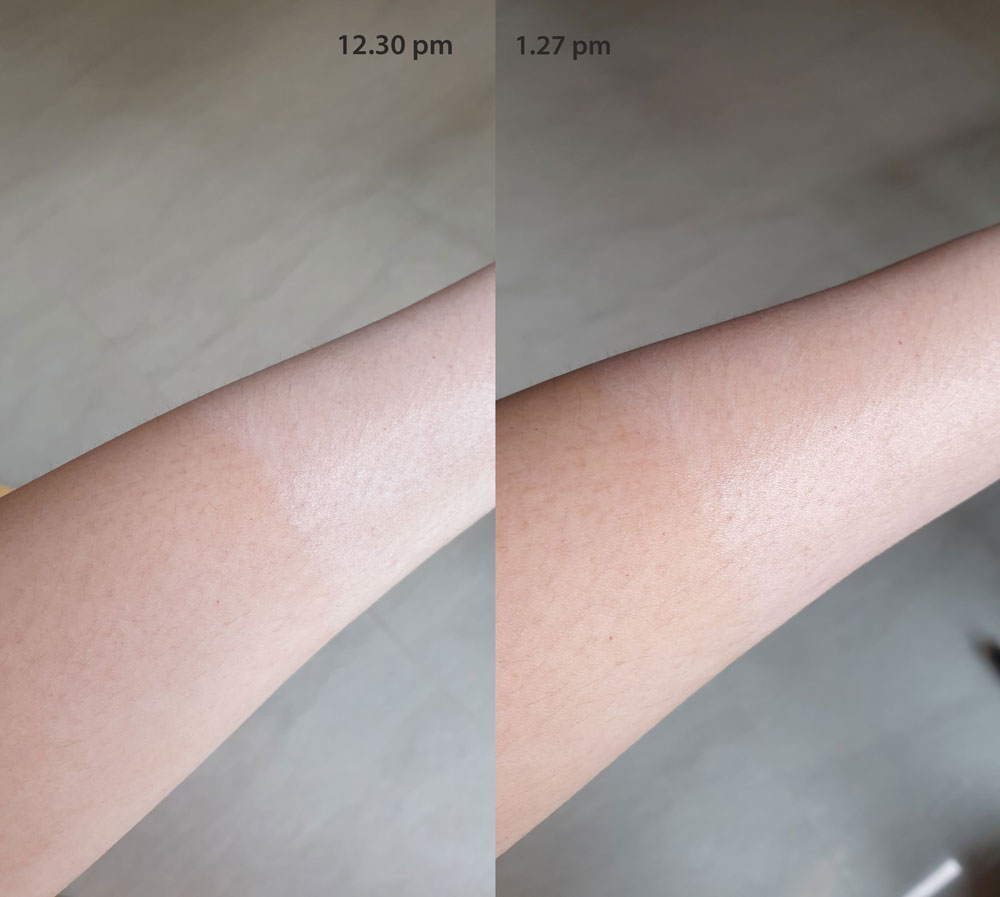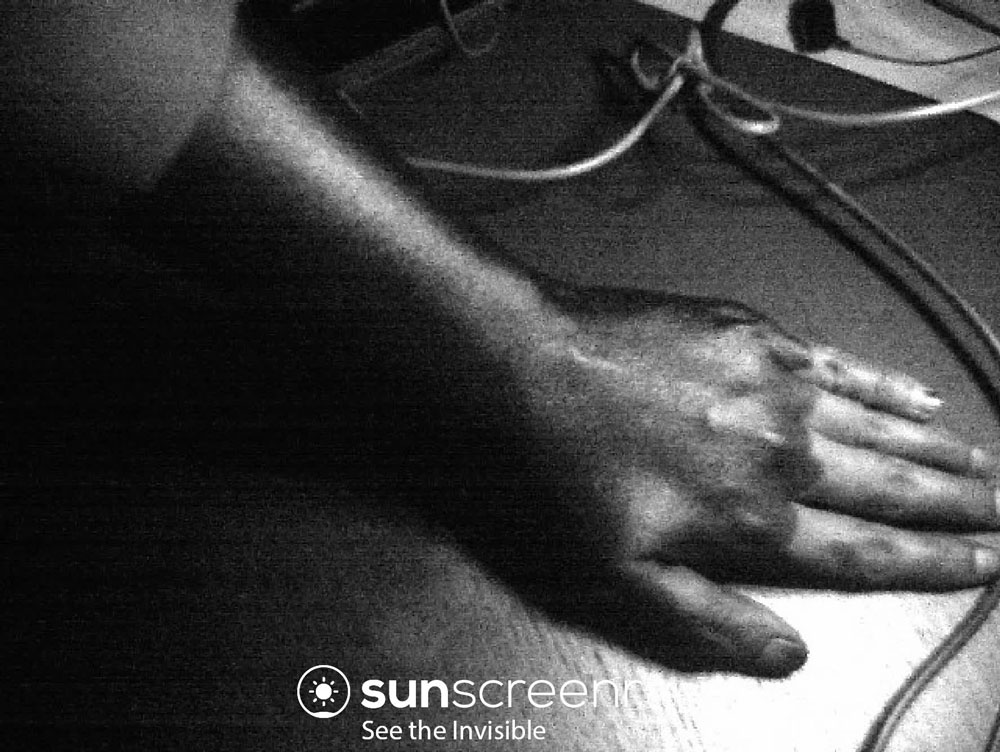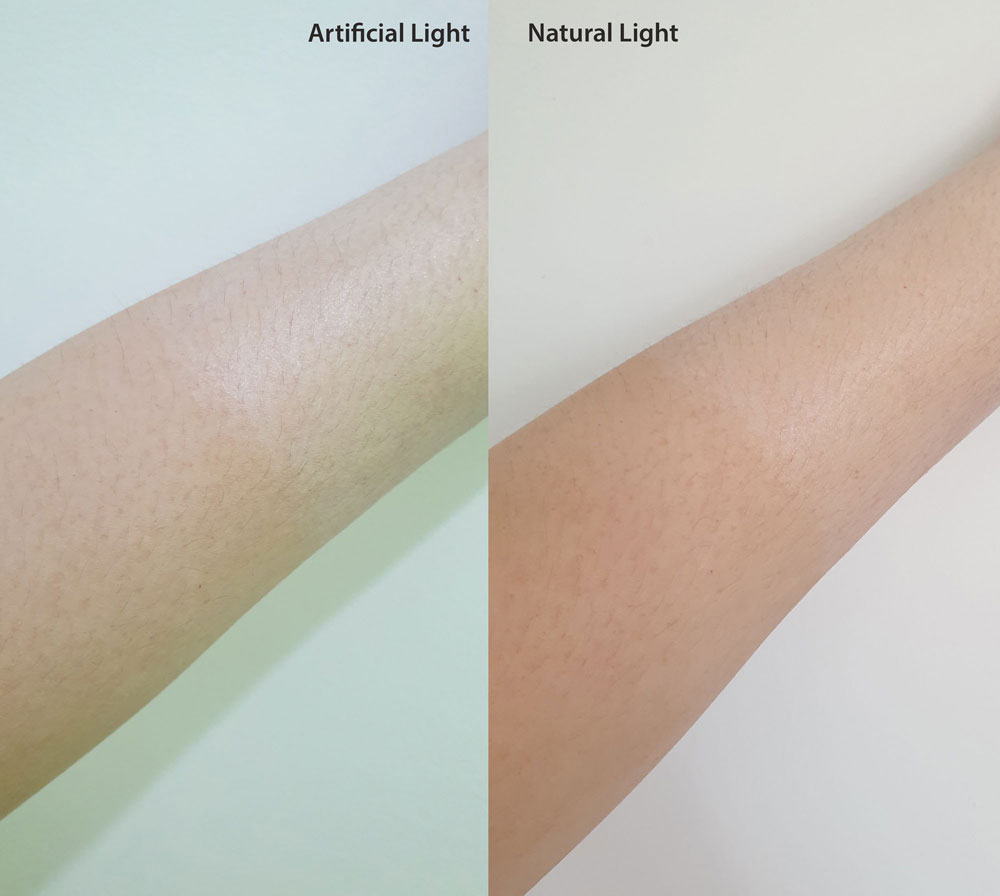 Rub Under Running Water:
I rubbed it gently under running sink water. I said "gently" because with my previous experience with Ultrasun Extreme and Ultrasun Family, it didn't stay put on rubbing motion (even though the sunscreen looked 'set')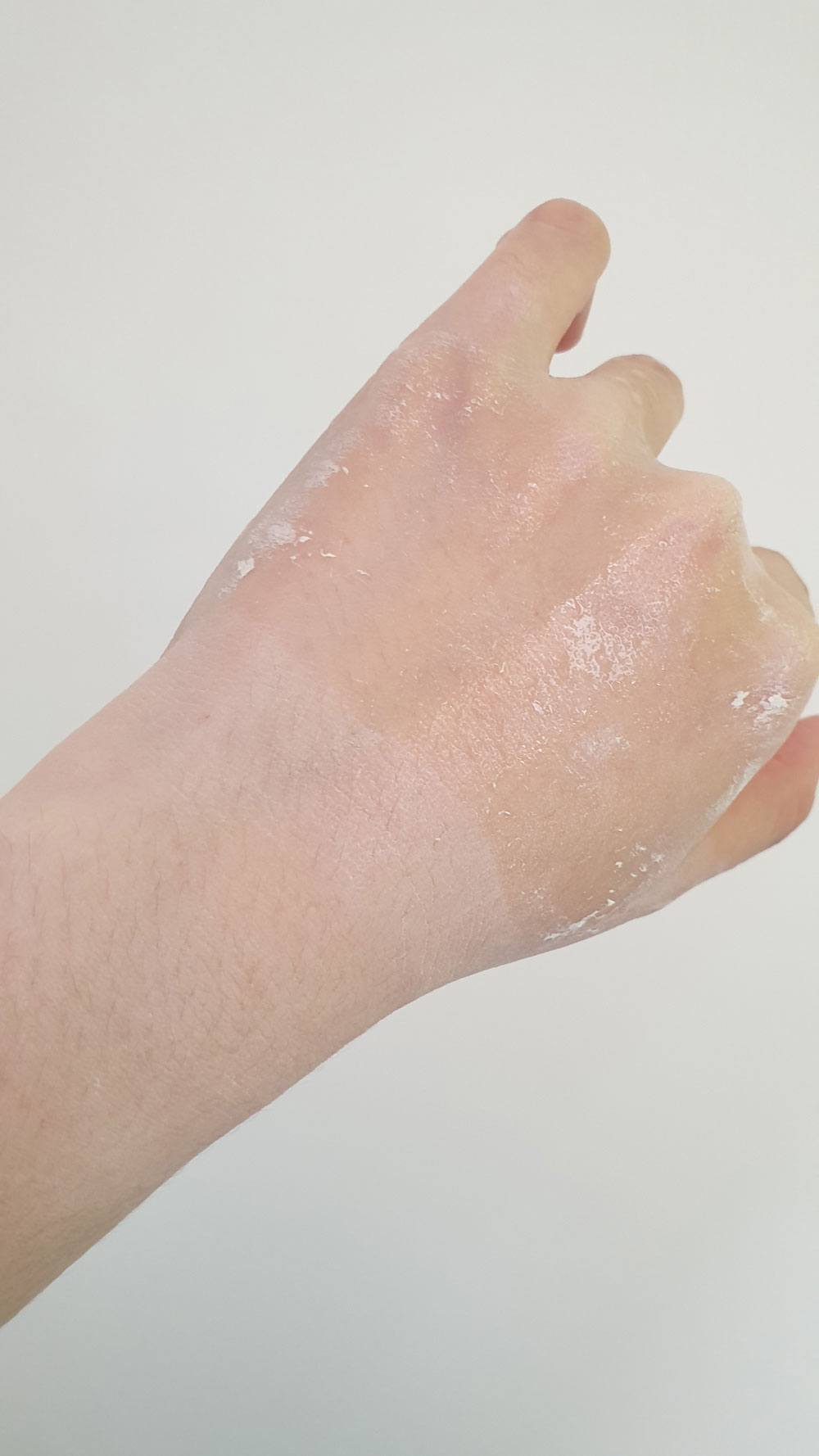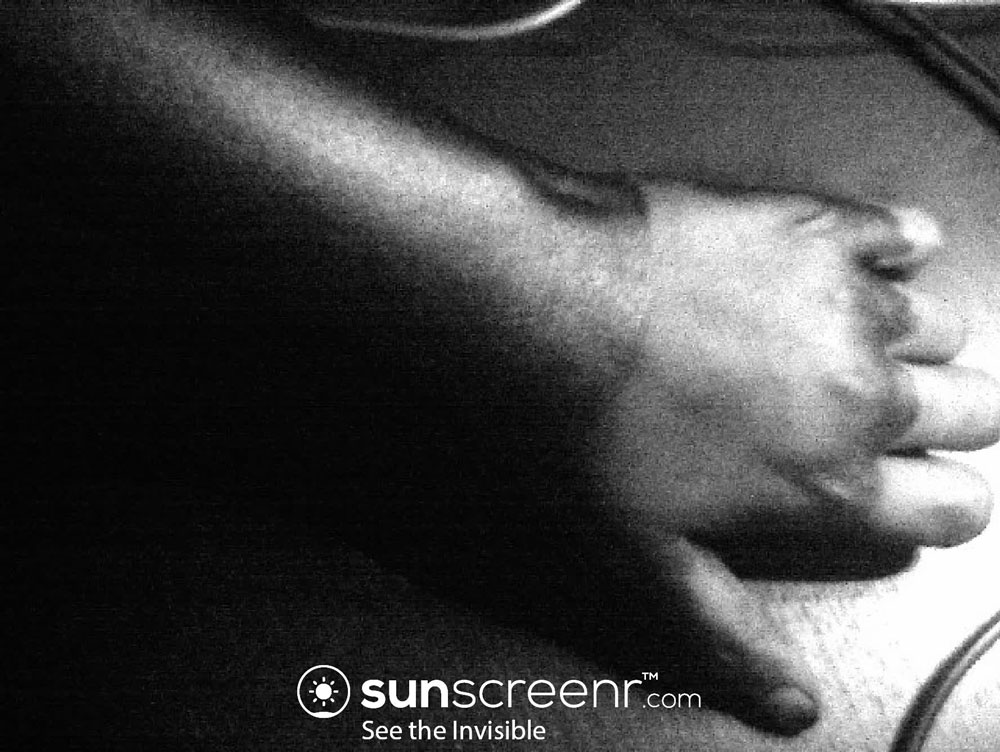 Removal
I skipped this portion since it is pretty much gone when I rubbed it under running water.
Bonus
A kind redditor told me before, to try putting on moisturizer on top of the sunscreen. So I did that. I use Eucerin Advanced Repair Cream on top of my arm and massaged it. I added an indicator where I put the moisturizer stopped / demarcation line.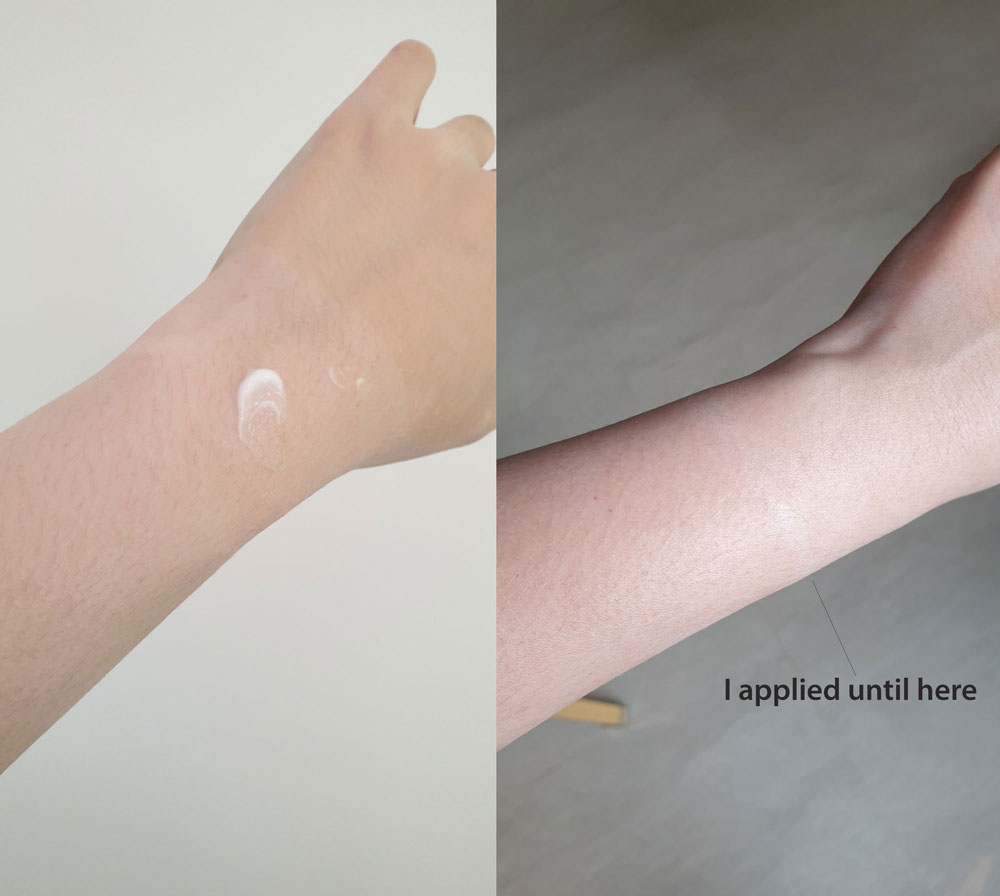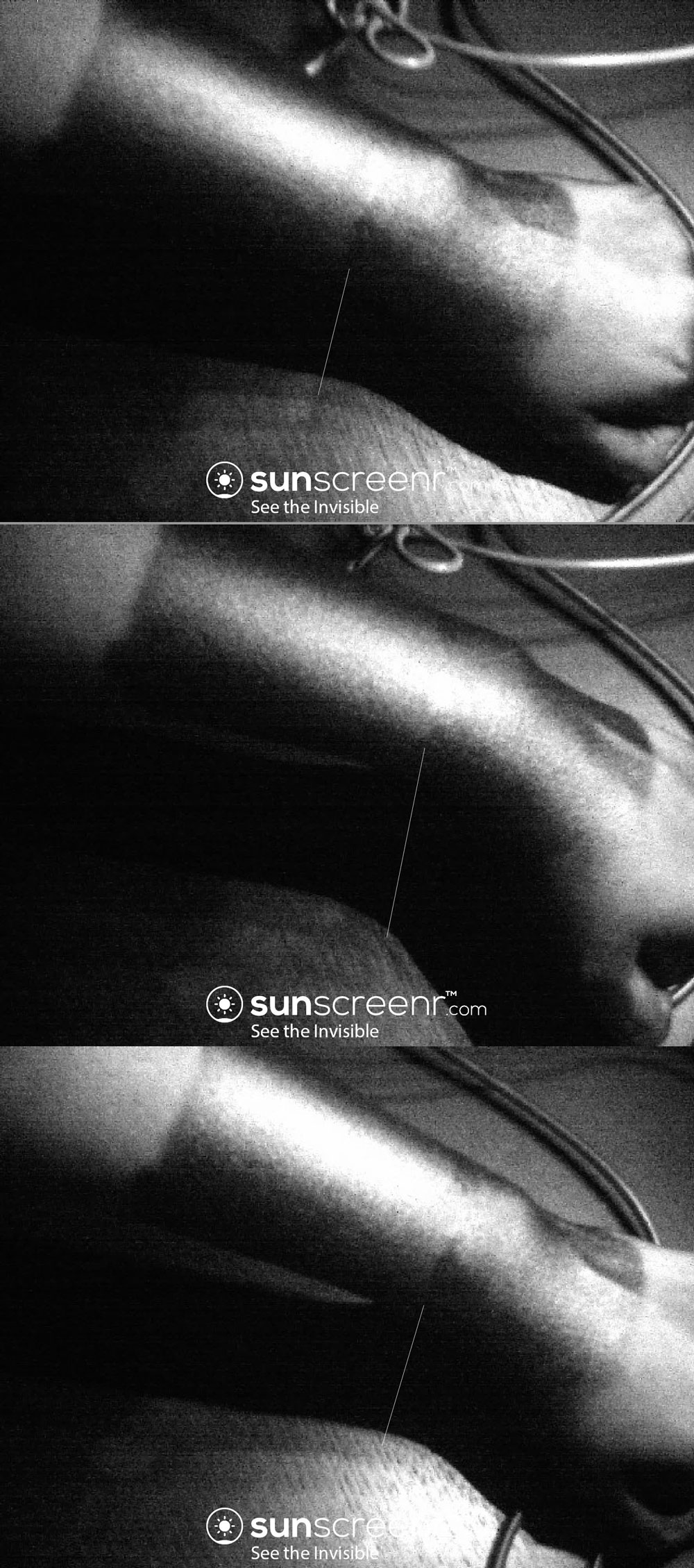 Do you see what I see??? I think the portion where I applied moisturizer is darker, no???
Alternative: Neutrogena Ultra Sheer Dry Touch Lotion with Helioplex XP
Neutrogena Ultra Sheer Dry Touch Lotion with Helioplex XP SPF50+ PA++++ 50ml
UV Filters:
Homosalate, Octocrylene, Avobenzone, Octisalate, Tinosorb M, Uvinul T 150, Tinosorb S, Titanium Dioxide.
Properties:
Contains alcohol
Contains fragrance
Water resistant
Has white cast
Thanks to a very nice redditor bringing attention of this product to me, I have recently purchased a new Tinosorb M sunscreen from Neutrogena (note: with Helioplex XP, not the old Helioplex, made in Korea, PPD31).
It's much more elegant to use for a Tinosorb M sunscreen. Granted, it still uses some older filters and the Tinosorb M is not as high % I suppose.
It never sticks/clumps to my eyebrows and hairline. It's still too glowy in my liking though.
The cast is still present but with less opaque than this Ultrasun. It's like giving me tone up look at most.
The fragrance is pretty strong but not offensive for me (unlike the Lierac Sunissime Global Protector SPF50+, that one is straight putting eau de perfume on my face imo).
Comparison side by side: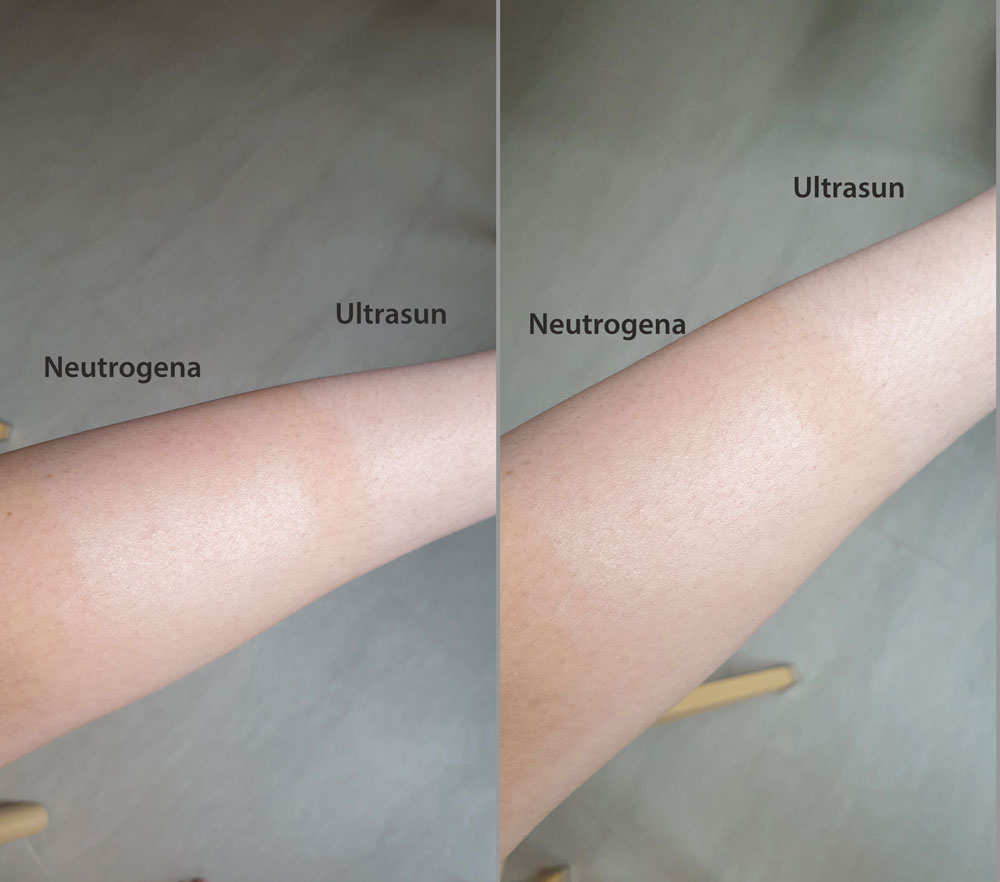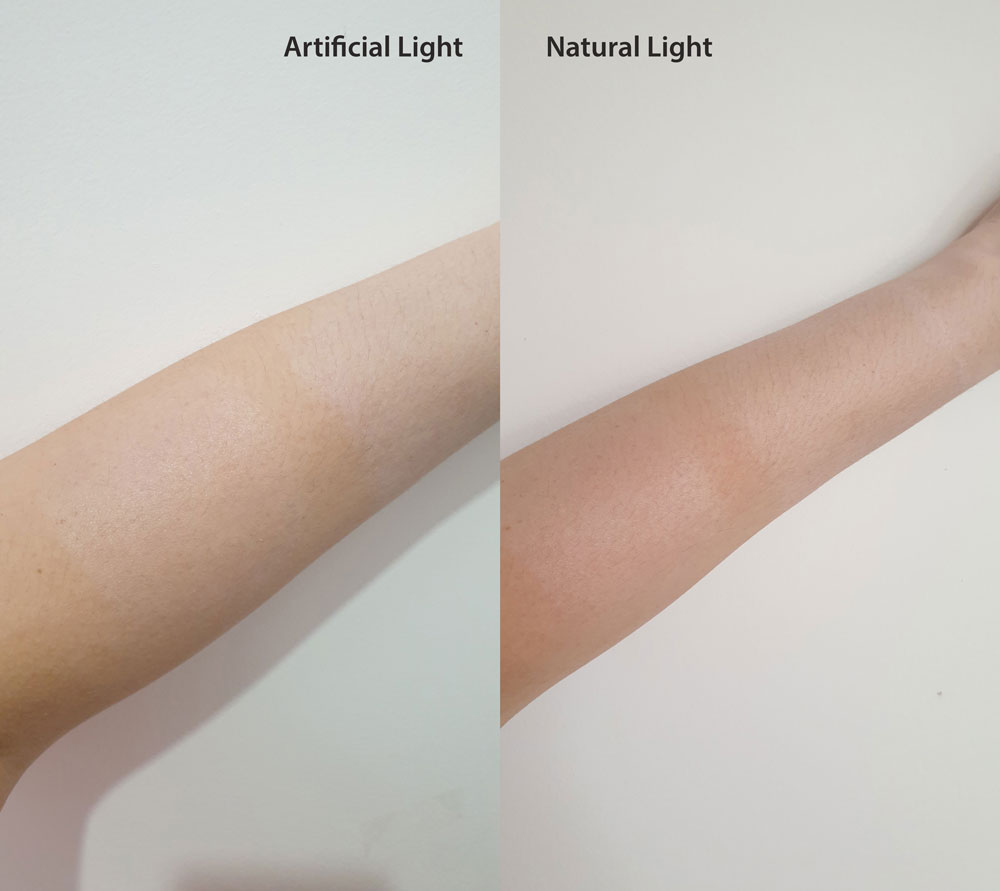 I wore the Neutrogena on my face (~2.5 fingers length), nothing on my ear, I had 1 finger length of Ultrasun on my front neck (it's less white on my neck than my face for whatever reason).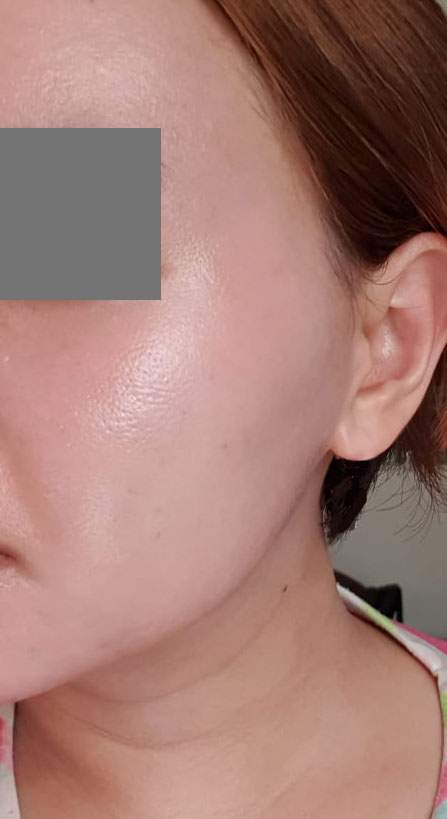 Conclusion
There you have it! I suppose this will be my last post of 2020!? Allow me to say: Happy Christmas and Happy New Year (in advance) for all of you!!
Cheers for a better times ahead!!!
Disclaimer: I only use the UV camera to see if a sunscreen disperses an even layer (or patchy and spotty); and if I miss out a spot during application. It's not by all means to measure the sunscreen protection level. Got mine from sunscreenr.com. It's compatible with android phone.